Here at KOA, we are all about year-round camping. There is no season that is better than the next to pack up your camping gear and get out there. Spring, summer, fall and winter all have their own reasons to shine as a great time to go camping.
So, as the cold weather nears, don't think you need to pack up your camping gear and wait until the temperatures start to rise again. In fact, this is one of the times to shine in the camping world. Yes, you will have cooler temperatures to deal with, but just like camping in the heat of the summer, with proper preparation, you will be pleasantly surprised at how much you can enjoy it.
One of our personal favorite things about winter camping is the food. There are some dishes that are just too hot to cook in the summer, so when the cooler months roll around our stomachs start growling at the idea of warm comfort foods after a long day out in the chilly snow.
Here, our favorite cold weather camping recipes to keep you warm and fueled to have fun in the fall and winter sun.
Hot Recipes To Keep You Warm
Let's start with the meal that's going to get your day started: breakfast.
Breakfast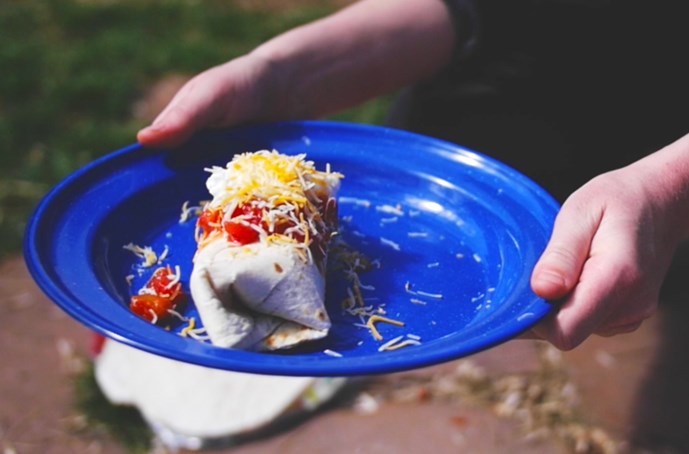 In our book, breakfast burritos are a win during any season, but you'll really love this warm start to your day when the weather outside is chilly.
Here's KOA's way of doing breakfast burritos.
What you need:
1 Tbsp butter
¼ yellow onion, chopped
2 Tbsp chopped canned green chilies
6 eggs, beaten
¾ cup shredded cheese
Pinch of pepper
4 10-in tortillas, warmed
What to do:
Put butter in a skillet, letting it melt
Add in the onions and chilies and saute for 2 minutes
Add the eggs, pepper and stir frequently to keep the eggs from sticking to the pan
When the eggs are nearing complete, sprinkle cheese on top and let it melt
Place ¼ of the egg mixture on ⅓ of a tortilla
Add salsa and sour cream and fold up the bottom edge, then roll to form a burrito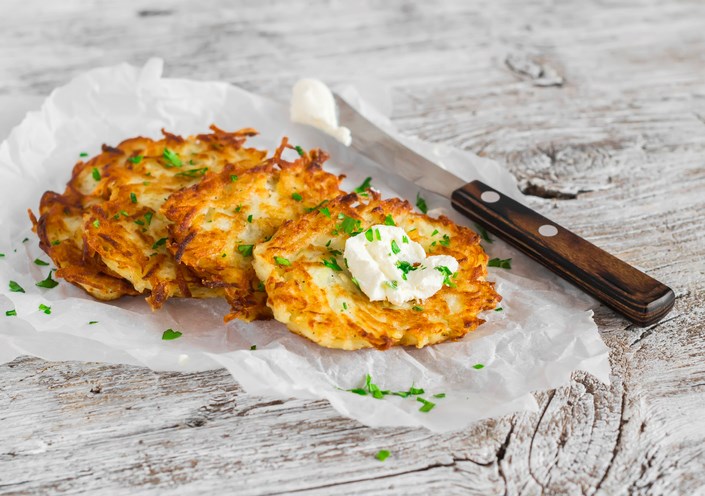 A different twist on the sweet pancake breakfast, try these savory pancakes for a warming meal.
What you need:
1 cup pancake mix
1 medium potato, peeled and chopped or shredded
1 small onion, chopped
¼ tsp salt
Dash of pepper
What to do:
Prep pancake mix according to directions
Add in potato, onion, salt and pepper
Spoon batter onto hot griddle and cook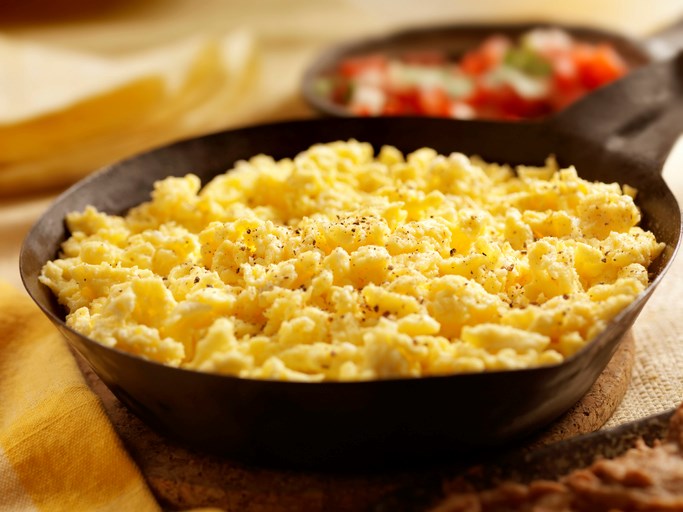 Add a little spice to your morning with this take on the classic scrambled egg breakfast.
What you need:
8 eggs
¼ cup milk
2 tsp chili powder
2 Tbsp olive oil
¼ cup Mexican-style cheese
¾ cup milk salsa
Hot sauce
What to do:
Mix, eggs, milk, and chili powder in a bowl
Heat skillet and add egg mixture
Cook eggs, folding them as they set
Stir in cheese and continue cooking eggs
Spoon onto a place a top with salsa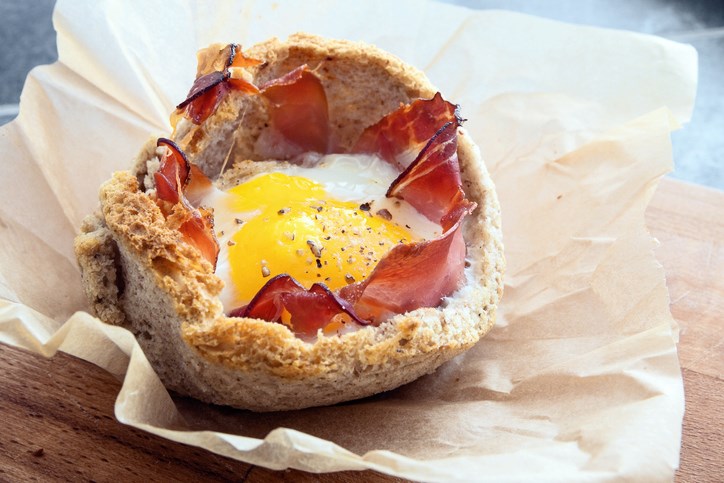 This unique breakfast is great for on-the-go when you're ready to roll out of bed and get out on the trails as soon as possible.
What you need:
12 eggs
12 slices of bread, with crust removed
⅓ cup maple syrup
⅓ cup butter
Pieces of chopped ham, bacon or sausage
What to do:
Preheat oven to 350-degrees
Use a rolling pin to flatten each piece of bread
Combine maple syrup and butter and brush one side of each piece of bread
Butter muffin tin well
Place bread in muffin tins with buttered side down
Sprinkle meat chunks into each cup (and/or shredded cheese)
Break an egg into each cup and sprinkle with salt and pepper
Cover with foil and bake for 10-15 minutes
Lunch
Chances are good you're going to want to each lunch while you're adventuring around, so we have rounded up some recipes that are easy for you to eat on the move.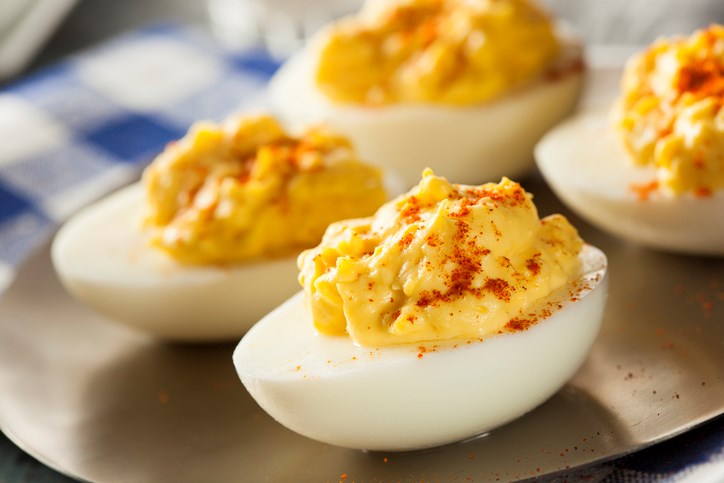 These make a great addition to any meal, or a quick lunch on the go.
What you need:
2 dozen hard-boiled eggs
1 cup mayonnaise
½ cup dill pickle relish
¼ cup green onions
Dash of cayenne pepper
1 can sliced back olives
1 can sliced green olives
What to do:
Cut boiled eggs in half and remove yolk
Combine the yolk with mayo, pickle relish, green onions and blend until creamy
Fill egg whites with yolk mixture and sprinkle with pepper
Optional: garnish with olive slices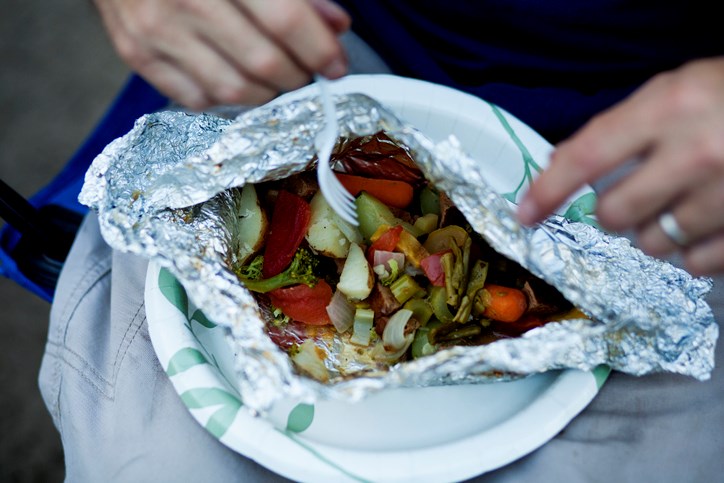 Though this takes some time to make, you'll love having these as leftovers from lunch.
What you need:
4 hamburger patties
1 sliced onion
1 can mushroom soup
Potatoes
Squash
Butter
What to do:
Place hamburger patties on foil
Cover with a layer of onions and mushroom soup
Fold foil into a pouch
On second piece of foil, slice potatoes ½-inch thick and alternate layers with onions, topping with a few slices of butter
Slice squash and add to potatoes
Wrap up foil and throw it on the campfire
Cook for one hour, turning every 15 minutes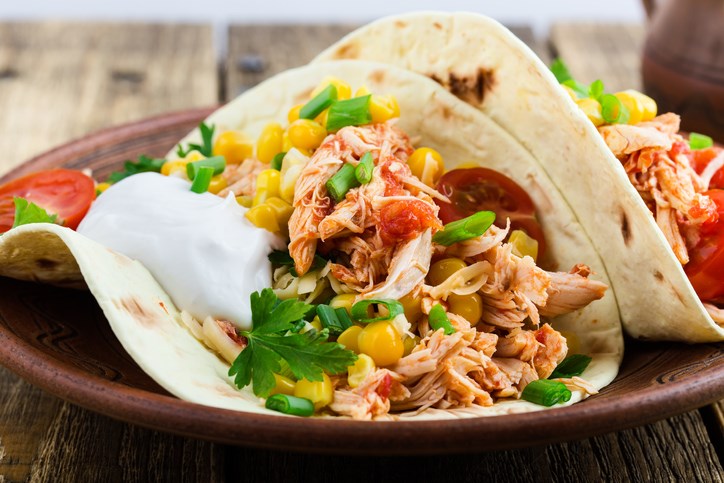 Tacos are always a good idea.
What you need:
1 jalapeno
1 medium onion
1 can Rotel
1 package taco seasoning
1 can black beans
2 packages Chicken of the Sea white chunk chicken
Tortillas
Salsa
What to do:
Drain Rotel and mix with diced vegetables, chicken, and beans in a pot
Warm over store or fire and add taco seasoning
Cook for 15 minutes or until vegetables are soft
Warm tortillas over the fire in foil
Put chicken mix in the tortillas and add salsa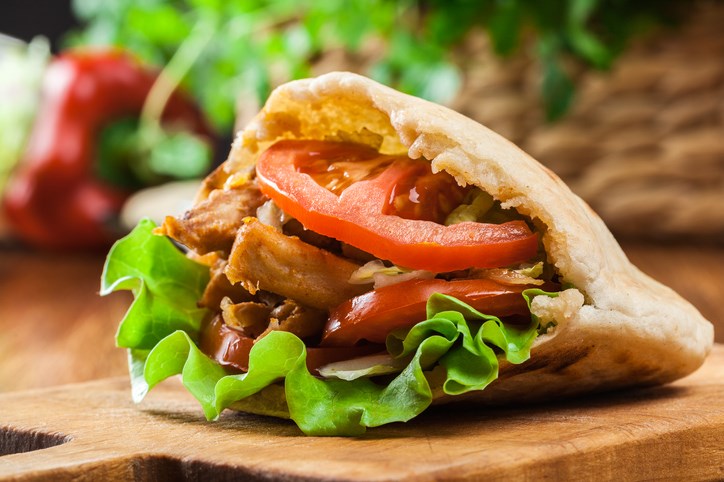 Cucumber Chicken Pita Sandwiches
These refreshing sandwiches make for a great lunch any time of the year.
What you need:
½ cup plain yogurt
¼ cup finely chopped cucumber
½ tsp dried dillweed
¼ tsp dried mint, crushed
4 large pita bread rounds
4 lettuce leaves
6 oz thinly sliced, fully-cooked chicken breasts
1 small tomato, thinly sliced
⅓ cup crumbled feta cheese
What to do:
In a small bowl, mix yogurt, cucumber, dill weed, and mint
For each sandwich, place a pita bread on a plate
Top with lettuce, chicken tomato and feta cheese
Spoon dressing on top
Roll up pita bread
Secure with wooden toothpicks
Dinner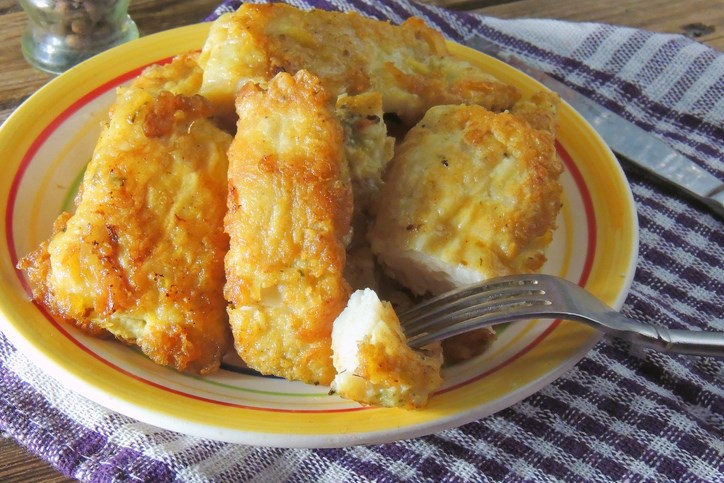 Beer and fish? Yes, please. This is the perfect dinner for when you're feeling cold and hungry.
What you need:
1 ¼ cup packaged biscuit mix
¾ cup beer
1 egg
¼ tsp salt
4 pan-dressed fresh fish (about 8 oz each)
Cooking oil
What to do:
Mix together biscuit mix, beer, egg, and salt
Pat fish to dry
Dip fish in batter to coat both sides
Fry in hot oil for 4-5 minutes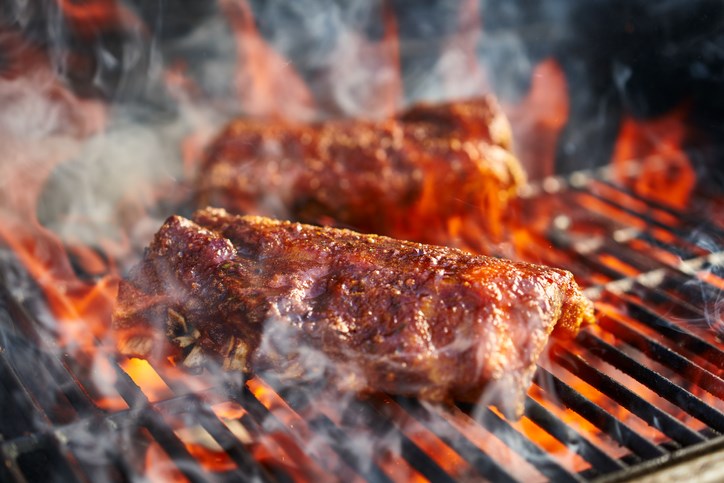 I want my baby back, baby back, baby back ribs. Our mouths are drooling at the thought of this recipe.
What you need:
4 pounds pork spareribs
1 pouch Campbell's dry onion soup mix
¾ cup ketchup
¾ cup water
⅓ cup honey
½ tsp pepper
¼ tsp garlic powder
What to do:
Cut ribs into 2 or 3 portions
Place ribs in a 6-qt dutch oven and cover with cold water
Heat to boiling over high heat
Reduce to low heat, cover, and cook 45 minutes, then drain
In 1-qt saucepan, combine soup mix, ketchup, water, honey, pepper, and garlic powder
Heat to boiling, reduce to low, and cook for 5 minutes
To grill, arrange ribs on rack directly over medium coals
Grill uncovered for 30 minutes, turning often and brushing with sauce
You may not think about having pizzas while camping, and if not, then you are missing out! Be sure to try this recipe.
What you need:
1 loaf bread
Cooking spray
1 can pizza sauce
Green peppers
1 pound browned hamburger or sausage
1 bag of Mozzarella
Pepperoni
Mushrooms
What to do:
Brown the hamburger, adding mushrooms and peppers
Spray the inside of the pie irons with cooking spray
Heat pie iron and put one piece of bread on each side
Fill bread with sauce, peppers, olives, mushrooms, etc. and top with cheese
Close pie iron and put over coals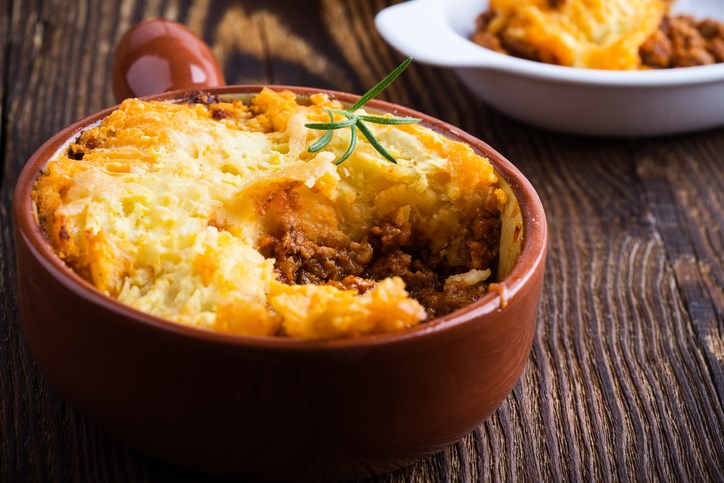 Imagine biting into one of these after a day out in the cold weather hiking. A scenario like that is going to make these delicious pies taste even better.
What you need:
1 pound hamburger
6 potatoes
1 can whole kernel corn
Nutmeg
Salt and pepper
Canned milk
Butter
What to do:
Cook the hamburger in a frying pan and add nutmeg
Peel and boil potatoes
Boil can of corn, burger, and potatoes with salt and pepper
Mash the potatoes with butter and canned milk
In a deep dish, put in the hamburger, corn, and mashed potatoes
---
Now that you've got our favorite recipes on hand to whip up while you're camping, here are some cold weather camping tips to make your meals go as smoothly as possible.
1. Eat more
You never have to tell us to eat more twice. But the reason why you want to eat more during the winter is because you need that extra energy in order to keep you body generating heat throughout the day. You will also need this for energy, as your body uses up quite a bit of energy in the cold merely to stay warm. Add on top of that hiking, skiing, snowshoeing, or whatever winter activity you find yourself doing, and you're going to want and need some extra calories.
2. Prep
As you can see from some of the recipes above, it is best to prep a bit ahead of time so that you are spending as little time outside in the cold over the fire as possible.
3. Stay hydrated
You may not feel as thirsty during the winter when you're outdoors as you do in the summer, but do not let that fool you. You need to be drinking just as much, if not more, water than you usually do to keep hydrated and moving.
4. Use a camping stove.
Rather than cooking over the fire directly, use a camping stove to speed things up a bit. This is also more convenient and less messy — two things you'll appreciate even more when it's freezing cold outside.
5. Give yourself time
Know that cooking in the winter is going to take more time, so be patient.
6. The spicier the better!
Spicy foods help keep your body warmer, so when you can add some spice in, do so.
Feeling ready to rock and roll out into the great wilderness this fall and winter for some cold weather camping? We know we are really feeling ready to try out these recipes when the temperatures drop.
---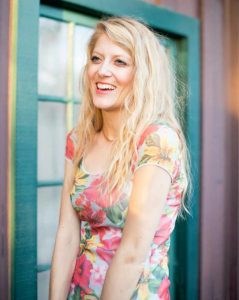 Leslie, a.k.a. Copy Girl, is a copywriter who gets butterflies from telling stories through words.
Her voice comes from a place filled with passion, dreams, and lots of sugar. "Cake over steak" is her go-to motto.
With over 10 years of experience in crafting words, and years of embarking on travels that have taken this Montana girl to some incredible places, Leslie love the adventures of both body and mind her writing takes her on.
Everywhere she goes, she takes this advice with her:
"Hold on to your divine blush, your innate rosy magic, or end up brown." – Tom Robbins, Jitterbug Perfume
To see what Leslie's up to in the writing world, visit her website here.
---