Breakfast Burritos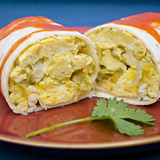 Breakfast Burritos
A great camping breakfast recipe from the experts at KOA.
Ingredients
Makes 4
1 Tbsp butter
1/4 medium yellow onion, chopped
2 Tbsp chopped canned green chilies, drained
6 eggs, beaten
3/4 c shredded Monterey Jack cheese
pinch pepper
dash liquid hot pepper sauce, optional
4 10-inch 98% fat-free flour tortillas, warmed
Preparation
Place butter in a large skillet and allow it to melt over medium heat. Add the onions and green chilies and saute for 2 minutes. Then add the beaten eggs, pepper and optional hot pepper sauce. Stir frequently so the eggs do not stick to the bottom of the pan. When the eggs are thoroughly cooked (but not dry) sprinkle the cheese over and allow it to melt.
Place a quarter of the egg mixture along one-third of a tortilla, about 2 inches away from the bottom. Add salsa and sour cream if desired and fold up the lower edge, then roll from the side to form a burrito. Eat while it's hot.