Full-time RVing is a great way to experience the open road and the freedom to travel at a moment's notice. Before you make your RV your literal home on wheels, however, it is essential to take some time to prepare yourself and your RV for any situations that may arise while you are on the road.
Tips for Living in an RV Full-Time
If you have a sense of wanderlust and a thirst for adventure, full-time RVing may be the lifestyle for you. However, there are challenges that come along with living in a camper or RV full time. Thankfully, many people have paved the way so that you can glean a little wisdom from their first-hand experience.
Before you start your engines, here are 16 pro tips for becoming a full-time RVer: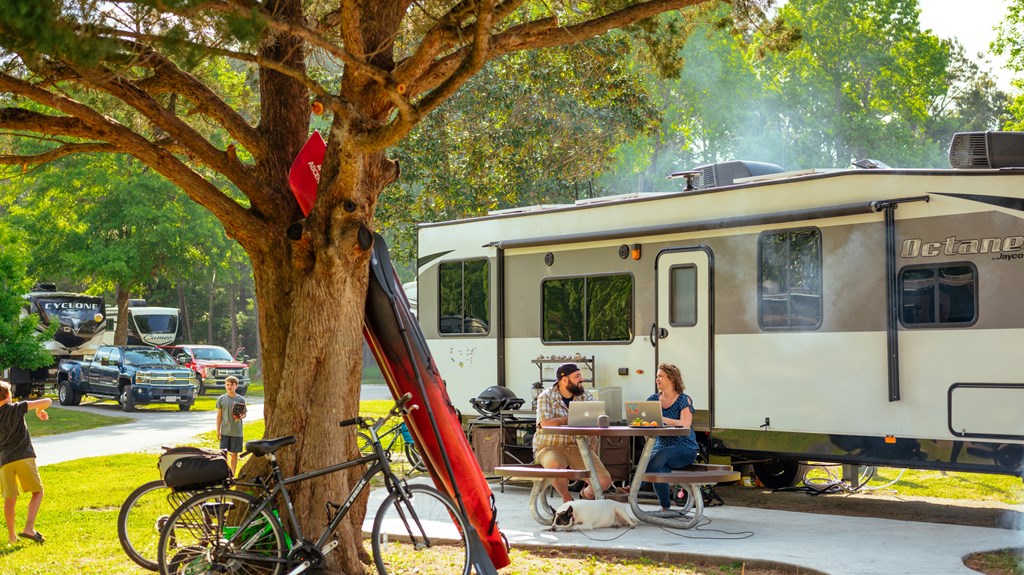 1. RV Life Is Slower Paced
As you set out to pursue the RV life, you may want to go non stop and see as much as you can as soon as you can. The RV lifestyle, however, requires a different mindset. Being go, go, go all the time is not healthy or fun. It is exhausting.
Allow yourself the freedom to stay in one place for a week or longer at a time. Not only will this recharge your batteries, but you will be able to truly appreciate the places and people you encounter.
2. Find a Job That Suits the Lifestyle
Many seasoned RVers are retired couples enjoying their golden years between America's two coasts. However, more and more millennials and other younger folks have heard the siren call of the open road. If you do not have a retirement income to live off of, find a job that is conducive to the RV lifestyle. You could try your hand at real estate or play host at a campground, like the Nealys.
Today, many jobs are online or remote. That means there are lots of career options you can take with you on the road. Be aware, though, that you probably should invest in a good hot spot for some portable Wi-Fi.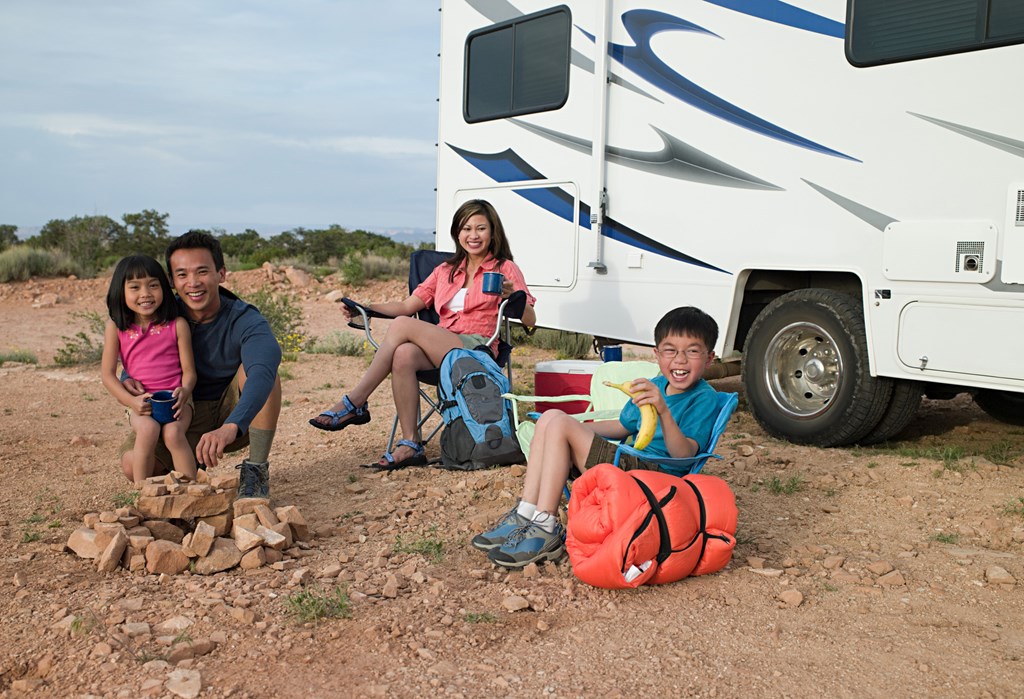 3. Diversify Your Experiences
RV life is not all weeks alone in the great outdoors. Be sure to try a sampling of lots of different experiences — from camping in crowded cities to spending time in untouched nature.
4. Find the Balance Between Planning Ahead and Going With the Flow
When it comes to full-time travel, there is a fine balance between structure and flexibility. If you want to go to a popular destination at the height of tourist season, these locales book up quickly.
Too much planning, though, can be stressful and defeats the purpose of the RV lifestyle. When necessary, do your planning and research, but do not be afraid to head out with no real agenda in mind.
5. Build a Community
Life on the road can get lonely, even if you are traveling with your nearest and dearest. Take a tip from the Nealys. Build a network of friends on the road. Whether it is a few locals you meet at a town's restaurant or other full-time RVers, connecting with others will give you a sense of community and allow you to make friends all over the country.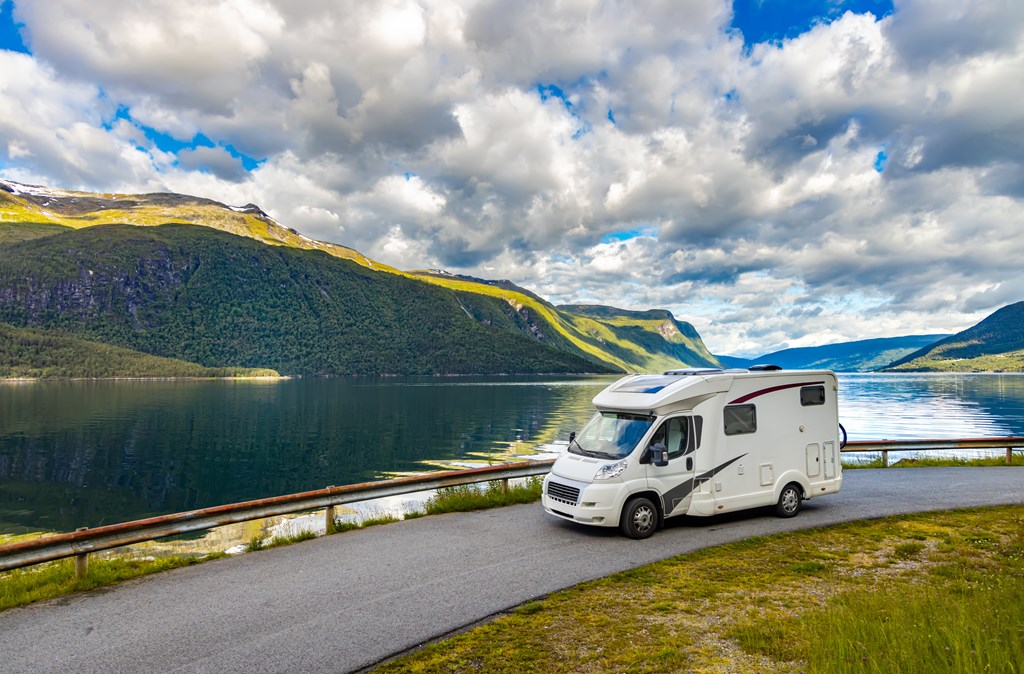 6. Embrace a Life Defined by Travel
If you decide to commit to full-time RV living, understand that travel is now a huge part of your life. While the ever-changing landscapes and freedom of the open road offer a lot of advantages, there will also be challenges along the way. Embracing a life defined by travel means these problems pale when compared to the thrill and excitement of being a citizen of everywhere.
7. Be Prepared to Boondock
Boondocking is when you camp in areas without electricity, water or sewage hookups. You can boondock by parking your RV in a parking lot or on public lands. Since you do not connect your RV to electricity while boondocking, it is popular during months or locations where the temperature is mild as you will not need to run the air conditioner or heater.
It is also vital to check the weather forecast and try to boondock when the weather is between 40 and 70 degrees. If you plan on boondocking for multiple days at a time, ensure you have a generator or battery to power your appliances and other items and enough water (or access to water) for showering, dishes and the bathroom.
8. Carry Cash and Change
While most people carry a credit or debit card while traveling, having a little cash on hand is still vital, especially as a full-time RVer. For unexpected tolls and laundromats, cash and change are pivotal, lest you incur a highway fine or amass an unruly heap of clothes.
There will also be times when the card machine may not be in service or not accept your card, making it essential to have cash to cover whatever you need. The amount of money you bring will vary depending on your budget and needs, but $50 to $100 daily is a good rule of thumb.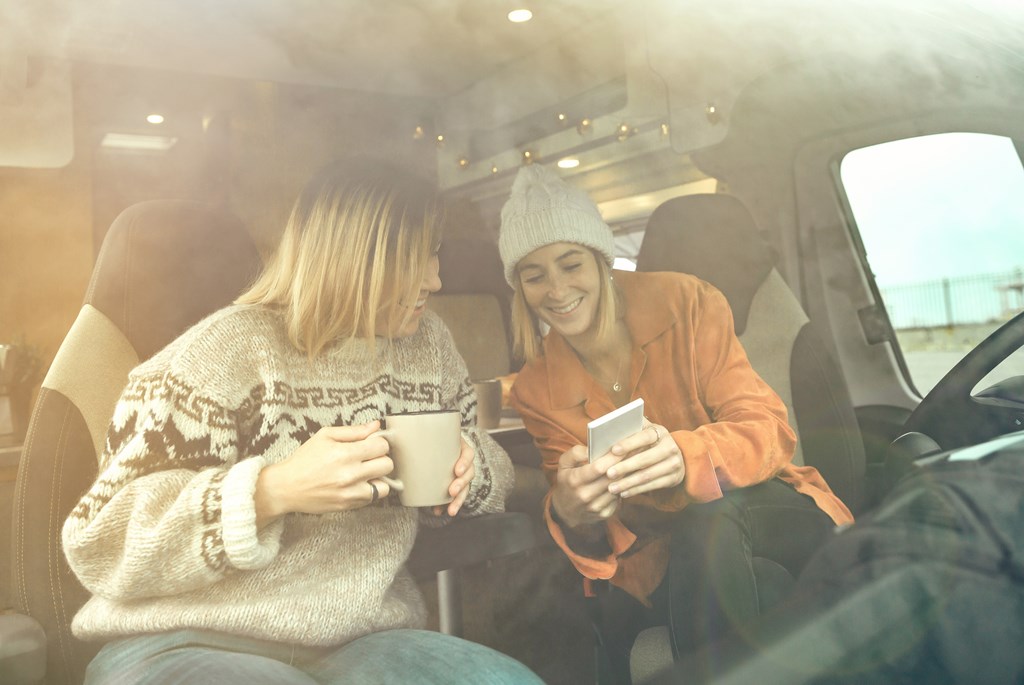 9. Download Road Trip Apps
Traveling in an RV can be a lot of fun, especially if you head out on the road with loved ones or friends. One of the biggest tips for full-time RV camping is to download a few road trip apps for your phone. From navigation to finding gas in a pinch, hundreds of apps are available to make your trip stress-free.
Some of the more vital apps to download include Roadtrippers, which tells you fuel cost and distance along with restaurants and attractions along the route; Gasbuddy, which maps out nearby gas stations and prices; and Flush Toilet Finder, which displays nearby public bathrooms.
10. Listen to Podcasts
When it comes to long days of road travel, podcasts are your best friend. More so than music, they help pass the time and pleasantly distract, especially when the subject matter is as engrossing as a murder mystery or a happy hiking guide.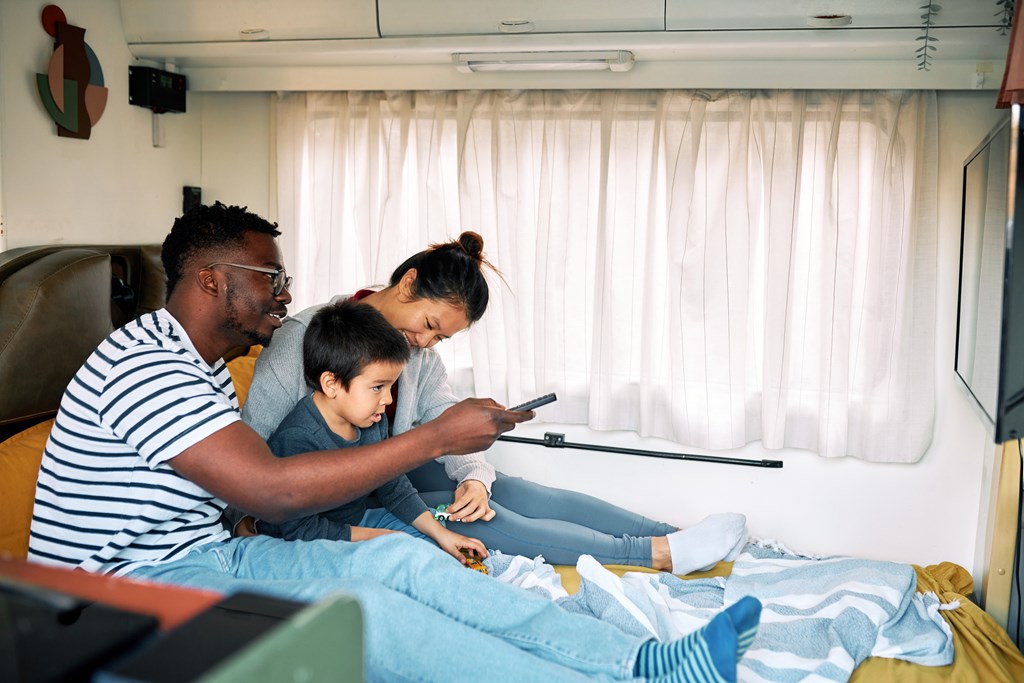 11. Get Ready to Downsize
RVs are typically smaller than most houses, meaning you must downsize as you head out on the road. As you get ready to downsize, starting as early as possible is essential since this process may take longer than expected. You can also make the downsizing process easier by planning what items you will put in specific locations in your RV. For example, you may wish to plan which clothes to put in closets or other storage spaces.
If you have items you truly cannot get rid of, you can always place them into storage and access them as you get more room in your RV. As you downsize, it is vital to remember you are replacing objects for once-in-a-lifetime memories that last forever without taking up space.
12. Buy a Space Heater
Space heaters are vital, especially if you plan on RVing in cooler climates. While your RV's furnace is an effective heating option, it also runs on propane which can quickly run out. It draws a lot of electricity as well to circulate the hot air throughout the space.
During the colder months, you will burn through propane much faster than in the summer months, and if you cannot move your RV to refill the propane tank or find a company that offers a mobile refill service, your RV can become dangerously cold. With a space heater, you can heat your RV using less energy. Since space heaters use electricity, you can hook your RV up to a reliable electricity source and use your heater as much as you want without worrying about your supply running out.
13.  Stock Up on Antifreeze
Antifreeze should be on-hand at all times as you never know when you might need it! Temperatures can plummet at night, and occasionally dip well below freezing. Even if you've got space heaters running, the piping for your sinks, shower and toilet may not be as toasty as you. This is definitely true if you're parking your RV somewhere cold and staying elsewhere, like in a hotel or at a relative's house, in which case you will 100% need to prevent your pipes from freezing by pouring antifreeze down the drains.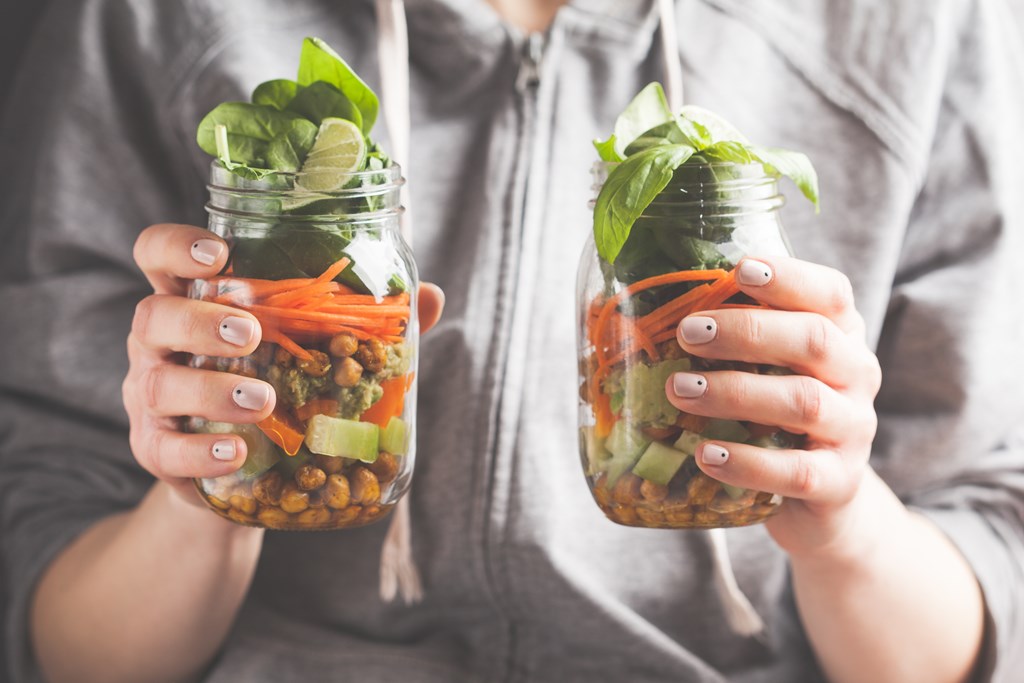 14. Fill Your Cupboards with Healthy Snacks
Fast-food gets old fast. Unfortunately, healthy options are few and far between when it comes to stopover restaurants which is why it's important to shop for a variety of items—snacks, meals, drinks— at grocery stores before embarking on long trips. It's much more convenient (and much better for you) to snack on things like soup, applesauce, granola, hummus and fruit when the cravings kick in.
15. Be on the Lookout for Clean Showers
If you have a limited water supply, take showers at campgrounds and other locations to save your water for dishes or the bathroom. Many campgrounds and RV parks, such as Kampgrounds of America, offer clean, well-stocked bathroom facilities for RVers.
16. Use Public Transit to Get Into Cities
Parking is, quite literally, a big issue when it comes to living in an RV. Unless you're someplace rural or on wide-open roads, figuring out where and how to park your RV is oftentimes a game of Tetris. And you can basically forget about driving it into any big city. Find someplace secure to park your RV comfortably outside city limits, like suburban RV parks and campgrounds, or the occasional Wal-Mart lot and take public transportation into the city.
Experience the Open Road With Kampgrounds of America
With over 500 locations across North America, you will find KOA Campgrounds in both more populated destinations as well as in quieter areas that let you be one with nature. Whether you make traveling a full-time adventure or an excursion you take once in a while, count on KOA to provide a comfortable place to stay. Reserve your site today.
---
About the Author: Kampgrounds of America
Kampgrounds of America is the largest system of open-to-the-public campgrounds in the world, with over 500 locations across the United States and Canada. Founded in Billings, MT in 1962, KOA's family of campground brands – KOA Journey, KOA Holiday and KOA Resort – today serve more than a million camping families each year. KOA is dedicated to "connecting people to the outdoors and each other" by providing people with a variety of camping experiences and the information they need to make the most of their camping trip. Read more of their camping and travel resources by visiting KOA.com/blog.