A recreational vehicle (RV) allows exploration and adventure while maintaining a comfortable space to live and work. In your RV, you can visit the best sights in North America while dedicating time to your career. If you are considering working from an RV, this guide contains helpful information like tips, equipment and the best remote jobs for travelers.
Want to Work Remotely in your RV? This Guide Will Tell You Everything You Need to Know
Benefits of Working Remotely While Traveling
The Best Remote Jobs for RVers
How to Work Remotely on the Road
Equipment for Working on the Road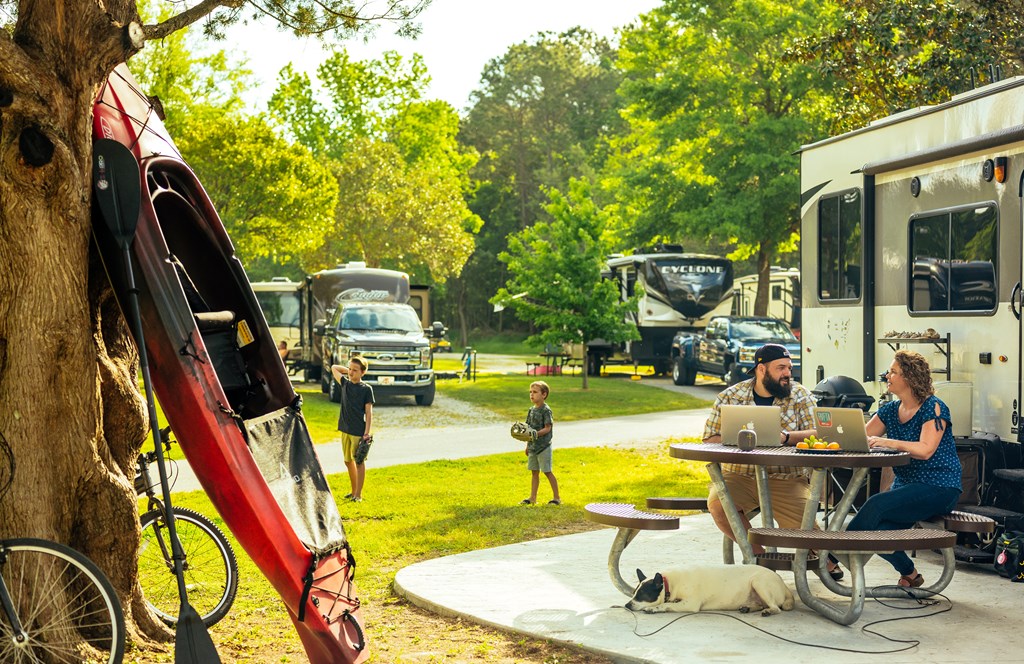 Benefits of Working Remotely While Traveling
With the pandemic and recent events, the number of people engaging in remote work has accelerated. In fact, online searches for "remote jobs" have increased by 397% from 2019 to 2022. With the ability to travel and see new things while also earning a living, it's no wonder workers are taking their work on the road. Here are a few top advantages of combining travel and remote work.
1. Freedom
Staying mobile while you work allows you to explore new places. Whenever you feel the urge to move, you can pack up and go, taking your job with you. If you live in an especially cold or warm climate, you can seek a more comfortable place to stay during the height of summer or the frosty winters.
2. Growth Opportunities
When you embark on a journey, you will undoubtedly meet new people on the road or at a campground. You can use these growing connections to expand your business. Advertise your services on the side of your RV or hand out business cards to other campers. This method will allow you to expand your business beyond your hometown.
3. Enjoying Nature
If you want to chase that beautiful sunset or hike to a cascading waterfall, working remotely gives you easy access to these natural wonders. You can stay at a Kampgrounds of America location near a state or national park and spend your lunch break or your afternoon exploring the outdoors.
4. Cheaper Living
Buying an RV might pose an initial expense, but traveling while working can save you money. You will still pay for things like gas, campsite fees, maintenance and taxes, but you will avoid other expenses like a mortgage, rent and utilities.
5. Fun
If you want a little added fun in your life, working while traveling allows you to seek adventure while you work. You can spend a few hours at the ocean or exploring a local trail, then return to work refreshed and ready to accomplish your to-do list.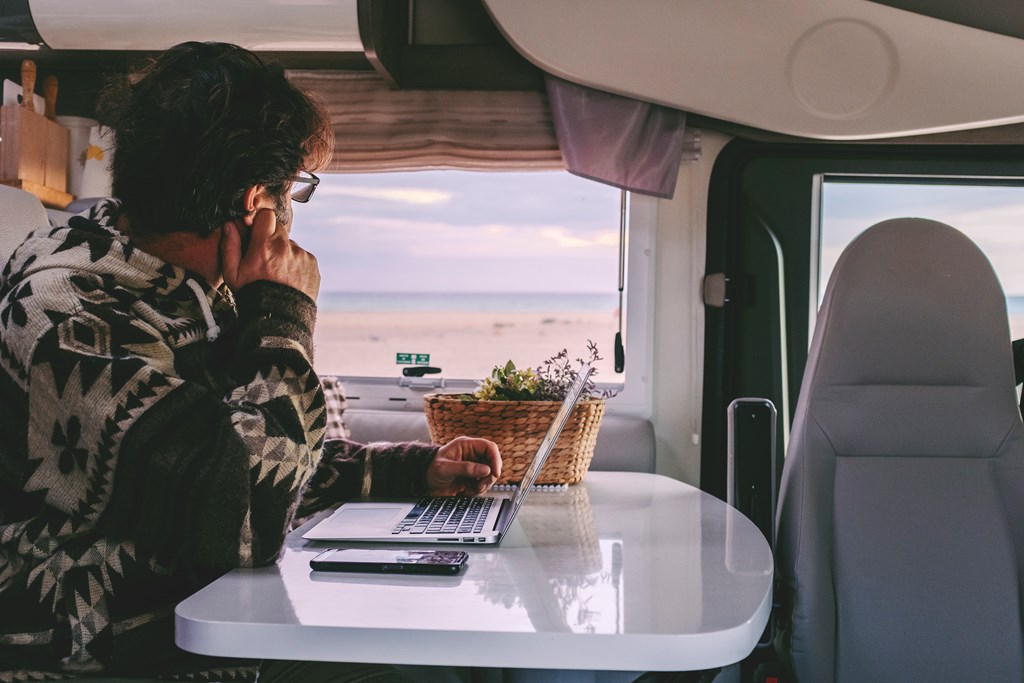 The Best Remote Jobs for RVers
Live life on the road with remote jobs for full-time RVers. Working out of your RV means you can spend your off hours exploring the wonders of the outdoors. On sites like LinkedIn, Indeed, Monster and FlexJobs, you can find remote positions that suit your interests and skills. If you currently work in an office, you can also talk to your boss about shifting to remote work. If you seek this lifestyle but wonder what full-time RVers do for work, here are a few remote jobs that allow you to travel.
1. Graphic Designer
This job involves creating graphics for a company. You might make social media images, website graphics, packaging or marketing material designs. Often you can do this job remotely while traveling as long as you have a laptop and Wi-Fi. Graphic designers must also learn to use programs like Adobe Suite.
2. Virtual Assistant
As a virtual assistant, you work to make your boss's job easier by keeping everything organized. You might use programs like customer relationship management (CRM) software to do the job. Mainly, you need to be tech-savvy and able to learn new programs. All you need is a laptop, Wi-Fi access and a reliable phone, making this one of the best remote jobs while traveling.
3. Blog Writer
If you are passionate about words, consider using language to inspire others as a blog writer. You can create your own blog or write content for other companies. Your main tools will be a laptop and a reliable Wi-Fi connection.
4. Social Media Manager
If you love social media, like Facebook, Instagram and TikTok, make it your job with a role as a social media manager. In this position, you will work to gain followers and sales for a particular business. You will likely need some experience helping other companies achieve success.
5. Transcriber
Transcribing is another great job to do on the road. In this role, you will copy audio content into a written document. You may listen to speeches, presentations and meetings and create a written record of what you hear. This job requires patience, as you may need to rewind to catch every word, but it is a job you can do while traveling in an RV because it requires minimal equipment.
6. Web Designer
Many businesses need a reliable website to showcase their services and connect with customers. As a website designer, you create sites for customers. You will need coding knowledge and the ability to use platforms like WordPress and Squarespace. It is one of the best jobs for RV living because most work only requires a computer and internet connection.
7. Brand Specialist
Branding creates a distinct image for a particular product or company. This element helps companies sell products to a specific customer base. A brand specialist works to craft this image by developing a logo and other materials that showcase the brand's personality. The job requires design knowledge and experience in creating a compelling brand image for other companies.
8. Work Kamper
If you want a seasonal job, consider becoming a Work Kamper at a KOA Campground. In this position, you will provide a positive camping experience for other campers while you stay at the campground. Once the season is over, you might relocate to a new KOA location or seek other seasonal work.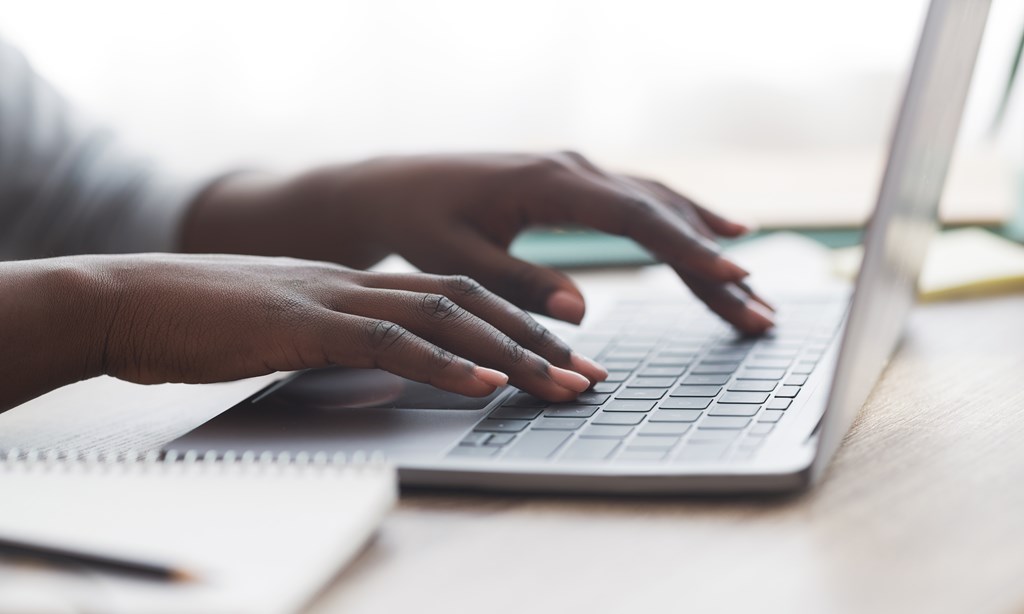 How to Work Remotely on the Road
While working and traveling allow you to seek adventure and visit new places, the need for more structure and dedicated office space can create challenges. After you find a remote job to do while traveling, use these tips to make working on the go easier.
1. Stick to a Routine
The freedom of the outdoors might cause you to lose focus on your job. To avoid this, make a routine and stick to it. When planning your work hours, consider when you are most productive and what days you want to leave open for exploring. Your workday might start and end earlier to leave your afternoons free, or you might add a long lunch break allowing you to step away from work for a few hours.
Your routine might also differ from a typical Monday through Friday schedule, depending on what works best for you. Working during the weekends might leave weekdays free to explore national and state parks during less busy hours. You might also want to work three to six hours each day and work through the weekend. Find a routine that works for you and try to stick to it.
2. Keep Everything Charged
You will likely need a computer and phone for your job. If you do not have access to full hookups, invest in a generator, power banks or a solar charger to ensure your devices stay charged. That way, you can keep busy without searching for a power outlet to recharge your phone or computer.
3. Stay in One Spot
Try to only move to a new campsite or campground once per week. Moving adds stress to a long workday, making your job less enjoyable. If you need a camping option with extended stays, consider camping at a KOA Campground. These campgrounds offer extended stay options allowing you to settle in and work for a few weeks or months in one location. Many locations also offer discounted rates for longer stays, making working on the go more affordable.
4. Create a Dedicated Workspace
Try to keep your workstation in one spot. Set up desk space in your camper to help keep you focused while you work and avoid the struggles of moving your equipment regularly. A picnic table or a campground bench works for short periods, but creating a dedicated workspace will allow more comfort and efficiency.
5. Stay Connected
Camping near exciting sights often means being apart from your trusty internet connection. While many campgrounds offer Wi-Fi, keep a backup by investing in a hotspot or satellite internet provider. Also, before you move to a new campground, check whether you will have cell service in the area.
6. Bring Additional Tools
Traveling means packing only the essentials, but if you need an extra monitor or a steering wheel clip-on desk to be more efficient, invest in these tools and bring them along. Save space for your essential work tools to make working on the road more manageable and enjoyable.
7. Make the Most of Travel Days
Travel days often create long, uninterrupted periods for you to focus on work. When traveling as a passenger, use this downtime to catch up on light tasks like emails or social media posts.
8. Be Flexible
If you work a remote job while traveling, you might try to stick to a particular schedule, but unexpected events might cause you to lose productivity for an hour or two. While you should try to stick to a plan, a flat tire or a Wi-Fi outage might reduce your work hours. Add in some flexible time to allow you to catch up after these events happen.
9. Work During Productive Hours
Everybody has a different rhythm during their work day. Maybe you struggle to stay focused during sunny afternoons. If you are most alert during the early morning hours, plan your most challenging tasks for this time and allow yourself to relax later in the day rather than forcing yourself to work through a slump. This method will enable you to get more work done and let you rest or take a hike when you feel less motivated to work.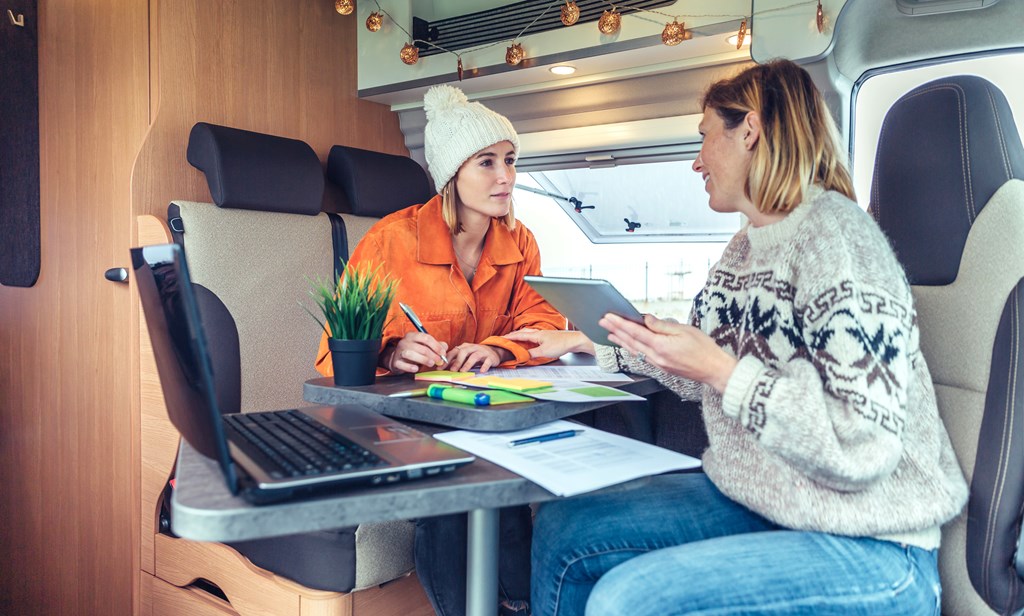 Equipment for Working on the Road
Whether you take a partial vacation and bring work along or work on the road all year, you will need a few supplies to stay productive.
1. Laptop
Your computer forms the foundation of remote work. If you plan to work remotely for long periods, consider upgrading your laptop to a lighter and faster model. Also, make sure you have related gear, like a protective case and an extra charging cord. Add more protection with a warranty in case your laptop suffers damage during your travels.
2. Mobile Hotspot
If you venture off the beaten path to explore in your RV, you often have limited access to high-speed Wi-Fi and mobile data. Ensure you always have internet access by purchasing a mobile hotspot. Some models even plug into your RV dashboard to stay charged and provide backup connectivity when needed. Whether you need to join a meeting or complete a project, you will always have Wi-Fi.
3. Phone Headset
Most jobs require you to answer phone calls periodically. Investing in a phone headset makes your job easier by keeping your calls hands-free. You can even answer calls while you drive without pulling over to a rest stop and wasting valuable driving time.
4. Coffee Machine
If you need a caffeine boost in the morning or afternoon, give yourself easy access wherever you go by purchasing a coffee machine. With daily coffee in your RV, you can stick to the comfortable routine you established at home or in your office. You can also save money and time by making coffee in your RV rather than driving to a local coffee shop.
5. File Organizers
In a small space like an RV, you need to stay organized. If you often deal with bills, receipts, tax forms and mail, get a cabinet or file folder to store these items. Once you purchase storage space for your work documents, set aside space in your RV, so other things stay separate.
6. Portable Battery
If you do not have an electrical hookup at your campsite or on the road, ensure you can keep working by purchasing a portable battery or charging bank. When you have access to power, you can charge your devices and power banks. Then when your laptop or phone runs low, you have a backup power source.
Work From Your RV and Stay at a KOA
With over 500 locations across North America, KOA Campgrounds provide a convenient place to park your RV and work remotely. If you have a job suited for RV living, pack up and travel to a KOA. At KOA, you can benefit from Wi-Fi access and friendly staff dedicated to making your stay enjoyable. Find a campground near your next travel destination and book your visit today.
---
About the Author: Kampgrounds of America
Kampgrounds of America is the largest system of open-to-the-public campgrounds in the world, with over 500 locations across the United States and Canada. Founded in Billings, MT in 1962, KOA's family of campground brands – KOA Journey, KOA Holiday and KOA Resort – today serve more than a million camping families each year. KOA is dedicated to "connecting people to the outdoors and each other" by providing people with a variety of camping experiences and the information they need to make the most of their camping trip. Read more of their camping and travel resources by visiting KOA.com/blog.