Hammock Tent Camping: Pros and Cons
When you think about camping, the first thing that comes to mind is probably a tent. However, in recent years, a number of campers have stopped pitching tents and started hanging hammocks under the stars instead. Hammock camping is a growing phenomenon among lightweight hikers and outdoor enthusiasts alike, with the global hammock market projected to grow from 291.6 million in 2016 to 651.7 million in 2021 — a nearly 45% increase.
What is hammock camping, though, and why is it so popular? Hammock camping is a style of camping that involves sleeping in a hammock suspended above the ground instead of in a tent, or another type of campsite lodging. Hammocks tend to be much lighter than tents and are also easier and faster to set-up. Hammock camping lets you sleep close to nature and is suitable for many different environments. The ease and versatility of hammock camping have made it a favorite for backpackers, day hikers and even campground campers.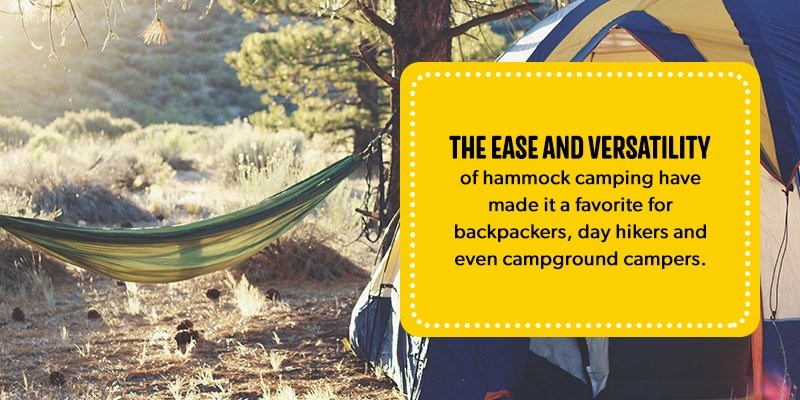 If you are considering giving hammock camping a shot, this article will help you decide if it is right for you. We will weigh the pros and cons and offer a few hammock camping hacks for choosing the right hammock and sleeping more comfortably.
The Benefits of Hammock Camping
Hammock camping enthusiasts swear by their hammocks as the best way to camp and sleep — some even prefer their hammock to their bed at home. Here are a few reasons why hammock camping is so popular:
1. Lightweight
Most hammocks are significantly lighter than traditional tents. Instead of using heavy tent poles and stakes, hammocks only require suspension straps and the hammock itself. Hammocks are a great option for backpackers seeking to save weight in their packs or campers who want to travel light. If you are flying to your camping destination, a hammock will save both space and weight in your luggage.
Because hammocks are so light, you can even toss one in your bag for a day hike. When you get to the top of the mountain, you can enjoy the view from your cozy hammock.
2. Easy to Set-Up
Compared to most tents, hammocks can be set up much more quickly. Once you find a good spot, it can take just a few minutes to get your hammock where you want, and you will not have to worry about tent poles and pounding stakes into the ground.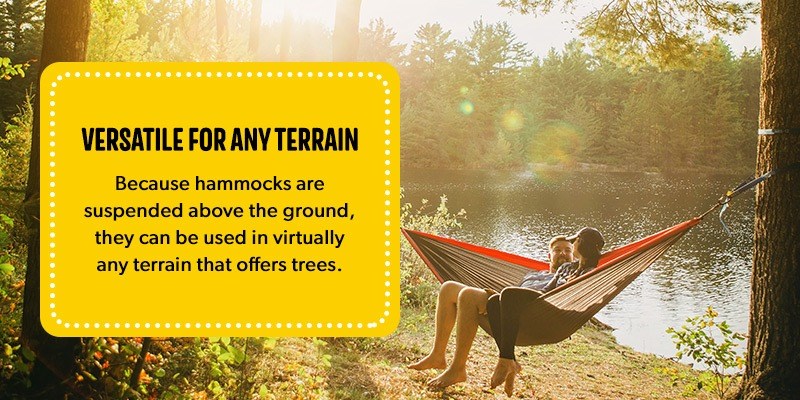 3. Versatile for Any Terrain
Because hammocks are suspended above the ground, they can be used in virtually any terrain that offers trees. As opposed to a tent, when backpacking you do not need to find a level spot on the ground to pitch a hammock. Hammocks can be hung above uneven ground and still provide a suitable and comfortable sleeping space.
Hammocks can also be set up without clearing away any stones, twigs or other debris. You do not have to worry about sleeping on tree roots or loud crinkly leaves. When you don't have to prepare your campsite before pitching your hammock, this also allows faster set-up and more time to relax beside your campfire.
4. Comfortable
When you lay in a hammock the right way — which we will describe later on — you will be laying perfectly level with your body supported by the hammock. This is one of the reason these have become so popular with backpackers – Instead of searching for a perfectly flat spot to pitch your tent, you only have to hang your hammock straight. Hammock camping also allows you to lie on your back or on your side comfortably.
When you aren't snoozing, your hammock can also double as a comfortable camping chair. Simply fold the front end of the hammock over itself, and you can sit on it like a regular chair. During the day, your hammock is the perfect spot for reading and relaxing.
5. Keeps You Dry
Hammock camping also keeps you dry, even when the ground is soaking wet. When you are suspended in the air and protected by your rainfly, you can sleep comfortably in your hammock during a rainstorm without any risk of getting wet. Water will roll off of your rainfly, and you will be free to enter and exit your hammock without worrying about rain getting inside.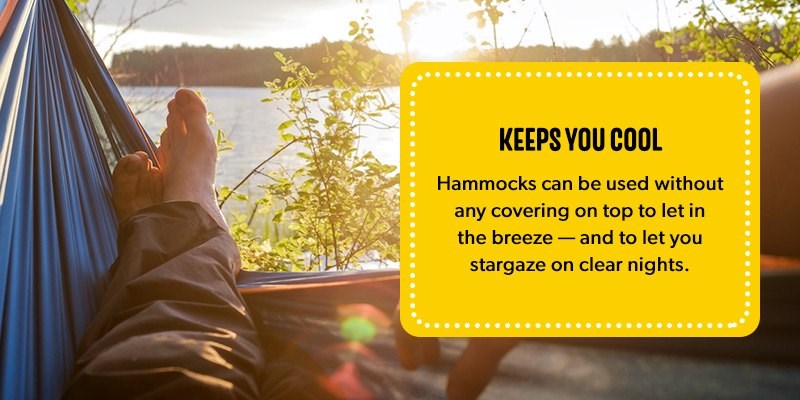 6. Keeps You Cool
The inside of a tent can get pretty toasty in the warm weather, but when you camp in a breathable hammock, you'll stay cooler all night long. Hammocks can be used without any covering on top to let in the breeze — and to let you stargaze on clear nights.
The Drawbacks of Hammock Camping
Despite these benefits of hammock camping, it also poses a few challenges. Hammock camping may not be feasible in all environments or for all campers. Consider these drawbacks to decide if it is right for you:
1. Limited Capacity
Hammocks are available in single or double sizes, meaning they are only suitable for one or two people at a time. Double hammocks can also be pretty snug and may not be comfortable for two people unless they are a couple or they are very close friends. This can make hammock camping difficult for large groups. Also, if an area does not have a lot of trees, it can be challenging for everyone to find a sturdy, suitable spot to pitch their hammock.
2. No Room for Pets
If you want to go camping with your dog, there may not be space for your four-legged friend in your hammock. Although some campers can share a double hammock with their dog, not all dogs or their owners will be comfortable with that arrangement. This means you will need to bring extra bedding for your pet or else they will be left out in the cold.
Bringing extra bedding or a small pop-up tent for your dog may not be an issue for those camping with their car nearby. But for backpackers and lightweight campers, this negates the benefits of hammocks being so lightweight and easy to travel with.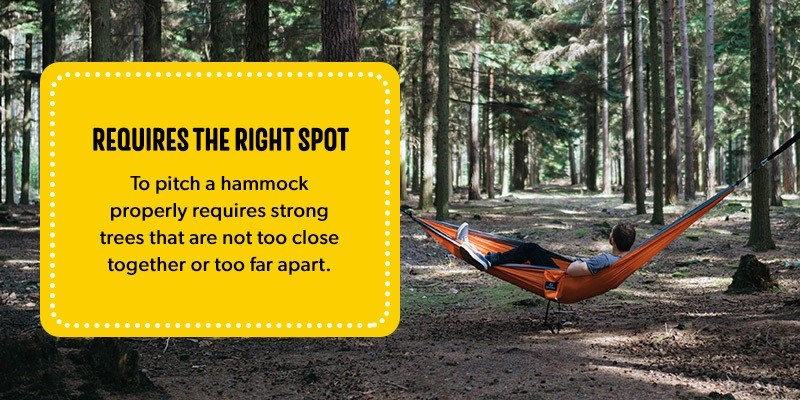 3. Requires the Right Spot
While hammock camping is certainly versatile for many environments, it is still limited to areas with trees, rocks or other sturdy structures that a hammock can be tied to. To pitch a hammock properly requires strong trees that are not too close together or too far apart. Finding the right spot to hang a hammock may be challenging in sparse forests and nearly impossible in deserts, alpine zones or other barren climates. Hammock camping at traditional campsites also may not be a possibility if your campsite does not have suitable trees. Additionally, some privately owned campgrounds might not allow hammock camping.
4. May Cause Sleep Issues
While many people find hammock camping more comfortable than tent camping, others struggle to get used to sleeping while suspended in the air. If you toss and turn a lot in your sleep or tend to switch positions throughout the night, hammock camping might feel too restrictive and uncomfortable.
5. Less Privacy
When you camp in a tent or RV, you have a private space where you can change your clothes or relax by yourself. With hammock camping, you do not have this luxury. While your rainfly can provide some privacy, you will probably want to get dressed in the campground's bathroom facilities instead.
6. Can Be Cold
When camping in the fall or winter, sleeping in a hammock can be pretty cold. When camping in a tent, you are insulated by the ground beneath you and your camping pad and other sleeping gear, but in a hammock, you are surrounded by cold air on all sides. This means you will lose heat much more quickly and will need to bundle up a lot more to stay warm when the temperatures drop. Luckily there are a few tricks to fight the cold, which we will describe later on.
Is Hammock Camping a Good Fit for You?
Hammock camping can be a fun alternative to traditional tent camping, but it may not be the right choice for you and your group. When choosing between hammock camping vs. tent camping, consider these factors to determine if hammock camping is a good fit for your next camping trip:
The number of campers: Hammock camping works best when camping solo, with a partner or with a group of friends that all have their own hammock. If you are booking a group campsite for hammock camping, make sure there are enough trees for everyone to pitch their hammock comfortably. In sparse forests or non-wooded areas, sharing a large tent may be an easier option.
The age of campers: Kids love playing on hammocks, but that does not necessarily mean they will enjoy sleeping in one. If you are camping with young children, they may feel better sleeping on the ground in a tent. Older campers or those with mobility issues may also have trouble getting in and out of a hammock to sleep.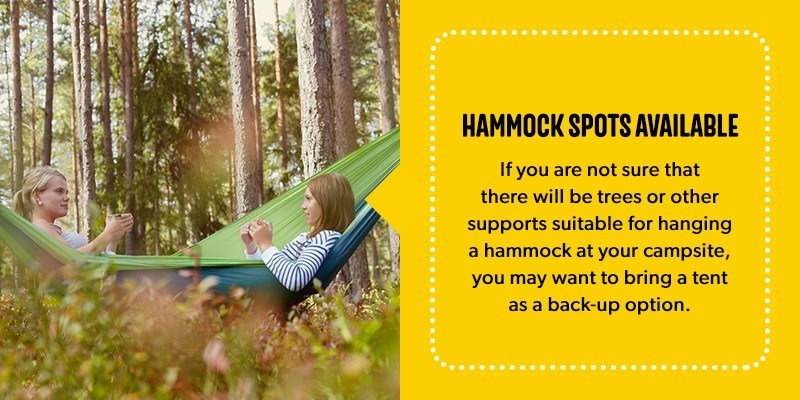 Hammock spots available: If you are not sure that there will be trees or other supports suitable for hanging a hammock at your campsite, you may want to bring a tent as a back-up option. Portable hammock stands are also available, but they will take up more space in your car and require additional set-up.
Closeness to nature: Hammock camping lets you sleep under the sky and be rocked by the breeze at night. Many campers love feeling closer to nature when they camp in a hammock, but other campers may prefer the security of sleeping in a tent, RV, cabin or another type of lodging. Tent camping still lets you enjoy the fresh air while offering a little more privacy.
When planning your camping trip, make sure hammock camping is permitted at the campground you are considering before leaving your tent at home. Some campgrounds may only permit hammock camping in designated areas, and others may not allow it at all. Confirming in advance will save you the hassle of having to figure out an alternative when you get there.
Ready to Give Hammock Camping a Try? Tips for Choosing the Right Hammock for You
If hammock camping sounds like a good fit for you, it's time to start looking for the perfect hammock. Use these tips to find the right hammock and other hammock camping essentials for your next trip:
1. Buy a Camping Hammock
When shopping for a hammock, look for a high-quality hammock that is specifically designed for camping. The string hammocks that are popular for backyard use are not suitable for sleeping out in the woods. Choose a camping hammock made of strong and durable material, rather than an inexpensive hammock that will wear out more quickly.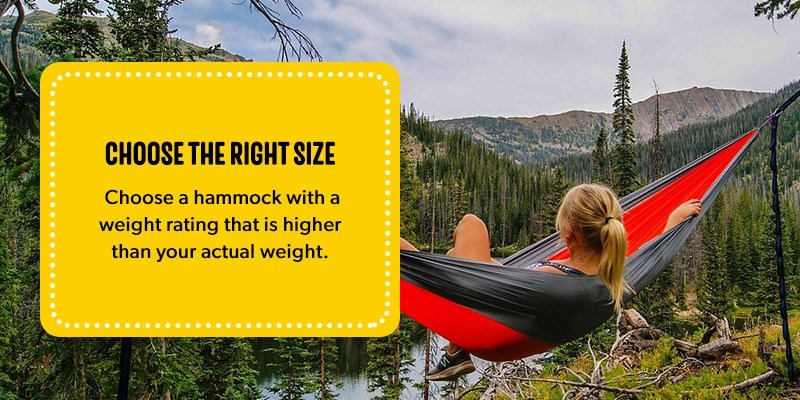 2. Choose the Right Size
Hammocks come in various sizes for people of different heights and weights. Choose a hammock with a weight rating that is higher than your actual weight. If you are shopping for a double hammock, add your weight to your partner's weight. Most nylon camping hammocks are rated for around 400 pounds, but some ultralight models can be much lower.
When determining the right length for your hammock, add at least two feet to your height. A hammock that is too short will feel restrictive and can cause your knees to hyper-extend when lying down flat.
The width of the hammock will not affect your comfort as much as the length. Most single hammocks are about four to five feet wide, and double hammocks are about five to six feet wide. Some campers prefer to sleep in a double hammock for a little extra roominess, even if they are sleeping alone.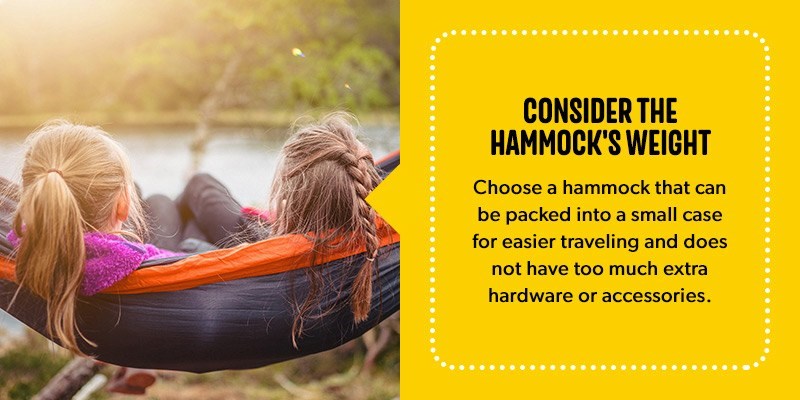 3. Consider the Hammock's Weight
If you are not planning to take your hammock on any backpacking trips, the weight of the hammock itself may not be important. However, if you want your hammock to be light and ultra-portable, opt for a hammock made of lightweight, yet durable material. Choose a hammock that can be packed into a small case for easier traveling and does not have too much extra hardware or accessories.
4. Buy a Rain Fly or Tarp
If you want to be protected from the elements, a rain fly is a hammock camping essential. Some hammocks may come with a rain fly that will be the right size for that model. If the hammock you are eyeing does not include a rain fly, you can purchase a rain fly or tarp separately.
Choose a rain fly that is large enough to protect your entire hammock from rain, snow and wind. When tied above your hammock, the rain fly should extend past your head and toes and stretch wide enough to block rain from blowing into your hammock.
5. Buy a Bug Net
A bug net is another hammock camping essential, especially for camping in the spring and summer. Your hammock may come with a built-in bug net that connects to the top edges of the hammock. If your hammock does not already have a bug net, purchase one that can be wrapped 360-degrees around your entire hammock so you do not wake up with bug bites in the morning.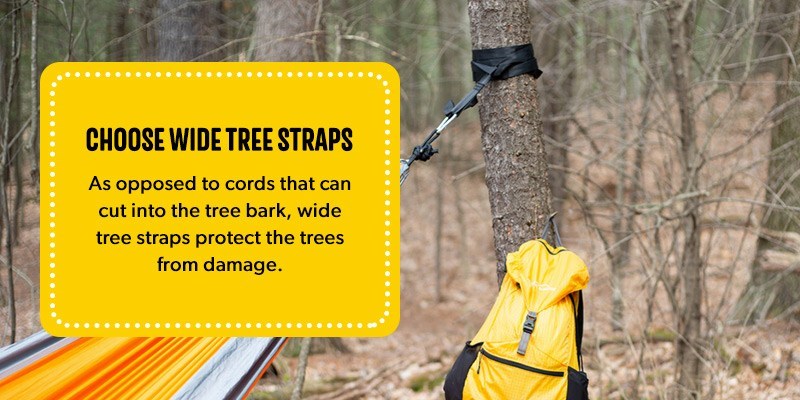 6. Choose Wide Tree Straps
As opposed to cords that can cut into the tree bark, wide tree straps protect the trees from damage. Look for webbing straps that are about one inch wide and strong enough to support your hammock. A suspension system with multiple attachment points also makes it easy to adjust for how far apart the trees are at your campsite.
7. Consider Additional Features
Some hammocks are available with extra features or accessories that make hammock camping even easier and more comfortable. A built-in gear pocket is a convenient feature that allows you to store your important belongings in a small pocket inside of the hammock. You can keep your wallet, phone and keys somewhere safe while you sleep.
A snakeskin cover is another useful accessory that makes setting up and packing up your campsite a breeze. Snakeskin covers attach at each end of your hammock around the suspension ropes. When it's time to pack up, simply slide the snakeskin sleeves down over your hammock and tie them together in the middle. You won't have to spend time rolling or folding your hammock or worry about the straps getting tangled. For set-up, simply attach the hammock to your suspension system and slide the snakeskin covers back.
8. Test It out First
Before you go hammock camping for the first time, test out your hammock. Set it up in your backyard or at a nearby park. Make sure it is the right size and feels comfortable to sleep in. If you feel squished or smothered, exchange it for a different size or model.
Testing your hammock before you head out into the woods also ensures you will know how to set it up when you get to the campsite. You'll feel more confident choosing the right trees, tying your suspension straps and even climbing into the hammock gracefully. For your first hammock camping trip, it may be smart to bring a tent along just in case. If you can't sleep or have trouble finding suitable trees, you'll be happy to have a back-up option.
Hammock Camping Tips
Hammock camping is a unique style of camping that can take some getting used to, but with these hammock camping tips for beginners, you'll be a pro in no time:
Keep the suspension lines loose: A common mistake for hammock camping beginners is to tie their suspension lines too tight, which bows your back while sleeping and can make you feel squished. Instead, keep the suspension lines loose so you can sleep more comfortably. Aim for the suspension lines to hang at a 30-degree angle from the horizontal. If 30 degrees is not possible, opt for more sag rather than less.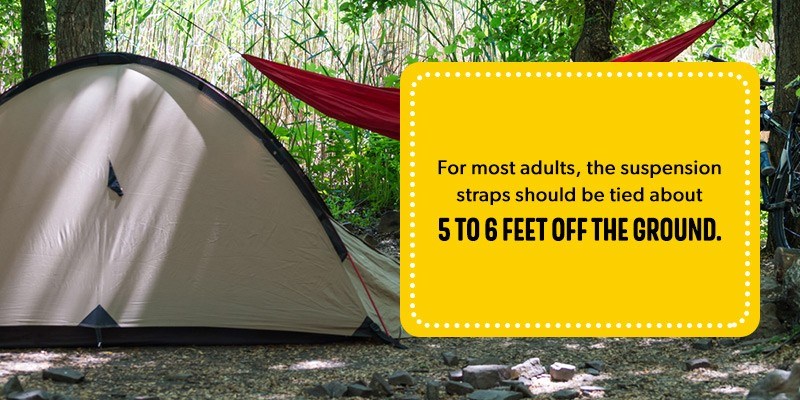 Pitch it at the right height: Finding the perfect height to pitch your hammock will take a little practice. If your hammock is too high, you won't be able to climb in, but if it is too low, you will sag to the ground when you get in. For most adults, the suspension straps should be tied about five to six feet off the ground.
Choose the right trees: Look for sturdy trees that are at least six inches in diameter. Choose trees with hard and durable bark, and avoid trees with lichen or moss. Never hang a hammock on a dead tree or a tree with dead limbs that could drop during the night.
Check the ground: While it is true that you can hang a hammock above just about anything, that doesn't mean you should. Avoid pitching a hammock over sharp rocks, creeks or chasms or in other risky areas.
Use a drip line: On really rainy days, water can seep down the suspension lines and get your hammock wet, even with a rain fly. To prevent this, you can use a drip line. Simply tie a string around the suspension straps on both ends of your hammock. Water will flow down the drip line instead of to your hammock.
Lay on a diagonal: The secret to sleeping comfortably in a hammock is to lay on a diagonal. Rather than lying in line with the hammock which curves your back and squeezes your sides, laying diagonally will allow you to lay flat and level with space to breathe. If you find yourself sliding back toward the middle while you sleep, raise the foot end of your hammock slightly to prevent your body from sliding.
Bundle up: If you are camping in cooler weather, use a cold weather sleeping bag and sleeping pad inside of your hammock for insulation. Mummy style sleeping bags often work best because they fit the shape of a hammock and trap heat more effectively. If your sleeping pad keeps slipping out from under you, place it inside of your sleeping bag instead of under it.
Try an underquilt: If you are still chilly after bundling up inside your hammock, try using an underquilt. Underquilts wrap around the bottom of your hammock to block out cold air and provide extra insulation.
Once you get the hang of it, hammock camping can be a great way to enjoy the outdoors during your next trip. You will sleep soundly and wake up right in the midst of nature.
Plan Your Next Camping Trip Today at a KOA Campground
If you're ready to give hammock camping a shot, consider choosing a Kampgrounds of America location as your home base. With over 500 KOA campgrounds across the U.S. and Canada, there is sure to be a KOA convenient for your next travel destination. Our comfortable campgrounds are located near popular hiking trails, gorgeous lakes, sunny beaches, bustling cities and many other attractions.
When you stay at a KOA Campground, you'll always enjoy level and dry campsites, clean bathrooms, hot showers and friendly and helpful staff. Many of our campgrounds offer additional features like swimming pools, pet parks, mini golf and planned activities to make your stay even more enjoyable. Whether you prefer a rustic camping experience or like to have the comforts of home while appreciating nature, KOA has you covered.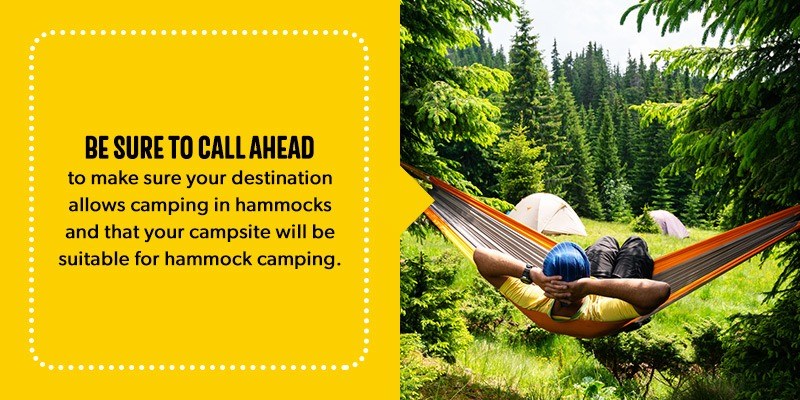 Many KOA Campgrounds offer hammock-friendly Tent Sites with plenty of trees and great spots to hang. Our spacious Tent Sites include a sturdy picnic table and a fire feature for cooking delicious campfire meals. When planning your next hammock camping trip, just be sure to call ahead to make sure your destination allows camping in hammocks and that your campsite will be suitable for hammock camping.
If you decide that hammock camping is not for you, KOA also offers many other ways to stay. From roomy Deluxe Cabins to RV Sites, you have the freedom to camp however you want — Plus, you can still set up your hammock outside for relaxing during the day.
Start planning your next camping adventure by finding a KOA Campground00 near your ideal destination. Remember to make your reservation early if you want to get the best campsite during the peak times of the year!
---