Hiking during the winter is more challenging than other times of the year but can also be more rewarding. Many people rank it as an excellent way to stay in shape year-round.
In addition to being a perfect antidote to cabin fever, winter hiking burns more calories than its summertime equivalent and can even boost your immune system.
10 Reasons to Love Winter Hiking
1. Fresh Air and Sunlight
After being cooped up indoors, spending time outdoors in crisp, clean, fresh air and sunshine revitalize both body and soul. That alone is enough reason to love winter hiking, but we have lots more!
2. Fewer People, More Trail
During the warmer months, it's hard to find an open trail except for early in the morning, after dark, and mid-week. Cold weather keeps crowds low regardless of the time of day, or day of the week. You're far more likely to enjoy a private experience during winter hiking.
3. Fantastic Photo Ops
Wintertime can be a photographer's dream, between the sun reflecting off ice crystals and the natural glow of snow. Even if you're just planning to take a few pictures with your phone to post on Instagram, winter hiking presents many opportunities for memorable, #nofilter shots.
4. Wildlife Viewing Opportunities
One of the best parts of hiking is the chance to see deer, elk, moose, and similar wildlife in their natural habitats. It can be hard to be in the right spot at the right time during warmer months, though, as the animals tend to be active very early in the morning or later in the evening when temperatures are cooler.
Cold-weather months typically bring wildlife out at all times of the day. There are also fewer fellow hikers around to spook the animals before you've had a chance to see them.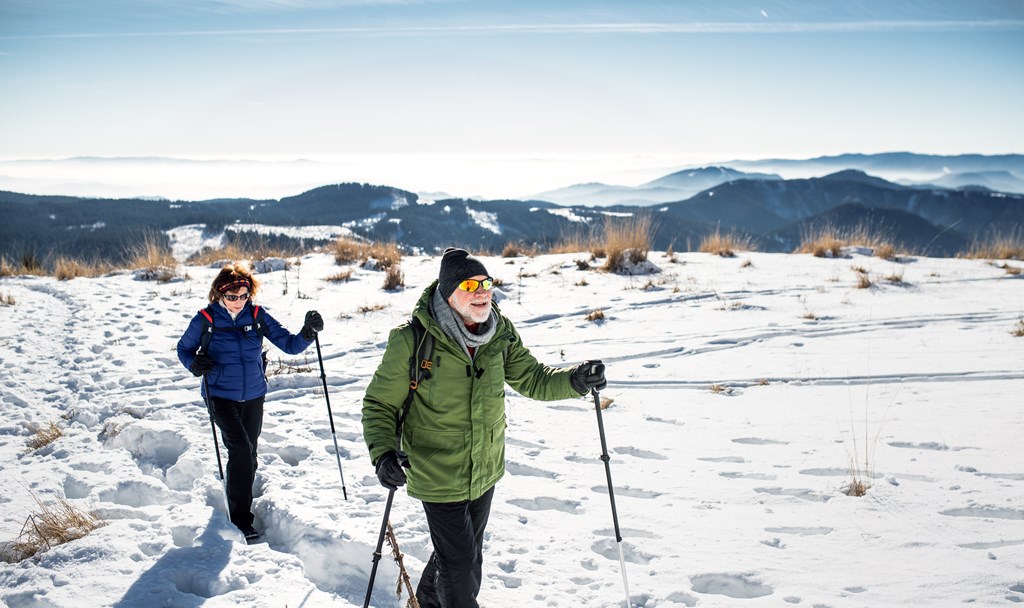 5. Wonderfully Quiet, Serene, and Peaceful
With the leaves gone and branches often weighed down by snow, it gets so quiet. You may think you're wearing noise-canceling headphones at times. Winter hiking is a sure bet if you are looking for some quiet time to think and reflect.
6. An Extra Workout
Unstable ground means your legs will get a good workout. If walking through snow, you can find yourself burning as many as twice the number of calories normally expended per step taken.
7. Dogs Love It
Colder weather keeps dogs from overheating, and fallen leaves in varying states of decay provide lots of snuffling opportunities and stuff to chase around. Remember to cover their paws if planning to be out all day in below-freezing temperatures, especially if its wet or snowy.
8. No Bugs
Need we say more? Winter hikers rarely, if ever, encounter bugs that bite or fly annoyingly around their heads. That alone should be enough to make you love hiking in cold-weather months.
9. New Perspectives
Seeing a familiar trail or route in a new light can renew your love for hiking and the outdoors. Trails that lead to waterfalls are particularly enjoyable when it's below freezing, as many will feature dramatic seasonal ice sculptures.
10. The Après-Hike
After an exhilarating winter day on the trails, coming home and warming up is a fantastic feeling. Take off your gear, wrap yourself in something cozy, and treat yourself to a hot beverage. Hopefully, there's a roaring fireplace or steaming hot tub nearby, too.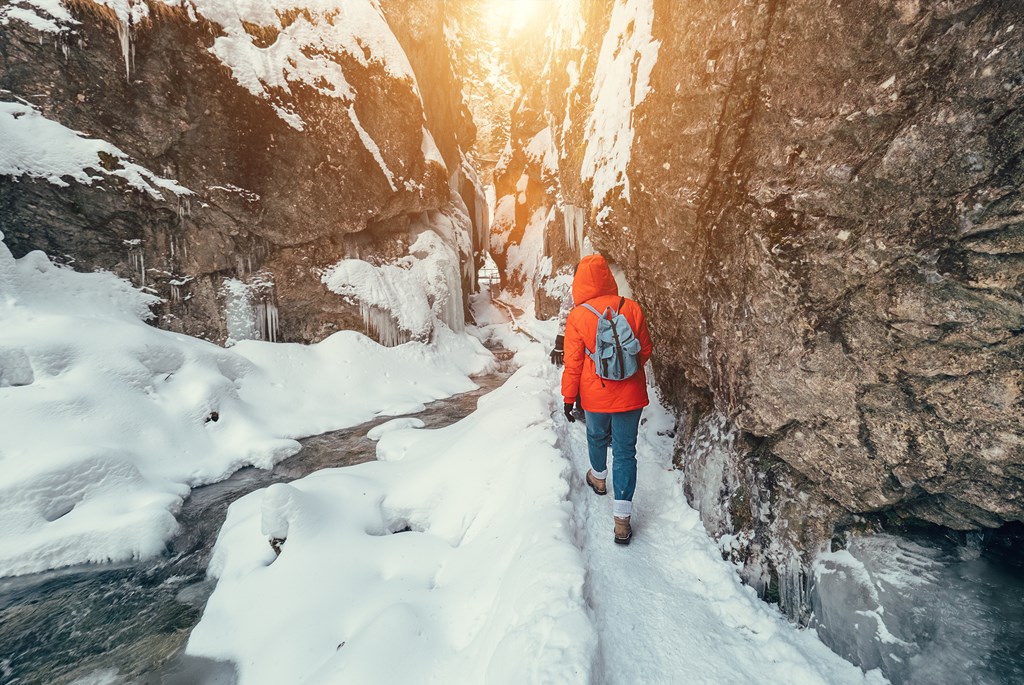 8 Key Rules for Winter Hiking
Before we launch into key rules for winter hiking, let's review some of the common dangers. Safety is 90% prevention, and with proper preparation, you can lessen your risks and hopefully avoid altogether the worst of the dangers inherent in winter hiking, which include:
Frostbite
Hypothermia
Changing weather
Getting lost
Getting trapped in an avalanche.
Popular hiking routes you enjoy in summer can be much more dangerous in the winter months. For example, trails covered in snow look much different than they do without it. And if hiking to a higher elevation, remember that summit temperatures will be much colder than they are at the base or in the parking lot..
1. Always Dress in Layers
Temperatures in winter change quickly, and getting caught unprepared can lead to a hazardous situation. Dress in multiple layers so that you can add or remove clothing easily as needed to stay warm and dry. Experienced winter hikers suggest the following, in addition to waterproof hiking boots:
Heavyweight socks
Two pairs of gloves
Fleece or Merino wool inner layers
Winter cap and jacket with hood
Waterproof outer layers
2. Never Go It Alone
Hiking alone can put you in a dangerous situation if something goes wrong. While hiking with a partner is always a good idea regardless of the time of year, this is especially true for winter hikes. Having an experienced trail mate can help you avoid missing a sign marker or getting caught in dwindling daylight – and in the case of injury or illness, they can go for help.
You should also let friends or family know where you are hiking, when you plan to return, and who to contact if you aren't home by a specific time.
3. Invest in Good Gear
Experienced hikers will tell you to buy the best quality you can afford. If you are serious about hiking in cold weather, fabrics such as Merino wool and down are a worthwhile investment. They regulate your body temperature better than lesser-quality materials and last longer.
A good jacket, waterproof hiking boots, and a lightweight but high-quality hiking backpack are also essentials. If planning to hike in the snow, consider investing in snowshoes and hiking poles as well as a durable pair of microspikes.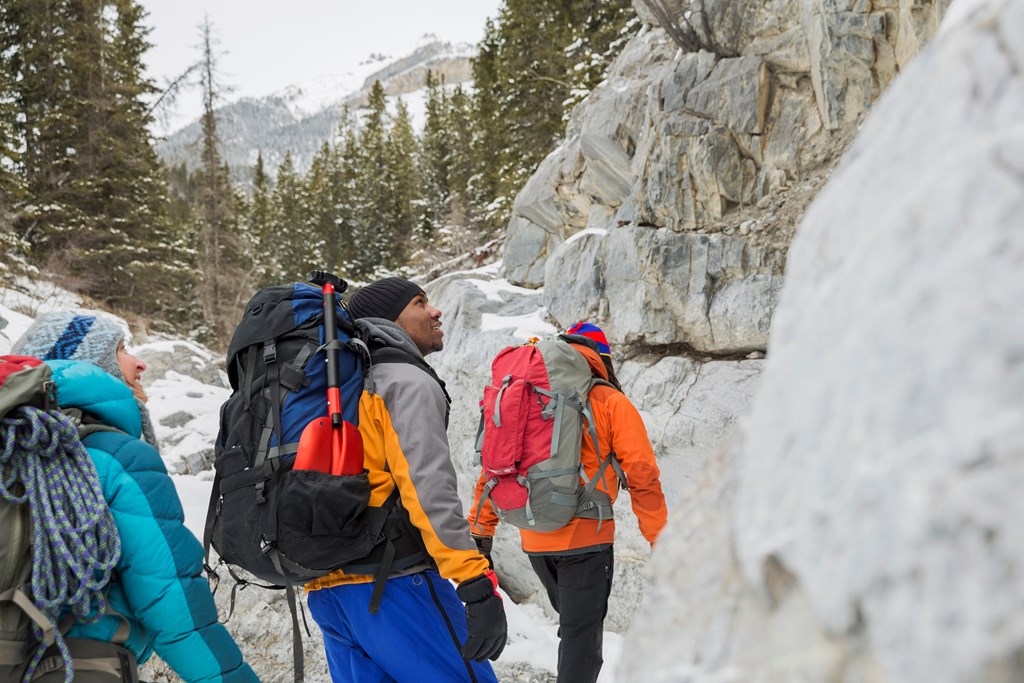 4. Like a Boy Scout, Be Prepared
Don't take your hiking excursion for granted, even if you're familiar with the trail and route you'll be hiking. Always prepare for a worst-case scenario.
That means carrying a printed trail map and basic survival gear such as a GPS tracking device or satellite messenger, cell phone, first aid kit, knife, and compass.
Think about what else you might need to take on longer hikes if you are forced to spend the night outdoors – a headlamp or flashlight, travel snow shovel, lightweight sleeping bag, and waterproof matches, for starters.
5. Check the Weather Forecast
Weather conditions on a trail can change in the proverbial blink of an eye and challenge you with plummeting temperatures, limited visibility, and snowstorms. Check the latest weather forecasts the day before your hike, again on the morning of your hike, and again just before you set out.
6. Fuel and Hydrate
Dehydration is common during the winter and that's a real problem since hypothermia is more dangerous when dehydrated.
Although temperatures are low, the air is dry and your body will work hard to maintain core temperature. Be prepared to frequently eat and drink while on the trail.
7. Know When to Turn Around
Winter days are shorter and darkness sets in quickly. Get an early start and don't be afraid to turn around earlier than planned to ensure you get back to safety before nightfall. Don't jeopardize yourself by pushing to reach a particular summit or checkpoint despite the conditions.
8. Consider Staying in a Cabin
After roughing it in the cold all day on the trail, there's no shame in spending the evening in a cabin to ensure you stay warm and dry overnight and get a good night's sleep before striking out the next day.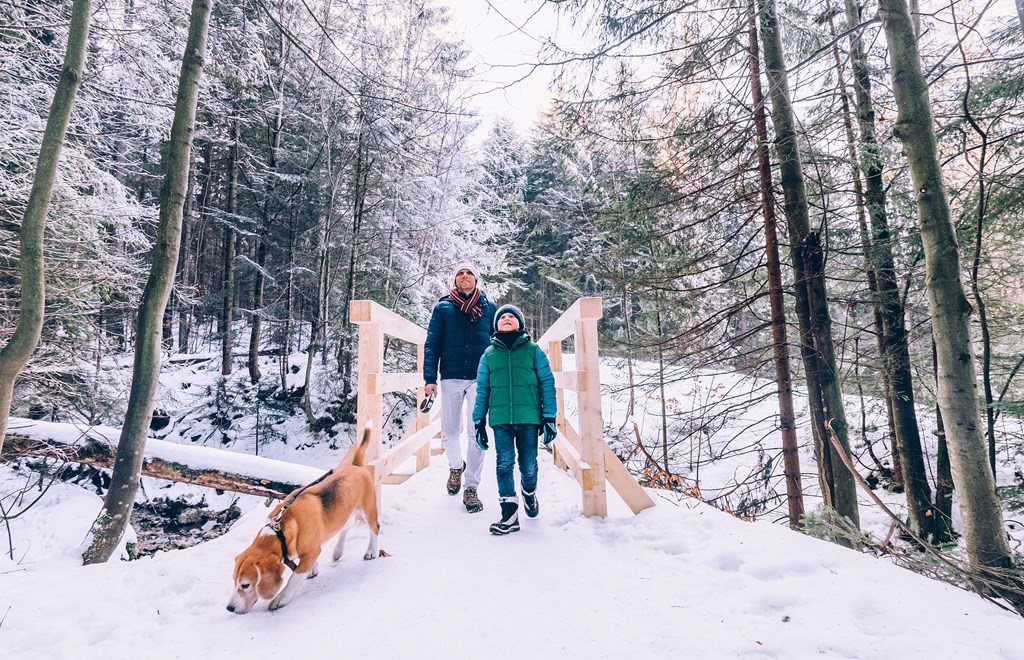 12 Notable Winter Hiking Destinations
You can go winter hiking anywhere, including your favorite local trails. But if you're looking for some suggestions for winter hiking destinations, consider these twelve to start in a variety of climates.
1. Arizona:  Rim to Rim Trip, Grand Canyon National Park
Experience the Grand Canyon in a way that not many people get to see by taking a three-day Rim to Rim backpacking trip. While both rims often feature snow and ice, the rest of the trek offers moderate temperatures. Start at the south Rim and head down the South Kaibab Trail, one of the park's most famous, and plan to spend the night at the bottom in the Bright Angel Campground. The next day, make your way along the Colorado River at the bottom of the canyon, passing waterfalls and native ruins. On the third day, ascend to the North Rim.
KOAs nearby:
Grand Canyon / Williams KOA Journey
Flagstaff KOA Holiday
Williams / Exit 167 / Circle Pines KOA Holiday
Seligman / Route 66 KOA Journey
2. Colorado:  Roundabout Trail, Steamboat Springs
Steamboat Springs has produced more winter Olympians than any other city in North America, and the town lives for the winter months. Thunderhead Lodge, located 9,080 feet above sea level on the mountain, is the departure point for many snowshoe trails. Roundabout is a good trail to start on, being relatively flat and short. Once you've conquered it, move on to the Duster Trail, which will take you up to the Rendezvous hut at 9,325 feet.
KOAs nearby:
Steamboat Springs KOA Holiday
Craig KOA Journey (closed December 1 – April 1)
3. Colorado: Jud Wiebe Trail, Telluride
Colorado boasts 300 days of sunshine, so whether it's warm or cold outside, this is a top trail for all the reasons you go hiking. Jud Wiebe Trail starts and ends in this charming mountain town. During winter, watch skiers at the Telluride Ski Resort from the trail's higher elevations.
KOAs nearby:
Ouray KOA Holiday (closed October 31 – May 1)
Montrose / Black Canyon National Park KOA Journey
4. Maine: Gorham Mountain Trail, Acadia National Park
Get to know Maine for more than just those delicious lobster rolls! In the dead of winter, you'll need snowshoes or cross-country skis to get through spruce forests and over snow-covered granite, but the coastal splendor along Gorham Mountain Trail is worth your efforts. You won't have to share the trail with many other hikers, either.
KOAs nearby:
Bar Harbor / Oceanside KOA Holiday (closed October 9 – May 5)
5. Maryland: Billy Goat Trail, Great Falls
The Billy Goat Trail requires some rock scrambling along a ridge that parallels the Potomac River, inspiring its name. Although there isn't much snow, the unobstructed river views once leaves have fallen are outstanding. Billy Goat Trail begins in Great Falls and continues through the Chesapeake and Ohio Canal National Historic Park.
KOAs nearby:
Washington DC / Capitol KOA Holiday (closed December 11 – March 1)
6. Michigan: Eben Ice Caves, Upper Peninsula
The 4,700-acre Rock River Canyon Wilderness in Hiawatha National Forest is home to the Eben Ice Caves. Also known as the Rock River Canyon Ice Caves, they are created by water seeping through the sandstone and then flowing over the edge of canyon cliffs.
KOAs nearby:
Munising / Pictured Rocks KOA Journey (closed October 23 – May 14)
7. Montana: Ousel Falls Waterfall Trail, Big Sky
Travel across two picturesque wooden bridges en route to a stunning waterfall. You may even find some ice climbers on the falls themselves. Due to frequent usage, snow on the Ousel Falls Trail usually stays packed down except right after a heavy storm. As a result, snowshoes probably won't be required, but microspikes are a good idea.
KOAs nearby:
Livingston / Paradise Valley KOA Holiday (closed October 1 – May 1)
Three Forks KOA Journey (closed October 16 – April 28)
8. New Mexico: Kasha-Katuwe Tent Rocks, Jemez Springs
Offering a fairy-tale landscape, the cone-shaped formations of the Kasha-Katuwe Tent Rocks are the result of volcanic eruptions long ago. Pumice and ash piled a thousand feet high and became volcanic rock. Slot canyons can turn into icy outdoor freezers, so be sure to bring the microspikes even if there's no obvious snowfall. This is a national monument on Cochiti Pueblo land, so travel mindfully and be sure to respect the area's cultural significance.
KOAs nearby:
Albuquerque North / Bernalillo KOA Journey
Santa Fe KOA Journey
Las Vegas, New Mexico KOA Journey
Albuquerque KOA Journey
Grants KOA Journey
9. Oregon: Cape Falcon Trail, Oswald West State Park
Fancy a glimpse of gray whales during your hike? This is the trail for you. About halfway through Cape Falcon Trail, you'll reach a 100-foot outcropping from which, with the help of binoculars, you have a good chance of spotting whales. The best months for whale-watching are December and January when they are migrating from the Bering Sea to Baja.
KOAs nearby:
Astoria / Warrenton / Seaside KOA Resort
10.  Tennessee: Cumberland Trail, Cumberland Trail State Park
Once completed, the Cumberland Trail will be more than 280 miles long, traversing Tennessee from north to south. The 10-mile Possum Creek section meanders along a picturesque, wooded creek with many waterfalls.
KOAs nearby:
Lookout Mountain / Chattanooga West KOA Holiday
Chattanooga North / Cleveland KOA Journey
11. Utah: Watchman Trail, Zion National Park
Zion's landscape, often called "Mars-like," is just as beautiful in the cold months as it is in the heat of summer. Watchman Trail is perfect for those who prefer winter hiking in drier climes. Breathtaking sandstone spires and prickly pear cacti await intrepid hikers.
KOAs nearby:
St. George / Hurricane KOA Journey
Beaver KOA Journey
12. Washington: Mazama Ridge Trail, Mount Rainier National Park
Mount Rainier tops out at 14,410 feet above sea level and can be seen for up to 300 miles in all directions. In the winter months, it's heaven for those who like to go snow-shoeing, especially on the Mazama Ridge Trail, which offers near-constant views of the Tatoosh Range.
KOAs nearby:
Ellensburg KOA Journey
Leavenworth / Pine Village KOA Holiday
---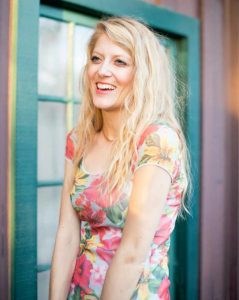 Leslie is a freelance travel and health/wellness writer who gets butterflies from telling stories and sharing information with readers across the globe. Her voice comes from a place filled with passion and dreams.
With over 10 years of experience in crafting words and years of embarking on travels that have taken this Montana girl to some incredible places, Leslie loves the adventures of both body and mind her writing takes her on.
To see what Leslie's up to in the writing and design world, visit her website here.