Our national parks have a way of connecting kids with the awesomeness of nature they might have only seen before online or on TV. With most parks hosting a Junior Ranger program, kids can become even more engaged with the specialness of each park throughout their visit. The following parks are known for their extraordinary features like snorkeling with tropical fish, sliding down sand dunes and witnessing volcanic activity.
The Best National Parks for Kids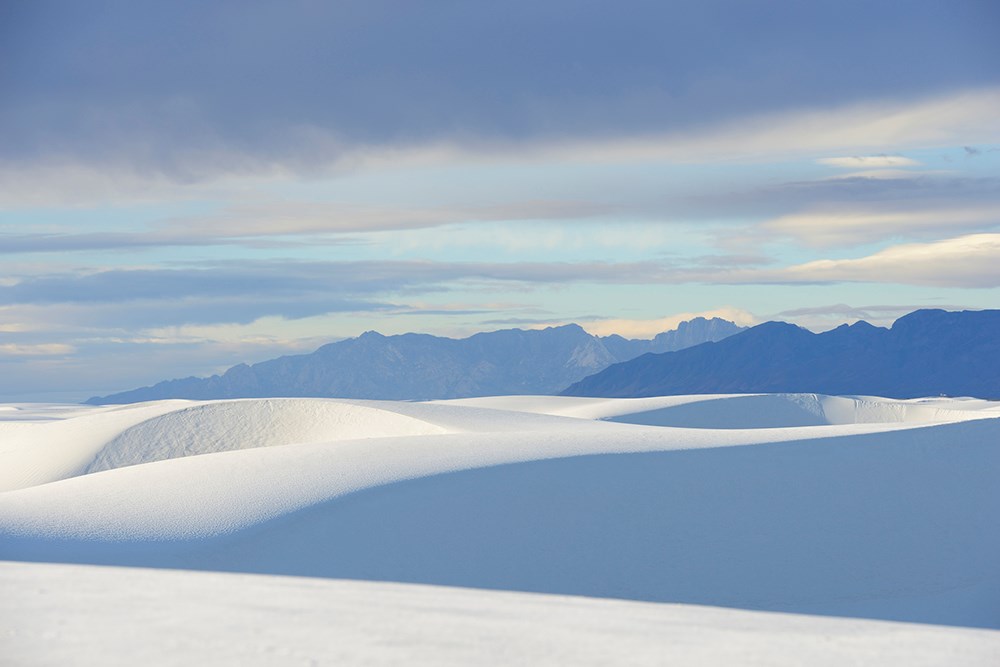 1. White Sands National Park, New Mexico
Love to sled on snow? Try sledding down a gypsum sand dune at White Sands National Park. Wax up your plastic snow saucer or buy one at the gift shop for a thrilling downhill ride inside the world's largest sandbox. Kids wanting to learn more about this awesome park can earn a Junior Dunes Ranger badge during their visit. Adventure packs with binoculars, an animal track guide, compass and more are available for checkout to help kids slide into the park experience. Pick a sand dune hike like the Interdune Boardwalk for a short walk to a scenic view of the dune field and Sacramento Mountains. Ride a mountain bike or fat tire bike on the hard-packed gypsum sand road of Dunes Drive for an otherworldly route between dunes. On summer full moon nights, the park stays open, hosting live music concerts. Families can hike the dunes under the bright light of the moon illuminating white sand.
Nearby KOA:
Alamogordo / White Sands Journey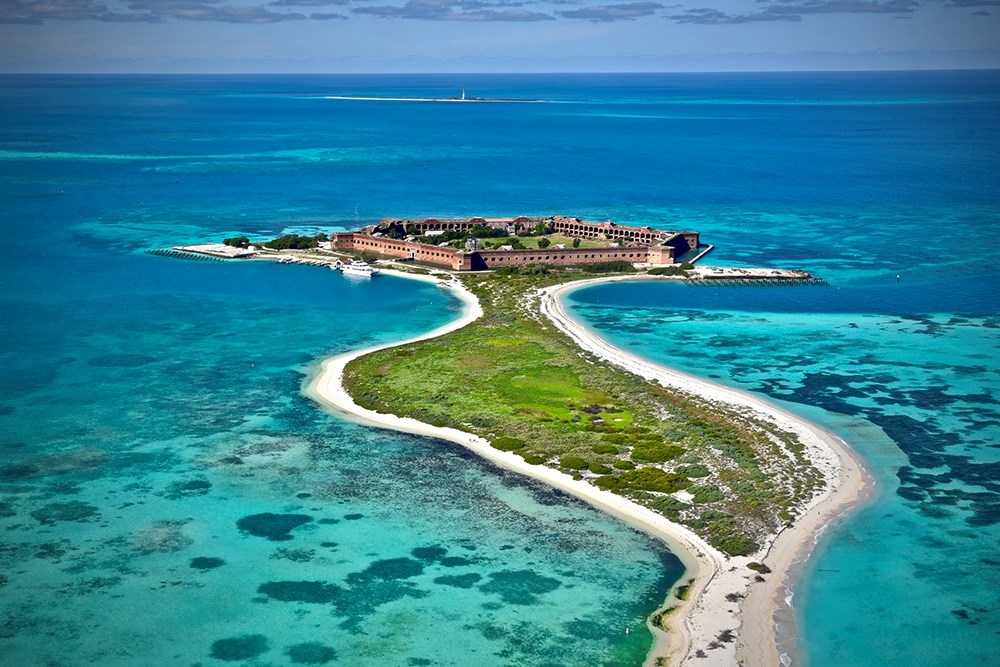 2. Dry Tortugas National Park, Florida
Start your family adventure to Florida's Dry Tortugas National Park with a boat ride or seaplane flight to Garden Key. Bring snorkel gear to get up close with tropical fish and sea turtles while exploring the world's third-largest coral reef. Back on land stands the remains of historic Fort Jefferson built in the 1800s to secure US shipping access to the Gulf of Mexico. Kids can earn a Dry Tortugas Ranger badge by learning the history of Fort Jefferson and about the island's land and underwater animals. The Underwater Explorer Junior Ranger badge is also available for kids after they learn about the freshwater and saltwater habitats found throughout the national park system. Kick back and relax on one of Garden Key's swim beaches with ideal conditions for beginner swimmers and snorkelers to flap their feet in the clear, warm water.
Nearby KOA:
Sugarloaf Key / Key West KOA Holiday
3. Capitol Reef National Park, Utah
For kids curious about rocks, Capitol Reef National Park in Utah has awe-inspiring geological formations sure to leave a lasting impression. From the Fruita Historic District, take the Scenic Drive along 8 miles of paved road stopping along the way to view enormous rock columns, multi-colored cliff walls and narrow canyon passes. Walk the boardwalks out to the Fremont Culture Petroglyphs to see images the Fremont people carved into cliff walls depicting human-like figures, bighorn sheep and other animals. The park has four easy hikes families can take to explore inside the canyons from Capitol Gorge trail and for the panoramic views at Sunset Point.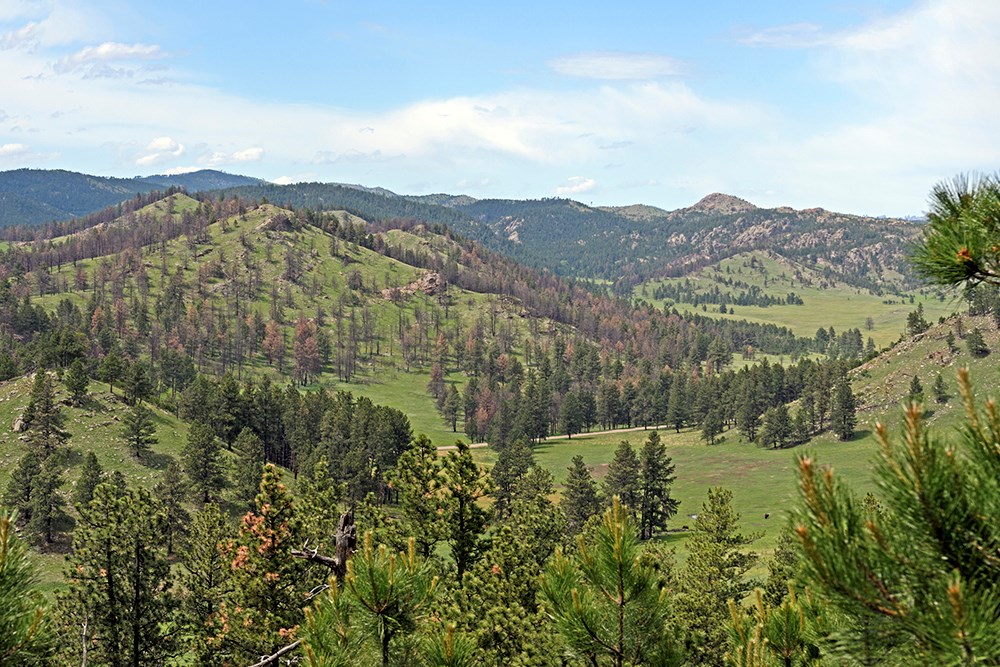 4. Wind Cave National Park, South Dakota
Let your headlamp shine on the underground wonders at Wind Cave National Park in South Dakota. Like the prairie dogs and burrowing owls digging homes just under the park's grassland surface, similarly interconnected networks of passages exist deeper under the surface. Family-friendly ranger-led cave tours explore unique mineral formations up close. Kids learn the difference between boxwork, thin intersecting blades of calcite forming a honeycomb pattern, and cave popcorn, small balls of calcite dripping from cave walls. Above ground, watch bison herds, elk and pronghorns graze the prairie. The park runs Adventures in Nature, a program to encourage kids to learn about different aspects of park nature and opportunities to become a Junior Ranger by completing activities at the park.
Nearby KOA:
Rapid City / Black Hills KOA Holiday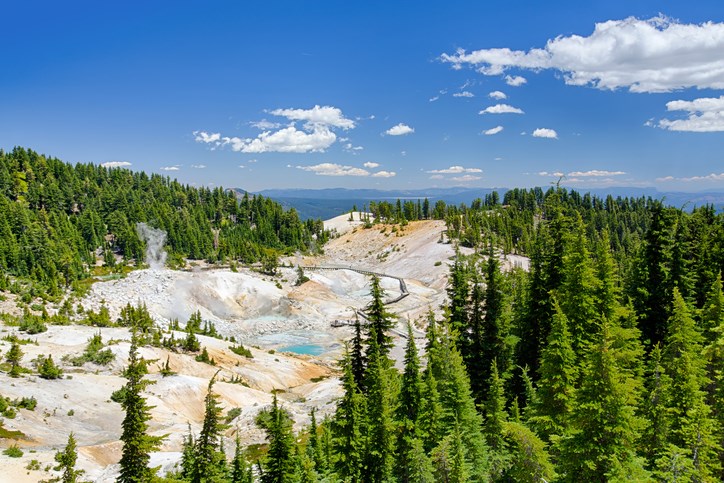 5. Lassen Volcanic National Park, California
Did you know there's a volcano in California you can visit? Lassen Volcanic National Park isn't erupting at the moment, but it is letting off some steam! Underneath the wildflower-filled meadows, alpine lakes and pine forests, things are hot. The molten rock simmering beneath Mount Lassen's peak boils groundwater creating steam that bursts through the earth's crust from vents and pools. See some of the park's hydrothermal activity, boiling mudpots and steam vents, from the road at the Sulphur Works stop. Access the park's largest thermal area, Bumpass Hell, on a three-mile roundtrip hike. A boardwalk path brings visitors up close to steaming pools wafting "rotten egg" sulfur-filled air. Kids who want to learn more about volcanoes can become Lassen Volcano Club members by completing activities during their visit.
Nearby KOA:
Mt. Lassen / Shingletown KOA Holiday
---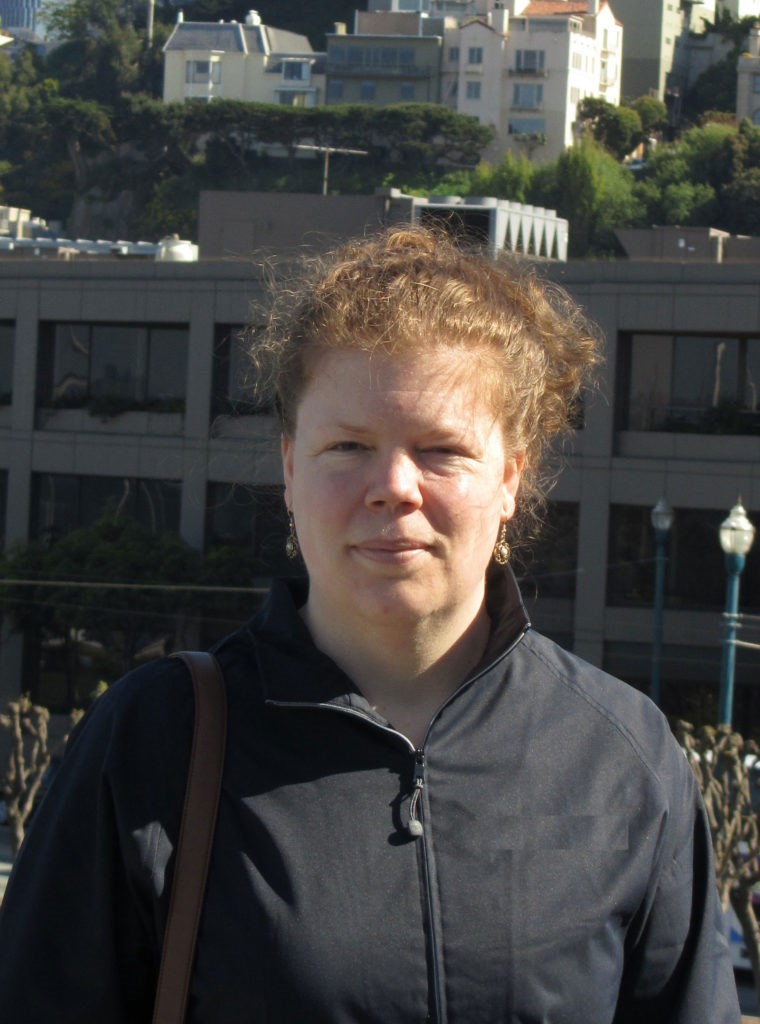 Eva Barrows is an accomplished San Francisco Peninsula freelance writer and editor. She writes for regional magazines like PUNCH and Edible Silicon Valley and is editor-in-chief of Live&ThriveCA magazine. She founded the online literary journal Imitation Fruit in 2007 and has enjoyed promoting fellow writers and artists ever since. Read more of her travel writing at www.evabarrows.com.
---