15 Awesome Recipes Campers Swear By | Popular KOA Camping Recipes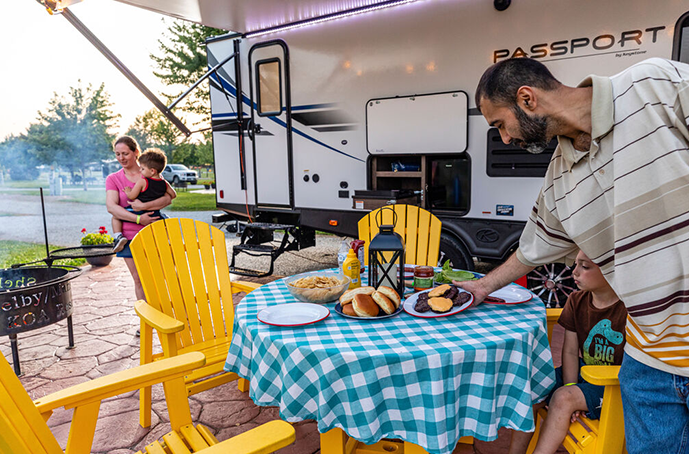 One of the best parts about camping is definitely enjoying yummy grilled or fire cooked meals. And while we all have our favorite standbys, giving a new recipe a try might be just what you need to shake up your camping routine. Check out fifteen favorite recipes from KOA's extensive library of camping diners, breakfasts, desserts and snacks. You might just find a new go-to recipe to try at your favorite campground!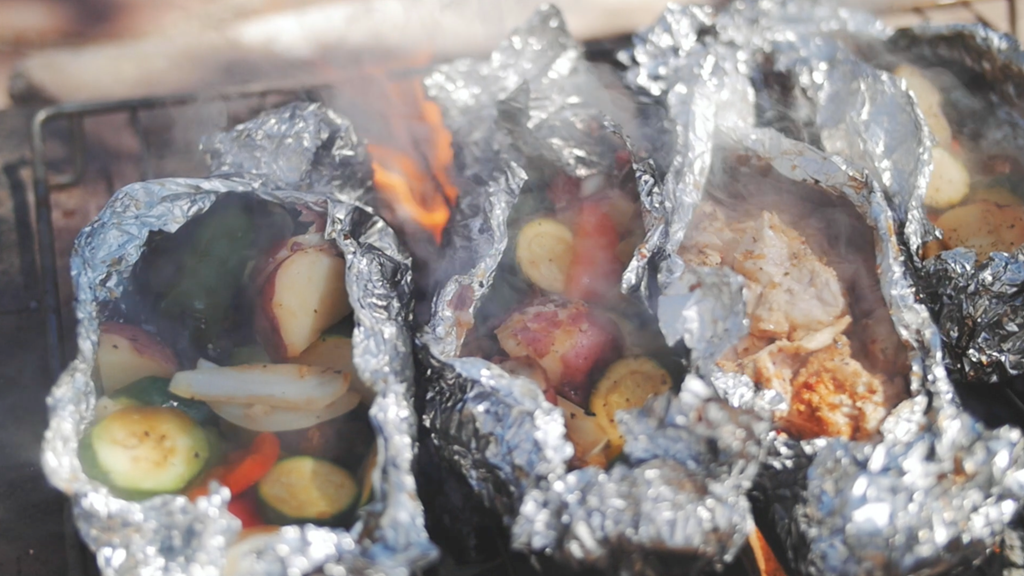 Ingredients
Beef or chicken
Bell peppers
Mushrooms
Onion
Jalapeno peppers (optional)
Small potatoes
Zucchini squash
Fresh garlic
2-3 Tbsp olive oil
Lemon or lime
McCormick's Salt-free Chicken seasoning
Powdered butter flavoring
2 Tbsp soy sauce
Lemon pepper seasonings
Dill
Preparation
Boil potatoes for approximately 4-5 minutes depending on size. They should still be firm and crisp, not mushy. They will finish cooking on the grill. Let potatoes cool completely before putting in foil bag.
Chop bell peppers, onion and zucchini squash into large pieces. Put chopped vegetables, whole jalapenos, whole potatoes and whole mushrooms into a large foil bag with garlic, olive oil, lemon or lime juice, soy sauce, butter flavoring, lemon pepper seasonings, and dill.
Cut meat into large stew size pieces. Put meat in a separate foil bag with 1/4 cup of olive oil, garlic, chicken seasonings, butter flavoring and 2 tablespoons of soy sauce. When using more than one kind of meat, put in separate bags. Place the foil bags into larger 2 gallon ziplock bags to store while traveling.
To cook, remove foil bags from plastic ziplock bags and grill for 8-10 minutes, turning after 5-6 minutes. Let sit before opening bags.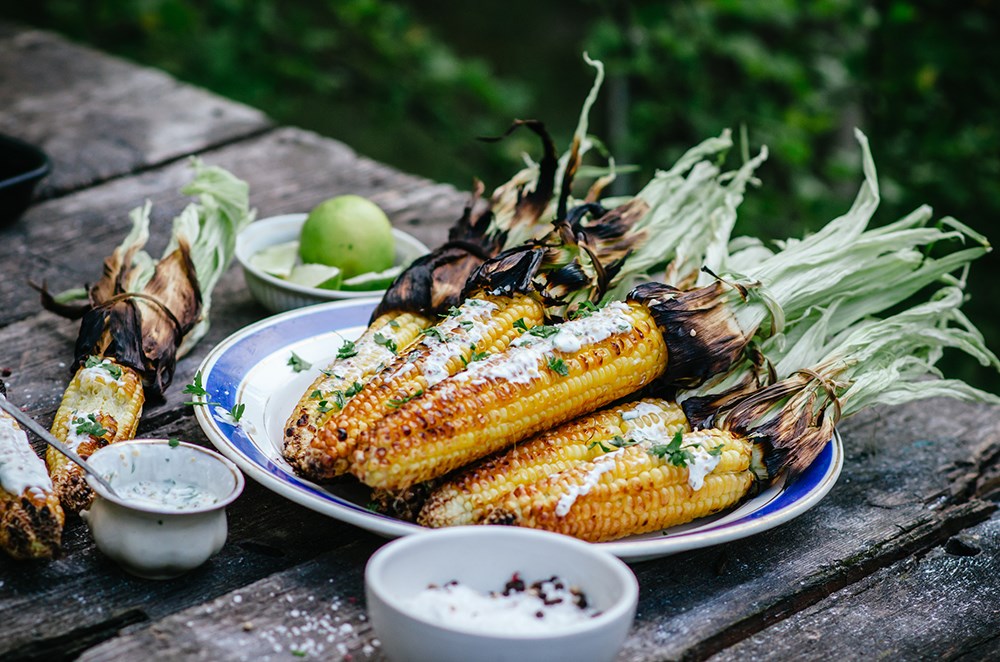 Ingredients
Corn on the cob, in husk
Water
1/2-1 c sugar (optional)
Butter
Salt (optional)
Preparation
Mix water and sugar in a clean bucket, cooler or large pan (add enough water to cover corn). Add the corn to the water mixture and soak for one-two hours.
Remove corn from water and place on campfire or grill, turn often to avoid over burning of the husk, cook for approximately 20-30 minutes or until tender, remove corn from fire.
Peel back husk and silk, spread with butter and/or salt. Now your ready to eat the sweet, delicious, steaming hot corn.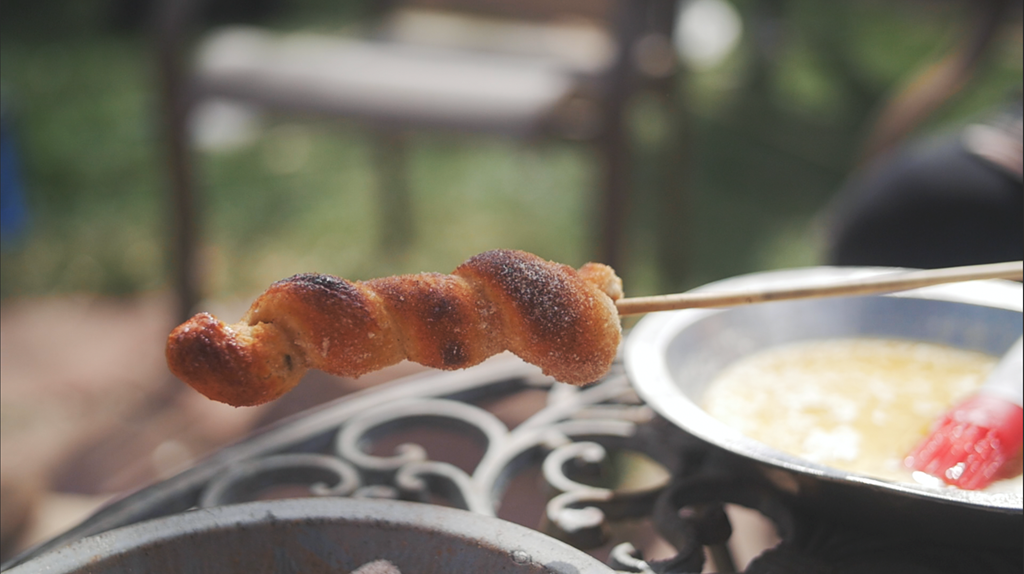 Ingredients
1/2 c sugar
1/2 Tbsp cinnamon
4 Tbsp butter (melted)
1 package bread dough
Preparation
Mix sugar & cinnamon together until well blended. Melt butter in shallow pan, such as a round cake pan.
Take the biscuits and roll in hands to form snake shaped pieces. Wrap the snake-like dough around a stick in a coil fashion.
Cook over a campfire until evenly browned. Roll the cooked dough in the melted butter and then in the cinnamon/sugar mixture. Yum.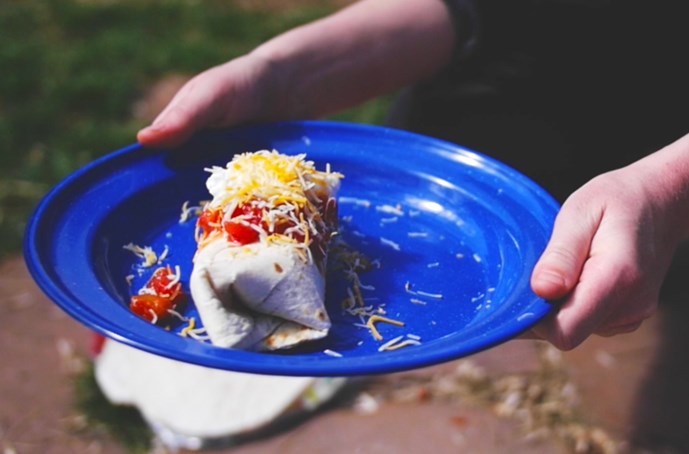 Ingredients
1 Tbsp butter
1/4 medium yellow onion, chopped
2 Tbsp chopped canned green chilies, drained
6 eggs, beaten
3/4 c shredded Monterey Jack cheese
Pinch pepper
Dash liquid hot pepper sauce, optional
4 10-inch 98% fat-free flour tortillas, warmed
Preparation
Place butter in a large skillet and allow it to melt over medium heat. Add the onions and green chilies and saute for 2 minutes. Then add the beaten eggs, pepper and optional hot pepper sauce. Stir frequently so the eggs do not stick to the bottom of the pan. When the eggs are thoroughly cooked (but not dry) sprinkle the cheese over and allow it to melt.
Place a quarter of the egg mixture along one-third of a tortilla, about 2 inches away from the bottom. Add salsa and sour cream if desired and fold up the lower edge, then roll from the side to form a burrito. Eat while it's hot.

Ingredients
1 steak (about 1 1/2 lbs.) cut into bite sizes
1 onion (medium size)
1 pkg. carrots
1 green pepper
4 potatoes (large sized, peel)
2 pkgs. onion soup mix
2 cloves garlic (chopped)
1 head broccoli and/or cauliflower
2-3 Tbsp flour or corn starch
1 tsp pepper
Water
Preparation
Cut up steak, onion, carrots, green pepper, potatoes, and broccoli and/or cauliflower.
Heat dutch oven or other thick-bottomed pot over fire pit with about 1/4 cup canola oil in the bottom. Add steak, garlic, and onion, and brown well. Add the rest of the ingredients, EXCEPT flour, and stir well to mix.
Add water to cover all ingredients. Put cover on tight and boil until you can smell the veggies, (usually about 15 minutes). Carefully open cover and test carrots for tenderness.
In a cup, mix the flour/cornstarch with enough water to form a very thick mixture. Add this to the kettle and stir to form the gravy. Serve with toast.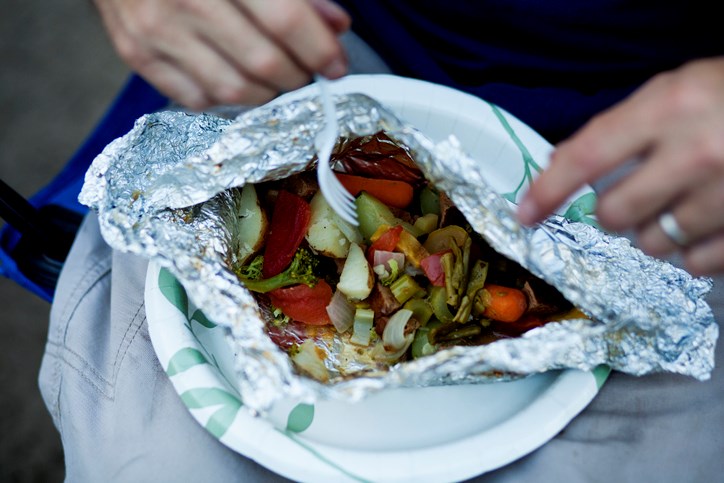 Ingredients
1 1/2 pound(s) ground chuck or ground beef
1 medium onion, thickly sliced
6 – 8 medium sized carrots, cut into chunks
6 red potatoes, cut into wedges
Seasoning salt
Preparation
Spray a large piece of heavy duty foil with no stick spray. On the foil, scatter vegetables, and break up ground meat and loosely mix together . Sprinkle liberally with seasoning salt.
Fold the foil into a pouch, making sure all ends are tightly crimped together. Place foil packet onto grill grate if you are grilling, or onto a grate over a campfire. Do not put foil packet directly onto coals as the foil will burn through.
Cook for approximately 15 minutes, before flipping and cooking for another 15 minutes. When the potatoes are soft, then everything else is cooked.
Remove packet from fire, put onto heat proof surface and cut an X into the top of the packet to open. Let cool before enjoying.
Alternative veggies: fresh green beans, bell pepper slices, fresh corn cut off the cob, a clove or two of garlic, thick chunks of squash.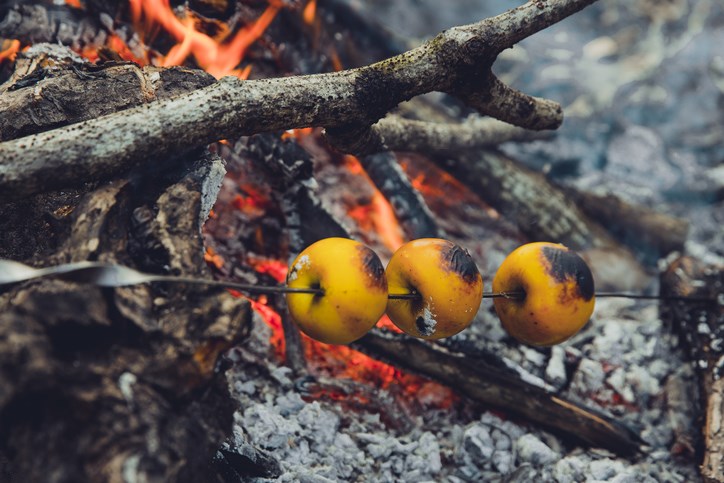 Ingredients
1 c sugar
1 Tbsp cinnamon
4 cooking apples
4 dowel or roasting sticks
Preparation
In a small bowl, mix together sugar and cinnamon and set aside. Push the stick or dowel through the top of the apple to the bottom until the apple is secure.
Roast the apple 2 to 3 inches above the bed of hot coals and turn frequently. (As the apple cooks, the skin starts to brown and the juice dribbles out.) When the skin is loose, remove the apple from the coals but leave it on the stick.
Peel the skin off the apple, being careful not to burn yourself because the apple is very hot.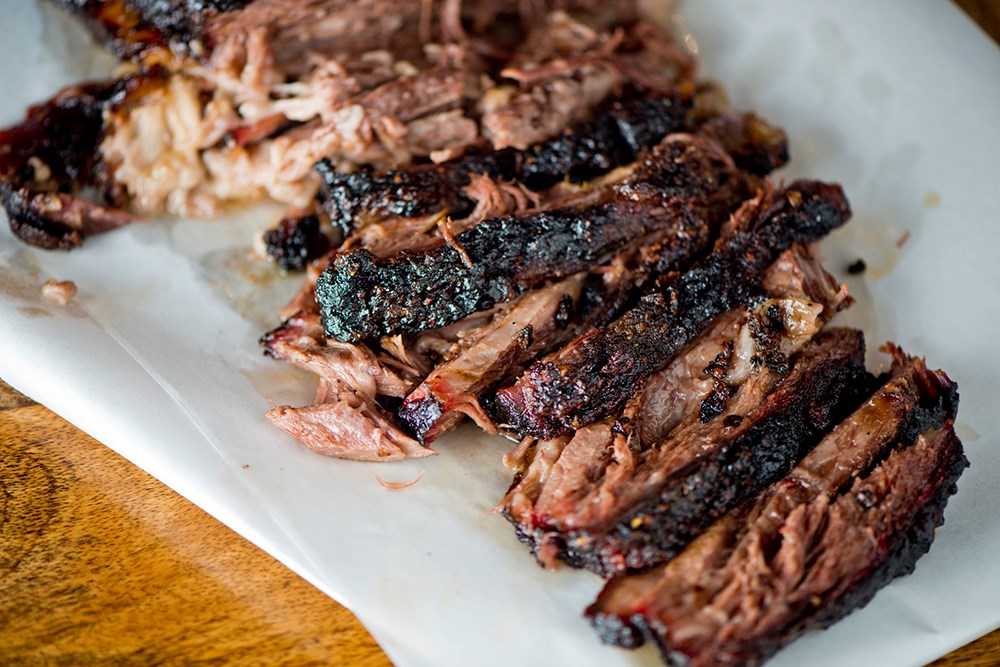 Ingredients
1/4 c paprika
2 Tbsp garlic, minced
1 Tbsp thyme
1 Tbsp basil
1 Tbsp oregano
1 Tbsp dried parsley
1 Tbsp ground black pepper
1/2 tsp cayenne
1/2 tsp ground nutmeg
2 Tbsp Tabasco sauce
2 Tbsp Worcestershire sauce
3-4 pound(s) beef brisket
Preparation
Mix all the spices together, then dry rub the meat. Coat with Tabasco and Worcestershire sauce, rubbing in carefully not to displace spices. Refrigerate for 3 to 5 days – if time permits.
Place meat, fat side up, on a trivet in bottom of Dutch oven large enough to hold brisket. Cover and hang low over the fire to get the pot hot. When the meat starts to sizzle, raise to the highest hook and cook over low fire for approximately 12 hours. Go for a ride, take a nap, do some fishing and cook the brisket overnight. Low and slow is the key to a good, juicy brisket that is fork tender, and that's just all there is to it!
When done, throw it on the grill to crispy the outside, slice and pour the juices from the pot over the meat.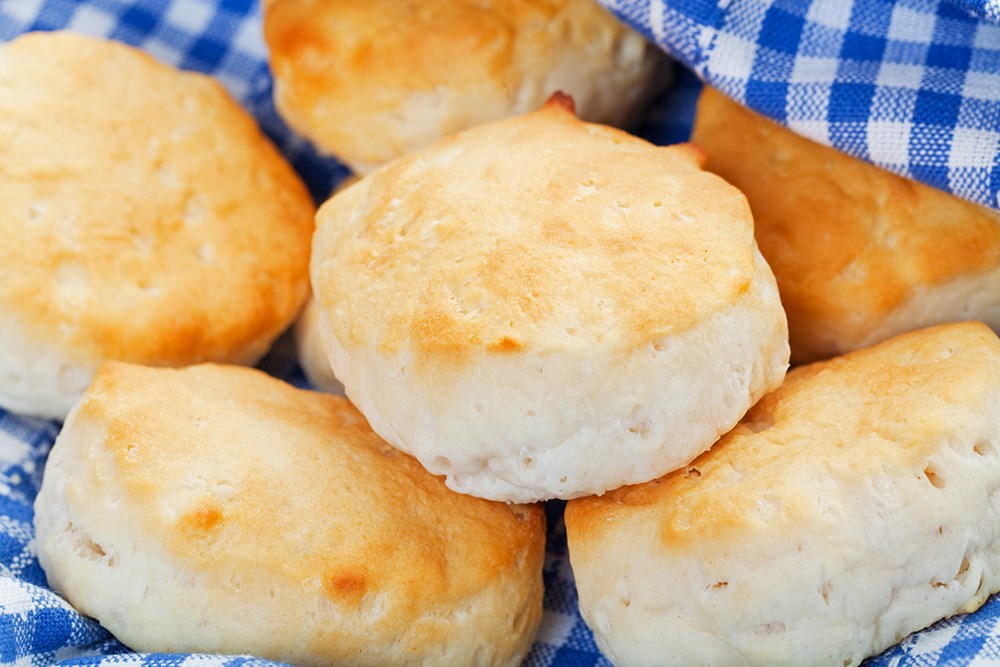 Ingredients
Preparation
Place tinfoil on the end of a stick, should cover approximately six inches. A dowel is a great option.
Insert foil-covered stick into the biscuit and roast over a campfire until golden brown on the outside and baked through.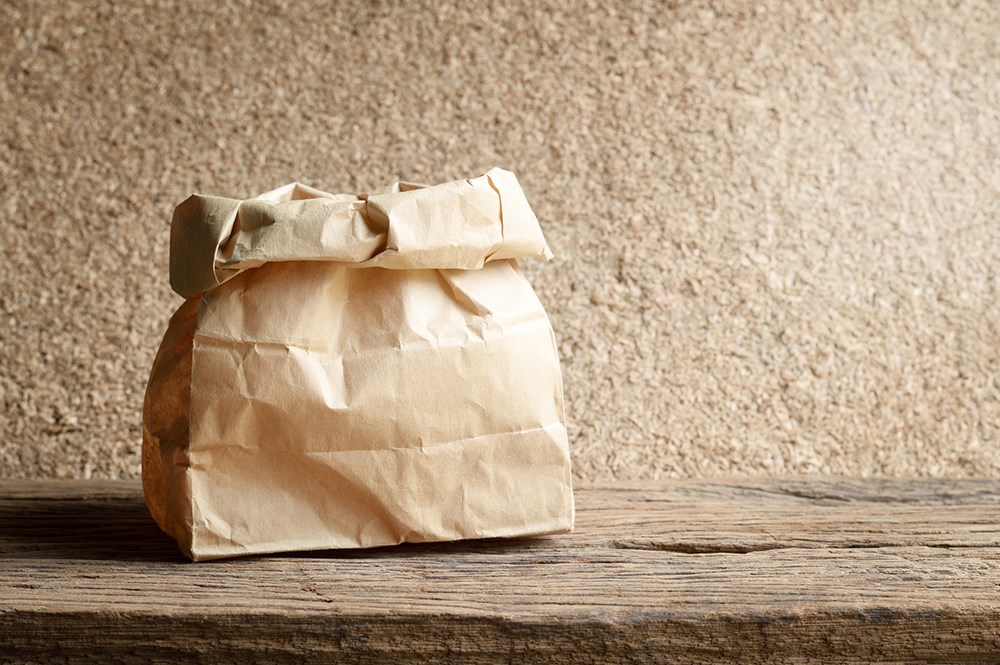 Ingredients
1 – 2 slice(s) bacon
1 c Frozen hashbrowns, thawed
1 – 2 eggs
Preparation
In a lunch-sized brown paper bag, place bacon slices and thawed hash browns. Crack eggs into bag. Fold paper bag down, leaving 3″ of space above food.
Insert a pointed stick through the folded part of the bag. Hold stick so bag hangs about 4″ to 5″ above hot coals. Cook for about 8 to 10 minutes, being careful not to let the bag catch on fire.
Remove bag from heat and, using an oven mitt, fold open to check that eggs have been cooked throughout. If eggs have not completely cooked, refold paper bag and hold over hot coals for an additional 2 to 3 minutes. Fold down paper bag and eat breakfast directly from bag.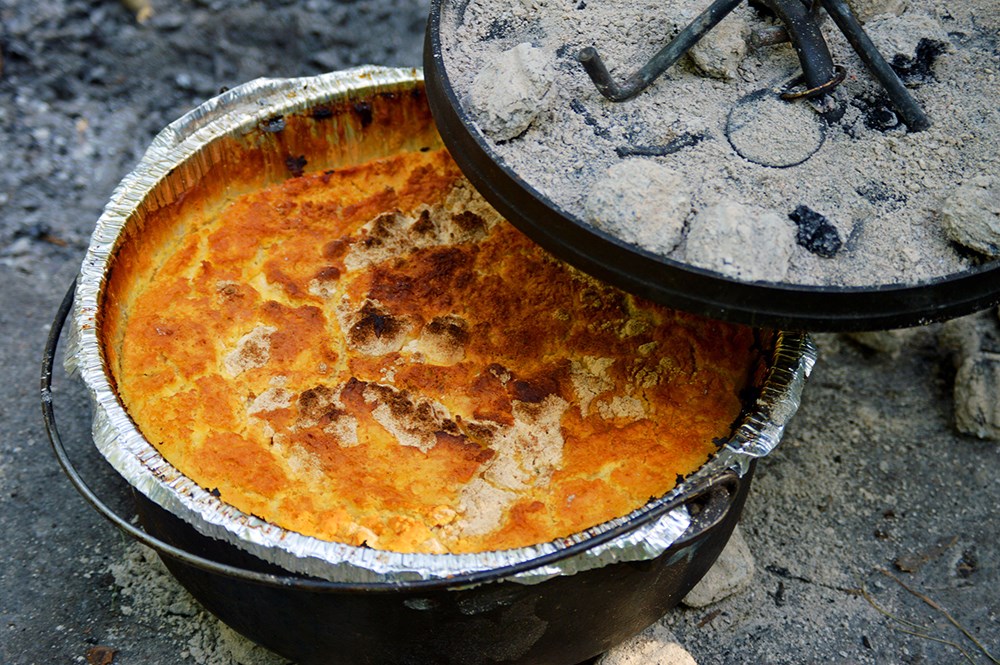 Ingredients
2 packages yellow cake mix
4 cans sliced peaches
1 stick butter
Preparation
Pour peaches in bottom of 14″ Dutch oven. Sprinkle cake mix over top of fruit. Do not stir. Cut pats of butter and place evenly on surface.
Cover and bake over medium heat until bubbly and top is lightly browned, approximately 30-45 minutes.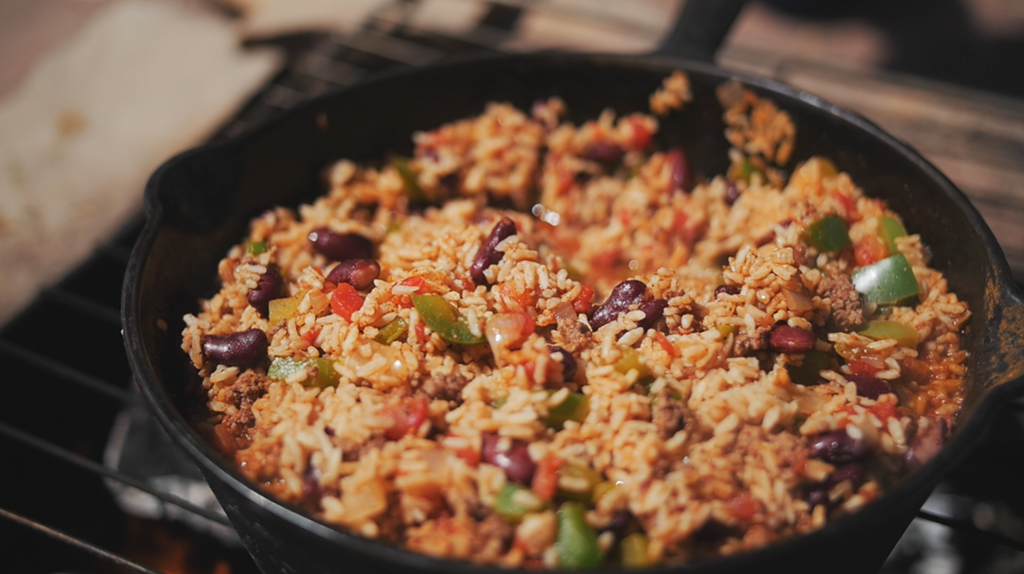 Ingredients
1 pound(s) ground beef
4 c quick rice
3 c water
1 c chopped onion
1 large green pepper, chopped
1 package chili seasoning mix
1 can tomatoes, undrained
1 can kidney beans, drained
1 Tbsp salt
1 c shredded Cheddar or Monterey Jack cheese
Preparation
In a large skillet, brown meat, drain. Add remaining ingredients except cheese; stir. Bring to a vigorous boil. Cover tightly.
Simmer about 5 minutes or until desired consistency. Sprinkle with cheese.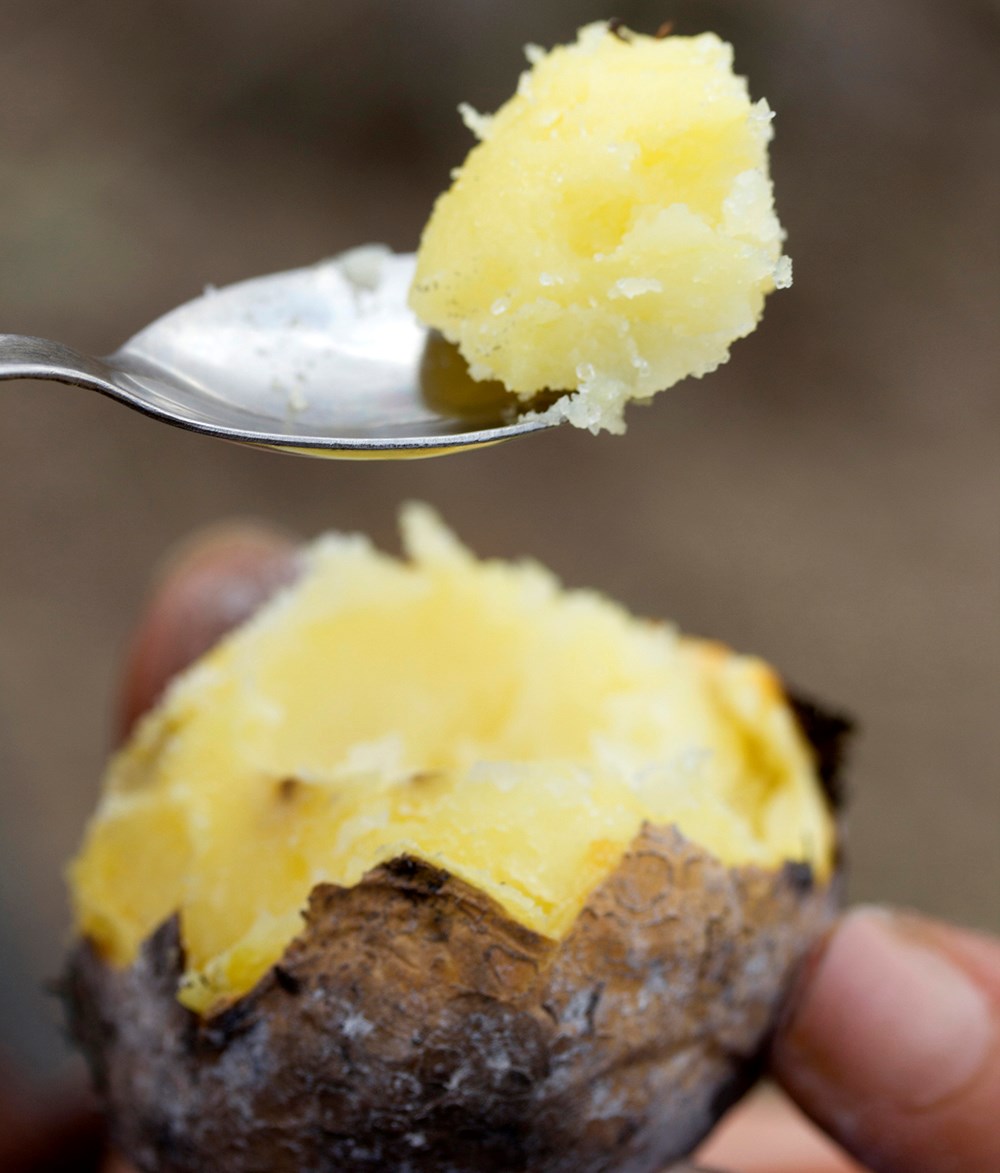 Ingredients
1 medium size potato
Butter
Salt
Pepper
Heavy duty aluminum foil
Tin can (from veggies or beans)
Preparation
Clean the potato. Butter the outside of the potato really well, and season to taste. Put potato into the tin can and cover top of can with foil.
Place the tin can next to a fire pit of coals and let it set for 25 minutes, then turn can 90° and cook for another 20 minutes (do not peek at potato). After 45 minutes you will have a perfect baked potato.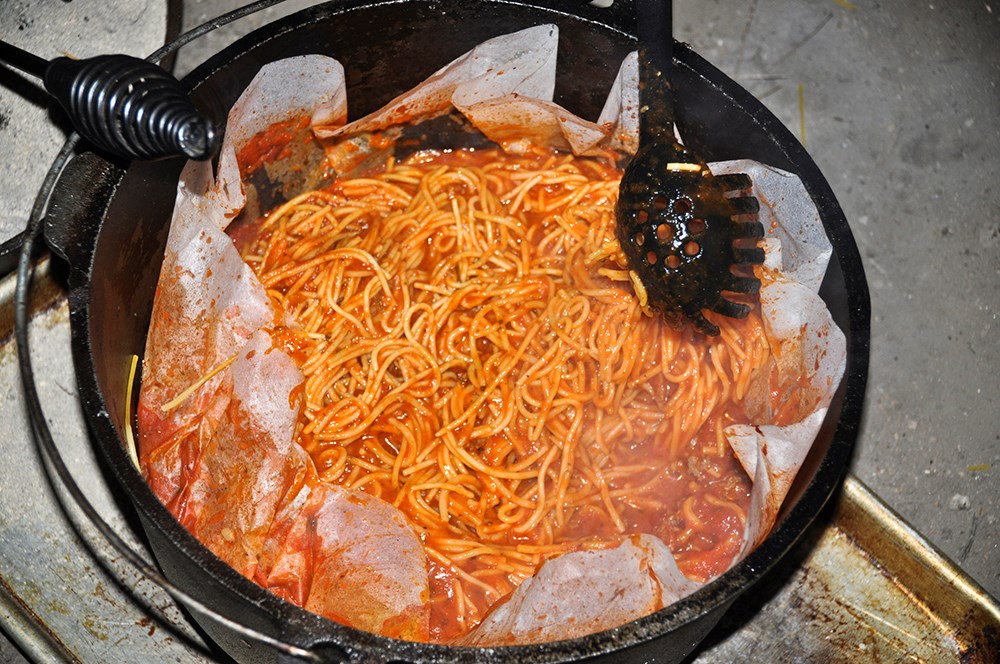 Ingredients
1 pound(s) ground beef
1/2 onion (diced)
1 Tbsp minced garlic (optional)
1 6 ounce can tomato paste
2 cans water
1 14 ounce can stewed tomatoes
1 8 ounce spaghetti
2 c water
1/4 tsp dried oregano
Salt and pepper to taste
Preparation
Cook beef and onion in large skillet over medium heat, until no longer pink; drain. Add remaining ingredients, bring to a boil.
Reduce heat, cover and simmer 14-16 minutes or until spaghetti is tender.
If you want to save time while you're camping, brown the beef and onion as directed at home. Add all spices and freeze or put in camper fridge. Then follow the remaining directions for a quick one pot meal.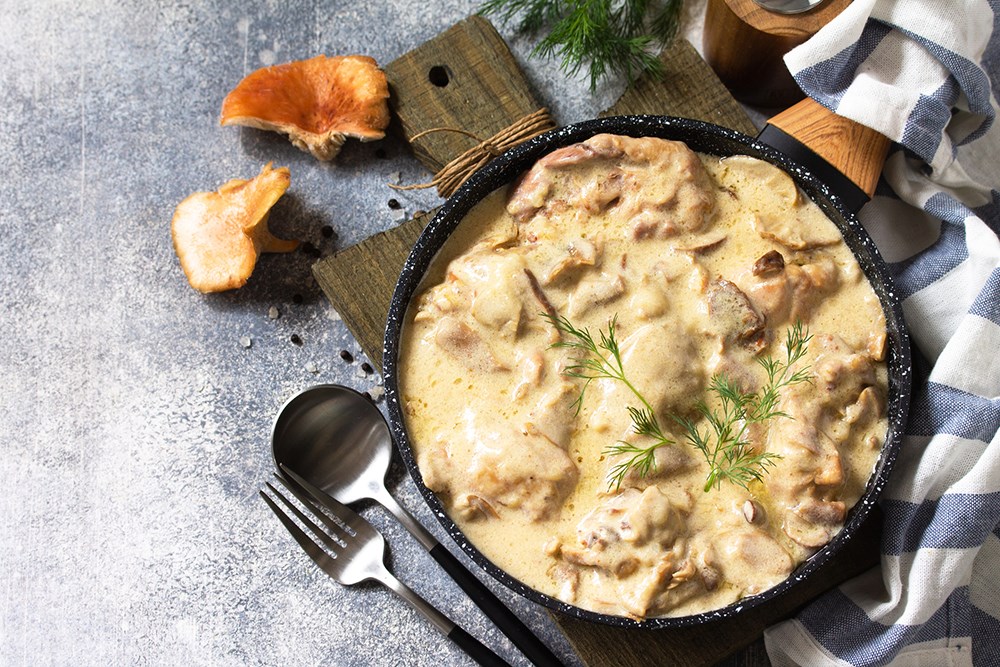 Ingredients
4-6 Whole Boneless Chicken Breast (or chicken of choice)
1 Cream of Chicken, Mushroom or Broccoli Soup
1/2 c water or milk
1 Can Mushrooms
2 Bags of Califlower, Broccoli and Carrots (frozen vegetable mix)
1 large onion
Olive Oil
Butter
Salt & Pepper (or seasoning of choice)
Cooking Spray
Preparation
Spray the bottom of a medium sized foil baking pan with the cooking spray. Line the bottom of the pan with sliced onions. Spread the sliced mushrooms and frozen vegetable mix over the onion layer. Mix soup and water (or milk). Spread soup mixture over vegetables. Add a little olive oil and butter. Season chicken and place on top of mixture.
Using heavy duty aluminum foil, cover the pan completely from side to side and end to end wrapping all the way over the bottom of the pan to create a good seal. Put on camping rack over hot coals (you can cook directly on coals, but this may cause sticking).
Check for doneness after approximately 1 hour (cooking time will vary depending on the heat from the coals). Serve with your choice of bread.
---