Best Places to Eat in Moab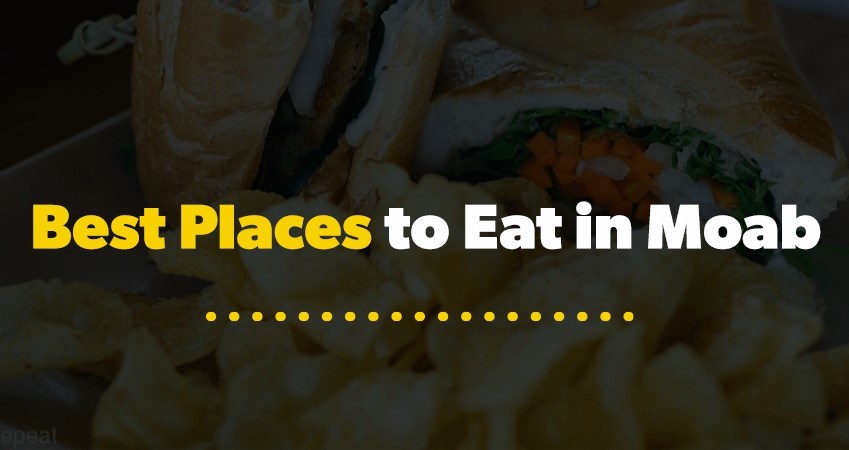 If your idea of vacation is hiking, sightseeing and camping your way through the red rocks of Moab, you are going to need to stay fueled with delicious, nutritious food. Moab has some of Utah's most indulgent restaurants, serving everything from diner-style breakfast and hot coffee to Mediterranean and Asian-inspired dinners. These are some of the best restaurants in Moab that you cannot afford to miss.


Breakfast
Start your day off right with a filling, energizing breakfast that will keep you going across park trails until lunchtime.
Moab Diner
The Moab Diner on 189 South Main Street serves all-day breakfast starting at 6 a.m. every day of the week except Sunday. The eatery got its start in the 1960s as a drive-in. A decade later, it became an ice cream parlor, and then in the 1990s, it was revamped to become the Moab Diner. Since then, The Moab Diner has been serving classic diner breakfast staples, like eggs cooked to order, French toast, breakfast burritos, biscuits and gravy, and blueberry or banana buckwheat pancakes. Their house specialty is The Moab Diner's Sweetwater Skillet — a mix of fried potatoes, bacon, green onion, bell pepper, melted cheese and eggs served with buttery toast.
Love Muffin Cafe
The Love Muffin Cafe on 139 North Main Street serves breakfast from 6 a.m. to noon, with online ordering and to-go orders available. Breakfast favorites here include:
Sunrise paninis — like the veggie panini with sikilpak, avocado, tomato, eggs and spinach or the sausage panini with jam, cheese and onion.
Breakfast burritos with eggs and kimchi.
Housemade granola or chia pudding made with seasonal spices.
The menu boasts plenty of vegetarian, vegan and gluten-free options to satisfy all hungry diners.
Moab Garage Co.
Moab Garage Co. on 78 North Main Street offers breakfast until noon with the option to order online. Locals and visitors love the balanced menu that serves classic breakfast favorites, like croque monsieur, huevos rancheros, breakfast burritos and parfaits with homemade granola, as well as less traditional offerings like the indulgent liege waffle or a savory quinoa bowl.


Lunch
Get your midday power up with some of the best food in Moab at these local eateries.
Sultan Mediterranean Grill
Fresh food, traditional Lebanese and Greek recipes and a family-friendly atmosphere are the inspiration at Sultan Mediterranean Grill on 574 North Main Street. Lunch is served from 11:30 a.m. to 4 p.m., with sandwiches and fries, salad and lunch bowls with things like falafel, quinoa, hummus and grape leaves. They have several vegetarian, vegan and halal-friendly options, as well as a dessert menu with indulgent vanilla and pistachio ice cream or more traditional fare like ginger rice pudding and baklava.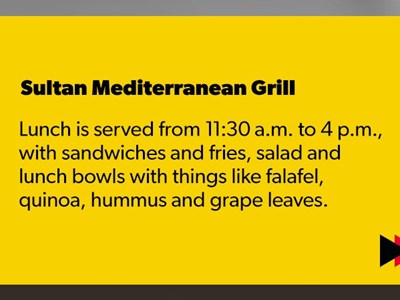 98 Center
98 Center gets its name from its location on 98 East Center Street and offers indoor and outdoor full-service dining or takeout. Lunch starts at noon and features dishes like vegan or meat-based pho, artisan salads with ingredients sourced from local farmers and orchards, banh mi sandwiches served with kettle chips and fun starters like sweet and spicy kettle corn or pickled deviled eggs. The menu includes several gluten-free and vegan options, with everything made from scratch with fresh, organic ingredients. Enjoy a refreshing yuzu limeade or energizing Vietnamese coffee before leaving.
Sweet Cravings Bakery + Bistro
Sweet Cravings Bakery + Bistro on 397 North Main Street offers lunch you can order online from 9 a.m. to 2:45 pm, with your choice of indulgent lunch sandwiches — like the Great Escape, a pretzel roll sandwich with lettuce, tomato, swiss cheese, ham and honey mustard or the Blast sandwich with blue cheese, tarragon aioli, turkey, bacon, lettuce, avocado, tomato and blue cheese on artisan bread — or a fresh salad with salmon, crunchy ramen noodles or fresh fruit, each served with a scone. The Bistro also offers kid's boxed lunches and grab-and-go favorites like salted toffee cookies and hiker-friendly creme brulee bars for a portable snack.


Dinner
After a busy day exploring the sights of Moab, these locations are great options to enjoy a delicious dinner with your friends, family or significant other.
Desert Bistro
36 South 100 West's Desert Bistro seats for dinner from 5 p.m. to 10 p.m. each night and offers gourmet food in a cozy atmosphere. Appetizers include unique offerings like bacon-wrapped dates stuffed with chevre and topped with pomegranate molasses or ground pork with bell peppers, pine nuts and garlic baked inside phyllo and served with an herbaceous bell pepper sauce or bison empanadas served with mole and mango salsa. Dinner features the fish of the day, handmade pasta dishes, bistro duck confit, vegan dishes and lamb loin chops. The menu also has wine, beer and spirits to pair.
Antica Forma
Antica Forma on 267 North Main Street offers more than a slice of pizza — it takes you all the way to the classic flavors of Neapolitan toppings, handmade artisan dough and fresh, hand-stretched mozzarella made in-house daily. Appetizers will not disappoint, either, with options like mussels al vino bianco, homemade burrata and garlic bread for the traditionalists. Enjoy red pies, pies without tomato sauce, gluten-free options, paninis and even a lightly fried pizza finished in the wood oven. The eatery has several indulgent pasta dishes, a kid-friendly menu and fresh-squeezed juice to top it all off.
Bangkok House Too
For delectable Asian cuisine, head to Bangkok House Too on 59 South Main Street — open for dine-in, takeout and delivery within a six-mile radius from the restaurant. Popular entrees include curry, chicken katsu, thai basil, pad thai, drunken noodles, pad see-ew, Japanese ramen and pho. All dishes come with your choice of heat level. For a lighter take on dinner, try the sushi, sashimi or poke bowls, served with miso soup or salad. Bangkok House Too also has a kid's menu and yummy after-dinner treats, like sweet rice with ice cream, banana spring rolls, mango and green tea ice cream, cheesecake tempura, Thai iced coffee and bubble tea.
The Cowboy Grill
Celebrating a special occasion or looking for a date night escape? The Cowboy Grill serves dinner from 5:30 p.m. until closing, complete with a picturesque view of the Colorado River and Fisher Towers. Choose from traditional fare like grilled salmon, pork chops or pasta, and pair your meal with a bottle of wine. Reservations are required.
Milt's Stop n Eat
Milt's Stop n Eat on 356 South Mill Creek Drive is a nostalgic, diner-esque eatery with all the classics — cheeseburgers, onion rings, melts and milkshakes. They even offer fun twists on old favorites, like chipotle-green chili fries, BBQ beef brisket fries, tater tots and signature burgers like the cowboy jalapeño burger or the bison burger. If milkshakes are not your dessert of choice, they also have sundaes and churros.
Moab Food Truck Park
Moab Food Truck Park on 39 West 100 North is the perfect dinner destination if you are traveling with a group that has varied tastes or just want plenty of options to enjoy in a social, outdoor environment. The park is open until 7 p.m. Sunday through Thursday and until 8 p.m. on Friday and Saturday. Mix and match options from food trucks like the Red Wok Kitchen Chinese Express, Beans & Bagels and Tacos el Gordo.
You can also find food trucks — like local favorite Quesadilla Mobilla — parked at other spots around the area.


Wineries and Breweries in Moab, Utah
Enjoy a drink out or pick up your favorite local offerings to take back to your Camping Cabin or RV. Spanish Valley Vineyards and Winery specializes in single-vineyard estate-bottled wines, with signature bottles of cabernet sauvignon, cherry and riesling. The winery handles the entire growing and processing process, and the wine never leaves the property until you're ready to pop the cork. The vineyard also offers tastings and tours.
Moab Brewery is the area's only microbrewery and distillery, with a package agency open every day at 11:30 a.m. to buy all your favorites. The brewery offers root beer, brews on tap, canned and bottled brews and several distillery spirits to pair with the food menu.


Campfire Cooking
Campfire cooking under the Moab sky lets you choose what, when and how you eat, with plenty of seasonal recipes to enjoy throughout the year, as well as family favorites — like quick and delicious crescent roll-ups — that will keep your entire group coming back for more. Enjoy your creations from the comfort of a picnic table or gathered around the fire for a meal to remember.


Reserve a Stay at Moab Kampgrounds of America
Whether you are going out for a night on the town or enjoying a meal by the campfire, Moab KOA is the place to stay. Moab KOA offers the best lodging in the area, complete with a well-stocked camp store with snacks, a pool and hot tub, a bike wash and repair station and ice and firewood available for purchase on-site. The campground is located close to popular local attractions, like Arches National Park and Canyonlands National Park — you can even bring your dog!
Contact the campground to learn more about our pet policy and available sites, and start planning your Utah getaway today.