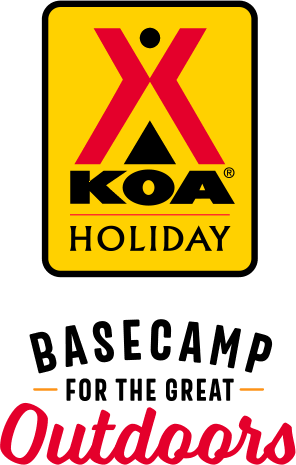 KOA Holiday Campgrounds
Whether you're exploring the local area or hanging out at the campground, KOA Holidays are an ideal place to relax and play. There's plenty to do, with amenities and services to make your stay memorable. Plus, you'll enjoy the outdoor experience with upgraded RV Sites with KOA Patio® and Deluxe Cabins with full baths for camping in comfort. Bring your family, bring your friends, or bring the whole group – there's plenty of ways to stay and explore.
KOA Holidays Feature:
RV Sites with a KOA Patio®
Deluxe Cabins with full baths
Premium Tent Sites
Group meeting facilities
Directions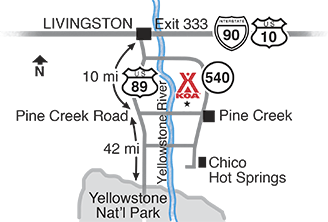 From I-90 Exit 333: Head south for 10 miles towards Yellowstone Park. Turn left on Pine Creek Rd. Drive slightly more than 1 mile, our KOA is on the left just across the bridge.
From Yellowstone Park: Take Hwy 89 north towards Livingston. Take a right Pine Creek Rd between mile marker 43 and 44. Drive just over one mile. 
The road getting to our KOA is at times a little rough. The state is planning to redo the road, but that project is a few years out. Please take your time and drive slowly. 
GPS: N45.51206. W110.57971
Get Google Directions
Jun 27, 2020
We stayed in a nice cabin. Everyone was extremely nice and the campground was quiet!
Jun 27, 2020
Little noisy by road. Nice spacious and private site.
Jun 27, 2020
stayed here on our way to south Dakota and decided to saty a couple nights on our return trip home nice park
Jun 27, 2020
Gregory' email about refund."We will not check you out so that if you can not find another site.... But if you do choose to come back and start to cause troubles...we'll call the sheriff" We are 65&55 His refusal was BS & he's a jerk. Not site we reserved we didn't complain until couldn't sleep 2 nites bic of noise; we left to sleep Worse KOA experience ever! And we have stayed at many KOAs.
CAMPGROUND RESPONSE / COMMENTS:
We offered to move this guest, they requested some tree work be done for the new site. We were happy to do some of the work. We offered a discount for either site since they had been so unhappy. They choose to leave. We have a very clear policy that we do not refund after check in. They then started swearing at me aggressively.
Jun 26, 2020
Everything was great except for a huge portion of a tree fell in a windstorm right at the office which would have killed someone. Our campsite was surrounded by very tall cottonwoods much like the one that fell from. Hosts were accommodating and allowed us to move to a different campsite trees. Just a heads up to keep an eye on all dead limbs I guess. Otherwise our trip was great
Jun 26, 2020
Just a quick overnight, but very quiet and clean
Jun 26, 2020
Very friendly people that work there. Very clean grounds, restrooms and laundry room. Very nice place in a beautiful location.
Jun 25, 2020
Little further to Yellowstone. Our site had a tree that needed to be trimmed. We could not fully extend our awning. Site was clean and personal were very pleasant. Did not use other facilities in the campground. From observing other families they enjoyed the pool and bike riding.
Jun 25, 2020
Everyone was friendly and helpful. Great location.
Jun 25, 2020
I typically stay at the KOA solo or with friends, this time I had my family in town. I was thrilled that the kids had such a great time & my sister in law was able to relax. This site is clean, safe, and very family friendly. As always the staff was wonderful!!!
Jun 25, 2020
Great playground and beautiful riverfront. Road getting to it is pretty rough.
Jun 25, 2020
The KOA exceeded my expectations! The cabin was peaceful and very cozy. Cooked all meals on the Weber grill on our deck. ALL of the staff were VERY pleasant and helpful. Can't wait to go back! �
Jun 23, 2020
The campgrounds themselves are kind of cramped feeling with spots very close together. There was a problem with moths in the cabin we stayed in, but the employees did try their best to get rid of them. The best thing about the campgrounds is the nearby grocery stores and restaurants.
Jun 23, 2020
Gorgeous location, friendly staff, clean bathrooms, fun gift shop. Loved the cozy cabin. Missed out on the pool thanks to COVID.
Jun 23, 2020
Excellent stay the cabin was comfortable and roomy enough to not feel we were on top of each other. We even decided to add an extra day and easily stopped by the office to add it. The hosts/staff had excellent customer service and were very friendly with every interaction. Due to COVID restrictions some amenities were understandably unavailable, but will be returning in the future to experience
Jun 23, 2020
This used to be a favorite camp ground of ours. We understand we barely got a site. Will not come if only sites are in this area. Was quiet, but too many cottonwood trees and bugs. Weeds a foot high around fire pit. I think with COVID, you are getting swamped and am sorry for that. Who has the time for the needed upkeep. Hope that you have a great summer.
CAMPGROUND RESPONSE / COMMENTS:
Thanks for the review. I know it's hard for guests who have been coming here for years as now it's hard to get a reservation. We have been understaffed due to COVID and working hard to get caught up. But we hope to see you again in the future when we can book you a site that you enjoy.
Jun 22, 2020
The staff was so friendly and helpful. I am a single woman with a trailer and needed some help backing in. Dave was absolutely the best with answering my questions as a newbie. Kudos to you and your staff!!
Jun 22, 2020
Nice campground. Great amenities including hot/clean showers and laundry room with comfortable seats and a TV which was a big luxury compared to the 12 other campsites I stayed at over a 14 day period. Staff was also very helpful.
Jun 22, 2020
Beautiful setting, very clean, shady and green, staff incredibly nice and helpful!
Jun 22, 2020
Overall I enjoyed my stay, my only complaint is the number of people playing music and being noisey into the night. I have young kids, they had trouble falling asleep. I enjoyed my stay, the area was clean and my kids enjoyed the playground.
Jun 22, 2020
The bathroom was very clean which is a big plus and the staff was helpful, knowledgeable and very pleasant to interact. I would definitely recommend the Livingston KOA.
Jun 22, 2020
Great place. Nice environment. Love the dog area where you can take your dog off thier leash and let them roam a little. Nice people running the place. Restrooms very clean.
Jun 22, 2020
We stayed at cabin 24, with the half bath. It was super nice, and wven though its close to hotel prices, you get the picnic table and firepit and the woods and the quiet. We brought our food and camped for the weekend and it was really relaxing. The staff there is super nice. Everything is clean, and the views are beautiful. We will be back!
CAMPGROUND RESPONSE / COMMENTS:
Thanks for the great review. We feel like the experience is a lot nicer than a hotel! We are glad you enjoyed your stay. We look forward to seeing you again soon.
Jun 22, 2020
We had a fantastic experience! The campground was quiet, friendly, well kept, and an overall great time! Our kiddos were able to ride their bikes, play basketball, and play on the playground with new friends for as long as they wanted Before quiet hours. They cannot wait to go back again so we can check out the pool and have a great camp!
CAMPGROUND RESPONSE / COMMENTS:
Thanks for the great review! We really appreciate your understanding of our procedures during the COVID issues. We look forward to seeing you again soon!
Jun 22, 2020
Great location and our cabin was wonderfully appointed and situated. However, the cabin was not sufficiently clean, especially in this COVID-19 era - a couple strands of dark hair in the shower stall, speck of feces on outside toilet bowl, and mildew in coffee pot. Disappointing and uncomfortable.
CAMPGROUND RESPONSE / COMMENTS:
We have reached out to this guest to get some verification of these claims. I have not heard back from them and have double-checked all of our Deluxe cabins to look for signs of what they claimed. I will update this post if I do hear back from the guest.
Jun 20, 2020
We had a great time. Beautiful location.
Jun 20, 2020
The woman who checked me in wasn't very friendly, hardly a greeting and I was also scolded by another woman about my dog instead of politely informing me of pet rules. The only kind employee was the gentleman who sold me the firewood. Besides that, my tent space was very nice and I enjoyed the grounds.
Jun 20, 2020
I came in late and was met with help to locate my spot, appreciated being told the pressure was low and if I used my regulator I wouldn't have enough pressure. Also offered if I needed any help with my hook-ups.
Jun 19, 2020
It was pouring rain and cold, but no one minded coming out to make sure we were comfortable in our site and hooked up for all the conveniences they had to offer. It was a wonderful stay. �
Jun 19, 2020
Nice campground. Sites are pretty tight together for the big RVs. It seemed to be a very family friendly place. Nice laundry room. Helpful office staff, but we could've used someone showing us where our sites were .
Jun 19, 2020
Very disappointed in our stay. Even though there were few people at around the campground during the day and we could socially distance we were unable to swim as they were working on maintenance. This was not disclosed prior to our visit. And we were charged full price for our stay.
CAMPGROUND RESPONSE / COMMENTS:
Hello and thank you for your review. If you check our website, it has all of the current COVID information. It's there where you can see that our pool is closed. We have been extremely understaffed due to COVID. We are working as hard as we can to open our park to our guests. We appreciate your unde
Jun 19, 2020
Sites are way to close. Neighbors made racket all night. 10 foot in between sites. Its not about quantity, quality has to be there.
CAMPGROUND RESPONSE / COMMENTS:
Thanks for the informative review - I understand your frustration. Our park was built in 67'. Some sites have not been updated in the past few decades. Since the owner purchased the property 5 years ago, we have worked hard to update as much as possible within our budget. We continue to work to impr
Jun 18, 2020
Great place off the highway between Livingston and Yellowstone so it was a perfect location. We would highly recommend it.
Jun 18, 2020
I was a little leerily at staying at a chain campground, but we loved it. So nice to have clean showers and a fantastic playground for the kids.
Jun 17, 2020
We were very impressed with the campground and the staff. It's beautiful, clean and well kept. The valley is breathtaking and the hikes to the waterfalls and foothills are a short distance from the campground. We enjoyed staying there an entire week!
Jun 16, 2020
Always a wonderful place to stay! Very friendly people and beautiful spot!!
Jun 16, 2020
The spots are small and very close together. Barely room to put your awning out. We had awful neighbors who thought they owned the place because they had an expensive rig. Staff was ok, but overall wouldn't stop here again. Better sites on other end of Yellowstone.
CAMPGROUND RESPONSE / COMMENTS:
Thanks for the informative review. I understand your frustration. Our park was built in 67'. Some sites have not been updated in the past few decades. Since the owner purchased the property 5 years ago, we have worked hard to update as much as possible within our budget. We continue to work to impro
Jun 15, 2020
We'll be back!
CAMPGROUND RESPONSE / COMMENTS:
We'll be looking forward to your return!
Jun 15, 2020
BEST KOA EVER! I camped alone with my 2 toddlers and it had been a while since I had taken out our travel trailer. They helped me back in and the wonderful maintenance man, Steve, helped me every single time I had an issue with our camper. He was the best! Our site was beautiful, private and quiet. The playground was so awesome for my kids. The little store was convenient and everyone was so nice!
Jun 15, 2020
convenient, easy, quiet, fun
Jun 15, 2020
Our stay was nice.
Oct 20, 2020
I enjoyed the place its everything you expect from a campground
- ww2 history boii on Google
Oct 02, 2020
Great campground with level sites. Ready in and out.
- Kim Autry on Google
Sep 30, 2020
Campground is right on the Yellowstone River. Cute cabins right on the shore that looked cool. We stayed in a full hook-up pull-through RV spot on the other side of the campground and it was an easy walk to the river. Gorgeous views of the mountains all around. Nice quiet atmosphere. About a 40 minute drive to Yellowstone which we were happy to do to avoid staying in West Yellowstone. Easy booking and check-in, super helpful employees. We needed a little later checkout and they accommodated us with no problems. Albertsons grocery right off the highway about 10 minutes away. Saw reviews saying they didn't like the highway noise but we heard none of that. Campground is about 1.5 miles off the highway-all we heard was cattle from the nearby ranch, and the river. Only reason for knocking off a star is that the facilities are pretty worn. Our patio was rough and the picnic table was pretty rickety. Laundry facilities (mostly) worked but machines look like they haven't been replaced in 30 years.
- MandiB75 on Trip Advisor