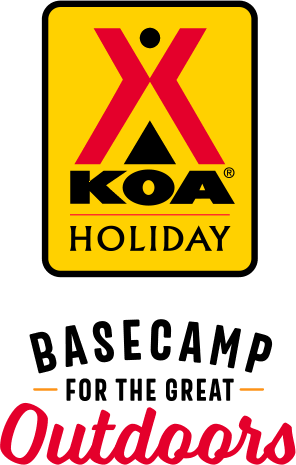 KOA Holiday Campgrounds
Whether you're exploring the local area or hanging out at the campground, KOA Holidays are an ideal place to relax and play. There's plenty to do, with amenities and services to make your stay memorable. Plus, you'll enjoy the outdoor experience with upgraded RV Sites with KOA Patio® and Deluxe Cabins with full baths for camping in comfort. Bring your family, bring your friends, or bring the whole group – there's plenty of ways to stay and explore.
KOA Holidays Feature:
RV Sites with a KOA Patio®
Deluxe Cabins with full baths
Premium Tent Sites
Group meeting facilities
Sep 28, 2020
It was very delightful and forfilling!! Thank you
Sep 27, 2020
Very enjoyable! Loved the cabins! Will definitely be back!
Sep 22, 2020
We had a Great time. Can't wait to return. Only issue was heater/ac not working. We will see you in the Spring
Sep 21, 2020
Although the campground was very full, we had enough privacy with our fire and little cabin. Near the entrance and bathrooms, the back windows looked out to a lovely wooded hill. We love this location; take the train to Boston, visit Plimoth Plantation or King Richard's Faire, right nearby. This was my 6th stay at the Boston KOA and will be back next year!
Sep 19, 2020
We love the KOA, we have been going every month from June- Nov. for 4 years and we will be setting up our dates for next year. Ryan and most of the staff are awesome and very helpful. See you in a couple of weeks.
Sep 18, 2020
I had to leave early from my spot that I paid good money for because some drunk people behind me were banging on my cabin walls scaring my daughter so bad she was petrified and I had to drive to my house at 3:30 in the morning just so she can sleep and relax. Completely unacceptable. I paid good money for something I couldn't use because I had to leave early
Sep 15, 2020
Fantastic weekend. Deluxe cabin was beyond our expectations, site was clean and quiet, staff very friendly and helpful. This was our first visit to a KOA, and I don't think we would ever go anywhere else now. Can't wait to go back!
Sep 15, 2020
Amazing stay- very clean, efficient and pleasant staff. We'll be back!
Sep 15, 2020
Was the second time I had stayed there in a 2 week period and had a small cabin in which I was pleased with. KOA had plenty of activities to do with the family and had time to unwind as well. GREAT JOB .
Sep 14, 2020
mostly liked it. but the beds and pillows felt very old. also that mini golf was in total shambles, and it could be fixed for short money. the band was a nice treat during the day. bathrooms and cottage fairly clean and in good condition.
Sep 13, 2020
It was awful! Staff was rude! Other campers across from us was rude! And our site looked like a hurricane came through with big tree branches everywhere. My 2yr old niece busted her whole face and split her lip open from falling over one. We did all the work and cleaned ourselves!!! That was not an enjoyable vacation!!!
Sep 13, 2020
Great job during Covid
Sep 13, 2020
The cabin was nice. However, the heater came on continuously the first night (had to turn the thermostats to below 50 degrees), the circuit to the back bedroom kept tripping with the ac unit, and the hideabed matress was painful to sleep on. That said, the pool, the kitchen, the wheelchair ramp, and the sleeping 6 was a perfect fit. Please address the issues and we'll look forward to next time!
Sep 12, 2020
We had no hot water on arrival. It took two complaints to get somebody to show up. After they told me it was fixed, I still had no hot water. He came back and fixed it again. When I woke up the next morning, I had hot water in the shower, but not the sink. I complained again, and another employee came back and checked it out. He came back out and said it needed another faucet. He never came
Sep 12, 2020
Everything was great for the most part. Wished we had the opportunity to recycle more, only had a trash bin in the cabin, nothing separate for recyclables. Covid put a damper on most all the activities, so the kids missed out on that, but we knew that going into it. Cabin was clean. Also would have been nice to have a change machine in the laundry room to get quarters.
Sep 11, 2020
Had an amazing time! So clean, staff was great and went out of their way!
Sep 08, 2020
The light outside our cabin was broken, I had to unpack in the dark. The gentleman who looked at the light said it wasn't the bulb and someone would be out in the AM, but I still had to go out to the office and ask them to fix it. In addition, I was trying to work onsite Friday and through the weekend and the WiFi was horrible. Even sitting right outside the bathhouse.
Sep 08, 2020
Another great stay. Cabin was clean and staff was helpful.
Sep 08, 2020
We rented a deluxe cabin and were completely surprised to find bed linens, plates, cups, silverware, soap and the icing on the cake was bowls and treats for the dog. Centrally located to the grocery store and Plymouth - we did spend a day exploring and learning the history of Plymouth. We camped with family and had fun visiting each site for dinner.
Sep 08, 2020
All the staff were super friendly and professional! It's our favorite place to camp
Sep 08, 2020
Very courteous and nice staff very helpful site was kept nice and clean
Sep 04, 2020
We enjoyed a peaceful stay in our beautiful, clean cabin.
Sep 03, 2020
I assume due to covid, it's hard to be as communicative, for it seemed they were unable to as helpful, I asked to be in the woods , not next to the highway .... and no mini refrigerator, no tv , girls milk went bad ..... and had to ask for a rack for fire pit, that was the only thing they were able to bring , I stayed in Stonington , mystic a few weeks before and they provided everything
Sep 02, 2020
The older lady who checked us in wasnt very warm and or friendly. Just the opposite! & snotty! But the cabins were nice, clean and accommodating. & all other staff we brushed into was pleasant, helpful, & smiling! All together great stay.
Sep 01, 2020
Hello there, Would've been a 10, like usual. Unfortunately there was a dog across from my cabin, non-stop barking dog. Wasn't very relaxing. But I will be back.
Sep 01, 2020
my stay was great, I just wish the staff at the store was more friendly, some of them were very rude
Sep 01, 2020
We stayed for two nights in a deluxe cabin. The biggest issue was others within the campground not wearing their masks. My kids did not feel comfortable at the playground. I asked for a late checkout and was told we could not. I then asked if the kids could stay at the pool past our check out, just an extra hour, again no. Poor customer service.
Aug 31, 2020
I was a little disappointed with the cleanliness. Oh have been coming for a weekend every year for the last 6 years it's def an expensive trip for me and my 2 kids. The fact that my son had to sleep in his car because of the dirty sheet on the pull out couch bothered me a great deal. Yes I got a 50 dollar credit but for the amount I spent for the stay wasn't really enough in my opinion
Aug 31, 2020
We stayed in a cabin, the cabin was exactly what was expected though cleaning could have been better. The minigolf needs a bit of work there were broken greens. The pool was beautiful rain or shine. The area they suggested we go fishing was not a legal spot so maybe they can find another spot to suggest. The mining was fun kid got some big quarts pieces. It's a fun place just needs some updat
Aug 31, 2020
We had a wonderful time. The cabins were just perfect and clean. Friendly staff
Aug 30, 2020
I had a wonderful time. Would go again. Very helpful staff at any time. And very pleasant staff. Can't do enough for you. Again I had a great stay and felt very safe and comfortable with COVID going on.
Aug 30, 2020
Camping cabin was very well maintained. Staff was friendly and efficient. Bathrooms and pool were clean. Some of the recreation areas are not usable. The mini golf carpet is ripped, horseshoes and bocce courts are covered in weeds. Kids loved riding their bikes around, playing basketball and corn hole.
Aug 29, 2020
Great stay. Have been here many times one of our favorites. We will be back. Thanks
Aug 29, 2020
The cabin I stayed in was neat and clean and far surpassed my expectations.
Aug 29, 2020
Great family campground! Staff needs to be a little more friendly & help campers out more! Over all great experience & we will be back!!
Aug 28, 2020
We were greeted by one of the rudest employees named Serena. We arrived 45 minutes early and told us we were too early had to leave to go get lunch or go to the store?? There were trees down all over the camp ground. The mini golf area the rugs are torn or busted boards on all of the holes. We then had to ask Serena for an extra roll of toilet paper and trash bag and we got nothing but an attitud.
Aug 28, 2020
Very clean. Though a storm came in and we lost power, it was still a great stay in the cabins. Right off the highway and not far from the Cape.
Aug 28, 2020
It was fun for the little kids
Aug 27, 2020
This review has been removed by KOA due to profanity.
Aug 26, 2020
The cabin was nice, the park was clean and quiet. I will be back!
Aug 26, 2020
The Corona thing put a damper the our stay .. not KOA'S fault . The place is nice ,the only issue I have is the cabins were not as clean as they should have been , especially with the Covid 19 pandemic alin all I had a nice time .�
Nov 03, 2020
Great place to go lodging if you don't have a RV or Mobile Home. People there were courteous and respectful. Too close to I-495 you can hear vehicles go by.
- Stuart MacGillivray on Google