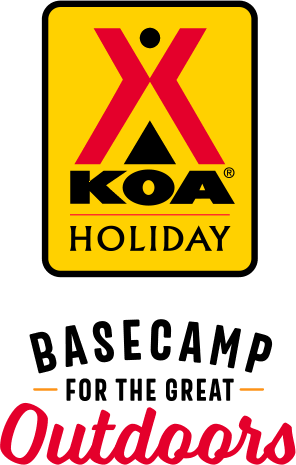 KOA Holiday Campgrounds
Whether you're exploring the local area or hanging out at the campground, KOA Holidays are an ideal place to relax and play. There's plenty to do, with amenities and services to make your stay memorable. Plus, you'll enjoy the outdoor experience with upgraded RV Sites with KOA Patio® and Deluxe Cabins with full baths for camping in comfort. Bring your family, bring your friends, or bring the whole group – there's plenty of ways to stay and explore.
KOA Holidays Feature:
RV Sites with a KOA Patio®
Deluxe Cabins with full baths
Premium Tent Sites
Group meeting facilities
Oct 21, 2021
We as always had a great time! Looking forward to next year
Oct 21, 2021
Campsites are clean and well maintained . Nice clean facilitys /showers . Great little store . Friendly staff. Only one complaint . I wish everyone was on the same page as to policy of length of stay permitted. End of visit i was thrown a curve ball. And was told I couldnt stay as set up to do. Management all need to say same things .
Oct 21, 2021
Stayed 3 days. Plenty of room for our 41' 5th wheel. Great place for kids. Be sure to take them to Plymouth Rock.
Oct 21, 2021
Very nice welcoming hosts. Thank you!
Oct 20, 2021
Park was good. Registration staff must have been having a bad day. Walked in holding a 7 lb. pet and he denied entry.
Oct 20, 2021
I enjoyed my day staying at KOA.
Oct 20, 2021
Great communications and easy check in/check out made for a great first camping experience for our family. The kids loved the playground and jumping pillow!
Oct 20, 2021
The staff were very friendly and helpful. Stayed in the dome, what an experience!
Oct 19, 2021
The Manager Tiffany & Asst. Manager Paul were friendly. Paul who wears many hats is always willing to answer any concerns. The office staff was polite. Melissa is a very hard worker yet she takes a moment to wave and/or tell you to have a nice day. We nicknamed her and Paul superheros without a cape. Kenny and Jose also made us feel very welcome. Nice teamwork GREAT STAFF! Can't wait for 2022
Oct 19, 2021
Signage was bad. Directions to mass transit to Boston was shoddy. People were nice.
Oct 19, 2021
We had a great time but have had frustration with trying to reach the front desk/office. Unless we travel down to the camp store, it is impossible to reach anyone in the office.
Oct 19, 2021
The check in process was great! Very friendly host! Lots of amenities, if you like that stuff. Just crummy site that was extremely difficult to maneuver into. Sites are too close to each other. Dump stations are in awkward locations.
Oct 19, 2021
Absolutely amazing time and wonderful staff!!
Oct 19, 2021
Very enjoyable!!!
Oct 19, 2021
Brief one night stay but so impressed with all they have to offer. We will be back!
Oct 18, 2021
Only thing that was missing was golf cart rental. Hopefully next year it will be available. Other than that had a great time.
Oct 18, 2021
Clean cabin, fast, friendly check in. Easy check out. Clean , well lit restrooms
Oct 18, 2021
Beautiful campground / clean restrooms / nice locations to many sites around Boston- close to train line
Oct 18, 2021
The campground was very well run. They called to confirm a special request I made when making the reservations. The sites were immaculate! Over one of the Halloween weekend's, the activities were very organized and planned to adhere to their quiet hours. All of our neighbors were friendly and respectful. Will definite be back!
Oct 18, 2021
Great weekend!! We had a blast doing the Halloween festivities!
Oct 18, 2021
We had a blast! The campground was clean, the staff was friendly and helpful. My favorite part were the activities for the kids, my daughter had a blast! Thank you for a wonderful first time visit! We will be back!
Oct 18, 2021
We were there for our 1st ever Halloween weekend, and it was so much fun, we booked for next year before we left!
Oct 18, 2021
I kinda felt like I was putting the girl out that checked me in. I asked if they had a indoor area so I could sign some papers. (I had to get a notary). Her response was we have a pavilion but if they are here longer then 30 minutes it will cost you $6. Needless to say the pavilion was outdoors and at night not the comfortable area or private. She did not volunteer useful information at all.
Oct 18, 2021
Very good time! Kids really enjoyed themselves there! Staff was very friendly!
Oct 18, 2021
Had a great time, went with my husband and four grandkids ages from 8,7,5 & 2, they had a blast . Our second year visiting for the Halloween weekend. Trying to make it a tradition
Oct 18, 2021
Very clean, incredible staff, will definitely return and explore other locations!
Oct 18, 2021
Could not get streaming video to work over wifi. Only 2 bars AT&T cell coverage. Other than that everything else was ok. Campsite is easy access.
Oct 18, 2021
Always have a great time!
Oct 18, 2021
Great stay, we hope to return!!
Oct 18, 2021
Very nice campground. Our site was up in the Highlands which was beautiful.
Oct 18, 2021
Great facility, very friendly service. Only downside was how close the sites are to one another.
Oct 18, 2021
Our campsite was a mud hole. Rocks were sticking up 6-7 inches high right outside of our door. I called and complained so they brought gravel. They used a backhoe to remove the rocks and hit an electrical Line. We were left with a hole outside our door with plywood over it for a day. The fire pit was so wet we had trouble keeping a fire going. Management involved yet we weren't offered a discoun
Oct 18, 2021
I love that the paperwork was all ready for me (even with my name on it) when I arrived. I know this sounds silly, but it made me feel important. It was a Halloween weekend. I loved that we were texted how much candy to get and what was going on throughout the day. Very fun experience. Already booked same weekend next year!
Oct 18, 2021
The Boston/Cape Cod KOA is very nice,lots of activities for kids, for halloween. The bath houses were extremely clean throughout our stay.
Oct 18, 2021
We came on Halloween trick or treat night enjoyed watching the kids and the music. We came last minute and staff was great. Bathroom and showers very good and clean. We would stay again
Oct 17, 2021
I enjoy my time at KOA. I am a seasonal camper and look forward to next spring. Lots of activities. Would like to see more food trucks come in for the times when I don't feel like cooking (LOL)
Oct 17, 2021
Site was very small, sewer was right there next to my picnic table. And the water hook up was at least four sites shared on Spicket and water leaked constantly which made my site wet the entire time. Been a member for a few years now and I must say that was my most disappointing sight of all.
Oct 17, 2021
Restrooms were spotless, Hook ups were placed just right. Not a piece of litter to be seen. This campground is 5 stars for sure.
Oct 09, 2021
Very nice campground. Typical amenities of a KOA but very quiet. You are an hour from Boston, 50 minutes to the Steamship ferry docks and 1.5 hours from Provincetown so not really convenient to anything but in the middle of everything.
- Steve Yad on Google
Oct 04, 2021
Awesome place to go with kids even with the bad weather they still made it fun for the kids. Super clean and the park staff was wonderful
- Nana on Google
Sep 24, 2021
Nice place. Has its own little Airstream Restaurant. Nice small pizza place across the street. Everyone was very friendly. They have a shuttle to take you and pick you back up. To and from Bar Harbor.
- Letha Whipple on Google