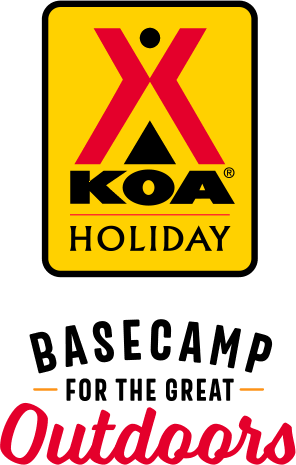 KOA Holiday Campgrounds
Whether you're exploring the local area or hanging out at the campground, KOA Holidays are an ideal place to relax and play. There's plenty to do, with amenities and services to make your stay memorable. Plus, you'll enjoy the outdoor experience with upgraded RV Sites with KOA Patio® and Deluxe Cabins with full baths for camping in comfort. Bring your family, bring your friends, or bring the whole group – there's plenty of ways to stay and explore.
KOA Holidays Feature:
RV Sites with a KOA Patio®
Deluxe Cabins with full baths
Premium Tent Sites
Group meeting facilities
Jul 26, 2021
We stayed in a deluxe cabin with our 2 kids and 2 dogs. Perfect size to sleep, campsite was a good size. Lots of activities on site for the kids. To note: because we had a grill there is no grate on the fire pit (we weren't expecting this). Our cabin was in the Highlands. It was definitely quieter in that area than at the main camp. We definitely didn't mind though!
Jul 26, 2021
My only complaint was that we had no water for over 3 hours, I realize that this is out of your control but it was inconvenient I love the campground Beautiful property Great people Already booked next year
Jul 26, 2021
Excellent !! Excellent !! Excellent !!
Jul 26, 2021
The park was very clean and well maintained. Staff were all friendly and helpful. We are more used to state campgrounds which are more spacious, but we had what we needed for our stay! We hope to be back next year.
Jul 26, 2021
Everything was great except the Candy hunt. She was saving the candy for next week. They shoud only bring out candy in which they plan to use. Otherwise kids had fun.
Jul 26, 2021
Great staff. Had to deal with bad weather but they kept everything going. Activities never stopped and we were met with smiling faces.
Jul 26, 2021
Great site but you can check in before 11 am ( extra charge) first receptionist not to friendly but letter on all good and nice
Jul 26, 2021
Very nice campground. Friendly staff. Bathrooms weren't bad- could use an update. Same for mini golf. Lots of fun activities
Jul 26, 2021
We started off at site to 248. The site was just too narrow for our trailer . The office move us. The night before we were leaving we ended up with a flat tire on the truck. Paul went out of his way to help us just in case we needed to stay a other day. Since it was a Saturday night everything is closed. Everything worked out and we went home. Paul called us today to check on us . Thank you Paul!
Jul 26, 2021
I enjoyed my stay at the KOA I haven't stayed there prior to since I was a kid at a different location. I wish the pool had an adult swim hour because I couldn't swim comfortably with all ether kiddos about. I was a bit confused to the fires having to be out by 12 as well but it was so awesome to have a picnic table a place to grill cabin c1 was further away from the others so I enjoyed the pr
Jul 26, 2021
The site was a little close to the other campers. The fire pits were right next to one another I was on site 106 107 fire pit was right next to mine. The bathrooms were very clean and stocked. I like staying in the highlands the sites are further apart drive through. KOA Cape/ Boston is a great campground
Jul 26, 2021
So many great amenities for kids. The people at the General Store are so kind and helpful. The noise level is high but the campsite was full. We would definitely come back.
Jul 25, 2021
I have stayed at this KOA twice in a deluxe cabin with my children and loved it. This year was disappointing to say the least. One staff member in the camp store were very rude on several occasions to myself and other campers. There was an incident where police were involved and scared a few of the children jumping on the pillow,my cabin still had trash in it from the last people. And more issues
Jul 25, 2021
I enjoy KOA so much fun and relaxing. Staff is unbelievable,helpful and funny Kenny was amazing and was always the to check on us and make us laugh and feel at home. I go every year and stay in a deluxe cabin. It my 2 home would live there year round if I could.
Jul 25, 2021
You have a 7.5 mph speed limit and nobody enforces it.
Jul 25, 2021
Very clean campground staff is friendly only thing that needs improvement is WiFi and grade and level the sites
Jul 25, 2021
The staff was phenomenal. But the campground has very little to offer. The mini golf is super rundown. The nightly fee is more than some campgrounds with way more pools, amenities, cafe, etc. the sites are very close together and I felt bad dumping our tanks each time when our neighbors were outside. The price should definitely be lowered.
Jul 25, 2021
Staff was great. Location was good for what we wanted. We traveled without kids so the front area of the park was too noisy for us.. but once we moved to the back we were much happier.
Jul 24, 2021
The campground was fine although we had to pay for an upgrade as the site we were given was unsuitable for our small trailer without slides to fit in - the trees being too close and the water being too far. We also had to pay an early check in fee so all in all not our favorite KOA.
Jul 24, 2021
Well staffed community! Fully equipped with all sorts of fun things. Good Wi-Fi.
Jul 24, 2021
We stay another 3 days! We went in to Plymouth, we had lunch at the Lobster Hut!! It was the freshest fish, the cole slaw was stop on! Fish chowder was like I made it! Yum!! I'll be back to the KOA & Lobster Hut!
Jul 24, 2021
Great and very friendly service. It was very clean. Nice sites. So much fun stuff for kids. We enjoyed our stay.
Jul 23, 2021
Great campground. Was always quiet no matter what time of day. Will be back.
Jul 23, 2021
Great location to access Plymouth and the Cape. The campground is very clean. Sites are small.
Jul 22, 2021
Nice cabins, wish we could of rented the golf cart
Jul 22, 2021
Gravel rd ended before u reached last 3 sites in middle of the field, it had been raining and therefore muddy.we were caught in traffic and arrived 15 min before office closed and there were cars parked blocking site but because no one went to site with us we were left to deal with it
Jul 22, 2021
Loud music playing the last night of our stay. No one helped. Dog park was in the same location as the sewer and smelled. Campers were packed tightly together. Our camper was so close to the next that our awning could almost touch. Interstate or busy road made campground very loud. I don't have enough space to write all… Would not stay here ever again.
Jul 22, 2021
Staff are very helpful and friendly. Pool and jumpy pillow were big hits with the kids!
Jul 22, 2021
Although brief, we enjoyed the clean, cool cabin. We were thrilled it had air conditioning in the upgraded cabin. It did not mention that on line. The restrooms need a fan in them and shower door closures. Loved the hospitality!
Jul 21, 2021
HORRIBLE!! The pool was disgusting the cement and the tiling around the pool was not nice at all. The staff is not very personable. The water was shut on and off all day for a full day, the cable was in and out. And it was just not very organized. The sites are very small depending on where you go. I would never recommend this place to anyone
Jul 21, 2021
Mostly enjoyable and carefree. I have never stayed at a campground that communicated so well via text messenging. We were kept informed of the activities scheduled for the day, the water interuprtion and other special announcements. Congratulations for that.
Jul 21, 2021
Very well stay enjoyed the whole park thank you
Jul 21, 2021
We do a lot of RVing and have had a lot of bad experiences Your management has created one of the top RV parks in the USA We were there with the Jersey Pioneers and all agreed it was one of the best stays that we all had. We have stayed at your facility in the past and none of us were ever disappointed
Jul 21, 2021
Staff was extremely accommodating and helpful. Everyone always smiled and waved. Very attentive. Thank you �������
Jul 21, 2021
We stayed in the Highland section of this park and were very pleased with our campsite and the spaces between other campers. Nice park and friendly staff.
Jul 21, 2021
The Grounds in the campground aren't nice at all .The pool I wouldn't even put my toe in the water was disgusting their was nothing inviting about it. The miniature golf was like are you kidding me !
Jul 20, 2021
Great campground!
Jul 20, 2021
Had a very noisy site. The WiFi did not work well at all, it would disconnect every few minutes even though the signal was good. Insufficient laundry facilities, was always busy and full.
Jul 20, 2021
It was my first time staying at any KOA. We have two small children, 2 and 6. We absolutely LOVED it! My parents came to visit for the day and were equally as impressed. All of the amenities offered are great for any age. The Assistant Manager, Paul, was fantastic! He really made sure our stay was comfortable with the two small children. Because of Paul we will definitely be staying there again.
Jul 25, 2021
We stayed here in order to visit Boston and Cape Cod. The location was perfect for this. It's located about a 39 minute drive to the nearest T Station (I suggest the Braintree station) to go to Boston, and about a 45 minute drive to the cape. Staff here is very friendly and helpful. Our site towards the back of the park was fairly quiet.
- Amanda Piper on Google
Jul 22, 2021
We had a blast
- Angela Bell on Google
Jul 16, 2021
Our regular place to stay in Massachusetts.
- Donald Pearce on Google