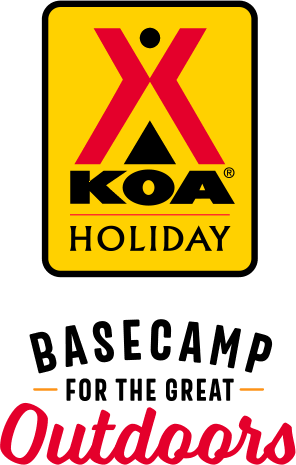 KOA Holiday Campgrounds
Whether you're exploring the local area or hanging out at the campground, KOA Holidays are an ideal place to relax and play. There's plenty to do, with amenities and services to make your stay memorable. Plus, you'll enjoy the outdoor experience with upgraded RV Sites with KOA Patio® and Deluxe Cabins with full baths for camping in comfort. Bring your family, bring your friends, or bring the whole group – there's plenty of ways to stay and explore.
KOA Holidays Feature:
RV Sites with a KOA Patio®
Deluxe Cabins with full baths
Premium Tent Sites
Group meeting facilities
Oct 27, 2020
This was my husbands and I first time and we loved it ! Great campsite will be returning !
Oct 26, 2020
Not all guest wearing masks
Oct 26, 2020
I stay at KOAs as often as I can- primary tent sites and cabins if there are no tent sites available stayed at tent site 1 and absolutely loved it. It's up a small hill so there is privacy and the site was plenty big. Will be reserving this and tent site 2 next year when I return!
Oct 13, 2020
Thank you for having us this weekend. We had a wonderful time and hope to be back soon. We love the wood delivery service and how clean everything was. Thank you again
Oct 13, 2020
Great Camp Ground. Lot's of activities for the kids. Very clean and organized.
Oct 12, 2020
We had a great time staying here. We had a tent site, private and in a beautiful spot. We were close to the restroom and the grocery store had the things I forgot to pack. Everything was clean and staff was super friendly and accommodating. They also offered a tie dye activity for children on Saturday. This was the first time I used KOA and I loved it! Can't wait to visit other campgrounds.
Oct 05, 2020
The staff were friendly and very helpful. The site was easy to use and close to facilities. The bathroom/shower was very clean. They were cleaned several times a day. We enjoyed KOA campsite. Will use again and have already talked about it to coworkers. Thank you everyone.
Sep 21, 2020
Great job great staff
Sep 08, 2020
Overall pretty satisfied. Would love to see the mini golf updated!
Sep 05, 2020
This was our first time staying at a KOA and it was ok. The pros: Dog parks, clean bathrooms, laundry facilities, pool, activities, amazing staff, and the store was filled with supplies. The Cons: golf cart rentals are advertised as $65 but charged $75, The facilities looked a bit old and in disrepair, a lot of people not masked up, sites were too close, pool heater was broken, and noise all night
Sep 03, 2020
We will be back!
Sep 03, 2020
Last-minute decision. We had a great time
Sep 01, 2020
We had a great first time experience. The staff reacted promptly to our concerns for a tree that looked like it might fall on our site. We were moved to a different location immediately. We will definitely return.
Aug 31, 2020
Had a great time at the camp ground and they had a lot of things for the kids and campers to do with all the activities. Enjoyed it so much I booked another stay while I was there.
Aug 31, 2020
I booked a "no pets allowed" cabin and was put in a cabin that smelled like wet dog. There was dog hair every where and clumps of it on the floor. My son has a severe allergy to dogs and I was told "well there's nothing we can do." The woman at the front Debbie and sandy to be exact were very rude. My cabin was dirty and this is during the COVID-19 pandemic. Worst stay in all my years co
Aug 26, 2020
Massive storm hit the day before so we had to switch sites. They hadn't checked ours before checkin but they were just playing catch-up and took great care of us with a speedy replacement of my choosing. Bathrooms were constantly being cleaned and in great shape. Only real complaint was that upon check-in we were told we could get wood after hours, when we called they refused. Will go back!
Aug 24, 2020
It was awesome until nature took over and ripped through the camp ground. No electricity and many downed trees. We had to leave early.
Aug 24, 2020
Clean facilities. Friendly staff.
Aug 20, 2020
I love the updates in the bathrooms! I was not a fan of the mulch tent pads.... my tent did not fit. My son and I stay at KOA every year for his bday. Always impressed!! Office staff this year were pretty rude, I chalked it up to Corvid stress... but I'm sure others will not. Hopefully next year we'll get the usual service with a smile and the bounce pad will be open! See you next year!
Aug 20, 2020
My kids had a blast even with things closed because of COVID-19
Aug 17, 2020
We think it's ok. Had a great time but mini golf looks unsafe with carpet torn as a trip hazard, botchi court closed, no gem mining(This looked a safety hazard also). Although some things are not open due to Covid, this camp seems to be run down and tired. We may or may not return to this camp. We heard other KOA camps offered more and were better.
Aug 17, 2020
Easily the cleanest bathrooms I've ever seen at a camp. Not a bug, web or leaf anywhere. Bravo to the cleaning team. One complaint would be the very poor wifi. I tried to work during our trip but could not get a stable connection which was very frustrating (I was sitting in the pavilion next to the bath house). If you are going to promote free wifi, it should be usable. A great camping experience!
Aug 15, 2020
Nice place overall, and staff is very courteous and helpful. Our reservation said our site would be on a grass pad. Instead, it was all dirt and rocks. The website advertises mini golf, but the mini golf course looks like it has not been repaired since 1995. Get some plywood and carpet and fix that thing. Bathroom has signs about distancing stalls, but the open stalls are side by side. Why???
Aug 15, 2020
First, I can't get over how rude the office staff was. Granted it's during Covid, there was also almost no activities. We had to reserve pool time, and the jumpy pillow was closed. Mini golf was in disrepair, and there were no camp activities going on whatsoever. Basically, the kids got to swim occasionally, and ride their bikes. Grounds crew were great however, and kept park clean.
Aug 15, 2020
This time we tent had T9. It was an spot but the others wood chips to put there tent up. Wish this site had one. Went to the bathroom next day told cleaning girls. Some one put crackers on the sign etc. Threw cheese on the ceiling. After hours went again thanks to this other camper gave me toilet papper the stole was out, Called the after hours # to fill the papper/
Aug 15, 2020
had a nice time thank you
Aug 13, 2020
So much to do there, even with covid restrictions. Employees were happy and helpful. Good about enforcing mask rules in buildings and in pool area. Bathrooms were well lit and clean. Will definitely be making a yearly camping trip here.
Aug 11, 2020
Everything was super besides one thing. The shower in men's showers had no water pressure at all and the temperature of the water went from freezing cold to scorching hot. Other than this it was a great campgrounds and we had a entertaining weekend. All the staff that we encountered were friendly and helpful!
Aug 10, 2020
It was all good! Would LOVE it if there was a contactless coffee spot to be able to get a cup of joe on site early in the morning... one of those machines that brew a cup at a time or something (not a keurig but the larger kind that only requires a button to be pushed)!
Aug 09, 2020
So noisy. No one seems to respect or enforce the noise rules. This is definetly not the place to relax. Mini golf was in such disrepair it should be trashed. Disappointed daughter after hyping that as a fun thing to do.
Aug 07, 2020
campground very clean and maintenance staff were wonderful. Found disappointment with office staff. For being a resort they had no ideas of beaches, restaurants and stores to go to and not so friendly. Being the virus is in full effect, they kept it very safe. pool rules could change, alot of disagreements with families on this one, but my family felt safe.
Aug 03, 2020
It was a beautiful weekend and everyone was so helpful.
Aug 03, 2020
KOA was very clean and very organized upon our arrival. Pleasant atmosphere. Will come back real soon.
Aug 01, 2020
Was very upset about the pool rules and how it was not disclosed to me over the phone when reservation was made. I would have NOT booked with this campground. My kids were Bert unhappy and didn't enjoy there time Here.
Jul 28, 2020
Bathrooms were generally ok but the showers were filthy
Jul 27, 2020
We booked our stay together with Nevo Family and asked to be together - we also paid for that. For some reason you decided to move without a notice Nevo Family from T7 to 139 - so we were far from each other. We both have little babies, so we couldn't spend time together in the evenings (because the babies are asleep). It could have been a wonderful vacation, but due to this mistake - it wasn'
Nov 03, 2020
Great place to go lodging if you don't have a RV or Mobile Home. People there were courteous and respectful. Too close to I-495 you can hear vehicles go by.
- Stuart MacGillivray on Google