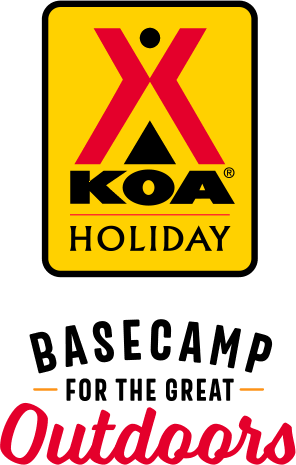 KOA Holiday Campgrounds
Whether you're exploring the local area or hanging out at the campground, KOA Holidays are an ideal place to relax and play. There's plenty to do, with amenities and services to make your stay memorable. Plus, you'll enjoy the outdoor experience with upgraded RV Sites with KOA Patio® and Deluxe Cabins with full baths for camping in comfort. Bring your family, bring your friends, or bring the whole group – there's plenty of ways to stay and explore.
KOA Holidays Feature:
RV Sites with a KOA Patio®
Deluxe Cabins with full baths
Premium Tent Sites
Group meeting facilities
Dec 18, 2020
We are seasonal and cant wait to come back 2021. Here to a good year 2021!
Nov 21, 2020
We look forward to staying at our site each year, as seasonal campers. The average seasonal camper takes pride in their site basically it is our summer home, I get upset when some weekend campers complain Camping can be fun but we all need to have respect for other campers. Security should be more visible and should enforce campground rules. Counting the days for Spring
Nov 21, 2020
As always, our stay was the best! We consider KOA "home". The grounds are immaculate, people are so helpful and friendly too! We had a major storm while we camped this year which cause major devastation to some of the guests camping. The staff went above and beyond to make sure everyone was safe within minutes of damage. With a pandemic this year, everything was safe and clean also! 5-stars!
Nov 17, 2020
We stayed at the KOA from August thru November and truly enjoyed every minute of it. I would prefer a little bigger or more level site next time. We spent most of our stay at H27 and I found it a little tight due to the sloping of the site. We felt safe and loved the fact that we could have our dog with us and walk around the campgrounds anytime. Facilities were clean and staff friendly!
Nov 17, 2020
We were seasonals this year for the first time and we really enjoyed it. The campground was very clean I just wish that there were more food trucks, those were a lot of fun and more entertainment. I know with Covid it was difficult but the few times that we did have those things it was a lot of fun. I also think that maybe there should be a committee established amongst the seasonal Campers
Nov 16, 2020
People were great , my site was under water every rain ! And after a micro burst I was never taken care of un like the people in the pop up ! I was left on my own and is very disappointed!!
Nov 16, 2020
1 issue after another from beginning to end. Some covid related, most of it wasn't. Too many Details to list. A lot of the staff, not all there a few good people there, made things difficult to enjoy out time there. Electricity is high and the same price for all seasonal campers regardless of usage. First year there but from fellow campers it tripled per month. Etc....
Nov 16, 2020
Staff is extremely helpful. Roads do need a little attention. WIFI was poor...But you don't go camping for WIFI
Nov 16, 2020
We only stayed for one night however we are regular campers to Middleboro KOA. Your staff is always friendly, helpful and always willing to go the extra mile. We are looking forward to spending much more time in Middleboro as soon as Covid 19 is under control. Thank you for being vigilant with the pandemic. It means alot.
Nov 12, 2020
We love this campground and look forward to staying here again,
Nov 11, 2020
I've been seasonal here for several years. Everything was great. Looking forward to next year ! ���
Nov 11, 2020
During the covid craziness, KOA was a wonderful retreat. The staff and management are the best by far of any campground that I have been to. They are so guest oriented, ready to address any concern or need. The grounds are beautiful and very well maintained. The biggest compliment that I can give is that I was sad to leave at the end of the season and cannot wait for April 20 to return to KOA.
Nov 10, 2020
The stay was ok check in very poor management if check off other payment on your reservations they automatically charge your card anyway
Nov 09, 2020
Kind and attentive staff
Nov 09, 2020
Awesome staff, great sense of humor. Campground is spotlessly clean. Nice sites, tough getting a firewood delivery to site 222, lol. We had avery much needed, marvelously relaxing weekend. Will return in the spring. Thank you. My only negative is well out of KOAs control is the traffic noise since rt 44 has been so expanded. That is not enough to make me not return.
Nov 09, 2020
Clean, and well laid out. Easy access and the front office was courteous and professional.
Nov 09, 2020
Compared to another KOA we have been to, I would say this one is just alright. The sites were close together, and our particular site was in pretty rough shape... on a pretty significant slope, with lots of large divots that could use some attention. I wouldn't hurry back to this campground but was grateful it was still open so late in November.
Nov 05, 2020
We were there for the whole summer preparing for our first lengthy RVing adventure. Everyone was very helpful and friendly. The campground is very clean and well maintained. We also felt very safe! Made some good memories and met some nice people who were happy to share their knowledge and experiences with us. We'll be back for a while next summer.
Nov 03, 2020
We had a great time!
Nov 02, 2020
Great customer service.
Nov 02, 2020
it was quiet..helpful staff. ..clean rest rooms..the WiFi was good most of the time..we could up load our pictures and stream YouTube
Nov 01, 2020
This was my first year seasonal. Not all staff is courteous or try to get to know you. The number of golf carts flying by is disturbing! I also find they could do better with cleanliness. The decision to close the bounce pillow but keep the playground open due to COVID was not well thought out. The bounce pillow is less of a risk compared to the playground which is high touch. Overall okay place.
Nov 01, 2020
This was our first year as seasonal campers. The staff Kenny, Paul and Melissa were fabulous and addressed any minor issue/concern we had immediately. The staff made us feel welcomed. Can't wait for next season.
Oct 31, 2020
The bathrooms were clean but they can be updated a bit. No lights over the toilets. The shower doors were facing the wrong direction to open. you need to add at lease two hooks for towels and accessories and also a shelf of two. It's time to change the shower head and faucet. At least one shower should be accessible to wheelchair customers. At night it is pitch black, reflective markers please.
Oct 29, 2020
Camp sites are to tight. To many golf carts on the roads
Oct 27, 2020
We always bring rain
Oct 27, 2020
Great campground! Easy check in and rebooking. Like that we were able to call and have firewood delivered (quickly too) using card on file
Oct 27, 2020
We stayed at site 147 during the Halloween weekend. I must say, it was a lot of fun! Great way to go trick or treating with the kids!
Oct 27, 2020
The staff was friendly and informative. The sites are a little small (the camper behind can be too close depending on the size). The sites are not level or grassy and have too many pine needles and trees, we could not even use our satellite because of all the trees. The roads are dirt, not level, and bumpy.
Oct 27, 2020
Awesome campground. Very friendly staff. Great location.
Oct 27, 2020
great fun, clean, staff was pleasant and helpful
Oct 26, 2020
Great time as always for this fun Halloween theme weekend.
Oct 26, 2020
We were in the Highland area with a group of friends and the sites are pull through, level and spacious. The campground has 2 bark parks, which our pups loved and the entire campground was into the Halloween themed weekend! There were some SERIOUS decorated sites and lots of families participating in the Haunted Trail and Trick or Treating (all with safe distancing practices) - highly recommend!
Oct 26, 2020
Awesome Halloween weekend- already booked again for next year!
Oct 26, 2020
Really good sites clean and plenty of things to do for the kids
Oct 26, 2020
Office was extremely short staffed and disorganized. Wanted to use my points, was told it was not possible. Considering the pandemic it was crowded and people camping next to us were extremely obnoxious with loud music with no regard to anyone else. Quiet time was suppose to be at 10 pm - people were partying until all hours. Used to enjoy our stays at this campground but not so much anymore.
Oct 26, 2020
The Halloween weekend was so much fun!
Oct 26, 2020
We always have a great time when staying here. Even with COVID restrictions the children were able to have a good time Trick a Treating.
Oct 26, 2020
Was a Halloween weekend. Had a great time!!
Nov 03, 2020
Great place to go lodging if you don't have a RV or Mobile Home. People there were courteous and respectful. Too close to I-495 you can hear vehicles go by.
- Stuart MacGillivray on Google