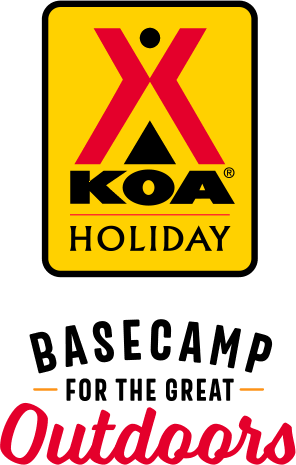 KOA Holiday Campgrounds
Whether you're exploring the local area or hanging out at the campground, KOA Holidays are an ideal place to relax and play. There's plenty to do, with amenities and services to make your stay memorable. Plus, you'll enjoy the outdoor experience with upgraded RV Sites with KOA Patio® and Deluxe Cabins with full baths for camping in comfort. Bring your family, bring your friends, or bring the whole group – there's plenty of ways to stay and explore.
KOA Holidays Feature:
RV Sites with a KOA Patio®
Deluxe Cabins with full baths
Premium Tent Sites
Group meeting facilities
Oct 10, 2020
The campsite we stayed on had a patio with furniture and even a wooden swing at each campsite. The campsite itself was a nice level campsite. This was the upscale campsite in this campground, but all the campsites with or without a patio are very spacious. We enjoyed our stay.
Oct 09, 2020
Love this campground! It was full but didn't feel crowded.
Oct 09, 2020
Everything. Went smooth that's why we come every year
Oct 08, 2020
Site clean and staff very friendly and helpful.
Oct 07, 2020
Would stay again i had fun
Oct 07, 2020
Great Park, and Facilities, lots of staff and all very helpful. We will be back. We were there on a Sat-Sun-Mond night stay, Saturday and Sunday were both quite noisy....but at the 11:00 Hour thinks got much quieter. Most parks we have been to Quiet time is 10PM to 7A but what's an hour??? Its all good. Thank you!!!!!
Oct 07, 2020
perfect getaway and camping adventure
Oct 06, 2020
Had a great time!
Oct 06, 2020
Nice campground friendly people
Oct 06, 2020
We love coming to KOA Boston/Cape Cod KOA!!! Everything was as we had planned, the site was excellent, your staff outstanding, and everything was cleaned and sanitized!!! We love it so much we booked 3 more dates in 2021 to assure we can get in. Thank you so much for a wonderful experience!!
Oct 06, 2020
Enjoyed my stay. Clean restrooms and staff very friendly
Oct 06, 2020
Nice campground. No issues. Stayed there several time again with no issues
Oct 06, 2020
The staff was great, very nice. Our site was easy to get into and level. The property was beautiful and well maintained. We were a bit taken aback by a child in the playground throwing rocks as well as a young boy riding on a bike around the campground playing vulgar music. Had we been there longer, we would have said something to the parents. Again, not KOA's fault - just surprising.
Oct 05, 2020
We love it here but we have 2 things we'd like to see. Speed limit enforcement, especially golf carts, and paved roads. The dust is very bad.
Oct 05, 2020
Clean campsite and facilities; everything worked as expected.
Oct 05, 2020
Staff were very Friendly and helpful. Grounds were neat and clean. Sites were small and on top of each other. Otherwise would have been a 10 rating.
Oct 05, 2020
Disappointed that the site still had small branches strewn about from a recent storm that we cleaned up, we were glad that we noticed a chicken bone in the fire ring before our dog did. Also the constant parade of golf carts was annoying, especially at night.
Oct 05, 2020
Very convenient to Plymouth.
Oct 05, 2020
Our stay was nice but the sites were extremely dusty to the point that 3 of the dogs we were camping with got sick with coughing and wheezing and had to see a vet.
Oct 05, 2020
This was our first time staying here and we had a blast very nice campsite very clean and staff was very friendly. Myself and family felt safe during covid as well and everyone was social distancing and followed protocols! Definitely would recommend this place and we are even going back in 2 weeks for the Halloween weekend can't wait.
Oct 05, 2020
Great camping
Oct 05, 2020
Everyone was friendly. They were doing their best on covid precautions. When quiet hour came there was quiet. Kudos to the guys who helped me parking my trailer... I am a little better doing that...the other fellow helped seat the ball in receiver when we were having trouble. Best was the boy Milton who lives there, nice job raising him Mom and Dad.
Oct 05, 2020
The staff were friendly and very helpful. The site was easy to use and close to facilities. The bathroom/shower was very clean. They were cleaned several times a day. We enjoyed KOA campsite. Will use again and have already talked about it to coworkers. Thank you everyone.
Oct 05, 2020
Very friendly and helpful
Oct 04, 2020
The grounds are clean and the staff is friendly and helpful. A little bit of road noise, but not too bad.
Oct 04, 2020
Great campground ;Nice staff stayed Oct 2020
Oct 04, 2020
Everything about our stay was 5 stars! This was hopefully the first of many trips to the KOA campsite. What a lovely campground! My son and I rode bikes, roasted marshmallows, played mini golf and used the over sized outdoor checkerboard. I loved the gift shop. There were very unique and useful items for sale. The cabin and bathrooms were kept very clean. Most of all the employees were pleasant!
Oct 04, 2020
To many seasonal campers. Many looked like ghetto camping in a poor rv year round park. Staff was great, they need to buy a blower to clean up roads after a windy storm. Driving in looked like a cheap Florida campground. At least don't put seasonals on the first row with 5 gal water bottles in windshield. Everyone was nice and friendly. The seasonals were trashy, messy and made KOA look bad.
Oct 03, 2020
People friendly, love the wood delivery and how they travel through the campsite during day n eve. The negatives for this visit was the internet or lack of it. If we were lucky enough to get on it kicked us off quickly or would not let us on at all. Im now pay xtra mobile data i ran out of. The second is the grounds. Old cigg buts, meat bones, glass, kids little toys all over (not ours) dirty.
Oct 03, 2020
The KOA is very clean and in this time, very concerned about health procedures. The staff is excellent, doing their job efficiently and happily. I particularly like having firewood delivered! If I had to find one thing, it's the unreliability of Wi-Fi.
Oct 03, 2020
Every worker was very friendly. Place was clean. I already plan on returning!
Oct 03, 2020
Sites are well marked and all hookups are in one place. The sites are long, but should be wider as next site is too close. This would be OK for an overnight campground, but I would not consider this campground the usual overnighter.
Oct 02, 2020
It was just a night stay over. It could use more gravel for the site. It rained and made it muddy getting in and out of the RV. Needs some maintenance.
Oct 01, 2020
This used to be a very clean place but the last two times my site has been littered with cigarette butts and other trash. My nephew rented a cabin and had the same problem with trash around the outside which is awful with little ones. There is virtually no cleanliness with COVID going on no sanitizing of the outdoor children's swings and slides.
Oct 01, 2020
Very nice facility. Good spot (#705) under large oak trees. Nice paver patio, double Adirondack glider, wrought iron patio furniture, Weber gas BBQ. Brutal storm overnight. Large tree branches came down landing 10 feet to right of motorhome front. Lucky no damage. Stayed 2 nights in 40 foot Super Class C motorhome. Would stay again definitely.
Jul 16, 2021
Been here multiple times, great place to camp and an excellent staff
- Steve V on Google
Jul 16, 2021
Our regular place to stay in Massachusetts.
- Donald Pearce on Google
Jul 13, 2021
I went to visit. Everything was clean. Lots of things to do for all ages! I'd definitely get myself a site here when I plan a camping trip!
- Erica McGrath on Google