Gary Tatem, owner of the Weatherford/Fort Worth West, Texas KOA, was in a tough spot.
He'd just lost his wife to a long battle with cancer, and now he found himself in need of a full hip replacement. Someone on his small South Texas campground needed to step up.
Enter KOA Work Kampers Gene and Gale Fletcher. Gene is ex-Navy, and ran his own small business before he retired. He'd worked at the Weatherford/Fort Worth West KOA for a while, and had helped Gary make several improvements.
The Fletchers had become KOA Work Kampers after attending a two-day KOA Work Kamper Boot Camp, sponsored by Kampgrounds of America. The Boot Camps are designed to immerse interested workers in KOA systems and methods, and help match them up with KOA owners offering jobs. Their job search led them to the Weatherford/Fort Worth West KOA.
When Tatem's wife died, the two stepped in to take the load off the KOA owner. "They supported me at a very difficult time in my life," Tatem said. When next Tatem needed hip surgery, they took on the challenge again.
"Gene stepped right in to handle the everyday park business," Tatem said. He recently nominated the Fletchers to receive the coveted KOA Work Kamper of the Year Award, which was presented to them in November by the KOA Owners Association at KOA's annual International Convention in Daytona Beach, Florida.
Aside for the assistance they provided for Tatem and the campground, Tatem said their passion for customer care is a model for others in every field of service.
"Gene has a way with customers," Tatem said. "He greets the campers like they are old friends, shows them to their site and makes sure they get connected correctly."
It doesn't stop there.
"Every night, near closing time, Gene will call the people with reservations that have not checked in, just to be sure everything is OK," Tatem said. "He even goes so far as to tell them where in the park he lives, and let's them know if they need assistance, they can knock on his door."
The Fletchers say they go the extra mile because they love being KOA Work Kampers.
We're proud they wear the famous KOA Yellow shirts, and proud to call them our KOA Work Kampers of the Year.
---
TRAVEL THE SEASONS WITH KOA
With over 485 KOA locations, possibilities abound. Every year our KOA Work Kamper program offers hundreds of job opportunities across our network of KOA campgrounds. For those who love the RV camping life, it's simply a win/win opportunity.
SUBSCRIBE TO THE WORK KAMPER PROGRAM
KOA owners always need seasonal help. If you are willing to roll up your sleeves you can make a short-term commitment and earn pay while you stay.
Join the lifestyle today! KOA Work Kamper Program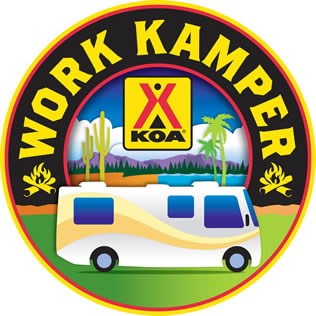 Save
Save
Save