Winter Texan Camping Guide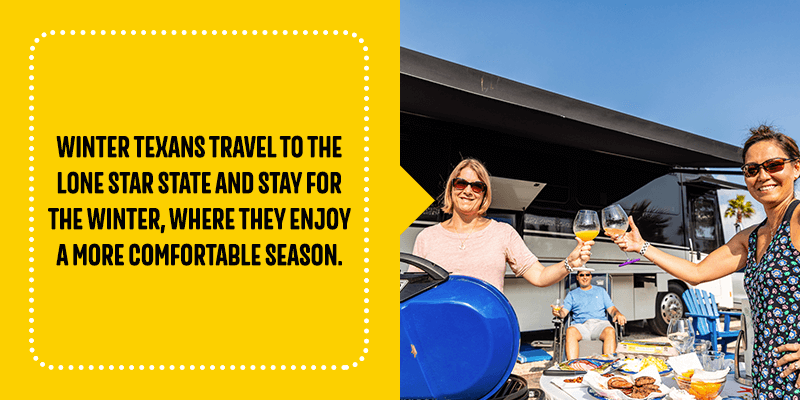 For some, winter means snowstorms, ice and chilly temperatures. For others, it is quiet walks along the beach or in the park, mild temperatures and exciting new experiences. If the latter sounds like a group you want to be a part of, the Winter Texan lifestyle is for you. Winter Texans travel to the Lone Star State and stay for the winter, where they enjoy a more comfortable season. One of the best ways to experience Texas in the winter is by staying at a Winter Texan-friendly campground or RV park.
Ready to learn more? Here is everything you need to know about Winter Texan camping.
Benefits of Spending the Winter in Texas
Survey findings show that many people who prefer winter vacations seek less populated tourist areas, an escape from winter weather and a more affordable trip. Winter Texan camping provides all of these benefits, as well as an abundance of recreational activities, friendly locals and breathtaking scenery.
1. There Is Plenty to Do
Texas has no shortage of activities for every type of traveler. Looking for some time outdoors? Whether you are looking for mountains, canyons, trails, lakes or beaches, Texas has it all. Prefer more cozy, indoor fun? Spend your winter shopping, dining, sightseeing, museum hopping or mastering your form at an indoor ice skating rink.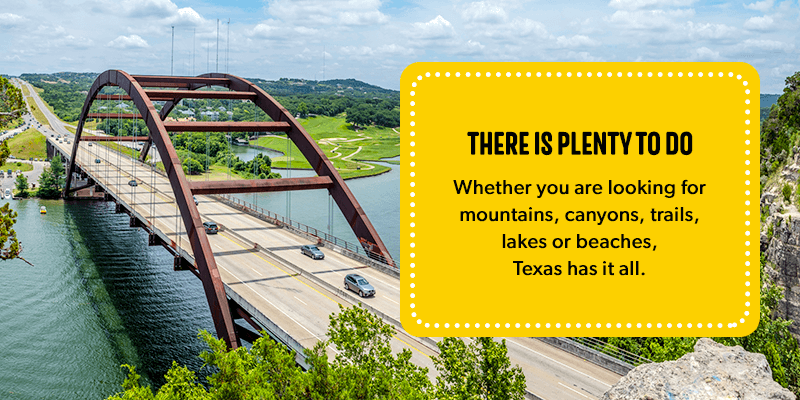 Other popular activities include:
Fishing
Boating and kayaking
Exploring national parks and forests
Touring vineyards
Bird watching
Visiting historic sites and monuments
Shopping at flea markets
Attending festivals and events

2. Texans Are Welcoming
Did you know that the Texas state motto is "friendship"? One stay as a Winter Texan, and you will understand why. In one survey, more than 60% of Winter Texans said the reason they enjoy spending their winters in Texas is because of the friendly people they encounter. Whether you meet locals, tourists or fellow seasonal travelers, you are guaranteed to have a pleasant experience wherever you go.
3. The Scenery Is Breathtaking
Texas also has some of the most beautiful scenery in the South. In addition to waterways, hills, mountains and canyons, winter brings along its own sightseeing agenda. Depending on the part of the state you are staying in — like the Texas Panhandle or West Texas — you might see snow-topped mountains, or a light dusting across a quiet canyon.
Since many outdoor destinations will be less busy during the winter, you also have a better chance of seeing wildlife, such as:
Deer
Antelope
Bighorn sheep
Squirrels
Foxes
Rabbits
Ducks
Turkeys
Birds
Bobcats
Mountain lions

How to Plan for Winter Trips
Before you hit the road this winter, you need to prepare your home, make reservations, pack your bags and get your RV ready for travel.
Winterize Your Home Before You Leave
Winterizing your home includes preparing it for the temperature change and months of vacancy. Remember to add the following actions to your to-do list:
Clean out the fridge and pantry: Pre-vacation cleaning is a great excuse to use up leftovers! Clean out your fridge, pantry and freezer and use or toss anything that will spoil while you are gone.
Consider the pipes: Many experts recommend turning your water off before you leave for long trips to prevent expensive water leaks. For winter travel, you might also consider draining water lines once you have shut your water off to keep them safe from freezing and bursting. Contact a plumber or your water company for help if necessary.
Adjust the thermostat: You can save energy and money by setting your thermostat to 68 degrees while you are at home and a few degrees lower when you leave for the winter. Avoid setting your temperature too low to protect your pipes. A programmable or smart thermostat allows you to monitor your home's temperature while you are away. You can also set the temperature to be cooler while you are gone and start warming up just before you return. This is a good time as well to adjust other smart devices around your home, like lightbulbs and appliances working on a timer.
Call the bank: Sometimes, a bank or credit card company might decline a transaction if they suspect fraudulent activity on purchases made out of your normal state. To keep your winter trip running smoothly, give all your financial institutions a quick call and let them know where you plan to spend the winter. This is a great opportunity to ask about any travel rewards they offer, like discounts or cashback at restaurants or gas stations.
Manage services and deliveries: Make a list of all services and deliveries you usually get in a week and see which ones you can pause or cancel for the season. If the place you are visiting accepts packages, consider having your mail forwarded for the next several months. Do not forget to include your regular mail, newspapers, streaming services and scheduled cleaning appointments.
Find a sitter: Consider hiring a sitter for your potted plants, pets or house while you are gone. If you do not have plants or pets, ask a close friend or neighbor to check on the house regularly to see that everything is ok.
Increase security: Enjoy a worry-free trip by securing your home before you leave. If you cannot hire a housesitter, consider installing motion sensor lights and having a friend stop by to turn lights on and off and bring in any mail. Install or test your home security system and add deadbolts to weak doors, if necessary. Store any valuable items in a safety deposit box or with a family member until you return. Test your smoke detectors and brace storm shutters before leaving. If you are worried about leaving your house vacant, avoid telling too many people about your winter plans and save all social media posts for when you return.
Clean up outdoors: It is always a good idea to clean up the outside of your house before winter comes, so nothing freezes or breaks before warm weather returns. Secure all outdoor items, like patio furniture, tools and garbage cans, so they do not blow away during a storm. Mow your yard, weed flower beds and gardens and consider pruning or covering vulnerable trees.

Do a final walk-through: Before you leave, double-check areas around your home. Ensure all doors and windows are locked, appliances are unplugged, the ice maker is turned off, the dishwasher and garbage disposal are empty, the toilets are flushed and all faucets are off.
Make Reservations Ahead of Time
Texas is a vacation hotspot, as demonstrated by the more than 72 million out-of-state visitors who traveled there in 2018. Many of these travelers are northerners seeking a winter getaway. Once you know where you want to spend the season, make all your reservations ahead of time, including:
Your RV site or Camping Cabin
A rental car, if applicable
Event tickets and parking passes
Flight tickets, if necessary
Early planning is especially crucial if you are visiting Texas for a popular event or festival, as this is when campgrounds and winter RV parks in Texas tend to fill up the quickest. The sooner you make your plans and reserve your spot, the more likely you are to get your top pick for everything.
Prepare Your RV
When RV camping in Texas, there are a few steps you need to take to prepare your RV for winter travel. While Texas does not typically see frigid winter temperatures, you still need to be ready for winter weather. If you are traveling a long way and stopping in several states before you reach your destination, many of these areas may have colder temperatures, ice and snow.
Prepare your RV for all types of winter weather by doing the following:
Protect the plumbing: Protect your plumbing by emptying your water tanks and adding antifreeze if necessary. Apply heat tape to water and sewer hoses to keep them insulated.
Install insulation: RV insulation includes sealing around all the windows and doors, hanging reflective window film or curtains, adding rugs, carpets or foam flooring and installing skirting around the base of your RV to ensure proper climate control.
Pack extra blankets: Bring along extra blankets to have everything you need during chilly Texas nights or to alternate while doing laundry. Choose some blankets that you can use outdoors for winter picnics or late-night stargazing.
Get a pre-trip inspection: Perform a do-it-yourself inspection or take your RV to a professional to check that everything is working. Make sure the battery is charged, appliances and lights work, there are no leaks in the tanks or fuel lines and tires are inflated and free of holes. Take the time to clean everything inside and outside of your RV, including flushing and cleaning all water tanks. Also be sure to fill up on gas, coolant, transmission fluid, brake fluid and windshield washing fluid. Test your fire extinguisher, smoke detector and carbon monoxide detector. If your RV has been sitting for a while, open up the windows to let fresh air in before traveling. Finally, see that your insurance is up-to-date and stash a copy in the RV.
Bring survival equipment: Even when you are staying somewhere with on-site amenities like Kampgrounds of America, it is important to stock your RV with emergency survival equipment like drinking water, a jump starter, non-perishable food, paper maps, tire chains, a camping stove, fire starter and fuel, spare cash and a first-aid kit. These items will come in handy should your RV break down while on your way to Texas.
Pack Your Bags Accordingly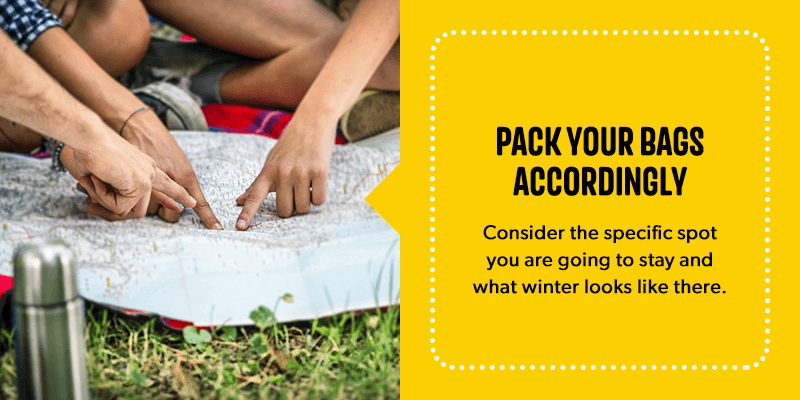 To have the best winter camping in Texas, consider the specific spot you are going to stay and what winter looks like there. For example, spots along the coast might get more rain, while places in the northern part of the state might see cooler temperatures. Here are some suggestions:
Clothes: As you pack your suitcase, consider the things you plan to do when you are on your trip. Will you be doing any indoor swimming, hiking or fine dining? What kind of terrain should you expect at your chosen lodging? Some basic clothing items to have include light layers, a winter coat, a hat, scarf and gloves. You should also bring along different types of shoes to fit each activity, like sandals, hiking boots and rain boots.
Accessories: Bring along accessories and miscellaneous items you need for a safe and fun trip, like an umbrella, passport, board games, movies, local guide books and all personal care items.
Camping gear: RV camping means you do not have to worry about setting up your own place to stay or sleeping on a sleeping pad, but there are still some supplies you need to have on hand. Bring along fire roasting sticks, fire starter, outdoor kitchen equipment, camping furniture, a cooler for outdoor drinks, camping food, sunscreen, insect repellant and an outdoor rain shelter so you can relax outside your RV regardless of the weather. Save room in your RV for recreational gear, like your bicycle or kayak and paddles.
Consider what the campground will provide for you, too, such as laundry facilities, a shower house and a fire ring. Have plans to stay in a furnished cabin instead of an RV? Many items, like kitchen utensils and linens, may already be provided for you. Contact your campground for specific information.
Winter Texan Destinations and Attractions
Three of the most popular Winter Texan destinations are the Rio Grande Valley, Texas Hill Country and the Gulf Coast, but every part of the state is brimming with things to see, do and explore.
Popular Attractions and Things to Do
Texas is one destination that never slows down, even during the winter. You will find no shortage of events and activities to keep you entertained during your stay, such as:
Go to a rodeo: Texas is the best place to live like a true cowboy — and what better way to do that than by attending a rodeo? The San Antonio Stock Show and Rodeo, Fort Worth Stock Show and Rodeo and the Working Ranch Cowboys Association World Championship Ranch Rodeo in Amarillo all take place during the winter.
Tour historic sites: Visit the historic Alamo and San Antonio Missions National Historic Park in San Antonio, explore San Jacinto Battleground State Historic Site or take a tour of the Stockyards National Historic District in Fort Worth for an eye-opening and educational day trip.

Celebrate the holidays: If you are camping in Texas in November through March, you will be there for several major holidays. Fortunately, the Lone Star State is one of the best places to be for a holiday celebration! Popular holiday destinations include KwanzaaFest in Dallas, the Prairie Lights Show in Grand Prairie, Chanukah on the River in San Antonio, the Austin Trail of Lights, Dickens on the Strand in Galveston, Austin's Sixth Street for New Year's Eve and the Sun Bowl Thanksgiving Day Parade in El Paso. You can even share a romantic Valentine's Day dinner in one of Fredericksburg's numerous German eateries.
Visit wine country: Winter is the perfect time to tour a winery if you want smaller crowds and a more intimate tasting experience. You will find many of Texas' most popular wineries scattered throughout Texas Hill Country. Make sure you bring along a coat — many spots of a winery are cold, especially during winter.
Take in the city: Every city in Texas has its own spirit and culture. Whether it is Houston, Dallas, San Antonio, Austin, Fort Worth, El Paso or one of several smaller cities in between, you will enjoy the restaurants, live events, concerts and downtown atmosphere of each one.
Spend the day at a beach: Winter Texans love the Texas Gulf Coast beaches during the off-season because they are usually quieter and less crowded, so you get to relax and enjoy the view without worrying about anything else. While you are there, bring your favorite book, a thermos of your favorite drink and plan to spend the day listening to the waves.
Go birdwatching: Birdwatching is a favorite pastime of many Texan tourists because the state is home to so many unique species. Some of the best places to go are state parks, including Choke Canyon State Park, Dinosaur Valley State Park and Resaca de la Palma State Park. Do not forget your binoculars, and consider participating in a guided bird watch to learn more about the local species.
Visit a nature refuge: Nature refuges are a great place to learn more about and photograph rare and endangered species. There are several refuges in Texas, including Aransas National Wildlife Refuge in Austwell, Laguna Atascosa National Wildlife Refuge in Los Fresnos and the Padre Island National Seashore.
Attend a festival: Winter is full of fun festivals and events in Texas, including the Kerrville Rennaissance Festival, spicy food celebration ZestFest in Irving, Oktoberfest in Fredericksburg or any Mardis Gras celebration in major cities like Galveston and Port Arthur.
Become a Texas foodie: What better way to spend your season away from home than by learning new skills you can take back with you? Become a true Texas foodie by mingling with locals at a local chili cook-off or barbecue competition for meal inspiration. Once you find the dishes you love, pick up the ingredients you need to replicate them at your campsite.
KOA Campgrounds in Texas
If you are looking for the best Winter Texan campgrounds, KOA has everything you need for a season full of fun and Texas sun. With level, spacious Tent Sites, Back-In and Pull-Thru RV Sites or even Camping Cabins, you can easily create the winter getaway you need.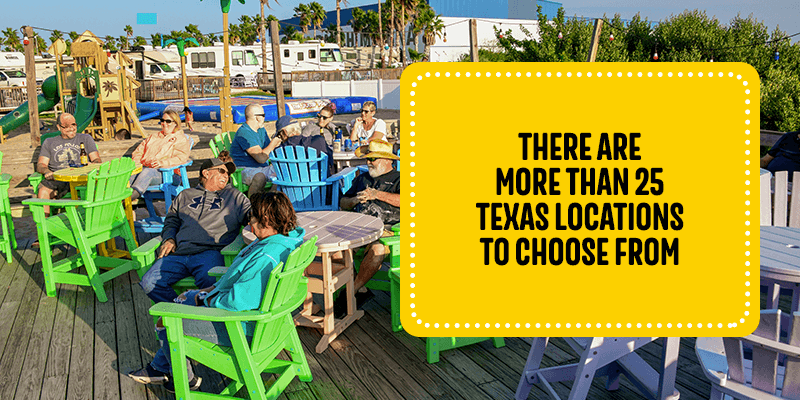 There are more than 25 Texas locations to choose from, so it is easy to find a KOA near your favorite Texas hangout. Because amenities, pet policies and availability vary by campground, contact your KOA to confirm all available options before reserving your stay.
Tips for Winter Texans
Here are some tips to help you have a relaxing and memorable season: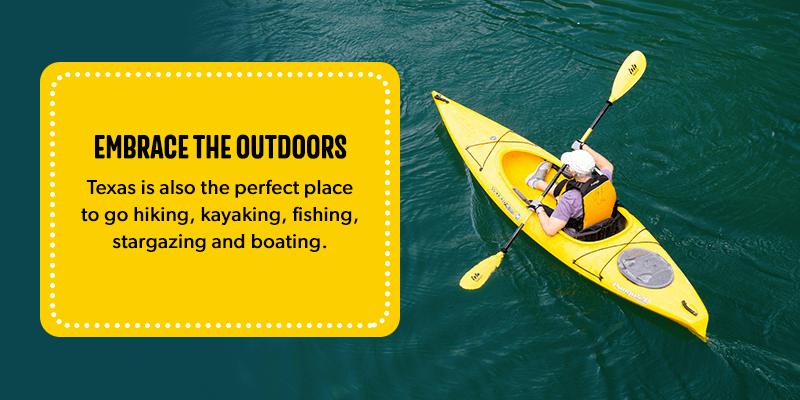 Embrace the outdoors: Texas is one of the few places in the United States where you can spend the day outdoors and get active during the winter. While temperatures are still cold, they are not as frigid or icy as more northern states. Celebrate the milder weather by embracing the outdoors. You could visit Palo Duro Canyon State Park, Big Bend National Park or the Rio Grande for exquisite views, or take a long walk on a coastal beach. Texas is also the perfect place to go hiking, kayaking, fishing, stargazing and boating.
Enjoy local businesses: When you are in Texas, enjoy as many local businesses as possible. This is not only helpful for small business owners, but it is the best way to get an authentic Texas experience. For example, you can enjoy dinner at a local Texas barbecue joint, spend the day shopping for antiques and handmade goods in a local shopping center or stop by a marketplace and stock up on locally sourced ingredients as souvenirs for friends and family back home.
Remember the season: Just because the temperatures are milder than they are back home, it does not mean you do not need to be prepared for the winter season in Texas. Bring winter clothing and layers with you wherever you visit, and always check the weather forecast before taking a long drive or exploring any canyons or mountainous areas.
Make friends with locals and other Winter Texans: You will meet a lot of people when exploring different sites around Texas, including at your campground or RV park. Because many Winter Texans return to the same spot each year, you can count on seeing many of them again. Making friends with those you meet is a great way to foster a community and establish friendships away from home.

Choose KOA for Your Winter Texan Getaway
With fun amenities, helpful staff and a variety of RV Sites to choose from, let KOA be your home this winter. No matter which location you choose, you will enjoy clean restrooms with hot water, laundry facilities, access to an on-site KOA store and several campground-specific activities and features. Reserve your winter spot at KOA and experience the best camping in Texas!
---