The Complete Guide to Winter Camping
Winter camping means different things to different people. For some, it is the ultimate outdoor challenge of taking on the weather at its worst, with high-tech gear and an element of danger. For others, it is the opportunity to see nature in a new way, avoid the crowds, and enjoy winter sports with the promise of a cozy cabin, a cup of hot chocolate and a roaring fire at the end of the day.
Camping during the colder months offers a break from the hectic nature of summer and a chance to see beautiful landscapes in a different season. While winter camping is relatively similar to summer camping, there are some significant differences to make a note of to keep yourself, your family and maybe a furry friend or two safe as you enjoy camping in below-freezing weather.
Want to Try Winter Camping? Here's Everything You Need to Know
Benefits of Winter Camping
How to Camp in Cold Weather
Winter Camping Lodging Options
Winter Camping with Kids
Winter Camping Tips
Book a Winter Camping Trip with KOA
Benefits of Winter Camping
Camping is a fantastic way to get out into nature with friends and family, enjoying the sweet scent of fresh air. Winter camping can be one of the most magical experiences you can have, but it requires meticulous preparation to ensure it is a success.
Fewer crowds: Fewer people camp in the winter than they do in the summer, which means campsites and trails will be less crowded. Winter camping is the ideal trip for those craving relaxation away from life's hustle and bustle. You also have a much better chance of avoiding costly gas or airfare associated with more popular summer vacation times.
Breathtaking views: Summer, fall and spring each boast spectacular views — but few things are as breathtaking as sparkling snow and vivid sunrises. When you camp in the winter, you have the chance to see nature from a different perspective that is easy to miss other times of the year. Winter camping gives you a front-row seat to all the season has to offer. You might even get to see winter wildlife.
Outdoor activities: Winter camping offers a whole new world of recreation. If you choose a campground near the slopes, winter sports like snowboarding and skiing are a great way to stay active and warm. Take in all the winter has to offer by going on a winter hike. If your winter camping trip includes snow, building snowmen and having snowball fights at your campsite are fun options, especially for families with young children. Other cold-weather activities you might consider are snowmobiling, snowshoeing, sledding or hiking.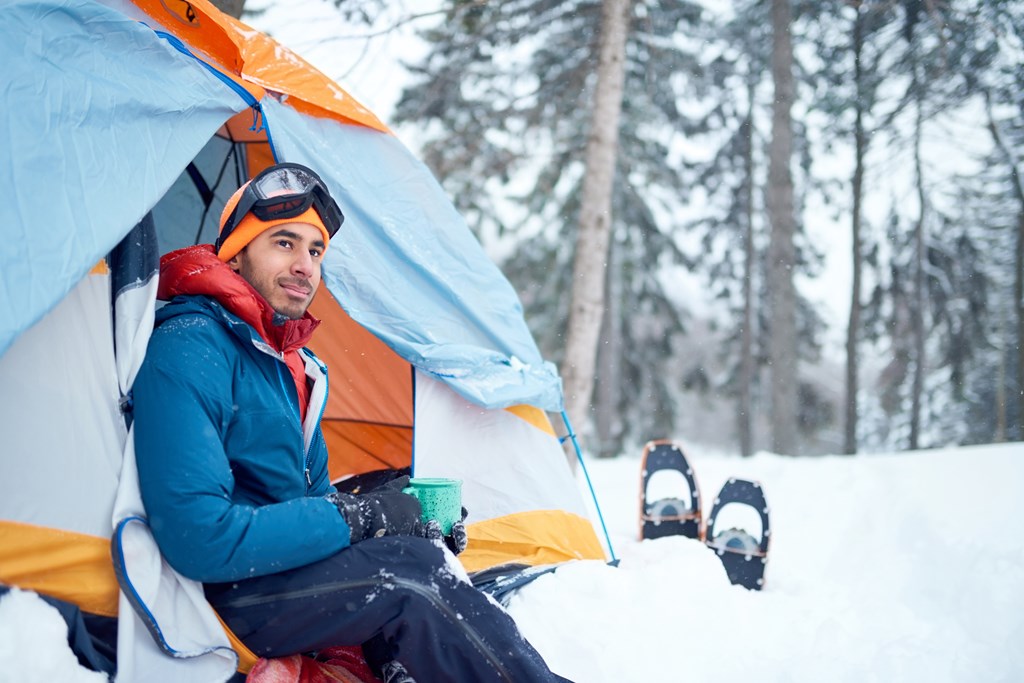 How to Camp in Cold Weather
While summer is a popular time for many people to go camping, there is something magical about winter camping. Camping in below freezing weather is a great way to slow down, enjoy the peaceful moments of the winter season and take in the breathtaking landscape surrounding your campsite.
However, if you have never planned a winter camping trip, the process of packing and gathering essentials for camping in freezing temperatures can feel intimidating. Unlike summer camping trips, a lack of preparation can have consequences ranging from feeling chilly to getting stuck in the snow without enough food or water. By thinking ahead and using the tips below, you can ensure your winter camping trip is successful.
Choose a Location
Although some close during the off-season, many campgrounds remain open in winter. Base your destination on availability, as well as the distance it is from your home. Winter often means hazardous road conditions — select a campground that allows for a safe trip to and from your destination. Keep in mind that, in addition to dangerous conditions, roadways may also be busy during certain parts of winter for holiday travel. Some of the best places to go winter camping are near national parks, which are full of spectacular views and sightseeing.
Decide on a Lodging Type
Choose which type of lodging is best for you or your group. If your camping trip includes young children or elderly individuals, an RV Site or Deluxe Cabin may be the best option due to the protective shelter they provide. Alternatively, if your group enjoys the thrill of "roughing it," Tent Sites offer camping in its purest form. Unique lodging, such as the safari tents or yurts, can also be an ideal choice for those wanting an ultra memorable camping experience. Be sure to check with specific campgrounds to see what they have available.
Plan Your Camping Gear
Are you unsure of what to pack for your winter camping trip? In addition to all regular camping gear, there are a few winter camping essentials you need to bring along:
Sunscreen: Just because the temperatures are cold does not mean you should forego the sunscreen.
Lip balm and body lotion: Cold weather is notorious for causing dry skin — keep your hands and face moisturized with lip balm and body lotion.
Matches or lighter: Bring along matches, a lighter or both to start your campfire.
Food, water and cooking utensils: The type of food and utensils you bring depends on your preferred lodging. For example, some Deluxe Cabins have kitchenettes, so you need fewer utensils.
Tarp: Tarps are a multi-purpose camping tool. For wet, wintry conditions, drape a tarp over the roof of your tent. It can help keep cold and moisture out.
Insulated sleeping bag: An insulated sleeping bag will keep you warm at night.
Tent stakes, bed pad and tent heater: If you are tent camping, tent stakes, a bed pad and a tent heater are necessary to keep your tent warm and secure.
Blankets: When it comes to cold weather camping, the more blankets you have, the better.
Personal items: This includes personal hygiene products, appropriate clothing and indoor entertainment, such as a book or card game.
Ice and snow scraper: Use an ice and snow scraper to brush the snow away from for cars or tents.
Thermos: A thermos will keep your hot beverages warm.
Pack Proper Clothing
For the best winter camping experience, make sure you dress sufficiently to manage the cold weather. The key is to dress in layers:
Hat: Choose a winter hat that covers your ears and is a fleece, wool, fur or a similar fabric.
Base layer: Your base layer is the layer of clothing that rests against your skin. Materials should be thin and moisture-wicking, especially if you are spending time outdoors, where any sweat or moisture on your skin can quickly freeze.
Middle layer: The middle layer is all about insulation, so make sure you choose pieces made from thick and durable fabrics.
Outer layer: Your outer layer is your "shell" layer. The outer layer includes raincoats or winter jackets, whose purpose is to shield you from the elements.
Gloves: Your gloves should fit properly, meaning your fingers almost reach the tips of the glove, but not entirely. There should be a little bit of space between your fingertip and the tip of the glove — this is where you will trap the heat. You should also keep in mind the kinds of activities you will be doing on your camping trip. If you plan to start your own fire, for example, you should choose a glove that allows plenty of finger movement.
Boots: Choose boots with a snow-focused design. They should be waterproof, well-insulated and fit correctly. Your boots should also have some grip or traction on the bottom.
Breathable base layer: Pack a few base layers that contain materials that will wick away moisture but still provide sufficient warmth. When playing outdoors and working up a sweat, it is important to keep your core warm and dry.
Variety of mid layers: Prepare for fluctuating winter temperatures by packing several different base layers made of insulating and breathable materials, like fleece and wool.
Waterproof outer layer: Choose a winter coat that is waterproof and sufficiently warm to protect against snow and freezing rain.
Warm hat and socks: A lot of body heat can escape from your head and feet if they are not protected. Choose a warm hat and socks to stay cozy in cold temperatures.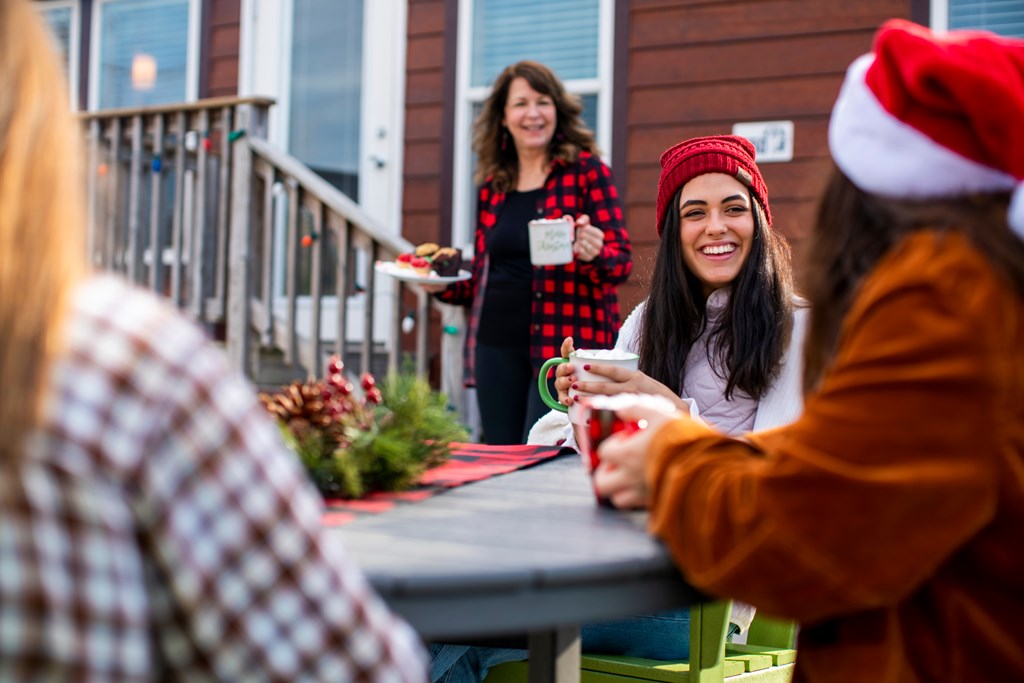 Winter Camping Lodging Options at KOA
KOA offers several lodging options available for your winter camping trip. Maybe you want to experience winter in its fullest with tent camping. Perhaps you prefer to watch the snow sparkle from inside the comfort of your RV or rustic cabin. Whether you are seeking simplicity or luxury, KOA has you covered. Some lodging options available at KOAs across North America include:
Cabin Camping
Cabin camping lets your group enjoy nature from the comfort of log-style cabins equipped with electricity and beds. KOA has both Camping Cabins and Deluxe Cabin lodging options.
Traditional Camping Cabins have enough room for four to six people in one or two-bedroom layouts. Bedrooms have either full beds or bunk beds. All Camping Cabins have access to nearby restrooms and showers and also come with a fire feature for cooking s'mores and warming up next to in the evenings.
Deluxe Cabins provide the same protection from outdoor elements, but with private bathrooms and sometimes other convenient features as well. In addition to comfortable beds and varied floor plans, Deluxe Cabins may include extras like TVs, grills, patios, kitchenettes and fire pits.
Tent Camping
If you are looking for an adventure, tent camping in the winter is perfect. Tents come in all shapes, sizes and designs, with plenty of three-season and four-season options to withstand heavy winds and snowfall.
When snow is on the ground, be sure to pack it down during your tent setup. Then, stake your tent to the ground to keep it steady. For sleeping arrangements, bring a sleeping pad along with your sleeping bag. Combining the two will keep you insulated and warm throughout the night.
KOA Tent Sites are spacious and level with a picnic table, fire ring and easy access to clean restrooms with hot water. Tent Sites are also located near waterspouts, so you do not have to haul water.
RV Camping
If you are looking for an adventure, tent camping in the winter is perfect. Tents come in all shapes, sizes and designs, with plenty of three-season and four-season options to withstand heavy winds and snowfall.
When snow is on the ground, be sure to pack it down during your tent setup. Our KOA RV Sites are clean and level, with Pull-Thru and Back-In sites. Full hookups are available, with 30 or 50-amp service. Some RV Sites also include a KOA Patio® for the ultimate outdoor experience.
RV enthusiasts should consider these key steps for a successful winter adventure:
Winterization: Ensure your RV is properly winterized to protect it from the cold. This involves installing and upgrading insulation to create a warm and cozy living space. Insulating the base of the RV can also shield it from cold winds and prevent damage to pipes.
Plumbing protection: Prevent freezing pipes and hoses by using heat tape and insulating them. Utilize your internal freshwater tank and add antifreeze to the holding tank to keep water flowing smoothly.
Engine care: Before embarking on your winter RV trip, inspect your RV batteries for corrosion or damage. Check the engine's antifreeze and top it off with the right concentration of antifreeze and water.
Tire check: Ensure your tires are in good condition and properly inflated for safe winter travel.
Furnace maintenance: Ensure your RV furnace is in good condition. Check for any obstructions that could impede airflow and make sure the air return is clear. Clean the furnace using compressed air or a soft brush to remove dirt and debris.
Comfort and warmth: To stay warm during winter RV camping, it is crucial to choose the right heater and pack suitable gear. Also, take steps to prevent cold drafts from entering through the windows.
By following these winterization tips, you can have a cozy and enjoyable RV camping experience even in the colder months.
"Glamping" and Unique Lodging Options
"Glamping" is a combination of "glamorous" and "camping" and represents a type of camping experience that balances a love for the outdoors with comfort and luxury. KOA offers several unique lodging options perfect for campers and "glampers" alike:
Yurts: Originally found in Central Asia, yurts are hut-shaped tents that provide a unique and spacious type of tent camping.
Teepees: Teepees are a unique throwback to an earlier time — but that does not mean they cannot be comfortable. Teepee camping can include familiar conveniences, like futons or electricity. Some select KOA sites even offer teepee villages for large groups.
Tree House: Tree houses are self-explanatory — imagine your favorite childhood hangout, only bigger and more luxurious.
Airstream: When you camp in an Airstream, you feel a connection to a part of America's history. Since debuting in 1929, Airstreams have become an American icon. They are similar to an RV, only rounded and covered in aluminum.
Camping Caboose: Some KOA sites offer the option of camping in the renovated caboose of a train. They provide a memorable, historic twist for your next camping excursion.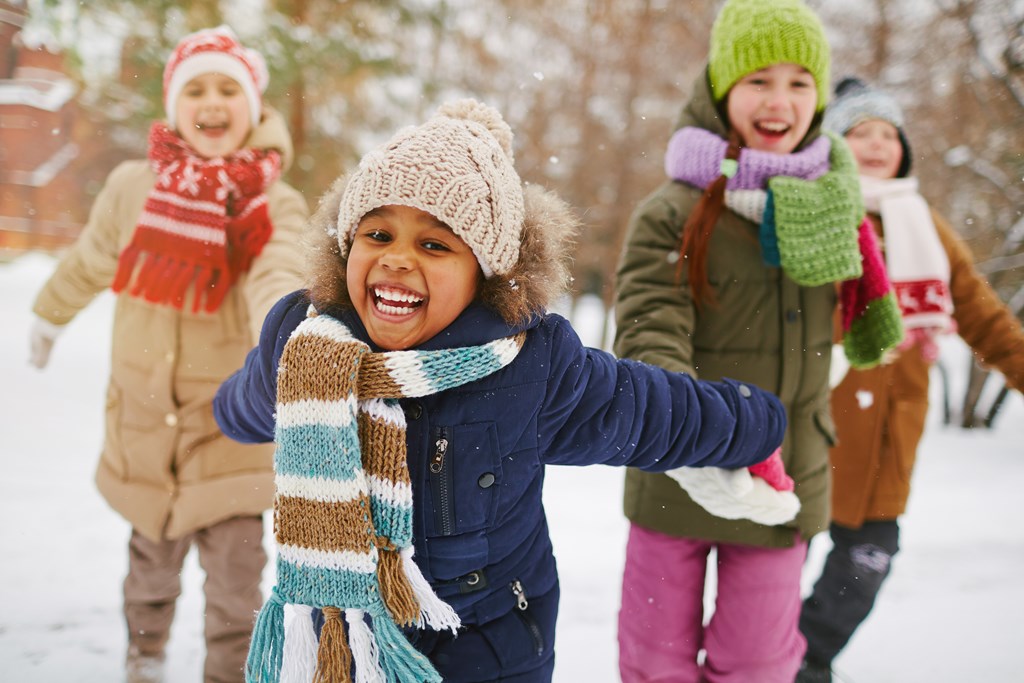 Ensure Your Kids Have a Great Winter Camping Experience
For families—even those who have spent plenty of time camping in warm weather—the winter brings on a new set of challenges. Clothing and equipment become more critical, and your daily activities require additional thought. Yet for those willing to put in a bit of work, a winter camping trip can be one of the best ways to spend time together as a family. Some tips to help campers of any age have a great time include:
Keep it short: With all the variables in winter camping, it makes sense to start with a night or two to make sure everyone likes it. You'd rather have the kids complaining that they want to stay rather than they want to go home.
Have an escape plan: The weather can take a quick turn for the worse, or you may find that camping in winter conditions is more challenging than you thought. There's no shame in deciding to head home early or move to a cabin or motel. Your trip should be fun, and if it's not, quickly make the call to change your plans.
Bring extra everything: You know how likely it is that kids will lose their hats or gloves at some point on the trip. Make sure you have extras. Also expect things to get wet and have backups if you need them, particularly with socks and boots. Wool retains most of its warmth even when wet, so it's a good idea to bring along wool long johns, socks, and sweaters to keep everyone cozy.
Have the right gear: Sleeping bags, tents, stoves, and other camping equipment have ratings for temperatures or weather conditions. Make sure that you have gear that is designed for the conditions.
Get the fire going early: If you are staying in a cabin or yurt, start your fire (or turn on the heat source) as soon as you arrive. Of course, this will warm up the space, but it's also critical to know that it works. If it is not, you will want to get that fixed immediately or make other plans.
Lead by example: Every trip has ups and downs. Things will not always go your way, and the kids pick up on that. If you keep a good attitude, it is easier for the kids to follow your example. When things do go wrong, focus on solving the problem instead of getting angry.
Make reservations: It may be the off-season, but that does not mean you will get the cabin or campground you want if you just show up. Have a reservation so you know your spot is secure.
Bring plenty of snacks: Nothing keeps the kids happier than being well fed. The body demands it in colder temperatures, so prepare for the hunger.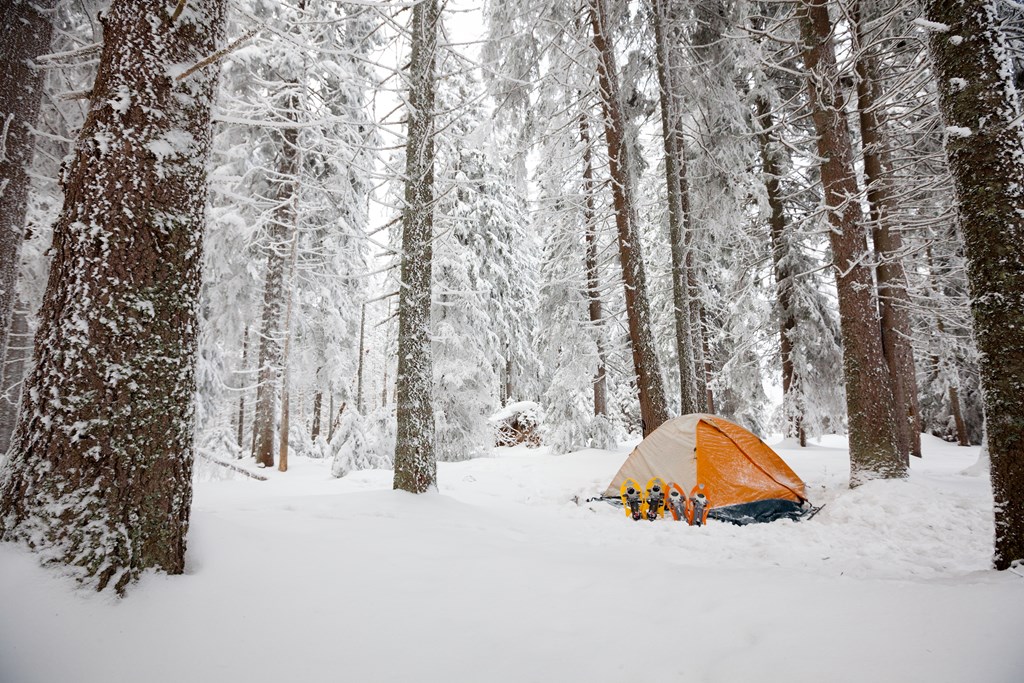 7 Tips for a Successful Camping Trip
Little things like planning your meals, watching the weather and bringing extra socks and gloves are small steps that can go a long way during your trip. Other tips to consider include:
Select the right location: Choose campgrounds that remain open during the winter and are accessible safely. National parks offer spectacular winter views.
Choose your lodging: Decide on the type of lodging that suits your group, whether it is an RV Site, Deluxe Cabin for added shelter, a more rugged experience with Tent Sites or unique options like safari tents or yurts.
Pack smart: Besides standard camping gear, bring winter essentials like sunscreen, lip balm and body lotion for dry skin. Don't forget matches or a lighter for campfires, and adjust your food and utensil choices based on your lodging.
Prepare your clothing: Dress in layers, including a warm hat, base layer for moisture-wicking, middle layer for insulation, and a waterproof outer layer. Ensure your gloves and boots are suited for winter activities. It is wise to monitor the weather to ensure you have time to prepare for whatever comes your way.
Stay dry: Carry tarps to keep your tent dry, and bring insulated sleeping bags for warmth. Tent stakes, a sleeping pad and a tent heater are crucial for cold nights. You might also want to brush up on your fire-building skills since campfires are an excellent source of heat for you and your group of loved ones.
Bring extra blankets: In colder evenings, extra blankets and clothing can keep you warm, especially if you get wet in snow or rain.
Prepare for indoor entertainment: Some days may be too cold or rainy to spend outdoors. Bring activities like playing cards, board games or books for indoor entertainment.
With these tips, your winter RV camping adventure will be enjoyable, safe and memorable.
Try Winter Camping at Kampgrounds of America Today!
Whether cabin fever strikes you or you want to plan a once-in-a-lifetime experience for your family, KOA is here to provide quality cold weather camping experiences. With over 200 locations across the United States and Canada and many that are open 365 days a year, it is easy to find the perfect camping destination.
All KOA Campgrounds are clean and comfortable. You will also find amenities such as bathrooms as well as campground-specific recreation options like pools, dog parks and shuttles to the local attractions. Find and book a cabin, RV Site or Tent Site at a KOA near you to experience winter camping for yourself today!
---
About the Author: Kampgrounds of America
Kampgrounds of America is the largest system of open-to-the-public campgrounds in the world, with over 500 locations across the United States and Canada. Founded in Billings, MT in 1962, KOA's family of campground brands – KOA Journey, KOA Holiday and KOA Resort – today serve more than a million camping families each year. KOA is dedicated to "connecting people to the outdoors and each other" by providing people with a variety of camping experiences and the information they need to make the most of their camping trip. Read more of their camping and travel resources by visiting KOA.com/blog.