Let us help you take the stress out of packing.
Every pleasure trip has three parts: the anticipation and planning phase; the actual trip; and then the warm glow of remembering the fun after you return.
When it comes to camping, the "non-fun" part of the adventure for any family is likely the packing. What to wear? What to eat? Are we tenting, RVing or Cabin camping this time?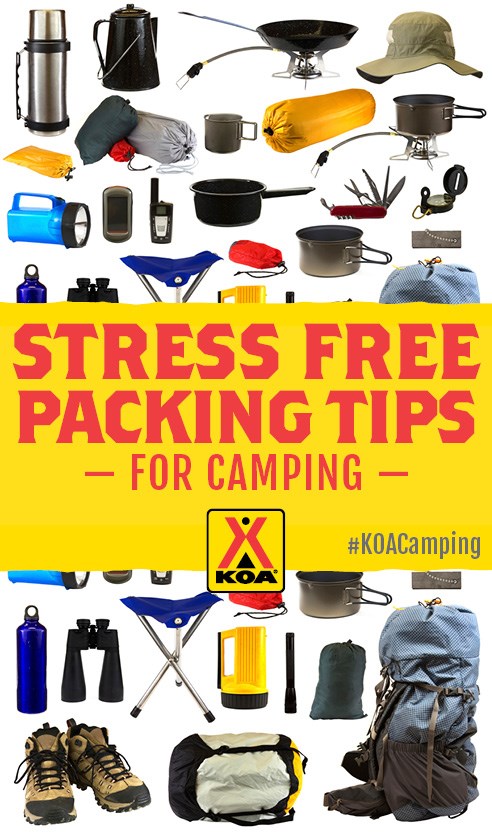 Done correctly, packing for a camping trip doesn't need to be stressful. Like anything else, a little advanced planning and thoughtful care will pay huge dividends once you reach the campground.
Planning For The Basics
In general, your packing plans should revolve around the "Big 3" categories: Food, Shelter and Clothing. If you're an experienced RV camper, your shelter is taken care of and you've likely had plenty of practice planning meals, stocking your pantry and fridge, and even have that "special collection" of camping clothes all packed and ready to go.
But, if you're just getting started, there are a few things to remember.
Keep it simple: Camping is all about getting "back to the basics." If your trip involves just a night or two away from home, just pack what you know you'll really need. Part of the fun is finding new, simple ways to do things. And, if you forget something you wish you had… it's only a couple of nights, and it's likely your handy KOA Store will have what you really need.
Don't over-plan your meals: There's plenty of cooking websites out there that will help you plan simple, one-dish meals and "foil dinners" that you can even make in advance of the trip. No one is expecting fresh baked bread and a full Thanksgiving-worthy spread. Break out that pack of hot dogs and roasting sticks (also available in KOA stores) and watch the kids get excited.
Be ruthless: Part of the fun of camping is the chance to get a little grubby out there in nature. So, don't over pack when it comes to clothes. The rule here is to keep dry (extra socks are good) and warm (everyone gets a hoodie). Other than that, well, a little dirt never hurt anyone. Again, if needed, every KOA has laundry facilities.
Get a list: This is your game plan to keep stress away. A good camping packing list is priceless. As you gain experience, you'll customize your list to fit your family. But, to get started, great camping checklists can be found at www.packinglistplace.com/campinglist, and www.scoutlists.com.
For the "final words" on packing for your camping experience, we asked the experts at Thule for their thoughts. Thule has been around since 1942, making some of the world's best racks and carriers for supplies, bikes, luggage and even kayaks. They really know how to pack!
Here's Thule's Top 5 Quick Packing Tips
Make a list of the items you will need for your trip and check their condition well in advance.
Start your packing at least two weeks before your trip. Last minute packing causes stress.
Check the 10-day weather forecast. Be prepared for weather with a few off-season clothes and rain jackets.
Pack your vehicle with the idea of "last in, first out." Put the things you'll need first in last so they are accessible.
Maximize your space! Provide more room for passengers and keep the dirty gear outside the vehicle by using cargo carriers. (Go to www.thule.com to see what they have available).
Lastly, we also asked our Thule experts what campers commonly forget.
Thule's Top 10 Most Forgotten Items
Locks for bikes or keys for bike racks
A cell phone car charger
Glasses and sunglasses
Trash bags
A plastic tarp
A working flash light
Matches or a lighter
Paper goods like toilet paper, towels and handy wipes
Hand sanitizer
A toothbrush
So, start stress-free planning, get packing and start camping!
---
Related Content
Packing Tips for Summer Camping Trips
10 Fall Camping Essentials You Won't Want to Forget
How to Pack for a Motorcycle Camping Trip
Save
Save