Texas Travel Guide
Planning a trip to the Lone Star State? Texas is a great vacation choice for both solo and group travelers since you will find a variety of entertainment, no matter the region or time of year.
When Is the Best Time to Visit Texas?
The best time to visit Texas depends on what kind of weather you want and what activities you want to do. Because the state is so big, the average temperatures and weather conditions for each time of year varies, depending on your destination. For example, while spring is the wettest time for much of the state, September is often the rainiest when you head toward the southern part of the state, near the Gulf of Mexico. However, one thing is certain: In Texas, each season and month brings the promise of breathtaking scenery and plenty of places to discover and explore.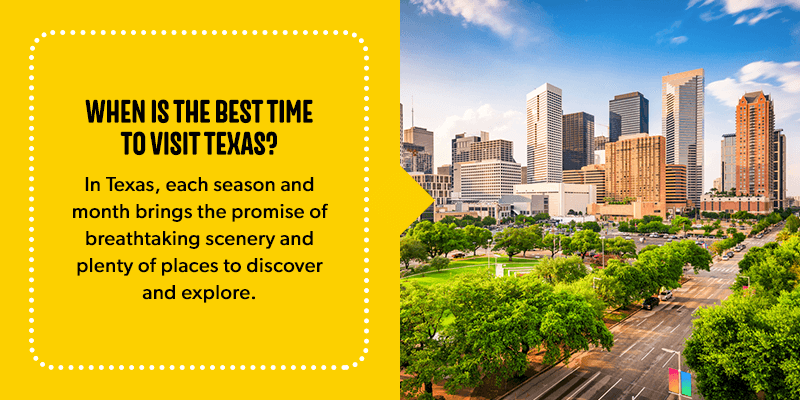 Texas in the Spring
In the spring, Texas is warm and filled with blooming bluebonnet flowers, prickly pear plants and ripening strawberries and peaches. With temperatures ranging from the 60s to the 80s, outdoor activities like hiking and fishing are popular during the spring. The not-too-warm temperatures also make it the perfect time to camp and picnic. If you are venturing to Texas to see a rodeo, spring is also when two of the state's most popular rodeo events are held — Rodeo Austin and the Houston Livestock Show and Rodeo.
Texas in the Summer
Summertime brings with it the famous Texas heat, with temperatures ranging from the 80s to the low 100s. To combat the heat, Texas offers plenty of water-related recreational activities, including beautiful beaches, family-friendly water parks and swimming holes. You can also cool off in one of the state's deep underground cavern tours. One thing to be aware of when traveling to Texas is hurricane season. Because it borders the Gulf of Mexico, hurricane season begins on June 1 and ends on November 30. August and September are usually peak times for hurricane activity. While you are on vacation, always keep an eye on the local news and daily weather forecasts, so you can stay aware of any change in weather conditions.
Texas in the Fall
As summer temperature retreat and slightly cooler weather sets in, outdoor recreation becomes popular again during the fall. Many Texas tourists and residents kick off the season with the State Fair of Texas, which is held in Dallas during September and October. The State Fair of Texas is an excellent place to visit if you want to experience different facets of Texan life, including regional foods, entertainment and livestock shows.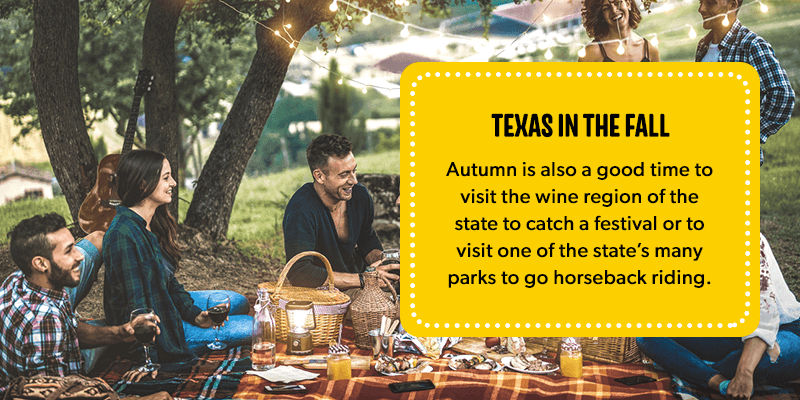 Just because you are down south does not mean you will not be able to find some beautiful fall foliage, either. Head to the Lost Maples State Natural Area for striking autumn colors and lots of outdoor fun. Autumn is also a good time to visit the wine region of the state to catch a festival or to visit one of the state's many parks to go horseback riding.
Texas in the Winter
Have you ever heard of a Winter Texan? It is a term coined by Texas locals for northern tourists who visit Texas in the winter months to escape the northern chill. Although you might see some occasional snow, depending on the time of year and where you are, Texas winters are largely mild and comfortable. Temperatures range from the 40s to the 60s. Because crowds are usually smaller during the winter, it is the ideal time to take in some of the state's cultural activities and visit the more popular historical attractions.
Top Places to Visit in Texas
Some people travel to Texas to dive into the area's rich history. Others visit to hike the national parks, explore canyons or attend one of the state's beloved festivals or events. No matter your reason for visiting, there is certainly something for everyone. Read on to learn more about some of the best places to visit in Texas.
Popular Cities in Texas
The best cities to visit in Texas are the ones bursting at the seams with cultural events and family-friendly activities, including:
Houston: 

Houston is 

655 miles of urban oasis mixed with Southern charm

. Visit museums like the Children's Museum of Houston and the Museum of Fine Arts. Dine at one of the 10,000 restaurants scattered throughout the city, or stay active with a bike tour. Visit the place where Houston began at Buffalo Bayou, which is 52 miles of slow-moving water.

Dallas: 

For an unforgettable experience, the best time to visit Dallas, Texas is during one of the city's events or festivals. While you are there, be sure to stop by 

the Dallas Arts District

, which is the largest urban arts district in the United States. There you will find parks, street cafes, museums and much more.

Austin: 

The capital city of Texas is known for its music and entertainment districts, and it is home to some of 

the biggest music festivals in the country

. Austin strives to provide residents and visitors with a quirky, laid back vibe.

San Antonio: 

San Antonio prides itself on being 

a center for cultural diversity

, with restaurants and events inspired by Mexican culture, as well as the Tejano, German, Irish, Czechoslovakian cultures and more. San Antonio is also known as 

Military City USA®

 because it is home to one of the country's largest concentrated areas of military bases.

Galveston: 

Looking for a different kind of city experience? Galveston Island is a popular tourist destination due to its miles of family-friendly beaches, historic tours, restaurants and shops. It hosts numerous festivals and food-related events throughout the year.

Amarillo: 

No list of must-visit Texas destinations would be complete without mentioning Amarillo. Amarillo is where the desert and the plains collide with sweeping views of deep canyons and wide-open spaces. Outdoor enthusiasts and anyone interested in cowboy culture will feel right at home under Amarillo's endless skies.
Popular Regions in Texas
Texas has several different regions, and each area is different from the next. Some of the most popular regions for tourism and travel include:
The Panhandle plains: 

Outdoor enthusiasts and modern-day cowboys flock to 

the Panhandle region of Texas

 for the canyons, open skies and taste of the Old West. The Panhandle is where you will find Amarillo, Wichita Falls and even a 177-mile portion of the famous Route 66.

The Piney Woods region: 

The Piney Woods region of Texas

 is located in the eastern part of the state and is named for its abundance of towering pine trees. Day hikers and campers will feel at home in Piney Woods, as will any traveler seeking a peaceful getaway. Piney Woods is also home to several historic sites, including a ride on a vintage train on the Texas State Railroad.

Hill and wine country:

 Texas is 

the fifth biggest wine-producing state

 in the country, and there is no single best time to visit Texas wine country — each season provides something exciting for visitors. Spring and early summer are prime time for the wildflowers that typically blossom alongside wineries. Late summer and early fall are when Texas grapes are ready to harvest. There are also several food and wine-related festivals that take place in the wine region during autumn. Texas wineries are even good to tour and sample during the winter when there are typically smaller crowds.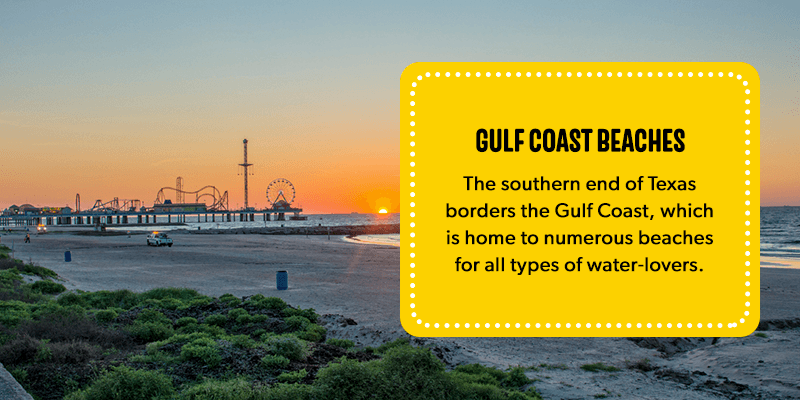 Gulf Coast beaches: 

The southern end of Texas borders the Gulf Coast, which is home to numerous beaches for all types of water-lovers, including preserved natural coastline, family-focused beaches, spring break destinations and more.
Popular Attractions in Texas
Texas is home to some of the country's top tourist attractions, including the historic Alamo and Big Bend National Park: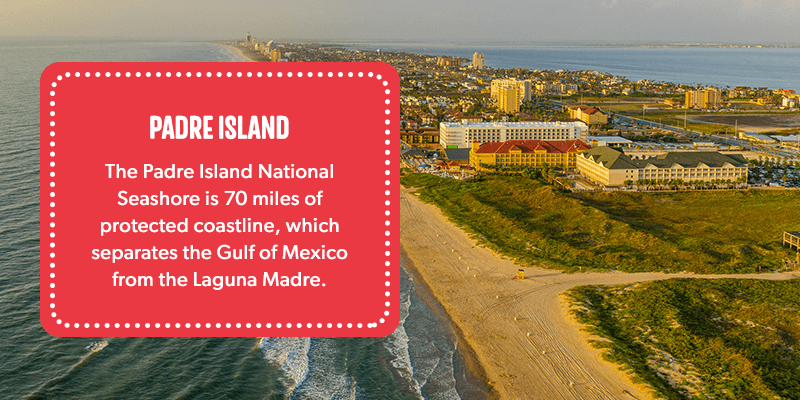 Padre Island:

 Padre Island is a barrier island on the south of Texas. The 

Padre Island National Seashore

 is 70 miles of protected coastline, which separates the Gulf of Mexico from the Laguna Madre. On the island's south end, you will find the 

South Padre Island Birding and Nature Center

, where you can see native Texas birds, plants and butterflies. You will also find the 

South Padre Island Dolphin Research and Sea Life Center

, which is home to a variety of rescued marine life, complete with a unique dolphin tour experience.

Natural Bridge Caverns: 

If you venture toward San Antonio, plan to stop at the 

Natural Bridge Caverns

. The Natural Bridge Caverns are Texas' largest show caverns and include plenty of under and aboveground attractions, including cavern tours, an aerial ropes course, an outdoor maze and more.
Tips for Planning Your Trip to Texas
There are a lot of things to consider when you plan a trip to Texas — the month and season you plan to visit during, the places you want to see and what you want to do while you are there. To make your trip-planning process a little easier, here are some tips for Texas travel.
1. Know Your Travel Options
Depending on where you are coming from, you can either fly or drive into Texas:
Flying

: In 2017, almost 

22 million people visited Texas

, and a large majority of those people flew into the state via a domestic or international flight. Texas is home to many airports, including the country's second-largest airport at Dallas/Fort Worth.

Driving

: If driving to Texas, consider making your journey a road trip or plan to stop at some roadside attractions along the way. Prepare your car for the road before departing, especially if you plan to do any sightseeing, traveling or road-tripping while in the Lone Star State. Texas is big — more than 

261,231 square miles

, to be exact — and driving from city to city or attraction to attraction can take a long time. Make sure your gas tank is full, your tires are correctly inflated and you have a car emergency kit. Along your route, use gas stations as your opportunity to fuel both your car and yourself. Many 

Texas gas stations are points of interest

 themselves and can be a great place to pick up Texas-themed souvenirs.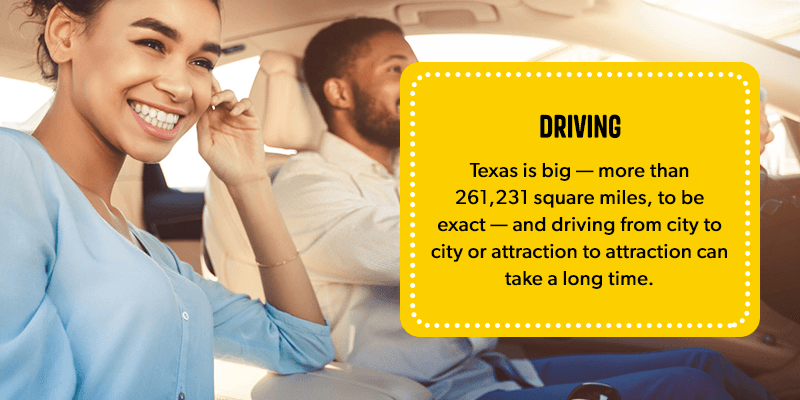 2. Reserve Lodging and Get Tickets to Events Early
Once you know which part of Texas you want to see, reserve your lodging as soon as you can. Texas also has many festivals, events and attractions that draw hundreds of thousands of tourists to the state each year. You do not want to risk missing out on your ideal spot.
There are several lodging options in Texas, including resorts, hotels, vacation rentals, bed and breakfasts or camping at places like KOA. Popular festivals and events often fill quickly, too. If you are traveling to Texas for the sole intent of participating in a particular event, make sure you purchase those tickets, as well as any necessary plane tickets or parking passes, as soon as possible.
3. Pack and Dress Accordingly
Always dress according to the season when visiting Texas. In the winter, this means bringing along a coat, boots and gloves. During the rest of the year, light layers and cool fabrics are the way to go. Apply sunscreen and bug repellant liberally throughout your trip. If you plan to spend much time outdoors, wear pants and shoes that cover your legs and feet to help avoid insect bites.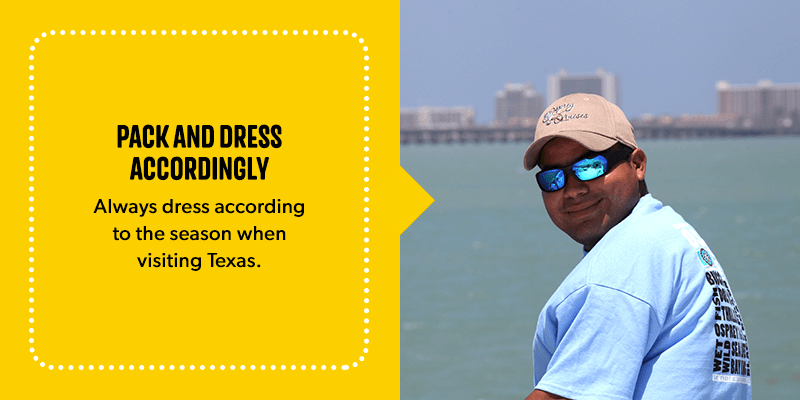 4. Know the Laws of the Land
Before you go, take the time to learn Texas travel laws and road safety information. While driving in Texas, keep these rules in mind:
Abide by all speed limits:

 In Texas, speed limits range from 25 to 85 miles per hour. Always watch for signage and abide by all speed limits.

Have toll money ready:

 Throughout the state, you might encounter several toll roads. Plan your driving route ahead of time so you can have your money set aside when the time comes.

Wear a seat belt: 

In Texas, all passengers are required to wear a seat belt. Children eight and under who are not taller than four feet nine inches are also required to sit in child safety seats.
5. Visiting Mexico
If you want to spend any time in bordering Mexico during your trip to Texas, here's what you need to know:
Have your passport:

 Whether you are traveling into Mexico by land, air or boat, you need a valid U.S. passport.

Entry permits: 

If you are traveling into Mexico by land and plan to travel further than the immediate border, you need to stop at a port of entry to receive an official entry and vehicle permit. Keep these — and your passport — on your person at all times during your visit.

Know the restrictions: 

Both the United States and Mexico each have regulations regarding items brought in and out of each country. Know which items you need to declare, 

as well as prohibited items

.
6. Eat Locally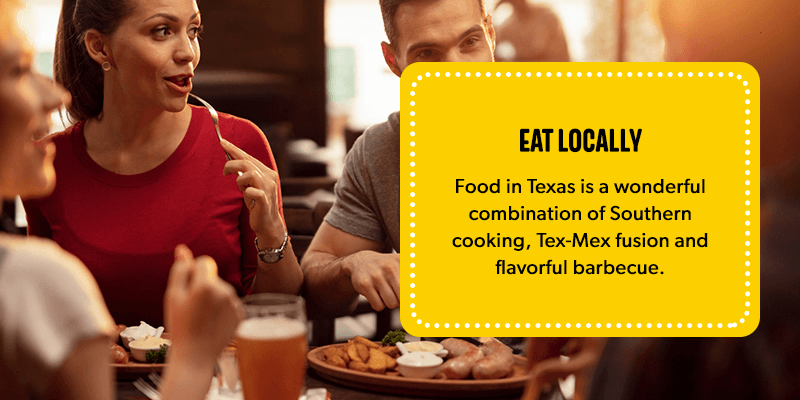 Food in Texas is a wonderful combination of Southern cooking, Tex-Mex fusion and flavorful barbecue. While you explore the cities, regions and attractions in Texas, eat locally as often as you can for an authentic taste of the Lone Star State. If you are planning a Texas camping trip, you can even try your hand at making some of these iconic dishes at your campsite:
Tex-Mex: 

Over the last several decades, Tex-Mex food has earned its spot as one of the United States' most beloved cuisines. 

Authentic Tex-Mex food

 has roots in early Mexican, Native American and Spanish cultures. Some popular Tex-Mex dishes to try in Texas include chili con queso, tacos, fajitas, nachos, chimichangas and loaded enchiladas.

Texas-style barbecue:

 Although Texas has a few different barbecue methods, "Texas barbecue" 

typically refers to the Central Texas-style of barbecuing

. Texas barbecue is usually beef brisket, and it is cooked low and slow and often served with pickles and white bread. Texas barbecue often uses simple — yet delicious — dry rubs, placing more focus on the method of cooking. The result is moist, tender brisket you cannot afford to miss.

Texas chili:

 You cannot visit Texas without trying their 

official state dish

 — Texas chili. True Texas chili does not include beans or tomato products. Instead, it is a thick, spiced mixture of hearty meats, peppers and chili pastes. Some Texas chili also includes additives like beer and chocolate.

Chicken fried steak: 

If chili is Texas' official state dish, chicken fried steak is considered its unofficial state dish. Chicken fried steak is a thin piece of top-round steak that has been hammered flat, battered, fried and topped with thick country-style cream gravy before serving.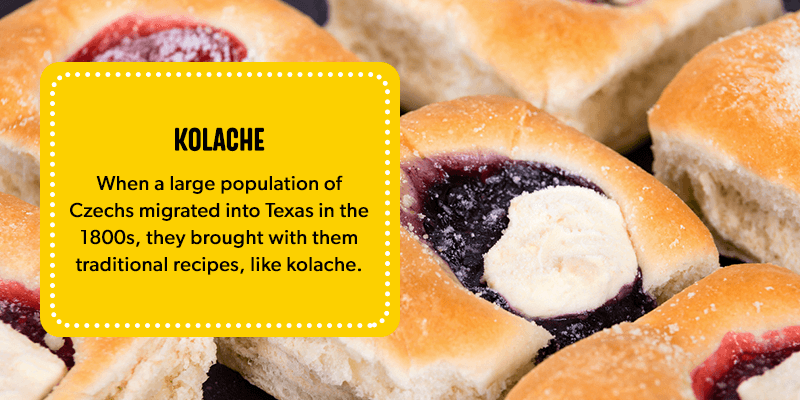 Kolache: 

When a large population of 

Czechs migrated into Texas in the 1800s

, they brought with them traditional recipes, like kolache. Kolache is a yeast dough pastry that has been filled with fruit or cheese — or meat, eggs, peppers and more in some Texas-inspired versions. You can find traditional kolache in shops and restaurants all across the state.
Let KOA Be Your Homebase for Your Texas Adventure
There is so much to do, see and explore in Texas. KOA has campgrounds located all across the Lone Star State, each one equipped with a variety of lodging and campsite options such as Tent Sites, RV Sites and cabin rentals to make your Texas vacation comfortable and memorable. When you stay at KOA, you can look forward to ending each day of your trip cozy by a campfire, relaxing under the stars and spending time with your loved ones. To get started, find a KOA near your Texas destination.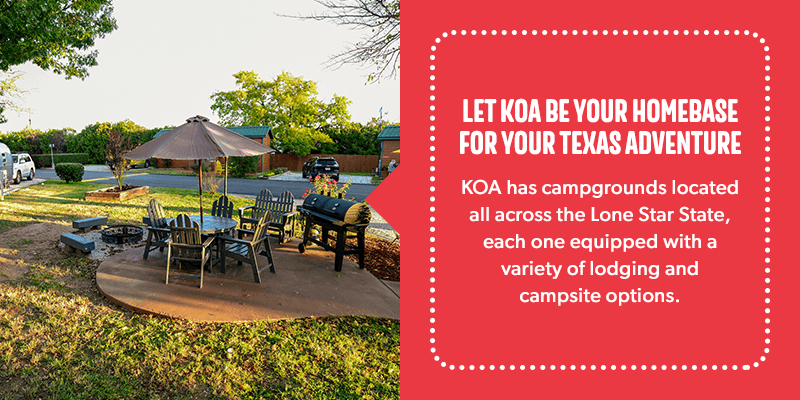 ---