When we think of all the gorgeous and diverse national parks in the U.S., our mind often conjures images of green valleys, ecstatic wildflower displays, and fall forests bathed in gold and burgundy.
There's nothing like visiting these iconic places in spring, summer, and fall.
But did you know that winter, with its snow, ice, and cool temps, can also be a magical time to get outside and visit some of these spectacular parks and monuments?
Places like Yellowstone National Park, Joshua Tree, Arches, Grand Canyon, and Zion don a new look in the winter months. The lands become a wintry wonderland, with fresh, white snow topping mountains and dusting canyons. The white stuff sometimes makes its way down into the valleys. For hikers, campers, and visitors, wintertime in a national park can be a whole new experience.
Of course, winter doesn't always mean snow. Between November and March, nature enthusiasts can also gain access to some of the country's hottest (literally) parks.
We've got to give a big shout-out to places like Death Valley National Park and the Everglades in winter. They also transform at this time of year. In their case, morphing from hot, nearly uninhabitable lands to temperate landscapes just right for exploring.
And if a new perspective doesn't move you to get outdoors in December, consider this: most national parks are less crowded in winter months. Even as schools and work let out for holidays and winter breaks, you can essentially have some of these more popular tourist destinations all to yourself! How cool is that?
Read on for more tips on wintertime park-going … from planning and packing, to handy gear and fun activities. You might decide to test out one of the best-kept travel secrets for yourself.
Plan to Visit a National Park When It's Chilly? Here's What You Need to Know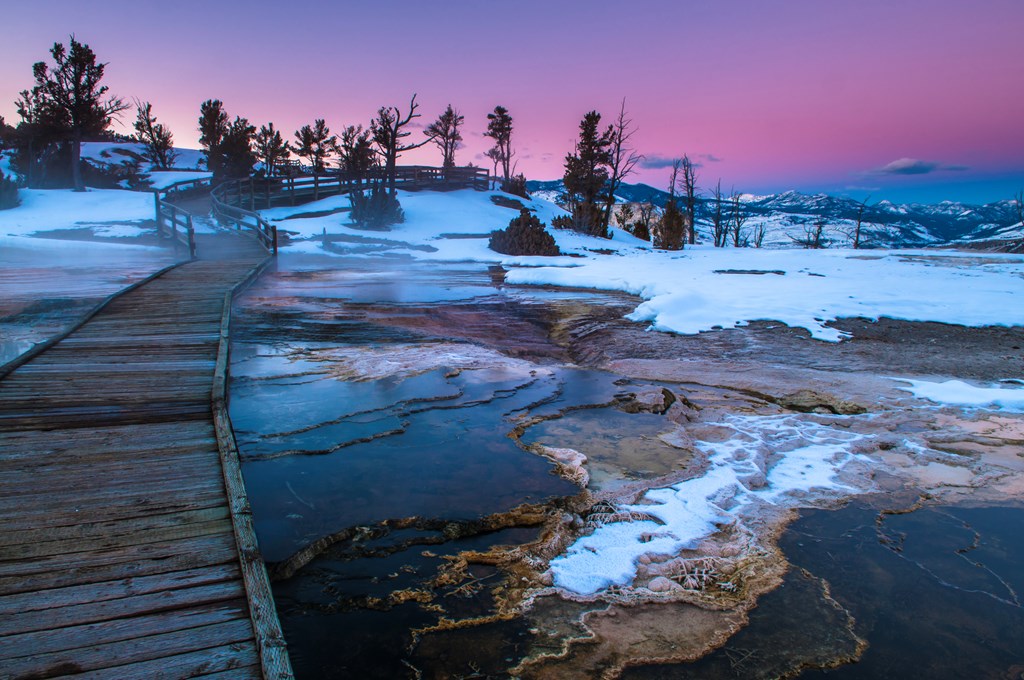 1. Research the Park
Your wintertime visit may require a bit more research and planning upfront, particularly if you're headed to a place that gets cold, snowy weather in the winter months.
So before setting aside dates or buying any supplies, first decide where you want to go. Think hard about your personal preference or even capacity for wintry weather.
Many of the snowiest national parks in the country will have bouts of reduced services and seasonal closures due to wintry mixes and even the occasional blizzard. Usually, national parks are good at noting these conditions on their official website and updating it as needed.
One park even closes for the winter. Isle Royale National Park is almost entirely shut down to human activity from November to mid-April. The frigid waters of Lake Superior near the Canadian border make for harsh and snowy winters, with nighttime temps falling well below zero. Brr!
Next, check your dates. It's important to know when to expect the park's first snowfall of the season. And then, as your travel date approaches, you'll also want to be aware of any unique weather-related situations like surprise snowstorms, landslides, road closures, etc.
Large winter storms with heavy rainfall have been known to cause landslides in Northern California. Shallow landslides can quickly morph into fast-moving debris flows, and even deep-seated landslides are capable of moving entire houses down-slope.
And while Alaska's Denali National Park is an extraordinary place to experience, the temperature can dip as low as -40 degrees Fahrenheit in winter. A winter trip here is not for the faint of heart.
When it comes to visiting a national park in the winter, don't assume anything. Make sure you know what kind of weather to expect, and plan to abide by any warnings or closures in the area. Keep checking back with the park's website and local info, right down to the next day's forecast.
2. Plan for an Extra Day
It's wintertime, and the days are shorter, the nights are longer, and everything slows down a bit.
Take your time planning and booking, and be sure to leave yourself a bit of a buffer. If you can, build an extra day or two into your trip. This is particularly important in winter as an extra day affords you a bit of a cushion for any unexpected weather-related delays on the roads, as well as delays or cancellations at a connecting airport or your destination.
In short, book early, give yourself a bit of wiggle room, and you'll be cool and collected should the unexpected occur.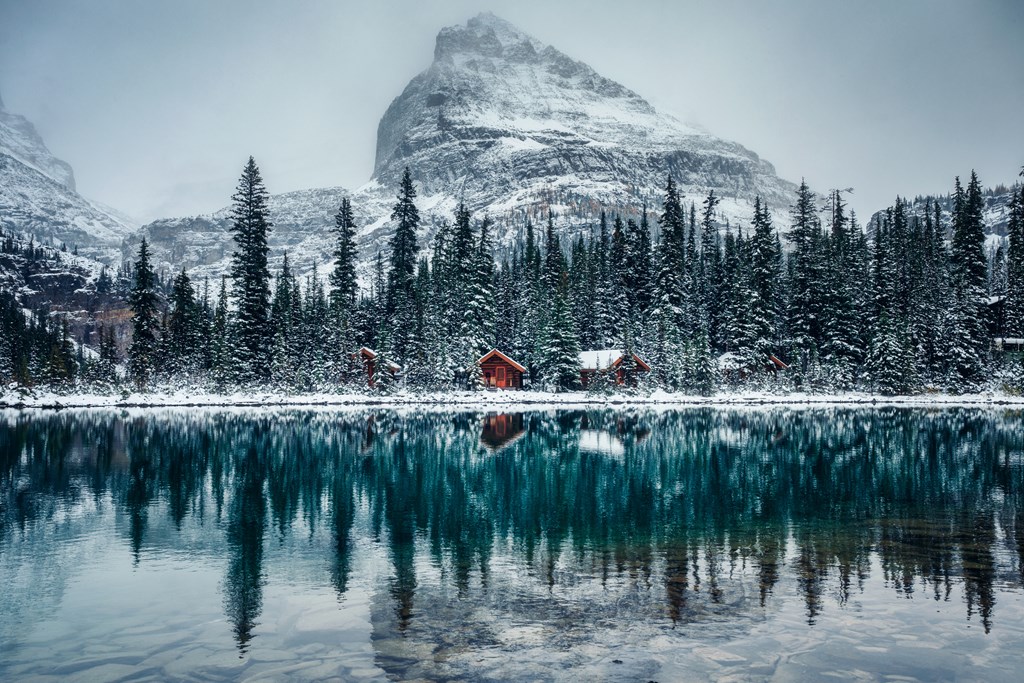 3. Decide Which Type of Shelter is Right for You
Where you'll stay is a big factor in what kind of experience you'll have on your winter visit to a national park. Remember: it's not any less of an adventure if you stay at a hotel or Airbnb in a nearby town and make your way into the parks for skiing, snowshoeing, or hikes during the day.
Some people love braving the elements during the day and then curling up under a warm duvet in a cozy hotel room in the evening.
Others enjoy settling in or near the park in more rustic accommodations — perhaps a cabin, yurt, or even a tent. This type of stay takes more forethought and preparation, but it can be a life-changing adventure (as long as you're safe).
No way is superior, and you don't necessarily have to choose one or the other. Every accommodation type has its pros and cons. Some tent campers have great fun and find it satisfying to orchestrate a winter camping trip. If this sounds like something you'd like to try, seek out other winter campers or local adventure groups for tips and inspiration on how to get the most out of your winter camping excursion.
If you go this route, chances are you'll be in good company on your maiden voyage in snowy terrain, as these groups typically offer meetups, guided outings, and expeditions with experienced survivalists.
No matter where you decide to hang your hat, have a plan and also a backup plan. Reserve your campsite, lodge room, cabin, or hotel well in advance. Some parks have a very limited supply of accommodations to begin with, and options are even fewer in the winter months.
It's not a bad idea to identify an emergency shelter in the area (or pack your own), as well.
After spending some time in the park, you might decide to change your cabin stay to a hotel stay in a nearby town. Do what's right for you to make the most of your trip.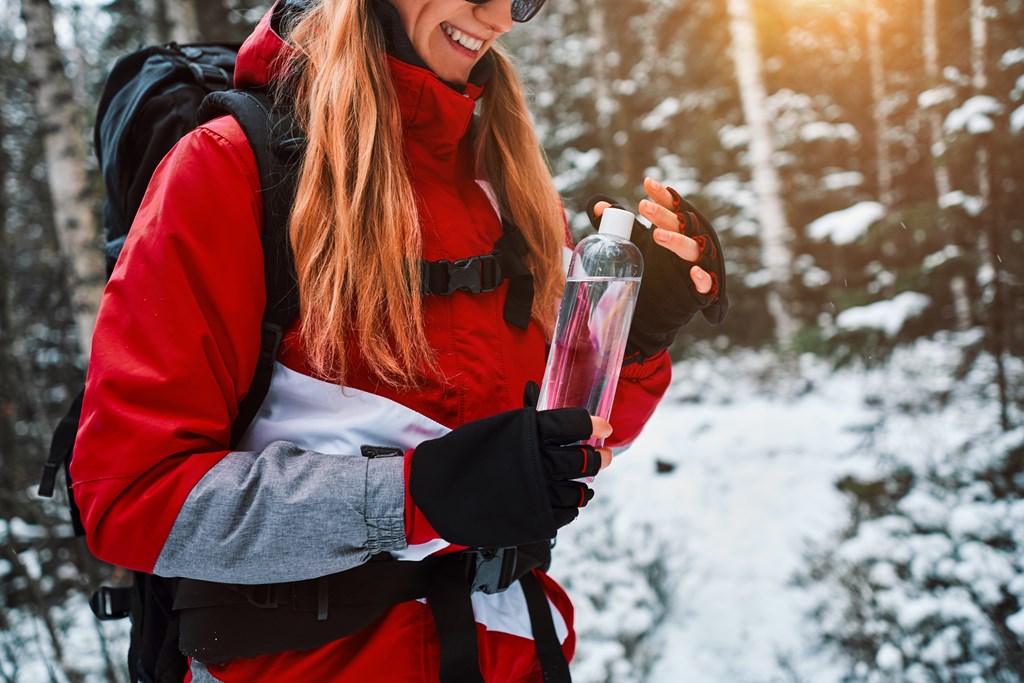 4. Remember to Hydrate
You wouldn't dream of hiking in Yellowstone in June without an ample supply of H2O, so don't slack on hydration in the winter months, no matter where you roam.
It's just as important to stay hydrated in the winter as it is in the summer, though it may be a bit trickier to detect the signs of dehydration in certain weather and underneath all that gear.
Our bodies are 60 – 70 percent water, and water is essential to how well our systems function. It is necessary to help transport nutrients, remove waste, support the immune system, maintain blood pressure, and maintain a proper body temperature. This is crucial in preventing hypothermia while outdoors in winter.
Some tell-tale signs of dehydration to watch out for are:
Dark urine
Constipation
Dry mouth
Chapped lips
Headaches
Irritability
Review guidelines to see if you'll be getting enough hydration each day from drinking water and also the foods you eat.
In the wintertime, sipping on warm water, herbal tea, or a warm broth all count towards hydration. Take your water with you wherever you go. Drink caffeine and alcohol in moderation, as both are dehydrating. And don't forget about water-rich foods like soups, citrus fruits, tomatoes, and leafy green veggies.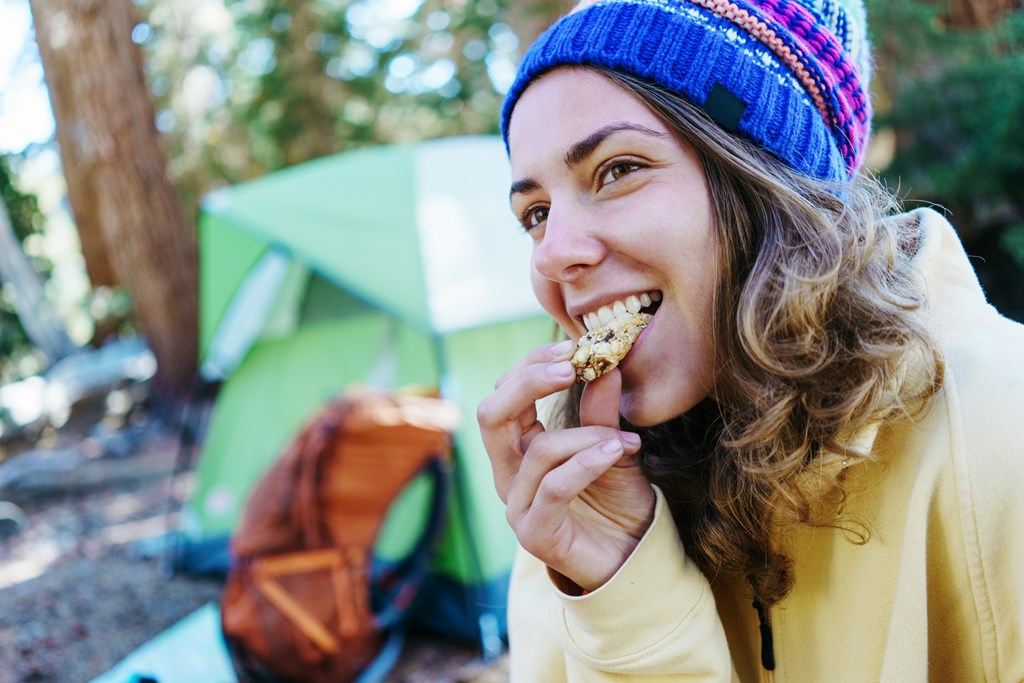 5. Eat Smart
In addition to those water-rich foods mentioned above, an assortment of well-chosen meals and snacks can keep you warm while fueling you up. Stock up on – or better yet, make your own – trail mix snacks that have a good mix of healthy fats, fibers, and carbs for a tasty treat that also delivers prolonged energy.
Making your own trail mix is one of the best ways to get a healthy, tasty, and satisfying trail treat. And bonus: mixing your own is much cheaper and healthier than store-bought varieties.
Try combining dark chocolate chips, coconut shavings, unsalted cashews (or your nut of choice), dried blueberries and dried cranberries, and sunflower seeds. Mix up the ingredients to suit your taste … and get creative!
If you plan to camp or eat outdoors (or even if you don't), a hot meal will hit the spot. Don't shy away from comfort foods like mac and cheese, beef stew, or mashed potatoes and gravy. You'll burn a lot of calories in hiking and other forms of exercise, not to mention you'll burn calories just trying to stay warm.
Choose stick-to-your-ribs foods that are loaded with nutrients and are just plain tasty. Wrap your hands around a thermos brimming with steaming chili (vegetarian or canned) or beer cheese soup. Tuck into a corned beef hash and egg skillets in the morning.
Be sure to check out our collection of hundreds of recipes to try on your winter camping trip.
And don't forget your hot beverage in an insulated mug.
Nothing tastes better on a brisk winter morning than the first sip of a hot drink.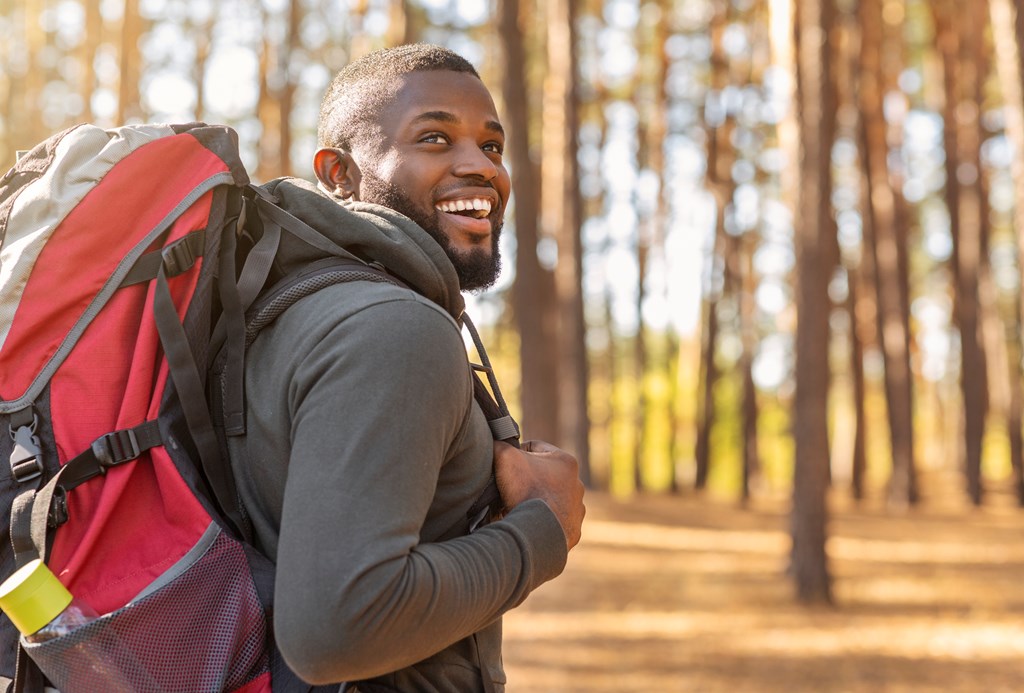 6. Layer Up!
There's a strategy when it comes to dressing for winter exploration. You want to look for clothes and fabrics that will keep you dry and keep you warm. Layering the right fabrics, in the correct order, can make all the difference between thriving in a wintry landscape or merely tolerating it.
If you're going to spend a decent amount of time outside in the cold, jeans and cotton won't cut it. At a minimum, plan to wear moisture-wicking layers, a good jacket, gloves, a hat, good socks (not cotton), and waterproof boots or trail shoes.
Many retailers now make excellent cold weather-ready clothing items in all price ranges. A pair of fleece-lined, water-resistant pants will be a good go-to in a hiking scenario.
Base layers made from merino wool or synthetic fabrics can add a ton of warmth with very minimal bulk. Wool is a popular base layer and outdoor material because it naturally provides good insulation, consistently feels dry, and has anti-static properties. Wool won't itch, smell, or crease, and it keeps its shape for years and years.
P.S. … After you've managed to pack the perfect hats, gloves, jacket, baselayers, and socks, don't forget the sunglasses! Sunshine and UV rays can be extra intense as they bounce off of sheer white snow.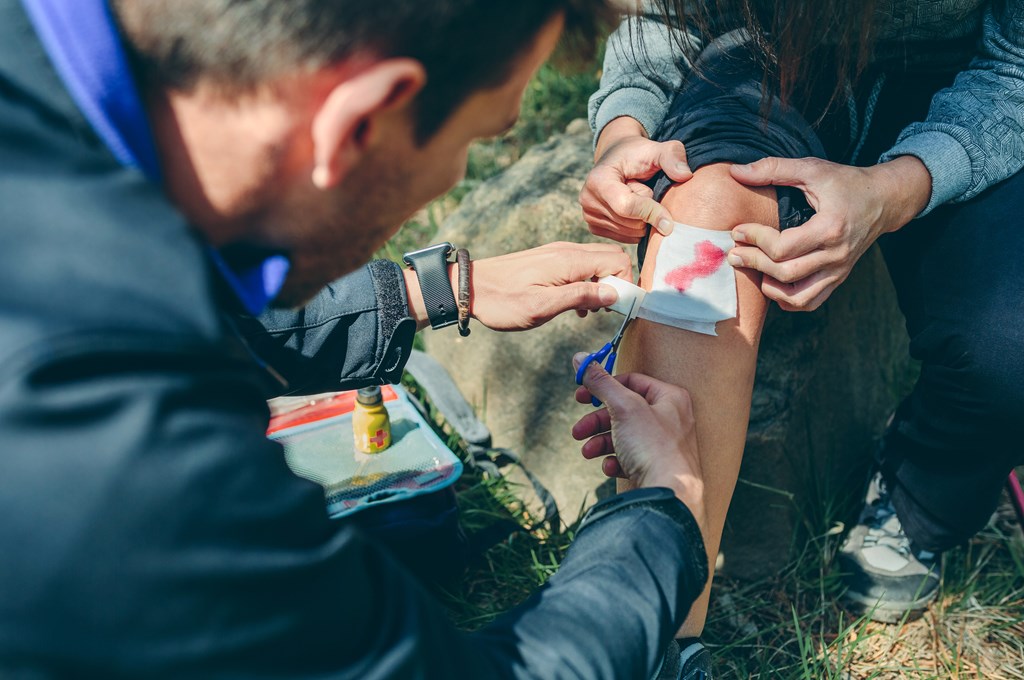 7. Know Your First Aid Basics
No matter your age or hiking prowess, accidents happen. Injury or illness can occur on even the shortest hikes. This is why it is best to be prepared ahead of time with some basic equipment and knowledge to keep everyone in your party safe.
Research how to build a small but comprehensive first-aid kit. This kit will usually include things like bandaids, antibacterial ointment, Ibuprofen, tweezers, sunscreen, and a small mirror. Make sure to add any items or medications that would be particularly helpful in the region you're exploring.
Besides packing the kit, brush up on some winter safety best practices and also consider bringing a few key extras — extra clothing, extra flashlights, and extra food.
Recognize how to spot and treat both frostbite and hypothermia. Lengthy exposure to cold temperatures can use up your body's stored energy, which then impacts one's ability to think and move. Most people don't know that hypothermia can strike even in cool temperatures above 40 degrees Fahrenheit if a person becomes chilled from rain, sweat, or submersion in cold water.
If you're not sure whether someone is affected by hypothermia, always err on the side of caution. If that person's temperature is below 95 degrees, seek medical attention immediately. In the meantime, get the person in a warm room or shelter, remove any wet clothing, warm the center of the body, and administer warm drinks.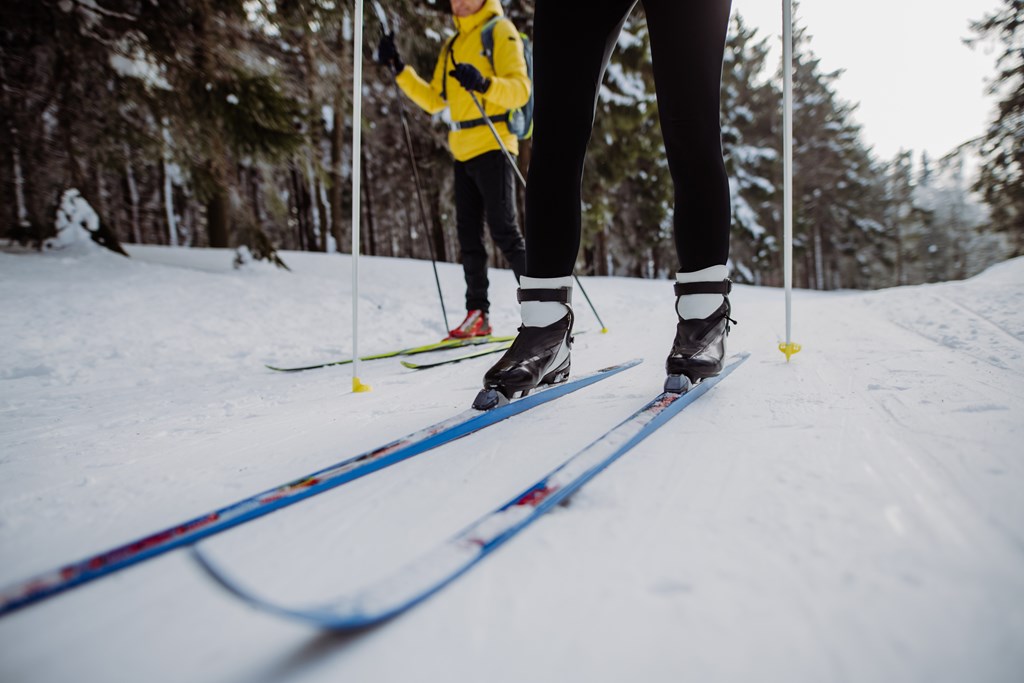 8. Try Something New
A wintertime national park visit demands some winter-specific adventure! Consider this the perfect opportunity to try a new sport or activity. If you are typically a fan of hiking, try strapping on a pair of snow shoes.
Cross-country skiing is an accessible sport for the whole family and is great exercise.
And if you prefer to ride rather than walk, snowshoe, or ski, try a guided snowmobiling trip through Yellowstone Park.
Keep in mind that you don't need to invest in "all the gear" to try out a new activity. You can usually find plenty of rental opportunities for clothing, equipment, and vehicles.
You might even be able to make it a multi-sport vacation by renting ski gear one day, and snowshoes the next, from a local gear shop or sometimes from concessioners in the park.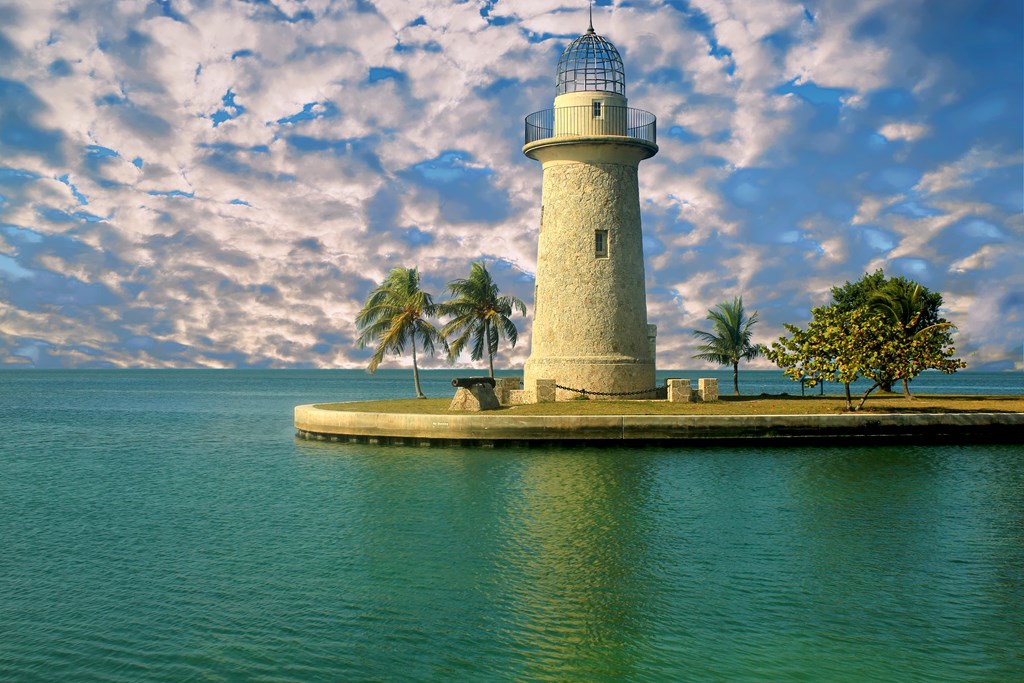 9. Swap Snow for Sand
If you want to explore a national park in winter but none of the snowy park scenes grab you, don't fret. In the wintertime, there is something for everybody, even those looking to escape snow and frigid temperatures! Just head south.
Everglades National Park, a subtropic wilderness, sits at a comfy 70 degrees in February. November to April is the dry season, and insects such as mosquitos and biting flies are virtually non-existent in most areas of the park. Winter here is a great time for bird-watching, as many species are also enjoying their trip "down south."
Unlike other national parks, you might find Everglades does have more visitors in these months (but it's still worth it).
Biscayne National Park is another fantastic Florida destination in the northern Florida Keys that has coral reefs, islands, and a shoreline mangrove forest. You'll have to hop in a boat to travel to the reefs and islands. In the Biscayne Bay Lagoon, visitors regularly see dolphins, turtles, and pelicans.
And how amazing to be able to say you spent your winter break in Death Valley! Here, again, winter is the high season in the valley, as it's the only time temperatures are bearable.
So, you'll want to plan your trip and reserve your accommodations well in advance. That said, the park is so incredibly huge, and there are so many things to see and do that visitors are likely to be scattered all over.
Finally, a visit to U.S. Virgin Islands National Park would feel downright luxurious in winter: white sand beaches, coral reefs, and sunny hikes to view ancient petroglyphs. Ring in the New Year with your toes in the sand and waves lapping the shore.
There are so many great reasons to visit the many national parks in winter, whether it's snow-covered bison roaming you're after or escaping to a tropical paradise!
November to April can be a fantastic time to explore some of the most beautiful landscapes in the U.S. You might even find that in winter, you're not fighting crowds, and you have the bonus of enjoying seasonal activities like skiing and snowmobiling.
So pick a place, do your research, and get out there during those "other months". You'll be glad you did!
---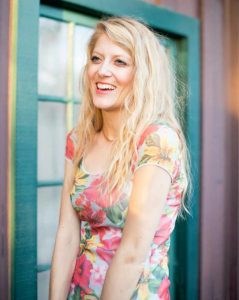 Leslie, a.k.a. Copy Girl, is a copywriter who gets butterflies from telling stories through words.
Her voice comes from a place filled with passion, dreams, and lots of sugar. "Cake over steak" is her go-to motto.
With over 10 years of experience in crafting words, and years of embarking on travels that have taken this Montana girl to some incredible places, Leslie love the adventures of both body and mind her writing takes her on.
Everywhere she goes, she takes this advice with her:
"Hold on to your divine blush, your innate rosy magic, or end up brown." – Tom Robbins, Jitterbug Perfume
To see what Leslie's up to in the writing world, visit her website here.