Many RV owners pack up their RVs for the winter, which isn't a bad thing if cold weather camping isn't your thing. But, you may be missing out on some fun winter RV activities by doing so. One of the bonuses of camping in your RV in the winter is that it is much warmer than tent camping. You get the added warmth, luxury, and comfort of staying in an RV while also getting to enjoy a unique way to experience the great wintery outdoors.
Here are some of the top activities we think you'll enjoy during your winter RV camping trips that may make this season one of your favorites to go camping. Not sure where to go to try out cold weather RVing? Start with our list of open-all-year KOA campgrounds.
What Should You Do When RVing in the Cold? Try these Cold Weather RVing Options
1. Bake Something!
Few things are cozier than the smell of cookies, pastries, or sweet bread baking in the oven. When finished, enjoy the fruits of your labor with a cup of hot chocolate or a glass of milk.
2. Bathe in a Thermal Spring
There's a natural hot spring in at least 25 of the 50 American states, and some states have dozens. Soaking in a thermal spring is warm and relaxing. Some people believe that it provides numerous healing benefits.
3. Become a Snowbird
"Snowbird" refers to people who take care of their winter blues by relocating to warmer locations for the coldest months. RVers have the advantage in that they can not only escape the cold but also travel and see new sights in the process. Popular snowbird locations include Arizona, California, and Florida, and here's a list of the 25 most affordable snowbirding locations.
4. Go Ice Fishing
Are you camping near a lake or stream? Try your hand at ice fishing. All you need is a standard fishing pole, bait, a way to cut a hole in the ice, and patience to wait for one of them to bite. If ice fishing is common in the area, you are bound to find kindred souls who will teach you the ropes.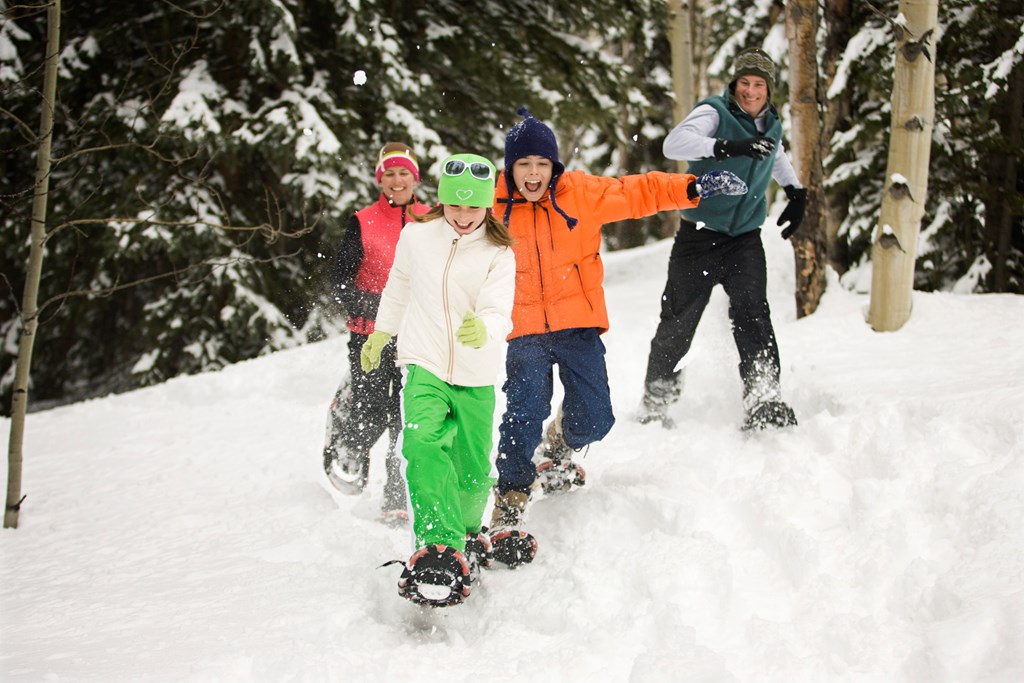 5. Go Snowshoeing or Cross-Country Skiing
Snowshoeing and cross-country skiing are easy to learn and fun for all ages. Whether you own your equipment or need to rent some, consider undertaking at least one of these on your next winter RV trip. Even better, they both burn up a lot of calories, so you can reward yourself afterward with something deliciously indulgent without having to worry as much about adding pounds.
6. Go Ice Skating on a Frozen Pond
In many areas of the U.S. and Canada, skating on frozen ponds and lakes is a highlight of nearly every winter season. If you are lucky enough to be RVing in one of those areas, give it a whirl! Remember that in old movies, most ice skating took place on frozen ponds and lakes instead of indoor rinks.
7. Try Journaling
Psychologists say that journaling can help reduce stress, boost health and well-being, chase away negative thoughts, help process emotions, deepen self-discovery, and even more. There's no better time to start journaling than during the peace and contemplation of an RV trip, particularly in winter.
8. Learn New Hobbies
The winter evenings are perfect for knitting, crocheting, and embroidery. Pack supplies and an instruction book and dive in. YouTube also offers helpful instructional videos.
9. Live It Up with the Locals
There will be many local activities near your camp regardless of where you go. Winter festivals, parades, and markets are prevalent. Do a little research on the web or stop by the area visitor's center for some recommendations.
10. Make S'mores Over the Campfire
Did your family make s'mores as a child? We're talking about roasted marshmallows and slabs of chocolate bar sandwiched between two graham crackers. If you haven't made these in a while, it's time to relive a favorite childhood pastime.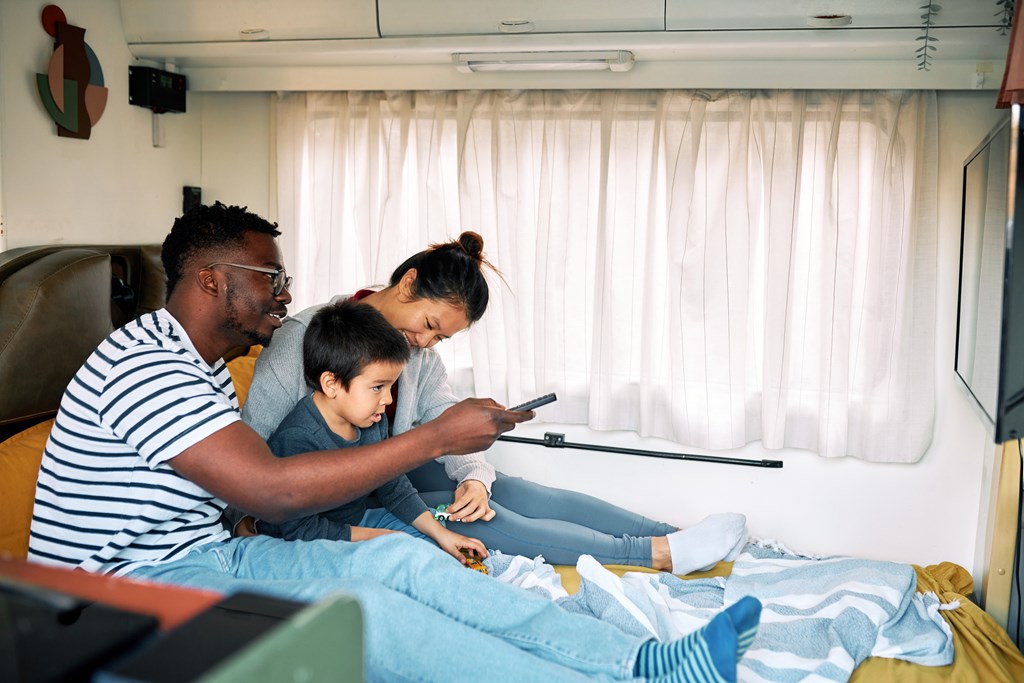 11. Have a Movie Night
Pop some popcorn and sit down for a movie marathon. Watch at least two movies back-to-back with a short intermission – just like the old-fashioned drive-in movie theaters.
12. Play Card and Board Games
At night when it's darkest and coldest, enjoy the warmth inside your RV and play card and board games with your family or neighbors camping nearby.
13. Read a Book
That's right, put the screens aside and read a book. If you are not into novels, consider a book of short stories or a non-fiction bestseller. In addition to the benefit you can get from what you read, scientists say that reading makes us more intelligent and more empathetic – and we can all agree that having as much of both as possible is a good thing.
14. Ride Snowmobiles
If you enjoy driving ATVs or riding motorcycles, you're bound to enjoy the wintertime alternative of snowmobiling. You'll find guided snowmobile tours in many areas of the country that often get lots of snow. Some vendors also rent snowmobiles for individual use.
15. Enjoy Snowy Fun without Special Equipment
Winter weather, particularly snowy weather, provides lots of opportunities for fun with no special equipment. Building a snowman, constructing a snow fort, making snow angels, and having a snowball fight are all likely to bring back many fond childhood memories.
16. Tailgate
RVs make an excellent base for football tailgating – wherever you might be. If not near your favorite college or NFL team, find another a local team, set up in the tailgate area, cook some burgers, pour a few drinks and make new friends.
17. Take in the Stars
Winter skies are often very clear and offer some of the best stargazing opportunities. Pick out the constellations, Milky Way, and the planets, or just gaze in wonder at the sheer beauty of our universe.
18. Try Sketching or Painting
Spend an afternoon sketching or painting images of what you can see – snowscapes, wildlife, and more – to create memories that will last long after your trip ends.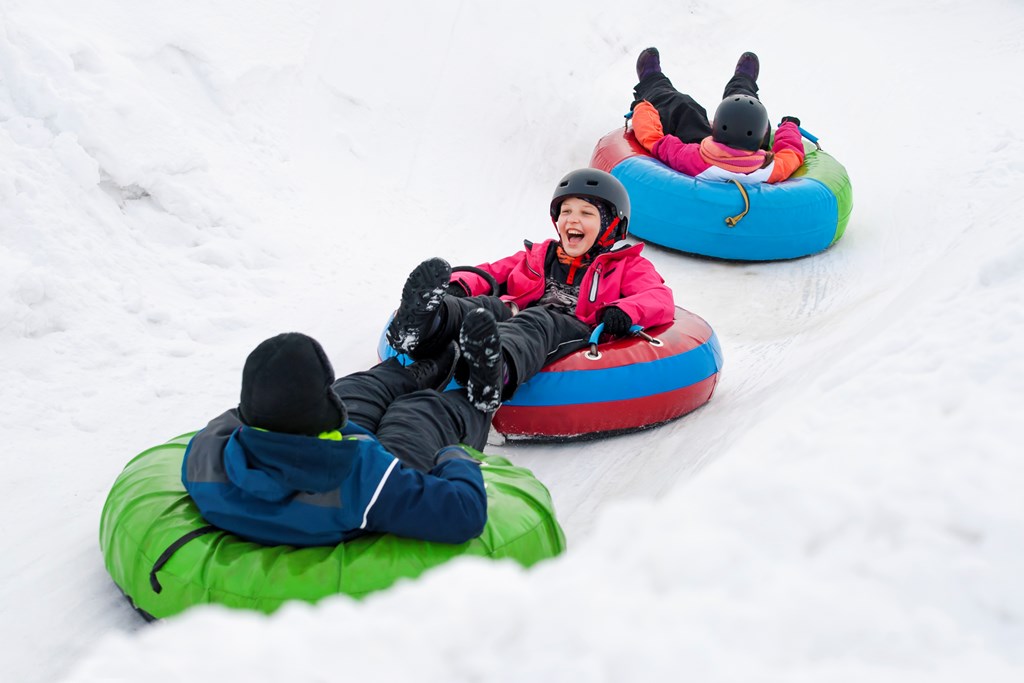 19. Go Tubing and Sledding
Flying down a hill on an inner tube or makeshift sled brings out the child in all of us. But before you start, ensure that there aren't any obstacles in the way, such as trees and rocks. Hitting something like that at top speed can lead to serious injury.
20. Watch the Animals
If you've never spent time just observing the outdoors in winter, give it a try. Some animals are rarely seen except in winter, and others act differently in the colder months. Look for paw prints and hoof impressions left in the mud and snow. Bird watching is also more accessible thanks to leafless trees.
21. Enjoy Winter Hiking
Winter hiking revitalizes the body and the soul after so much time spent inside in artificially heated air. The air is clear and crisp, fewer people are on the trails, and you can burn up to twice as many calories as warm-weather hiking.
Looking for A Winter RV Spot? Here Are Some of the Top Places to RV in the Winter
Here are some of our favorite places to take an RV in the winter for the ultimate cold-weather camping experience.
Wasatch Mountain State Park, Utah
If you've got your heart set on an iconic wintery camping experience, look no further than Wasatch Mountain State Park, Utah. Here you can enjoy snowshoeing, cross-country skiing, animal sighting, and so much more.
KOAs nearby:
Springville / Provo KOA Holiday
Salt Lake City KOA Holiday

Bar Harbor, Maine
While this place is beautiful in the summer, it has a different kind of beauty in the winter. The beaches here that are filled with swimmers in the summer become more quiet and still when they are dusted with snow. The nearby Acadia National Park has great trails to explore in the winter, too.
KOAs nearby:
Bar Harbor/Oceanside KOA Holiday (closed for the season in October)
Bucksport/Fort Knox KOA Holiday  (closed for the season in October)
Boyne Falls, Michigan
If you're a skiier, then you'll want to take your RV here this winter to enjoy the Boyne Mountain ski resort. Along with those stellar slopes, there are plenty of other fun winter activities to enjoy here from the comfort of your RV.
KOAs nearby:
Gaylord KOA Holiday (closed for the season in October)
Rockaway Beach, Oregon
Oregon is known for its great beaches that don't see the crowds that California beaches do, even in the summer. So, just imagine the peacefulness of these beaches in the winter. The views will blow your mind, and you'll find a whole new appreciation for the beach.
KOAs nearby:
Astoria / Warrenton / Seaside KOA Resort
Bay Center / Willapa Bay KOA Journey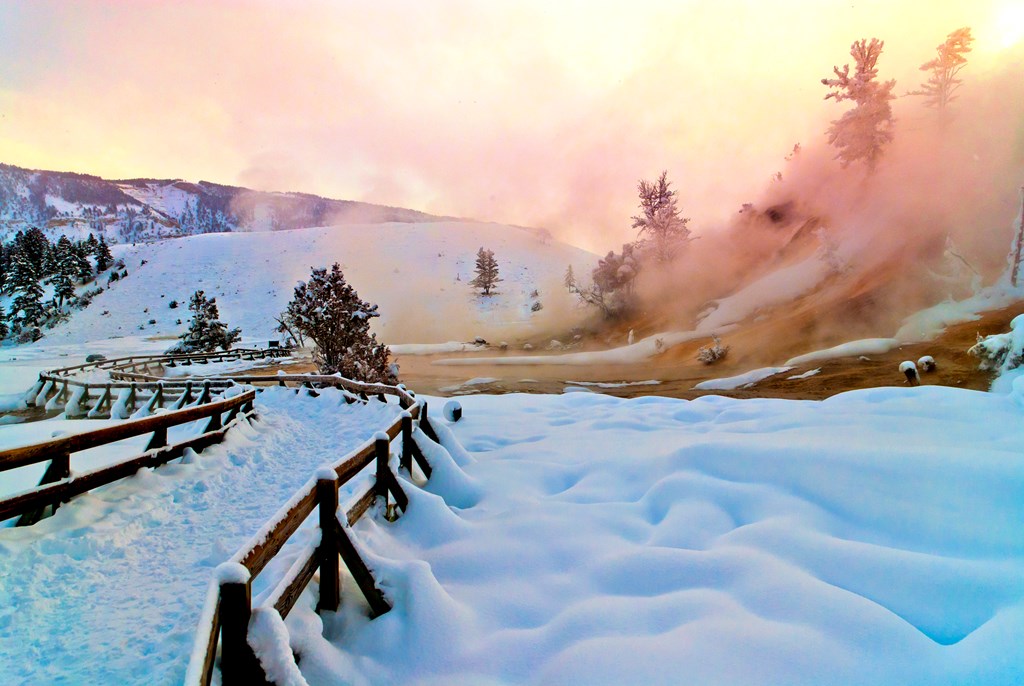 Yellowstone National Park, Montana
The first national park in the United States is beautiful to visit anytime of the year, but you'll experience far fewer crowds in the winter. Not only that, but you'll get to see the park through a whole new lens. Imagine the geysers erupting with snow behind them and the contrast of the white snow and the turquoise spring waters. See nature at its finest at Yellowstone National Park in the winter.
KOAs nearby:
Livingston / Paradise Valley KOA Holiday (closed for the season in October)
Red Lodge KOA Journey (closed for the season in October)
Cody KOA Holiday (closed for the season in October)
Dubois / White River KOA Holiday (closed for the season in September)
Yellowstone Park / Mountainside KOA Journey (closed for the season in October)
Yellowstone Park / West Gate KOA (closed for the season in October)
Bryce Canyon National Park, Utah
Chances are good you've been to this park in the summer, but the winter provides an entirely different experience. Those red rocks with white snow dusted on them will blow your mind. Enjoy new hiking adventures at Bryce Canyon National Park in the winter with stunning pink skies to light the way.
KOAs nearby:
Beaver KOA Journey
St. George / Hurricane KOA Journey
---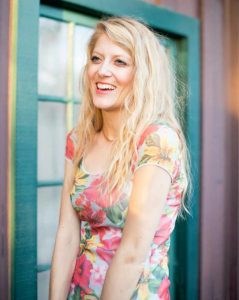 Leslie is a freelance travel and health/wellness writer who gets butterflies from telling stories and sharing information with readers across the globe. Her voice comes from a place filled with passion and dreams.
With over 10 years of experience in crafting words and years of embarking on travels that have taken this Montana girl to some incredible places, Leslie loves the adventures of both body and mind her writing takes her on.
To see what Leslie's up to in the writing and design world, visit her website here.