It's tough to improve on a classic and nothing says camping quite like the gooey sweetness of s'mores. They're a satisfying dessert, comfort food, and idyllic childhood memory all rolled into one.
But new culinary tools, techniques, and out-of-the-box flavors can take this tried and true campfire recipe and kick it up a notch. Check out these tips for upping your s'mores game on your next camping trip.
1. Switch Out Your Cooking Gear
Roasting forks always deliver a nicely charred marshmallow, but consider expanding your dessert horizons with some new gadgets for your camp kitchen. A flameless electric s'mores maker is an all-weather option that let's your younger campers roll their sleeves up and do the cooking themselves. Sterno-powered versions are good options when your campsite doesn't have an electric hook-up.
For a quick, indoor sugar pick-me-up, a microwave s'mores maker uses water to evenly melt your chocolate and marshmallow. Around the campfire, try hands-free toasting by lining up three or four treats and laying them on the grill in a two-sided wire mesh s'mores basket. Toast one side, then just flip and finish for a low-maintenance dessert. For camping gourmets, a kitchen torch can be a fun tool for looking the part and browning your camping crew's marshmallows to perfection.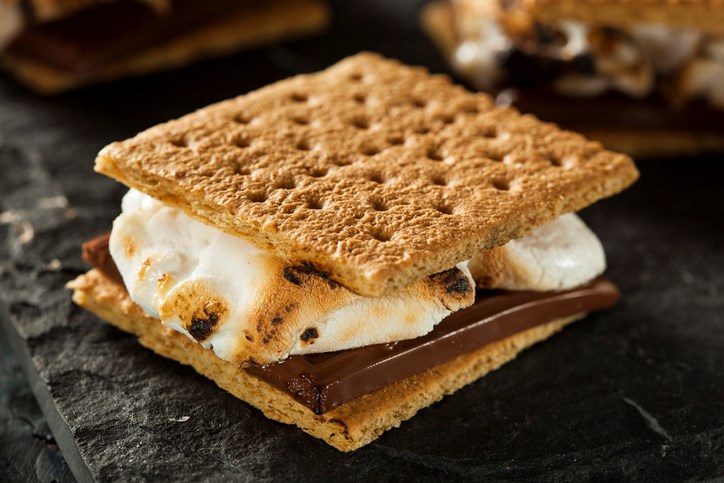 2. Try Some New Techniques
Try these hacks to add variety to your s'mores experience. Layer your ingredients in a Dutch oven and warm them slowly over hot embers for that crusty, roasted goodness that only cast iron cooking can deliver. If bad weather has you confined to the RV kitchen, toast your dessert under the broiler. Another alternative when you're stuck indoors – assemble your ingredients, minus the chocolate, then dip half of each s'mores sandwich in a stovetop mixture of melted chocolate and shortening. Let them cool and set in the frig for about 30 minutes before digging in.
Win over the kids with a portable and make-ahead variation, s'mores on a stick. Insert a stick into the filling of your melty graham cracker sandwich and let it set in the frig, or start with a Granny Smith apple, insert a stick through the core, and immerse the apple in melted marshmallow. Allow the marshmallow to set, then dip the bottom half of the apple in melted chocolate and roll in graham cracker crumbs. Let the apples cool, then watch them fly off the plate.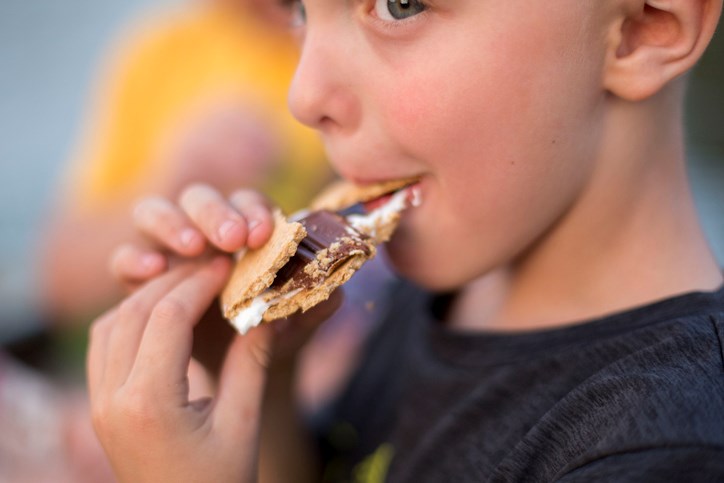 3. Feed a Crowd
Who says s'mores have to be single-serving? Fix s'mores bars or set up a s'mores buffet to let everyone create their own unique dessert. Mix marshmallow cream and chocolate chips into muffin mix for crowd-pleasing s'mores muffins, or fill a pie crust with heavy cream and melted chocolate chips, set, and top with marshmallows cut in half for a decorative s'mores pie. Use that kitchen torch to roast the marshmallow topping to a golden brown.
4. Master the Marshmallow
While there are loads of sweet alternatives to classic s'mores ingredients, making your own flavored marshmallows adds unexpected flavors and just might earn you best baker bragging rights. Replace the vanilla in this recipe with flavored extracts like peppermint, almond, pistachio, mint, pumpkin spice, and more. Add juice and zest from lemons, limes, or blood oranges for bright, citrusy marshmallows. Spice up your adults-only s'mores with creme de menthe, Bailey's, Chambord, or cinnamon schnapps. A few drops of food coloring adds to the fun and helps your campers find their favorite flavors.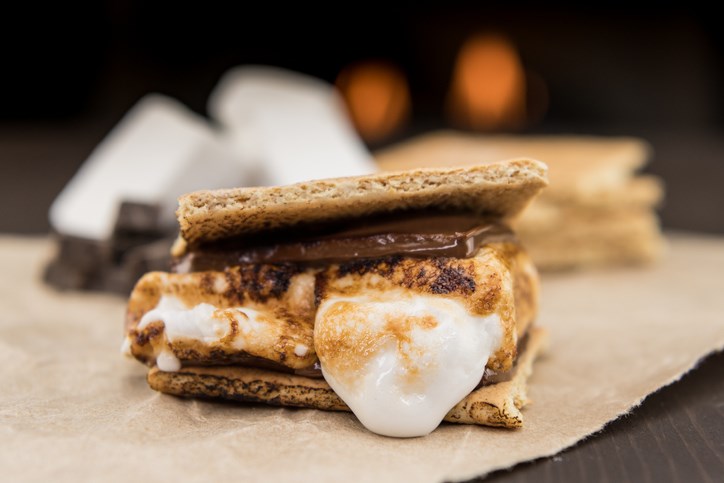 How to Make Homemade Marshmallows
Makes 64 medium marshmallows
Ingredients
Vegetable oil
1 cup confectioners sugar
3 ¼ cup of powdered unflavored gelatin
1 ½ cup granulated sugar
1 cup light corn syrup
¼ tsp salt
2 tsp pure vanilla extract
Directions
Brush a 9 inch square baking pan with oil and dust generously with confectioners sugar.
Fill bowl with ½ cup water, add gelatin packets, and stir briefly to moisten all of the powder.
Combine granulated sugar, corn syrup, salt, and ½ C water in a heavy saucepan.Bring to a boil over moderate heat, stirring until sugar is dissolved.
Continue boiling without stirring, turning heat down if mixture foams up, until inserted candy thermometer reads 240 degrees (soft-ball stage).
Remove pan from heat and let rest to reduce bubbles slightly.
Pour hot sugar into dissolved gelatin in a thin stream down the inside of the bowl while mixing the ingredients on low speed. Increase mixer speed to high and beat until mixture forms thick ribbons, about 5 minutes. Add vanilla or other flavorings and beat until well blended.
Pour marshmallow mixture into pan and spread evenly with wet fingertips. Let stand, uncovered, at room temperature 4 hours or overnight.
Dust cutting board with confectioners sugar, turn marshmallow onto board, and cut with a thin knife coated with vegetable oil and dusted with confectioners sugar. Coat marshmallows lightly in confectioners sugar and store in an airtight container up to a month.
---
If travel and food writer Ann Gibson isn't hiking, backpacking, paddling, biking, running, or skiing, she's most likely in her RV, writing about the sports she loves and the best destinations to enjoy the outdoors. She splits her time between home base in the Carolinas and the life of a digital nomad, traveling, writing, visiting, and volunteering in America's parks with her husband and two Aussies.
---