I love the idea of s'mores. But I hate how the graham cracker always breaks mid-assembly and lands on the ground. I also hate how entirely dependent on my husband I have been, to get the fire going. Recently, I found Greenlight Firebag in our KOA general store — a fire-starter so easy that even this yuppie girl can do it! Now, with this do-ahead bar recipe and my ability to roast my own marshmallows, I'm thinking a girls' camping trip is in my future.
Ingredients:
2 cups graham cracker crumbs
½ cup melted butter or margarine
1 can fat-free sweetened condensed milk (12 oz)
1 bag of chocolate chips (12oz)
1 bag of marshmallows
Roasting sticks
Directions:
If you have an oven in your RV you can easily assemble these ingredients onsite. If you don't have access to an oven, bake these easy bars ahead of time in a disposable aluminum 13×9 tin pan.
Melt ½ cup butter or margarine and combine in a bowl with graham cracker crumbs.
Spray bottom of baking pan with cooking spray to ensure easy release before spreading the crumb mixture on bottom of pan.
Pre-heat oven to 350 degrees. Evenly drizzle entire can of condensed milk on top of crumb and refrigerate for 10 minutes.
Evenly distribute chocolate chips on top of chilled condensed milk and bake for 25-30 minutes.
Let cool and cover with foil for packing. Once at your campsite, roast marshmallows on roasting sticks over open flame. Top on bars
---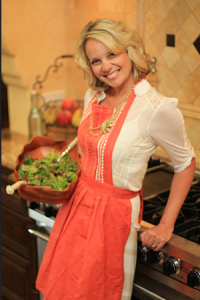 The Farmers Market Foodie didn't always camp. In fact, prior to meeting her KOA Campground owner husband "Hubs" the only kind of stars she'd slept under were the "5-Star" variety. Luckily for her, Hubs was an expert camper and he wisely made her early experiences easy, filled with plenty of wine and tasty camp side food. Now, with the two kids in tow, they camp with their RV almost exclusively during vacations. Planning and executing easy and healthy campfire food has become one of her specialties.
One of her favorite mottos is "Less is More", which applies to her camp-cooking style, but not as much to her preference for large RV's and Deluxe Cabins. Whether it's a Safari Tent, cabin or fancy RV, the Foodie has tried and tested many recipes on Hubs, the kids and their camp mates. Check out The Farmers Market Foodie blog HERE.
---