Bachelorette Glamping Guide
Your bestie has finally said "yes" to her perfect match, and now you are in charge of planning the ultimate bachelorette party. Whether you are working with a large bridal party or just a few of her closest friends, the most important detail at the moment is creating an experience that reflects the bride-to-be's personality and interests. This means if she is the type of girl who would love a day of hiking with spectacular views, then her bachelorette party should reflect that.
What better way to celebrate this monumental milestone than with a glamping getaway for the girls? With lush canopies, Instagram-worthy backdrops and the same comforts of home life, like cozy beds and hot water, glamping is the quintessential bachelorette weekend experience.
Kampgrounds of America will show you how to throw a glamping bachelorette party that no one will forget!
What Is Glamping?
By definition, glamping is outdoor camping with access to amenities that are not typically used or available in traditional camping. In short, it means "glamorous camping."
Luxurious campsites come in all kinds of shapes and sizes. From chic safari tents to elaborate cabins with kitchenettes, there are many ways to camp in style. Here are just a few types of glamping sites:
Unlike regular tent camping, glamping comes with access to amenities that provide the comforts of home while still allowing you to enjoy the great outdoors. This makes glamping a great introduction to new campers and people who don't want to completely disconnect from modern life.
Glamping has become a huge trend for those seeking a lavish but affordable vacation. It has also encouraged many beginner campers to let go of their inhibitions and embrace the outdoors.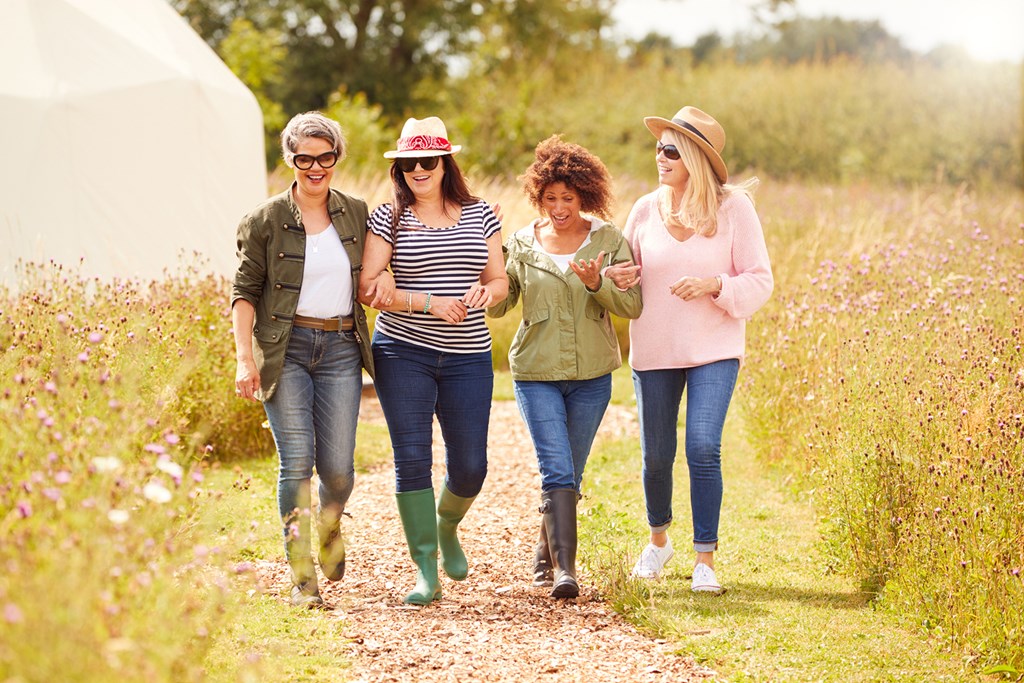 Why Go Glamping for a Bachelorette Party?
Bachelorette parties are a long-standing tradition. In past decades, the evening of debauchery was a highlight of the wedding planning process. However, the tradition has slowly transformed into something more in recent years. Bridal parties have expanded the ritual into a days-long event for the sake of sisterhood and a chance for a mini vacation. That is where glamping comes in.
Camping for a bachelorette party is not just a weekend in the wilderness warding off mosquitos. Glamping is a unique, high-end form of camping that even celebrities cannot get enough of. Here is why you should seriously consider spending a relaxing bachelorette weekend outdoors.
1. You Are Guaranteed Quality Time
Traveling to a busy city requires a detailed itinerary with non-stop activities. There is always another hot spot or tourist destination to see, and the constant movement makes it difficult for everyone to make meaningful connections. The noise and high energy can also be over-stimulating, causing more stress. Glamping, however, lets you slow down, enjoy the scenery and spend quality time with everyone in the bridal party.
2. Connecting With Nature Is Relaxing
You can have a fun-filled day of laughter and adventure and yet still find yourself at ease. Being in nature is relaxing and can make you feel more connected to yourself, each other and the world around you.
3. It Is Chic, Trendy and Affordable
If you look at the cost of a three-star hotel room vs. a weekend in a fabulous decked-out safari tent, glamping is the obvious winner. Many campgrounds offer a variety of sites that range from modest to fabulous, depending on your budget and tastes. You and the girls can make this bachelorette getaway as lavish as you want for a fraction of the price.
4. There Is Always Something to Do
You and the bride will never be bored when glamping. If you are not in the mood to relax fireside, most campgrounds offer activities that can keep you on your feet. Many campgrounds have pools, lakes, hiking trails, paddleboards, boats and tons of other activities that can keep you busy. The opportunities are endless.
5. It Is Cozy and Comfortable
Glamping tents and cabins are specially made with you in mind. They have the comforts of home, plus a little extra to make the experience special and one-of-a-kind.
6. You Get the Best of Both Worlds
Just because you are camping does not mean you have to rough it. You can experience all the beauty of the outdoors without feeling like you are in survival mode. You can relax with the sounds of crickets and rustling trees without sleeping on the ground or not having hot water.
7. The Ultimate Photo Op
How many photos do you have of breathtaking views? Glamping puts you right in the middle of the most beautiful places in the world, making every photo a memory that will last forever.
8. Relaxation for the Bride and Bridal Party
If there is one stigma around weddings that has proved to be true time and again, it is that planning the actual event is stressful. Every detail is scrutinized, no one can be left off the guest list and the to-do list never stops expanding. Your bride is already stressed out to the max, and she deserves a break from the chaos. Skip the over-planned weekend and throw her a bachelorette vacation that will renew her spirits.
The best part about glamping is that it does not matter if the girls are not huge campers. Glamping is the perfect mix of comfort and adventure, so everyone in the bridal party will feel comfortable.
Is Glamping Right for Your Bachelorette Party?
The Hollywood version of a bachelorette party is not for everyone, especially for bachelorettes who would rather go ziplining and cozy up to a crackling fire than dance the night away on a crowded dance floor.
If you are the maid of honor, a best friend of the bride or the future Mrs. herself, you may be worried about planning a weekend that meets everyone's expectations. The last thing you want is for the group to be unhappy, or for the bride to feel out of place. Here are a few things to consider before reserving a site.
The Bride's Glamping Style
One of the best things about glamping is the variety of sites and activities to choose from. The level of glamping you decide on will depend entirely on the bride.
Some campgrounds offer an all-inclusive glamping experience, with on-site food options, completely furnished cabins, and access to Wi-Fi. It is less like traditional camping, and more like staying in a hotel room that happens to be outside.
If this is a bachelorette weekend for camping-lovers, then you can easily make the most out of the bare minimum. Experienced campers do not need much to enjoy themselves and prefer to be completely immersed in nature.
You should also consider how much the bridesmaids are willing to disconnect from technology. If the bride or her friends do not want to go completely off the grid or want to post pictures of every moment, your lodging arrangements will have to meet them at their comfort level.
Group Activities
Is the bride an adrenaline junkie who would love to go rock climbing, hiking, water skiing or ziplining? Or does she prefer to lay out by the water and read in a hammock?
Many bridal parties are willing to step out of their comfort zones to make the bride happy. If the other bridesmaids are up for anything, then planning an action-packed weekend for your adventurous bride will come down to budgeting. If the girls agree to a relaxing camping trip, then you can get the party going with fun games and themed dinners.
With everyone in the bridal party in attendance, the size of the group will be the biggest factor in deciding whether or not to go glamping. Larger groups will require reservations weeks in advance, whereas smaller parties can have more flexibility. All of these things should be considered in the planning process.
Experience
Glamping is a great mix of modern and rustic living, but it is not for everyone. No matter what site you choose or how carefully you plan, some bridesmaids may not be comfortable spending a few days in the wilderness. Especially if your girls have not gone camping until now, their inexperience may deter them from embracing the idea.
If this is the case for your bridesmaids, you can always ease their worries with a list of amenities offered at campgrounds and glamping weekend activities to keep them busy.
In the end, this weekend is about making the bride feel special and celebrating your friendships. Since every bridesmaid knows the assignment, they will usually follow suit with a good attitude and open mind.
How to Plan a Glamping Bachelorette Party
Planning a glamping bachelorette party is not the same as planning a regular camping trip. While you do not have to pack your schedule with activities, you do want to make the weekend a special and memorable vacation. These camping bachelorette party ideas will help you master the art of glamping.
1. Choose Your Campground
Choosing your campground is the trickiest part of planning a bachelorette weekend getaway.
You have to consider the size of your group, sleeping arrangements, check-in times, budget other factors that will ultimately set the weekend up for success.
KOA has plenty of budget-friendly options to help you find a campground that has everything you need, plus a little extra. With over 500 locations across North America, our glamping guide will help you find the right campsite, whether it is a Camping Cabin or one of our unique lodging experiences.
Since a bachelorette weekend for camping and adventure requires endless fun and charm, here are a few other things to remember when reserving a site:
Check-in: Some campgrounds are more flexible than others. If you are traveling from a few hours away, you should let your campground know in case there are unexpected detours or car trouble. You should plan to leave home early enough to get to the campground at the scheduled time so you can get settled in quickly.
Check-out: It is hard to leave when you are having such a great time. When your trip is coming to an end, though, remember to plan enough downtime to neatly pack everything away and check out on schedule. This will save you from the morning rush of eating breakfast while trying to clean up.
Quiet hours: Every campground is different, so remember to ask about quiet hours before settling on a site. Since this is a bachelorette party, using your outside voices should not be a problem in the great outdoors. However, some campgrounds might ask you to quiet down before you are ready. Look for a campground that has a lenient noise policy, or at least a site that is further away from other campers.
2. Prepare a Menu
Do not forget to plan your meals. Even though many campgrounds have a convenience store or food service on-site, you should prepare a menu for the weekend. Here are a few tips to keep in mind:
Breakfast: Do not forget the coffee! Not everyone is a morning person, so be ready with a hot pot of coffee in the morning. If you do not want to rely on instant coffee, you can use a French press, single-serving pour-overs or a Moka Pot. If you want to skip the cereal one morning, there are plenty of camping breakfast recipes, like pancakes and breakfast sandwiches, to make instead.
S'mores and desserts: You cannot have a camping trip without s'mores! You can use extra ingredients, like strawberries or chocolate-covered caramels for fun alternatives, or you can try your hand at making other mouth-watering desserts.
Glass containers: Some campgrounds may not allow glass containers on their sites. Make sure to check your campground's policy before you go shopping for your weekend away.
Get creative: As much as you might love a fire-roasted hot dog and corn on the cob, there are so many other delicious and easy camping recipes you can make. You can whip up everything from crab cakes and soup to roasted potatoes, steak and other unforgettable meals.
3. Prepare an Itinerary
You do not need to have every minute planned, but scheduling a few activities will definitely add to the glamping experience:
Setting up: A glamping bachelorette party requires decorations. Make sure a few bridesmaids get to the site early to deck it out for the bride. You can use twinkle lights, paper lanterns and banners to transform a regular campsite into a bridal wonderland.
Plan one big event: Even though camping is an event in itself, plan one big group event to mark the occasion. Depending on the campground and surrounding area, you can go ziplining, mini golfing or tubing down a river. The possibilities are endless!
Plan for downtime: Your day-to-day life is already planned by the second. From the moment your alarm clock goes off, every second of the day is dedicated to work, commuting and keeping up with chores. Not to mention wedding planning for the bride! This is your time to take a break from the everyday hustle and bustle and relax with your friends. Read a book, go on a walk, meditate — anything that relieves stress and brings you back to the present.
Make time to clean: It does not matter how crazy the party gets. Proper camping etiquette dictates that you must leave your campsite better than you found it. That means any decorations, food scraps, litter and all traces of your group need to be cleaned up before you make your exit.
4. Bachelorette Party Games
Does the bride-to-be enjoy party games? Glamping is the perfect atmosphere to get your game on. Whether you want to go for traditional board games or a custom-made scavenger hunt, a little bit of friendly competition can add tons of fun to your glamping experience. Here are a few ideas to spark inspiration:
Games by the fire: A crackling campfire provides the perfect ambiance for tons of fun games. Anything from never have I ever and truth or dare to 20 questions and even story telling will work. The goal is to get everyone bonding and laughing.
Board games: Does the bride-to-be love board games? Since there are many board game options, be sure to consider how many people will be playing to choose the best ones. You may want to split people into teams if necessary — which can also make the competition even more fun.
Scavenger hunts: Scavenger hunts can create an unforgettable adventure. Have one or two bridesmaids hide fun little treasures to find around the campsite, or put together something that takes everyone to a nearby attraction to capture photos and complete silly tasks. Once everyone has finished, heading back to camp to look over what everyone has collected is sure to garner many laughs.
The point of party games is to get everyone to relax, be in the moment and open the conversation. The time you spend laughing together and bonding will be cherished memories that will last a lifetime.
5. Don't Forget the Party Favors
While they are not a requirement, party favors are a great keepsake for this memorable weekend. They don't have to be extravagant, but the best glamping bachelorette ideas for party favors are the ones that are personalized to your group.
If you are not a fan of matching t-shirts, you still have your pick of trinkets and memorabilia that can mark this glamorous occasion.
Some camping-themed swag options might include:
Water bottles or coffee mugs
Cozy sweatshirts
Sunglasses
Pins and stickers
Beanies or baseball caps
Scrunchies
Party favors are a special thank-you to everyone for being there for the bride and taking time out of their schedules to take this adventure.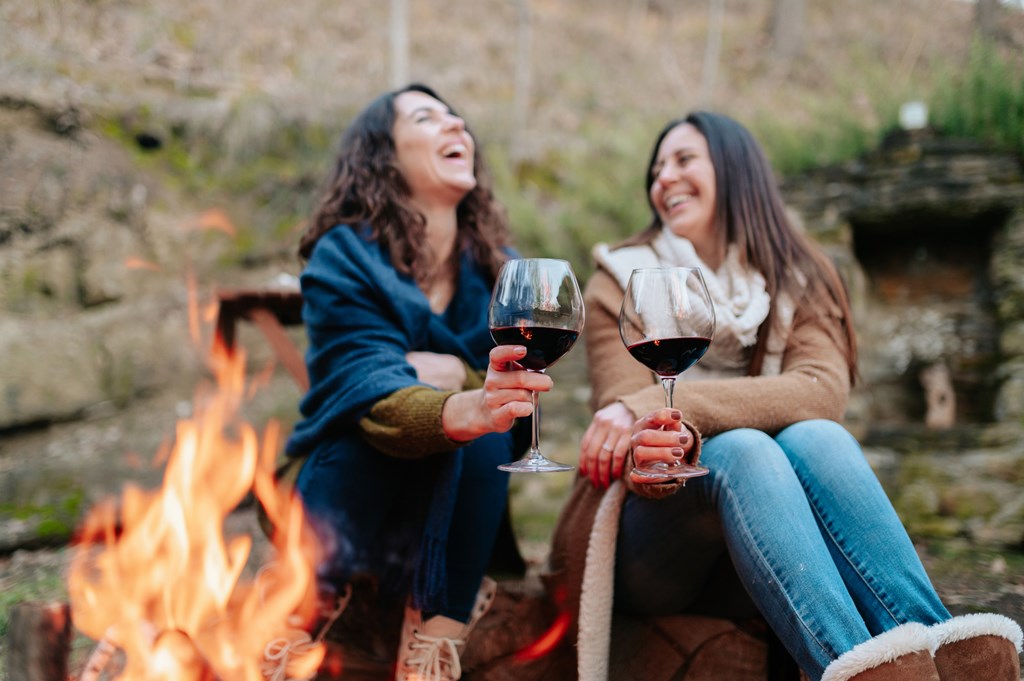 Celebrate the Moments that Matter Most at KOA
Marrying your true love is a once-in-a-lifetime event that should be celebrated at every chance — but it is the people who are by your side that make events like weddings and bachelorette parties that much more special.
KOA Campgrounds are the perfect location for your nature-loving bride's bachelorette weekend. With luxurious Premium Tent Sites, Deluxe Cabins and other unique lodging arrangements to choose from, KOA gives you the best places for bachelorette glamping at affordable rates.
Your bridal party and bride-to-be will be instantly transported to a beautiful oasis that has nearly every comfort of home. Every KOA campsite gives you access to hot water, laundry facilities, clean bathrooms and the KOA Store for last-minute items, so you never have to worry about the small details.
Explore the KOA Campgrounds near your location and book your fabulous glamping weekend today.
---
About the Author: Kampgrounds of America
Kampgrounds of America is the largest system of open-to-the-public campgrounds in the world, with over 500 locations across the United States and Canada. Founded in Billings, MT in 1962, KOA's family of campground brands – KOA Journey, KOA Holiday and KOA Resort – today serve more than a million camping families each year. KOA is dedicated to "connecting people to the outdoors and each other" by providing people with a variety of camping experiences and the information they need to make the most of their camping trip. Read more of their camping and travel resources by visiting KOA.com/blog.
---