6 Campfire Breakfasts the Whole Family Will Love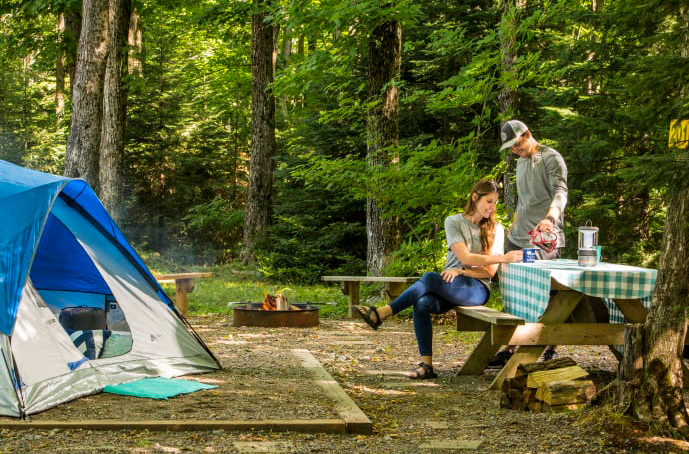 A lot of thought is often put into campfire meals. It's a big part of the fun—whether you're merely holding hot dogs over an open fire or feeding a crowd with a seafood boil. But breakfast? Too often, a bowl of oatmeal, a piece of fruit, or a granola bar is the easy way to start the day.
While these staples serve their purpose, why not go bigger in the morning? Campfire breakfasts can be easy, cheap, and delicious. They may not be the big productions of the evening meal, but if you can get up with the sun and have a warm breakfast waiting for your family, you're sure to be the hero.
With a little bit of planning and a few ingredients, you'll have everyone looking forward to the first meal of the day in the outdoors. Here are six suggestions to start the day off the right way on your next campout.
1. Pancakes
Truth be told, pancakes are the most popular go-to camp breakfast, especially for families with young kids. It's relatively easy to pack your favorite pancake mix, add water, and get to grilling. But there are some steps you can take to make things a little easier (and tastier) while cooking these classics in the outdoors.
Pre-measure your ingredients : Who wants to deal with measuring cups? Do the measuring at home and mark how much is in each bag. For the liquid, make a one-cup mark on your water bottle or regular camp mug to measure out the wet ingredients.
Ditch the bowl : You can mix the wet and dry ingredients in one container, which can also be used to distribute the mix. Specific products are designed for this (like the one from Whiskware), or you can use a large, multipurpose squeeze bottle. In that case, however, you usually need to cut off the nozzle to make a bigger opening to pour out the batter. Kids love squeezing the pancake batter on the griddle themselves.
Don't forget the extras : Pancakes with maple syrup are good. But add some bananas, blueberries, or strawberries, and they become great. Set up a little pancake bar and let everyone customize their plate with their favorites. Berries, canned fruit, pecans, and walnuts are excellent choices.
2. Breakfast Sandwiches
Once you see how easy these are, you'll kick yourself that you haven't done them before. You can use English muffins, rolls, biscuits, or even sandwich bread. Add ham or pre-cooked sausage patties, a slice of cheese, and any cooked veggies you enjoy, like onions, peppers, or asparagus.
Wrap them in tinfoil and let them warm on a griddle or warm them over a campfire (you just need to melt the cheese). Open and serve. If you want to add an egg, use an egg ring to form perfect circles on the griddle, then add it to the sandwich. One alternative to the egg ring is to cut slices of a bell pepper horizontally from its stem, creating circles. Put them on the griddle and fry the egg inside the circle. Then put the whole thing on the sandwich—delicious!
3. Dutch-Oven Egg Casserole
Cooking for a crowd? Take advantage of the Dutch oven's awesome power to quickly make a hearty breakfast casserole to get everyone's day started on the right foot. Start by browning sausage (0r bacon) in the Dutch oven, which can be hung over a fire or sat on charcoals. Remove when finished. Add diced onions and potatoes and saute in the remaining fat until softened. Add a dozen eggs (mixed thoroughly), salt, pepper, and shredded cheese. Put the lid on the Dutch oven and top it with some charcoal. Let it cook for about 20 to 25 minutes. Scoop it out to your happy campers.
4. Cast-Iron Fritatta
While campfire cookware tends to be light and compact, it's often worth bringing a cast-iron skillet on the trip if you're car-camping or in an RV. You can't beat it for searing, sauteing, and warming up anything over the fire. It gives you many new options for each meal, but for breakfast, give the cast-iron frittata a try.
Place the cast-iron skillet on a grill grate over charcoal (or you can use a camp stove). Add some butter and saute onions, cherry tomatoes, peppers, asparagus—whatever sounds good to you. In a bowl, mix eight eggs, half a cup of milk, salt, and pepper. Raise the grill grate or move the pan further away to lower the heat. Add the egg mixture along with some shredded cheese and any herbs you have—basil works well. Cover the top with heavy-duty tinfoil and add a few bricks of charcoal to the top. Let it cook for about 15 minutes, checking it after about eight minutes. Getting the heat right can take a bit of practice, but the results are worth it.
5. Crepes
Most people think of crepes as fussy fare that require a special pan and specific skill set. But camping crepes are easy to do on a griddle—and you have a built-in excuse if they don't look perfect (don't worry, they'll still taste great).
Mix one cup of flour, three eggs, two and a half cups of milk, and a pinch of salt. Get your griddle nice and hot and add some butter. Pour the thin batter to form about 6-inch circles. They'll cook fast. Flip them over to cook the other side, which cooks even faster. Much like pancakes, crepes are all about the toppings. Nutella, berries, bananas, and peaches are favorites. Top it with a little drizzle of chocolate and everyone will be coming back for seconds. Or go savory and include leftovers from last night's dinner, grilled vegetables, and cheese. Either way is incredibly satisfying.
6. Breakfast Burritos
If you don't want to go to the trouble of making crepes, bring along tortillas and go with breakfast burritos. In fact, you can make these at home, wrap them in tinfoil, and warm them up over the fire or on a skillet in the morning.
Start with a cup of frozen hash browns and the same amount of diced ham. Saute for about 10 minutes, then add a dozen eggs that have been lightly whisked with one tablespoon of taco seasoning. Cook until they're set, then add cheese, green chilis, cilantro, and any other herbs or veggies. Warm the tortillas, add the egg mixture and form them into burritos (this makes about eight).
Wrap them in foil and put them in a zip-top bag. Refrigerate until ready to cook at your campsite. Or bring tortillas along with you and make them on the fly in the morning. Burritos are a great way to use up any leftovers from the night before.
Written by Jeff Banowetz for Matcha in partnership with Kampgrounds of America.
---