Alaska Camping Guide
With stunning views, pristine wildlife and one-of-a-kind cultural attractions, America's Last Frontier is one North American destination that should be on every outdoor lover's travel bucket list. As every camper knows, the best way to truly immerse yourself in any natural setting is on a camping trip. Learn more about Alaska, including when, where and how to camp, as well as what sights and experiences you should not miss while you are there.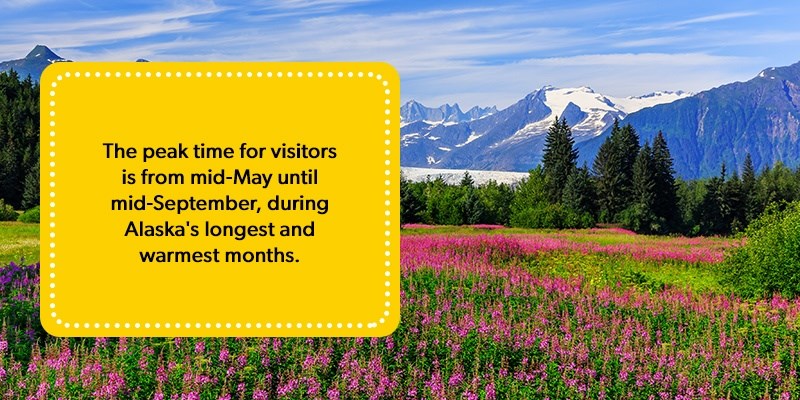 The Best Time to Camp in Alaska
The temperature, weather conditions and amount of daylight in Alaska differ depending on the season and specific region of the state you are in. The peak time for visitors is from mid-May until mid-September, during Alaska's longest and warmest months. No matter the month, though, each Alaskan season offers stunning views and exciting things to do:
Spring in Alaska: Spring in Alaska runs from late March through early June. Temperatures are brisk and refreshing, ranging from the 30s to the 60s. During the warmer parts of spring, small iced waterways begin to thaw, and plant life starts to bloom, while snow is still visible on mountain peaks.
Summer in Alaska:Summer in Alaska starts when spring ends in late June and lasts through the middle of September. Temperatures average in the 50s and 60s and large bodies of water, like lakes, begin to thaw. Alaska's state flower — the forget-me-not — is in full bloom during the later part of the season.
Autumn in Alaska: Late August through mid-October marks the short — but breathtaking — autumn season in Alaska. Autumn temperatures fall between the 40s and 50s. Some of the best spots for viewing fall foliage in Alaska are Denali State Park, Glenn Highway, Anchorage and Fairbanks.
Winter in Alaska: Alaska winter lasts from the end of October until spring weather peaks in mid-March. The severity of the temperatures varies depending on whether you are in the northern or southern part of the state. Southern temperatures average in the 20s. Winter solstice marks the shortest day of the year, and in Alaska, this means less than six hours of sunlight.
One thing all campers should be aware of if planning a trip to Alaska is that the state experiences six months of darkness and six months of sunlight. This means during half of the year, the sun does not come out for very long during the day. In the northernmost parts of the state, the sun might not come out at all. During the other six months of the year, the sun never completely sets, marking a period of near-constant light.
Ways to Camp in Alaska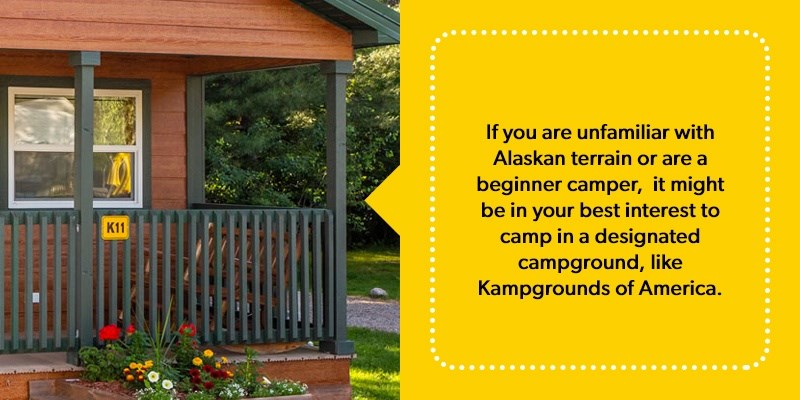 You can camp anywhere in Alaska. However, if you are unfamiliar with Alaskan terrain or are a beginner camper, it might be in your best interest to camp in a designated campground, like Kampgrounds of America, so you have access to helpful staff and hot water whenever needed. KOA also has on-site amenities to enhance your Alaskan adventure. While specific campground features vary, you might find a playground, dog park, coffee carts or on-site cafes, game rooms and more.
Some of the most common ways to camp in Alaska include:
Cabin: Alaska cabin rentals are an ideal option for winter camping trips, as they keep you fully sheltered, warm and cozy during cold temperatures and snowfall. KOA has rustic, log-cabin Camping Cabins and spacious, comfortable Deluxe Cabins. Camping Cabins sleep two to six guests and are fully connected to electricity. Deluxe Cabins sleep four to six guests and have electricity, as well as private bathrooms. Select Deluxe Cabins also have kitchenettes and other features.
Tent: Tent camping in Alaska is a wonderful way to connect with the great outdoors and experience nature on a more intimate level. Tent camping is perfect during the spring and summer months, as temperatures are not too cool and not too warm. Due to the often severe temperatures, tent camping is not ideal during the winter, unless you have experience with Alaskan winters and camping during snowy conditions. Every KOA Tent Site is flat, dry, clean and spacious enough for your tent and gear. Each site has a fire ring, picnic table and easy access to nearby restrooms with hot water.
RV: If you are interested in RV camping in Alaska, KOA offers full-hookup RV Sites with 30- and 50-amp service. All sites are level and either Pull-Thru or Back-In. If you plan to drive your rig to Alaska for an Alaskan RV trip, keep in mind that the only way to do so is by crossing the border into Canada, which requires a valid passport and customs clearance.
There are several essential items you need to bring on your Alaskan camping trip, including:
A jacket and clothes that are easy to layer
Insulated, rain-resistant clothes
A Bear Resistant Food Container (BRFC) if camping outdoors
A cold-weather rated sleeping bag and sleeping pad, even during summer trips
Lip balm, to avoid chapped winter lips
Waterproof boots and thick socks
A hat, gloves and winter coat if camping in winter
Insect repellant for mosquitos
A waterproof tent with an additional tarp and heavy-duty tent stakes if tent camping
Places to Go Camping in Alaska
No matter where you go, Alaska is an outdoor enthusiast's dream destination. These are some of the most popular places to camp in Alaska.
1. Denali National Park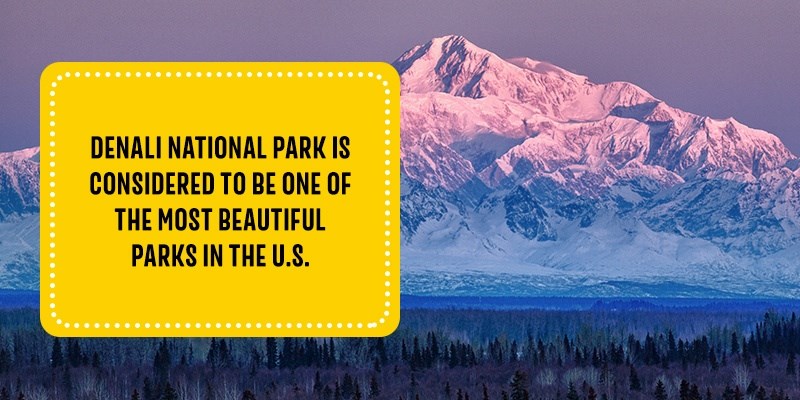 Denali National Park is considered to be one of the most beautiful parks in the U.S. It is home to Denali — formerly known as Mount McKinley — which is the highest mountain peak in North America. Denali stands at 20,310 feet tall. Unlike many other parks, Denali National Park does not close during the winter. Instead, rangers encourage snowshoeing or skiing or winter biking your way through the park for a unique experience. If you travel to Denali National Park, be sure to pay attention and listen to all posted signs, including wildlife warnings.
2. Homer
Homer is located along Kachemak Bay and is surrounded by mountains, volcanoes and several visible glaciers. As such, the town offers an abundance of outdoor recreation, including kayaking, canoeing, birding, sailing and hiking. Homer is also the halibut fishing capital of the world. The Homer Spit — named after the geographical landform — is the longest road that extends into ocean waters. In addition to its accessibility to nature, Homer boasts several restaurants, shops, museums and art galleries. Homer is also where the Alaska World Arts Festival is held annually.
3. Seward
Seward is the ultimate getaway destination for adrenaline-lovers and outdoor enthusiasts. Do something adventurous, like paddling, rafting, skiing, surfing, ziplining or horseback riding. For a more laid-back experience, try panning for gold, taking part in a yoga class or taking a flightseeing tour of the glaciers and mountains from a helicopter. You can also charter a boat for a day on the water, where you could see seals, otters or whales. Seward is also home to the Alaska Native Heritage Center, which showcases the history and culture of Alaska's native people.
4. Valdez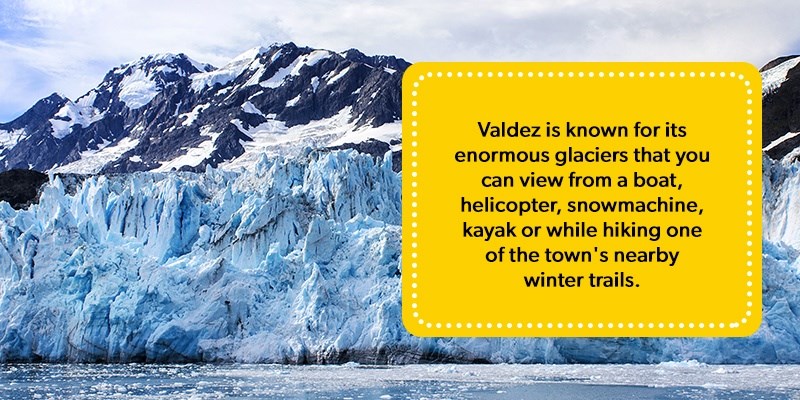 Valdez is known for its enormous glaciers that you can view from a boat, helicopter, snowmachine, kayak or while hiking one of the town's nearby winter trails. If you feel daring, you can try ice climbing or taking an ATV tour of the wildness. The town of Valdez has several restaurants, coffee shops and local events to keep you busy all day long, including Valdez Gold Rush Days. This event is an annual five-day celebration of the area's culture and history that raises money for local charities that support the town's future.
5. The Kenai Peninsula
The Kenai Peninsula — known as Alaska's playground — encompasses both Seward and Homer, as well as several other cities and parks. It is home to Kenai Fjords National Park, where visitors get a unique view of where glaciers meet the ocean, in an area speckled with wildflowers and forests. The Kenai National Wildlife Refuge is referred to as a miniature version of the state, as it houses 2,183 different species of animals, plants and fungi, including moose, bear, eagles and swans. It also contains portions of Alaska's many different regions, including mountain tundra, wetland and ice glaciers.
6. Chugach State Park and National Forest
Chugach State Park and National Forest are popular sightseeing destinations near Anchorage. The national forest is the same size as the entire state of New Hampshire and includes both the Kenai Peninsula and Prince William Sound. Chugach State Park is home to 45 species of mammals, including moose, Dall sheep and bear, making it the ideal spot for wildlife viewing. The state park has nine distinctive environments, ranging from coastal wetlands to alpine tundra and marine waters.
Alaska Sightseeing and Attractions
There is no shortage of things to do during your Alaska camping trip.
1. Dog Sledding
Dog sledding and mushing is arguably Alaska's favorite pastime. If you want to see what the excitement is about for yourself, plan for your camping trip to fall during the famous Iditarod Sled Dog Race, held on the first Saturday in March each year. You can also explore the 2,400-mile Idiotarod National Historic Trail, the only winter trail in the National Trail System. Several local mushers offer beginner-friendly mush lessons and training rides for those aching for a taste of the sledding action. Many sled dog kennels are also open for touring.
2. Glacier Viewing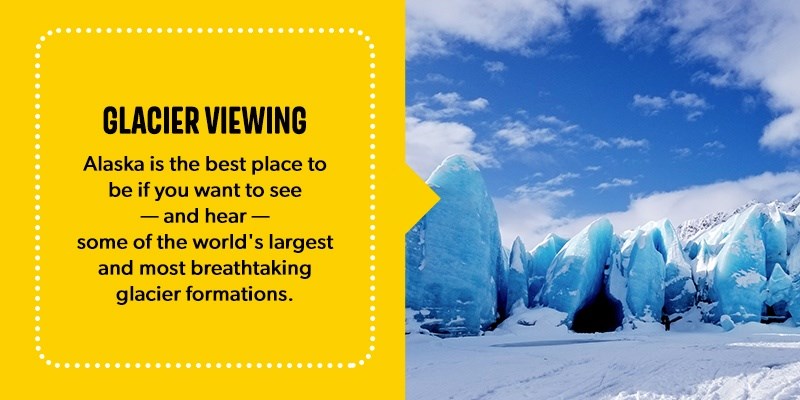 Alaska is the best place to be if you want to see — and hear — some of the world's largest and most breathtaking glacier formations. While some glaciers are accessible via hiking trail or roadside pull-off, others are best seen from a boat or flightseeing tour. For a more close-up experience, some local organizations offer guided glacier hiking tours or ice climbing lessons. Keep in mind that even in the summer, glacier viewing can be very cold. Wear layers and bring a heavy jacket or coat so you can stay comfortable throughout the experience. Three of Alaska's cannot-miss glaciers are Mendenhall Glacier near Juneau, Matanuska Glacier near Anchorage and Exit Glacier near Seward.
3. Visit a City
Sure, Alaska is an outdoor paradise — but that does not mean the cities are not equally spectacular. To experience a different side of The Last Frontier, make room in your camping itinerary to visit one of Alaska's urban centers. The two most popular urban destinations in the southern region of Alaska are Anchorage and Juneau:
Anchorage: Anchorage is a laid-back city with a wide variety of breweries and premier restaurants. The city also houses dozens of unique shops that sell local food, handmade goods, Alaska souvenirs, jewelry, clothes and much more. Anchorage is also a basecamp for many of Alaska's other top destinations, including the Chugach region, wildlife viewing, surfing, boating and five national parks.
Juneau: Juneau is the capital of Alaska. Here, you can take historic downtown walking tours, dine at some of the state's finest eateries, book a whale-watching tour or go salmon fishing. The city also has a booming arts and culture scene, including a symphony, museums and art galleries, live theaters and spoken word performances.
4. Alaska Fishing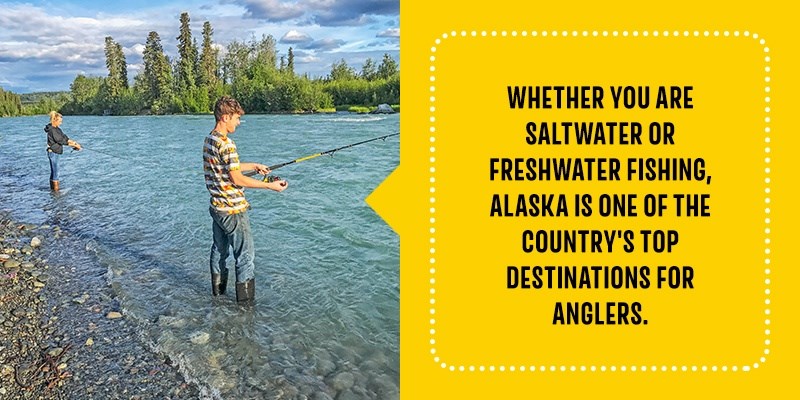 Whether you are saltwater or freshwater fishing, Alaska is one of the country's top destinations for anglers. Some popular fish species found in Alaska are:
Salmon
Pacific halibut
Smelt
Trout
Whitefish
Pollock
Mackerel
Pike
Blackfish
Char
For a successful Alaska fishing trip, follow these tips:
Make sure you have your fishing license: Purchasing a non-residential fishing license is easy, as they are found in most grocery stores or tourist centers throughout the state. You can even purchase a fishing license online.
Decide which type of fish you want to catch: The type of fish you want to catch will determine which gear and bait to use, where to go, the time of year you should visit and so much more. If you have never fished Alaskan waters before, consider going through a local charter company or fishing tour service so you can learn the techniques needed.
Know where to go: It has been said that the fish are always biting somewhere in Alaska, no matter the time of year. Homer offers some of the state's best saltwater fishing, while several rivers and lakes near the Gulf of Alaska are prime freshwater spots.
Follow all rules and regulations: Always follow statewide and local laws when sportfishing. Visit the Alaska Department for Fish and Game regarding specific regulations for the area you will be fishing in.
Bring the right gear: Always have your tackle, poles, fishing license, sunscreen and plenty of water while fishing. A map and compass also come in handy if you will be boating in remote waters or unfamiliar territory.
5. Snow Sports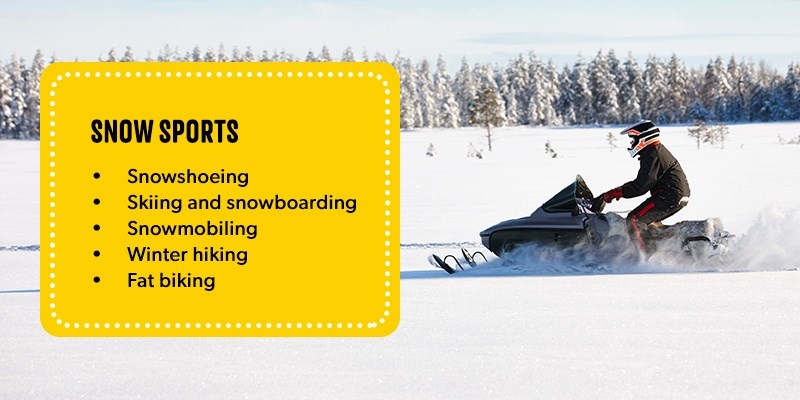 No winter visit to Alaska is complete without participating in a few snow sports:
Snowshoeing: If you are not familiar with snowshoeing, it is where you strap large, flat snowshoes to your snow boots to trek the snow more easily. There are many designated snowshoe trails across the state for both beginners and experienced travelers.
Skiing and snowboarding: Cross-country skiing, backcountry skiing, heli-skiing and snowboarding are all popular in Alaska due to the mountainous terrain and frequent snow.
Snowmobiling: Snowmobiles — also referred to as snowmachines — are a fun, fast way to cross snowy expanses. You can rent snowmobiles throughout the state, or you can take a guided snowmobile tour to access hilly terrains and specially designated snowmobile trails.
Winter hiking: Hiking in Alaska is an excellent way to get an up-close and personal view of some of the state's best attractions. There are hundreds of designated hiking trails in Alaska, and many offer guided hiking tours so you can learn more about the region while you explore it. Always follow recommended winter hiking tips, including wearing plenty of layers, waterproof boots with good traction, staying hydrated and never going off marked trails. If you opt for an unguided tour, do not go alone — or, at the very least, make sure you check-in at the ranger station or fill out a trip card before heading out, so someone knows your intended path and anticipated return time.
Fat biking: Fat biking is the name given to riding a bicycle in the snow because that bike is equipped with wider, thick tires that make it easier to move and navigate. Fat bikes require a good deal of physical effort to ride successfully for an extended period but are ideal for biking tours through the state's snowier areas.
6. Klondike Gold Rush National Historical Park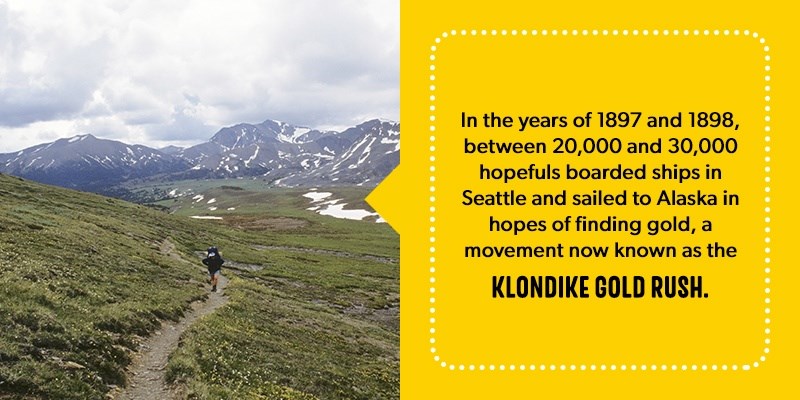 In the years of 1897 and 1898, between 20,000 and 30,000 hopefuls boarded ships in Seattle and sailed to Alaska in hopes of finding gold, a movement now known as the Klondike Gold Rush. Most left disappointed, but it was a moment that changed the Alaska region forever. At the Klondike Gold Rush National Historical Park, you can learn more about the Klondike Gold Rush and its many subsequent boomtowns, notable explorers and the dangers that awaited the travelers and their animals on the Chilkoot Trail.
7. The Northern Lights
Aurora borealis, commonly known as the northern lights, is a natural light display that fills the sky with shades of different colors. The northern lights are visible in Alaska at certain times and in certain areas throughout the year. You can go on a specialized northern lights tour, or you can research the information on your own. Fairbanks, Alaska is one of the best parts of the state to witness this phenomenon, but the southcentral and southeastern areas can also be hotspots for light activity. While the colors of aurora borealis are seen easiest against a dark winter sky, you can also see the northern lights during some of Alaska's sunny months.
There are several tips and tricks you can follow to increase your chances of seeing the northern lights on your vacation. One of the best things to do is to check a local aurora forecast tool and see what the chances are that day, in your given region.
Tips for Camping in Alaska
Once you have figured out which of Alaska's top attractions and towns you want to explore during your vacation, it is time to start planning your camping trip. Keep the following tips in mind, and you are sure to have a successful, safe and memorable adventure:
Plan your trip: The best way to make sure you see everything you want to see while on your Alaskan camping trip is to plan out your travel route ahead of time. Whether you intend to use a single campground as your basecamp for adventure or want to stop by as many campgrounds as possible, knowing your route ahead of time will make it easier to prepare your daily itineraries, projected fuel costs and more. Alaska is a popular tourist destination — especially in the summer — so reserving campsites early is never a bad idea.
Listen to local wildlife warnings: Take all wildlife warnings and regulations seriously on your trip. Alaska is home to wolves, bears and moose, all of which can be dangerous and unpredictable. Alaska government, park services and wildlife divisions have official guidelines and regulations regarding these animals available online. Still, there are a few things you should always keep in mind, no matter the situation. The first is never to approach these animals or attempt to draw attention to yourself in any way, even if they seem harmless or docile. Never leave food out or attempt to feed them. Be aware of your surroundings, even when driving, as some moose are large enough to cause vehicle collisions. Never stray from marked trails or territories without an informed guide who knows the region.
Plan to be outside: Of course, every camping trip requires some preparation for the great outdoors — but Alaska is special. Planning a camping trip to Alaska means you will likely spend 99 percent of your time exploring national and state parks, visiting wildlife refuges, fishing on coastal waterways and more. Make sure you pack comfortable clothes and shoes and bring a backpack for day hikes and trips.
Always plan for snow and cold: Even if you are camping during the summer, always pack and prepare for your trip as if it will be snowy and cold. Alaska weather tends to be unpredictable, and many mountainous areas get heavy snow and ice no matter the time of year.
Ward against mosquitos: Alaska is home to 35 different species of mosquitos, so you want to be sure you apply insect repellant regularly. If you are tent camping, look for mosquito netting to hang around your campsite if you want an extra layer of protection.
Keep wildlife at bay: While at your campsite, keep all food, food products, cooking tools, clothes and other scented personal items stored safely in your vehicle, RV or cabin. Leaving things outside can attract bears and other wild animals.
Experience the Beauty of Alaska at KOA
Are you ready to experience Alaska's beauty firsthand? Reserve your stay at an Alaska KOA today and prepare to witness breathtaking ice glaciers, natural coastline, wild animals and snow-covered mountain peaks.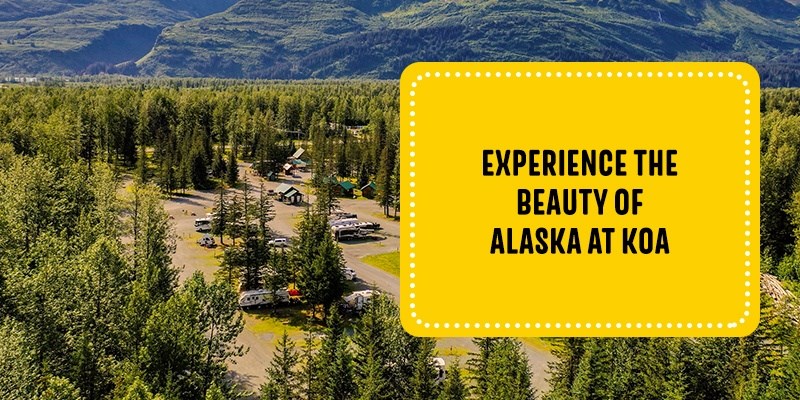 Located on the Kenai Penninsula, Home / Baycrest KOA offers a peaceful and relaxing getaway. Take a ride on the Homer Trolley and explore the beautiful town of Homer. Whether you're looking for hiking trails, fishing opportunities or local art galleries and museums, the area offers something special for every member of your group.
Central to both Exit Glacier and downtown Seward, Seward KOA offers something for everyone! The campground features spacious pull-thru sites, a dog park, corn hole games and even offers an indoor game room for the kids. The area also offers picturesque hiking trails and great fishing spots for salmon and halibut, as well as fishing charters if you want to enhance your fishing experience with professional guidance.
Surrounded by 18 acres of wilderness, Valdez KOA is the perfect outdoor getaway. Explore nearby hiking and ATV trails or book a tour with a nearby wildlife excursion boat and go look for whales, otters and other wild creatures that call this beautiful land home. At the end of the day, relax around the fire with a s'more or a treat from the snack bar.
Ready to start your Alaskan camping adventure? Make your reservation today!
---