While the initial price tag of the RV is important, there are other costs to consider as well. Performing your initial research should give you enough information to establish a budget.
Upfront and Long-Term Costs
When tallying the overall total of your purchase, remember that you'll need to pay for more than just the initial price of the RV. Insurance costs, registration fees and taxes should all be assessed before committing to a purchase. You'll also want to consider the costs of fuel, including gasoline for your RV and propane for heating and cooling. These prices are constantly fluctuating, but they tend to increase during the summer months.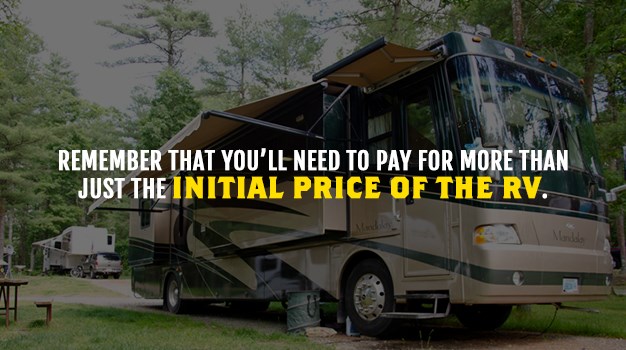 Here's a closer look:
You'll encounter registration and taxes on your new vehicle. Such costs vary from state to state, so check prices in your area before committing to a purchase. Many DMVs provide this information and, in some cases, registration fee calculators, on their individual websites.
You're responsible for insuring the RV. You are required to maintain the same amount of coverage for an RV as you would with any other car or truck. Exceptions are made for RVs that are towable but not drivable, but insurance is still a good idea to provide coverage if needed. Your exact insurance premiums will vary according to numerous factors, including your driving record, the insurance company you choose and even your home address, so it pays to shop around and consider all your options before deciding on an insurance provider.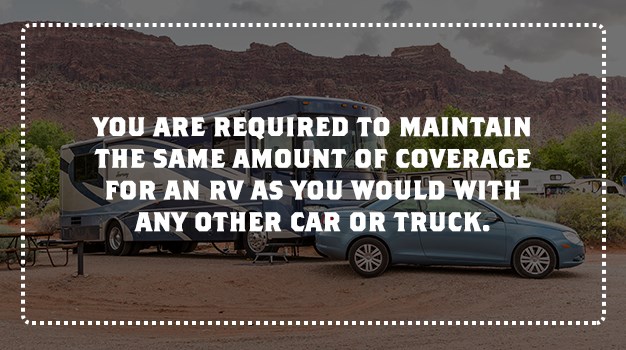 Don't forget to include the price of fuel. While the national average for unleaded gasoline most often hovers between $2.00 and $3.00, the cost of diesel runs slightly higher. This price is also subject to factors like seasonal demand, regional availability and even international relations that have resulted in skyrocketing fuel costs in the past.
Do You Need or Want a Hitch?
For towable RVs, you'll also need to purchase a hitch.
Some RVs include a factory-installed hitch. These are suitable for towing trailers, cars or boats behind your RV, but those who are serious about the pastime often opt for an aftermarket hitch. Expect to pay anywhere from $100 to $1,000 for a standard hitch.
Fifth wheel hitches are mounted to the bed of a truck and are considerably more expensive. These range in price from $500 to $2,500 or even higher in some cases, but they're necessary for towing larger motorhomes and trailers that don't have their own engines.
Camping, Maintenance and Storage Costs
Researching the upfront costs of RV ownership is necessary to determine if you can commit to the purchase in the first place, but it's important to consider the long-term, cumulative costs, too. This includes campground fees, maintenance and repair costs and storage costs:
At KOA, we pride ourselves on affordability. Whether you want to experience a secluded wilderness with your loved ones or partake in the festivities and activities offered at our locations, it's easy to find something for everyone at the various KOA parks and campgrounds around the country. To make it even easier to check pricing and reserve your stay, many of our local websites provide accurate pricing details.
Long-term maintenance is another concern of RV ownership. Much of this cost can be avoided by renting, but many agencies adjust their prices to accommodate for some of these fees. If you own your RV outright, you can expect your annual maintenance costs to fluctuate from year to year and even month to month. You'll also pay more for a luxury motorhome as opposed to a standard model, so include these figures when totaling the vehicle's final price tag.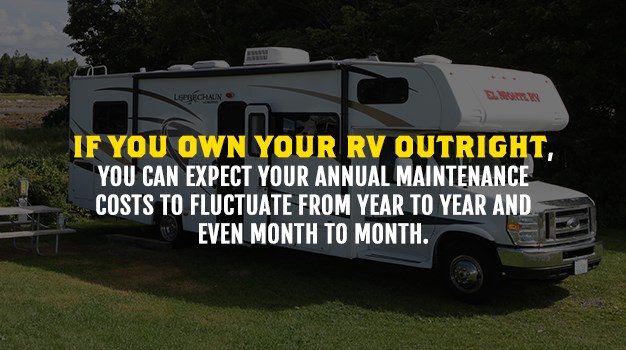 You'll also need to store your RV when it's not in use. There are plenty of options available, including temporary ones like RV covers and pop-up shelters as well as permanent structures. If you lack the space to store the vehicle on your own property, local storage facilities — many of which provide indoor, temperature-controlled environments — make great options.