Purchasing an RV is an exciting investment, and armed with the right knowledge and planning you'll be off having adventures in your new RV in no time.
Navigating the buying process is daunting, especially for those who are new to RV ownership, but you can minimize your stress and avoid some future headaches by developing your own plan. This lets you outline any specific features you're looking for or questions you may have while ensuring you're prepared to deal with payments, financing options and dealer negotiations.
What Can You Afford?
Although you might be tempted to spring for a brand new, fully-loaded RV, it's better to avoid getting in over your head. Taking on payments you can't afford or paying too much for an RV you could've had for a fraction of the price is bound to leave a bad taste in your mouth. There are also financial repercussions to consider, too.
Limiting your options to something affordable is the key to making the most of the lifestyle, but there are some strategies you can use to stretch your dollar a little bit further and make sure your money is well-spent.
How to Get the Best Deal
Most RV dealerships are open to negotiations. Instead of accepting the advertised sticker price, don't be afraid to throw out an offer of your own. Many dealerships expect some amount of haggling, so they inflate their advertised price to accommodate. Regardless, it certainly doesn't hurt to ask for a deal or discount.

Also, check your credit score before visiting your local dealership. Prospective buyers with higher scores will typically have lower interest rates, which will result in a lower price tag in the end. Those with lower credit scores or bad credit can still secure loans or financing, but they'll pay significantly more due to higher interest rates.
Don't forget to factor for depreciation, too. A brand-new RV or motorhome can lose up to 30% of its original value as soon as it leaves the dealership, so you'll want to consider this before agreeing to a long-term loan. You certainly don't want to end up owing more on your loan than the RV's future sale price, so it's important to do the math before committing to a bank or dealership.
Feel free to ask questions during your time at the dealership. Inquiring about hidden fees is a great way to avoid any pricing discrepancies when it comes time to finalize a contract. Asking to pay in cash can help you reduce the overall price tag of the RV.
If buying used, ask about a specific model's previous usage so you understand your vehicle. Verifying the motorhome's repair history, odometer and paperwork is also helpful when trying to get the best possible deal.
Typical Financing Options
Although many novice buyers and RV owners are intimidated by the financing process, it's really like financing a car or house. Instead of purchasing your dream motorhome outright, you're simply receiving assistance — usually in the form of a loan — from a bank, credit union or dealership.
Once again, your exact options will vary based on regional availability, your credit score and the guidelines of the institutions in your area, but most RV loans are for a period between 10 and 15 years. Some extended contracts are available, particularly for options exceeding $50,000.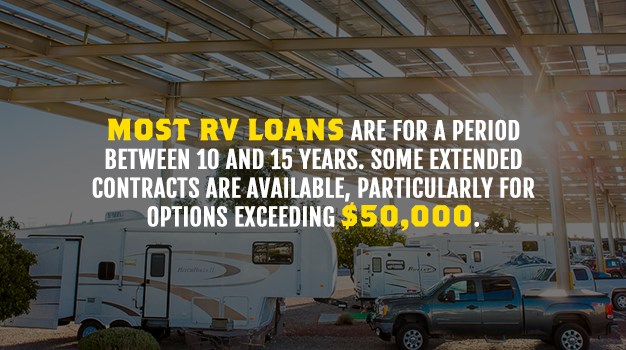 Many lenders give you a choice between a shorter term with bigger monthly payments and a longer term with lower premiums. Not only does this let you choose the plan that works best for you and your financial situation, but it ensures you're not getting in over your head right from the start.
Some loans and financing plans have other options, too. Flexible repayment programs give you the luxury of making larger payments whenever you have the extra cash, which ultimately trims the overall length of your agreement. Make sure to ask about any nuances before agreeing to a loan or plan.