Splish, splash it's summertime! This means it's the best time to enjoy some fun in the sun coupled with some play in the water.
If you're someone who enjoys hanging in and around the water when the summer months hit, then chances are good you have your favorite spots in mind that you tend to go. However, this year, we are asking you to throw traditions out the window (hear us out before you roll your eyes and so "no way,") and spark up your summer with something new.
And that new thing is heading to the desert.
"The desert? There's no water in the desert!" is likely what you're thinking. Unless you grew up in the southwest, you likely don't think of water recreation when you think of the desert. We are here to change your idea of the desert in the summer. Yes, it may be scorching hot outside, but if you head to the right place, you'll have the ideal place to cool off.
So open up your mind and get ready to learn about some unexpected water fun.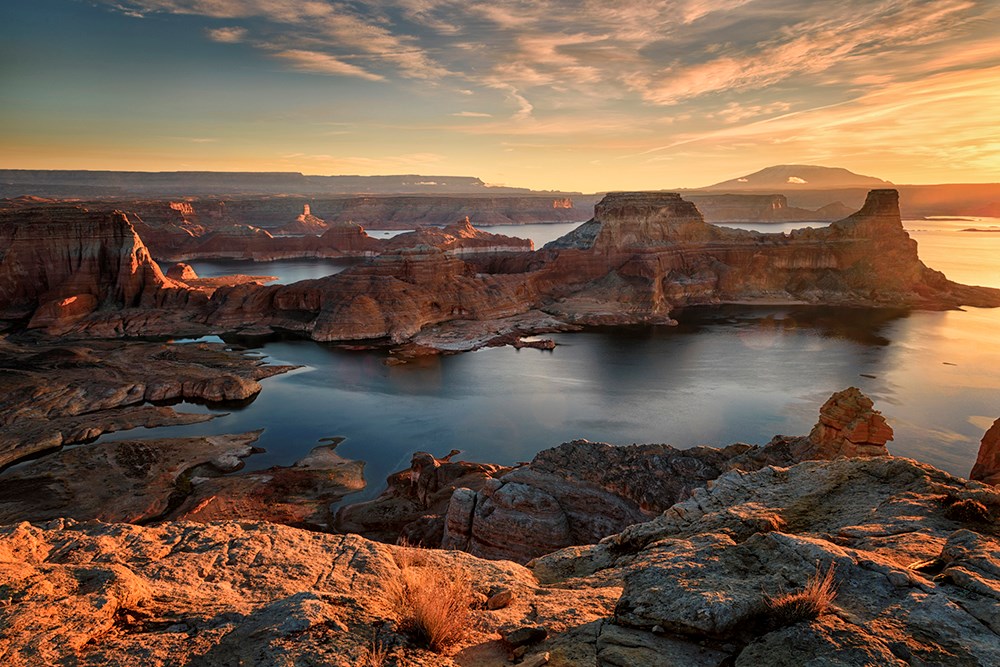 1. Lake Powell, Arizona/Utah
If you're looking for a boating paradise, then look no further than Lake Powell. It is home to some of the most beautiful landscapes you will ever see with crystal clear water that will have you playing in it all day and into the night.
Lake Powell is a man-made reservoir on the Colorado River that spans both Utah and Arizona. It is a major hot spot for water recreation enthusiasts and sees nearly 2 million visitors every year. Take one trip here, and you'll understand why.
The lake is 200 miles long and features 8 different side canyons that give you all sorts of nooks and crannies to explore from within your boat and get away from the crowds that often take over the lake.
Some special spots you won't want to miss in the area include Antelope Creek, Slot Canyon, Horseshoe Bend, and Rainbow Bridge. Horseshoe Bend is one of the most photographed places in the Southwest, so have your camera ready. But if you don't make it to those places, don't worry – there are photo-worthy views at every turn of this lake. In fact, if you look close enough, you'll see petroglyphs in some areas.
In addition to enjoying the lake via boat, raft, or paddleboard, you can also explore it via kayak or go on land to do some hiking.
KOAs nearby:
Monument Valley KOA Journey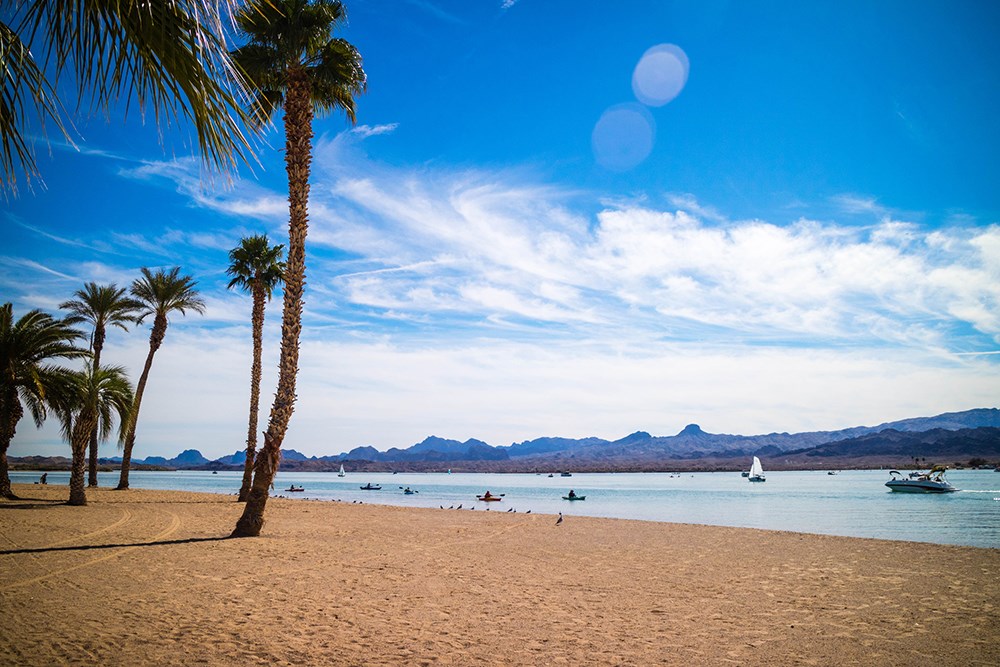 2. Lake Havasu, Arizona/California
Clearly, we are big fans of the Colorado River as the second body of water on our list is also on the route of the river. This lake spans over 20,000 acres and was formed by the Parker Dam.
If you're more into fishing, then this is a place you must visit. It is recognized as one of the best bass lakes in the western United States, so be ready to throw that line and catch a whole lot of fish.
In addition to fishing, jet skis are a big hit on this lake as it's big enough for you to really get that thing going fast and make some fast turns on. Or, if you prefer something slowing, kayaking and stand-up paddleboarding on this lake are both great activities.
One strange fact about this lake is the famous piece of architecture that sits here. You'll never guess what it is, so we are going to tell you. It's the London Bridge. How did that end up here? It was purchased by the developer of Lake Havasu City back in the late 1960s, and he moved it to the area to help create a tourist attraction and give people another reason to venture to the middle of the desert. Just make sure if London Bridge is falling down, you get out of the way!
There are 20 lighthouses around the lake and make for fun quick stops for kids to enjoy. If you are looking to spend more time on the land than in the water, there are plenty of hiking trails to adventure on in the Sonoran Desert that surrounds the lake.
KOAs nearby:
Needles KOA Journey
Laughlin / Avi Casino KOA Journey
Kingman KOA Journey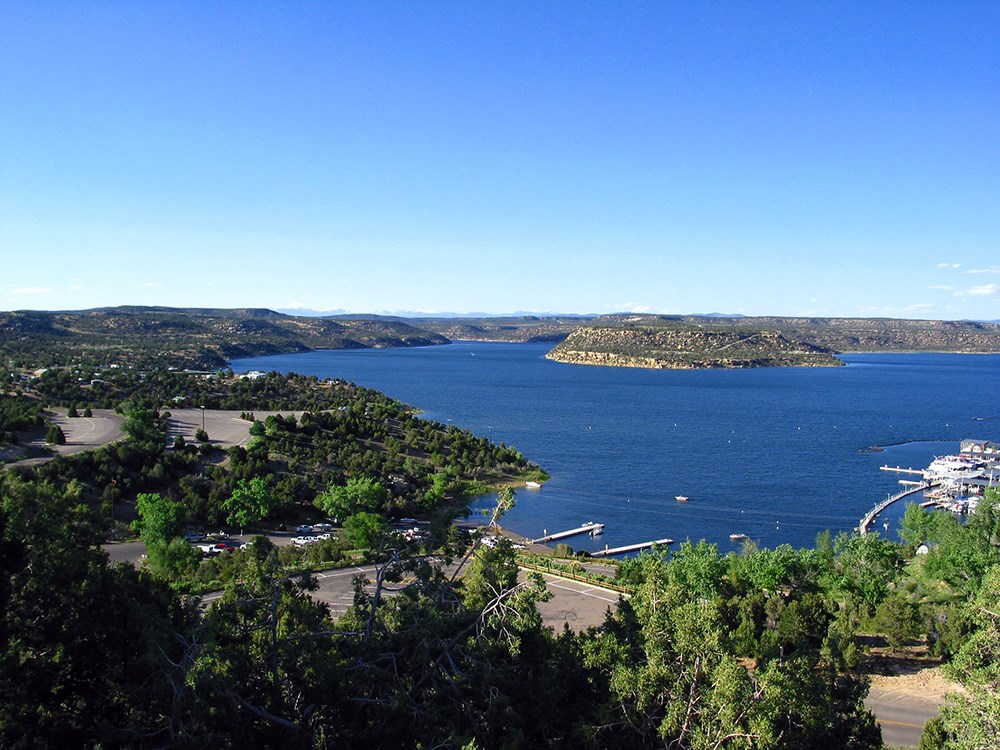 3. Navajo Lake State Park, New Mexico
The lake that sits in this state park is a favorite for people who enjoy surfing or windsurfing behind a boat. That's thanks to the winds that make their way here and create the perfect environment to show off your skills.
Navajo Lake is fed by the San Juan River, which is home to some of the best fly-fishing in the area. If you've never tried your hand at fly-fishing, this is your sign to go to Navajo Lake and try it.
The temperature of the water at this lake makes for ideal swimming conditions, so you'll likely see a lot of swimmers getting a workout while here. But don't worry, this lake is pretty big so you don't have to worry about anyone getting in your way. In fact, this lake is the second biggest lake in the state of New Mexico and is home to two marinas.
Enjoy all sorts of boating on the lake, motorized or non-motorized, and when you're ready to head on land, you explore the hiking trails of the area and even camp here, if you'd like.
KOAs nearby: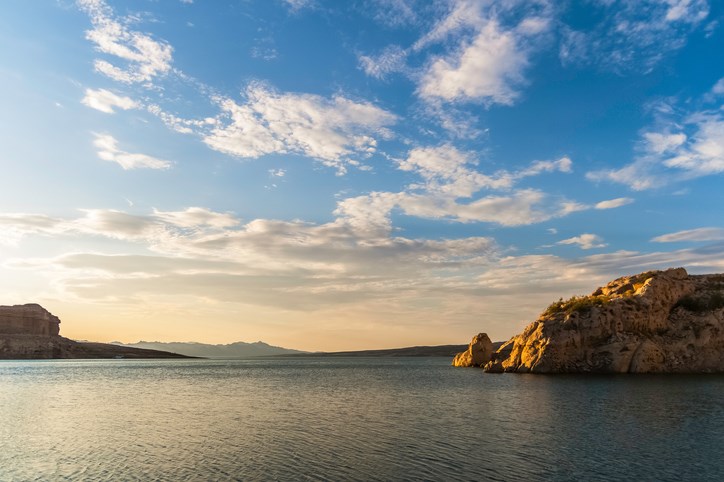 4. Lake Mead, Nevada/Arizona
Here we are again on the Colorado River! (I promise we are exploring other areas in the southwest, but there are so many gems along this river.)
Lake Mead is the United States' first and biggest national recreation so you know what that means – a lot of experience and a lot of space to have the most fun ever.
This lake is known for the landscape that will take your breath away everywhere you look. It is also known for its blue waters that seem to shine as bright as the Caribbean. On those waters, you can have all sorts of fun from tubing to fishing, wakeboarding to sunbathing.
In the cooler seasons, Lake Mead becomes a hot spot for scuba divers. There is a B29 bomber that crashed into the lake in 1948 that lots of people like to get up close and personal with at the bottom of the lake.
Other than the water, there is a lot to enjoy at Lake Mead. There is great hiking that gives you a chance to see some of the wildlife in the area. If you're a golfer, some nearby courses are wonderful places to hit a round.
KOAs nearby:
Las Vegas KOA Journey at Sam's Town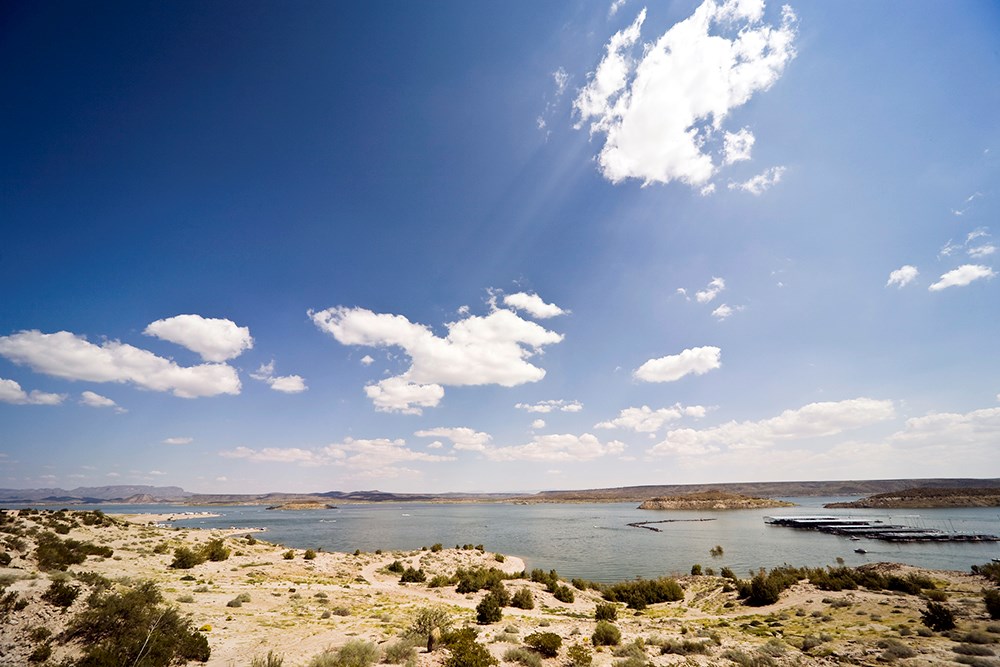 5. Elephant Butte Lake, New Mexico
Measuring in at over 63 miles and 165 feet deep, this lake has lots of beaches to enjoy as well as lots of water to adventure around in your boat. Since the width of this lake is an average of 1.5 miles, that means there is plenty of space to get into your tubing, wakeboarding, waterskiing, and any other motorized water activities that you enjoy.
If you like to take things a bit slower, kayaks are another fun activity to enjoy on the lake as well as paddleboards.
Where did this lake get its name? From the monolith that stands over the water, of course. It kind of looks like an elephant, if you squint enough. The lake was formed in 1916 by a dam that blocked the flow of the Rio Grande River.
Once you've had your fun in the sun on the lake, you can head to the nearby town of Truth or Consequences (yes, that is its real name) to enjoy some famous hot springs.
KOAs nearby:
Silver City KOA Holiday
Las Cruces KOA Journey
Alamogordo / White Sands KOA Journey

6. Watson Lake, Arizona
If swimming isn't your thing, this lake may be the one for you. Swimming is actually prohibited here, but you know what isn't? Fishing, kayaking, canoeing, boating, and more. Though small, this lake is mighty, and we also love that it is so easy to access from Prescott, which is just four miles away.
Fishers can head here to catch a variety of
different types including largemouth bass, carp, crappie, sunfish, and more. And if you prefer activities on the land, the rock climbing here draws people from all over. In fact, you may find more people are climbing than there are recreating in the water.
KOAs nearby:
Williams / Exit 167 / Circle Pines KOA Holiday
Seligman / Route 66 KOA Journey
Grand Canyon / Williams KOA Journey
Flagstaff KOA Holiday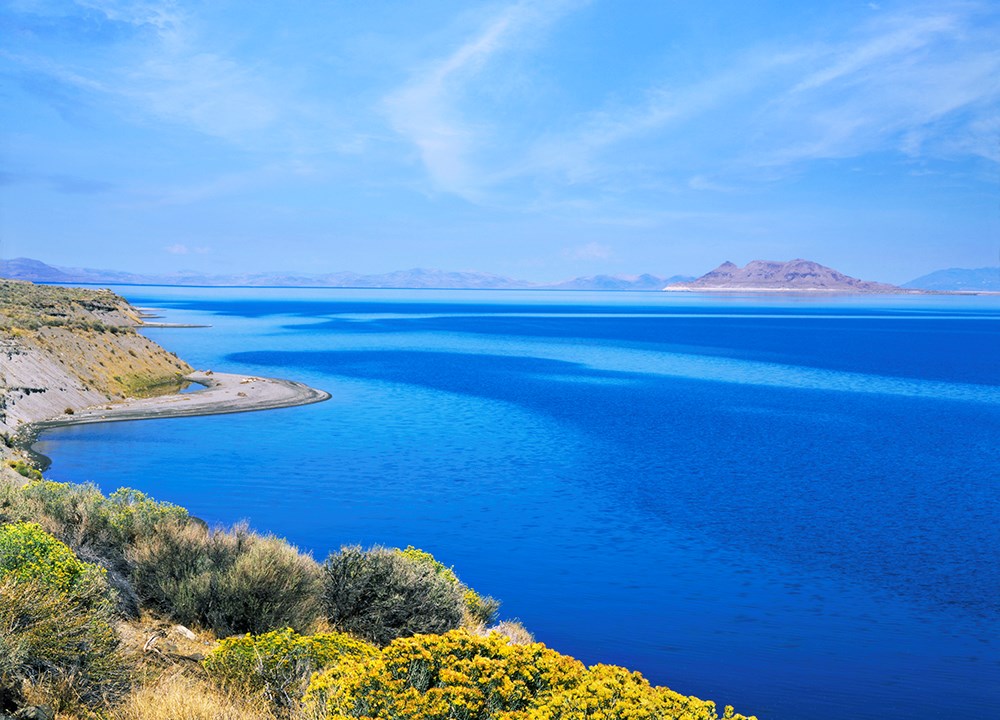 7. Pyramid Lake, Nevada
This lake measures in at 125,000 acres, which makes it one of the biggest natural lakes in Nevada. It was formed by Pyramid Dam and is the biggest remnant of the ancient Lake Lahontan that once covered nearly all of Nevada.
Fishing is a bit here, as it is home to the world-famous Lahontan cutthroat throat as well as the ancient Cui-ui fish. In fact, Pyramid Lake is the only habitat in the world for Cui-ui fish that has been in existence for over 2 million years. This lake brings fishers in from all over the world.
If fishing isn't your thing, then don't worry. You can still enjoy kayaking, stand-up paddleboarding, and more. Take in the views of the beautiful rock formations, including the pyramid-shaped island in the middle that is actually volcanic!
On land, you'll find all sorts of activities to enjoy such as hiking around the lake's trails and mountain biking. The Pyramid Lake Paiute Tribe Museum is also worth a visit to give you a deeper understanding of the rich history and culture of this area.
KOAs nearby:
Reno KOA Journey at Boomtown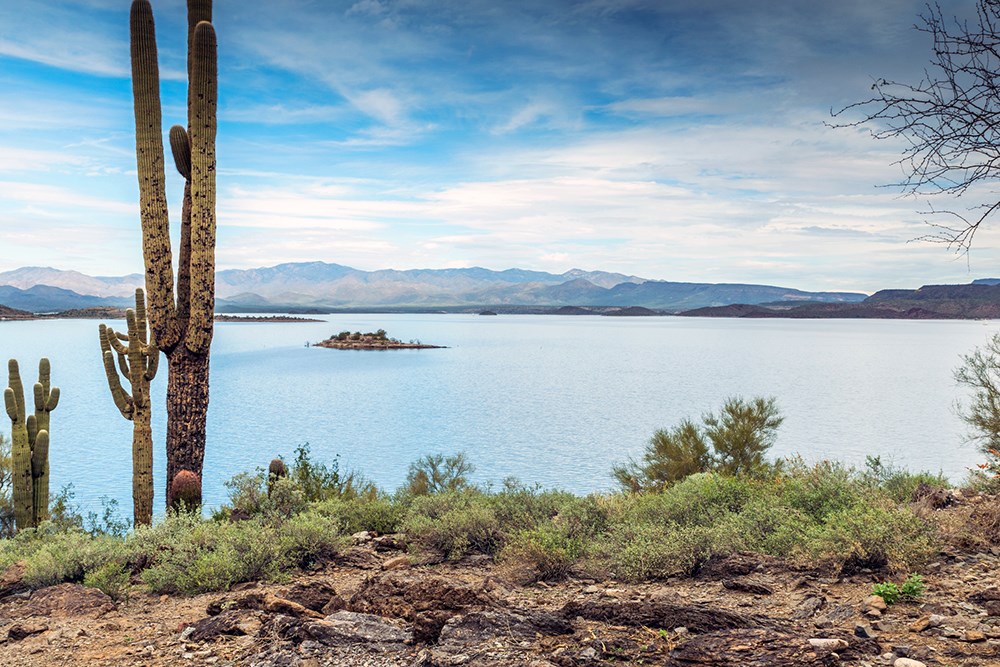 8. Lake Pleasant, Arizona
If you've ever spent a summer in Phoenix, you understand first-hand the necessity of finding water to enjoy. And if you haven't spent a summer there, then you can imagine what 115F feels like, and how you'd do anything to cool off.
We have a lake for you to try: Lake Pleasant. This is about an hour outside of Phoenix so is an accessible area that is open year-round.
Though the heat isn't something we love about the desert, one thing we do love is the plants and animals that live here. There is a Discovery Center at Lake Pleasant where you can learn about all the life that exists in this area.
For some water adventuring, take advantage of the boat ramps here that help you get out on the water to have all sorts of fun. If you don't have a boat of your own, there are places you can rent to still enjoy the cool waters on a hot summer day.
This is the second-largest reservoir in central Arizona and is home to over a dozen different species of fish including catfish, sunfish, and carp. However, this area is well known for its largemouth bass, striped bass, and white bass.
Head on land to take advantage of the network of hiking trails here that offer hikes for all ages and all levels of hiking. Just be sure to take plenty of water with you!
KOAs nearby:
Mesa / Apache Junction KOA Journey
Picacho / Tucson NW KOA Journey
Now, do you believe us? The southwest has much more to offer in the warmer months than its hot desert temperatures. In fact, we hope you figure out a way to deal with the hot temperatures in order to venture to some of these lakes where we are willing to be you'll have the time of your life.
Surprise your family with a trip down south not to go hunting for rattlesnakes but to get out on the boat and enjoy lake life in one of the most unexpected places. Be sure to share any pictures you take along the way!
---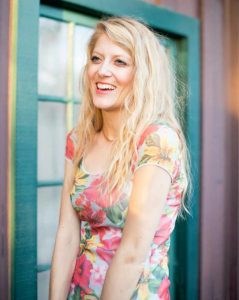 Leslie is a travel writer, copywriter, and web designer who gets butterflies from telling stories through words and visuals.
Her voice comes from a place filled with passion, dreams, and lots of sugar. "Cake over steak" is her go-to motto.
With over 10 years of experience in crafting words, and years of embarking on travels that have taken this Montana girl to some incredible places, Leslie loves the adventures of both body and mind her writing takes her on.
To see what Leslie's up to in the writing and design world, visit her website here.
---