Why This Retired Couple Bought a Teardrop Camper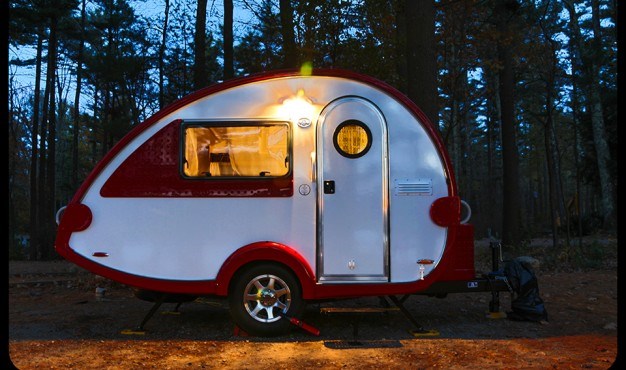 Imagine cruising down the interstate in your big rig, fifth wheel and toy-hauler in tow, headed towards your favorite campground. In the your side mirror, you see the glimmer of a car in the distance. It gains on you, bit by bit, and soon you can make out the form of a compact car, the sort that most folks use for commuting—not camping. It comes closer and closer, signals and finally swings out to pass you. And it's then that you notice that it's not flying solo. In fact, it's towing one of the smallest campers you've ever seen on the road. And it keeps heading right on past you at 70 miles an hour and 35 miles a gallon.
You, my friend, have been tear-dropped.
Sterling and Jeannie Bradley of Sheffield Village, Ohio, could have booked an ocean cruise or bought a large RV to celebrate their 50th wedding anniversary. Instead, they decided to purchase a classic Silver Shadow Teardrop Camper and hit the road.
"There are so many places we have not seen," said Sterling Bradley. "And now seems like a good time. But we are not necessarily Interstate folks. Just getting from Point A to Point B is not our objective. We are more interested in what we discover along the way. If we see something interesting—an antique store or a farmer's market or a good looking place to eat homemade pie—we stop."
For the Bradleys, their teardrop camper—christened the Gone Rovin'—allows them to travel the way they want, when they want and it fits their simple, adventuresome lifestyle. Its birch interior offers storage for day-to-day needs, and just enough space for sleeping. Lockable double doors with slider windows and screens allow for venting, privacy and security. Cooking and food prep are done in the galley located at the rear of the trailer.
The couple said that the Teardrop is "ready to jump in and sleep instead of setting things up", meaning they could spend more time out and about and less time worrying about where to park and how long it would take to set up camp. Their fuel-efficient Ford Focus has more than enough power to pull the thousand-pound trailer, and, according to Sterling, "pulls like a dream" without extra mirrors or other accessories.
"Retirement has a lot of pluses—I took off my watch," noted Sterling. "We've always taken whatever road looks the most interesting. And that's the beauty of this whole operation—it's so simple."
This summer the Bradleys will launch their golden anniversary travels with a trip to a family reunion in Colorado. As new KOA Value Kard Rewards members, they are eager to begin adding points and reaping rewards. In fact, Sterling figures they will take several trips that last 2-3 weeks each to various destinations but their plans are not concrete.
So we guess that you'll just need to look for them at a KOA—or in a rear-view mirror—near you.
Think the Bradley's have the right idea? Then you're definitely going to want to read the June Kompass next month, 'cause we've got a camper giveaway courtesy of our friends at Little Guy Teardrop Trailers that you're gonna love!