Recreational vehicles take many different forms — from small and simple tow trailers to mobile mansions with king-sized beds and granite countertops!
When deciding between different types of travel trailers or motorhome Classes, it is important to understand the finer details associated with each one. For instance, the pros and cons of different RV types, places where certain RVs can and can't go and even RV Classes' license requirements.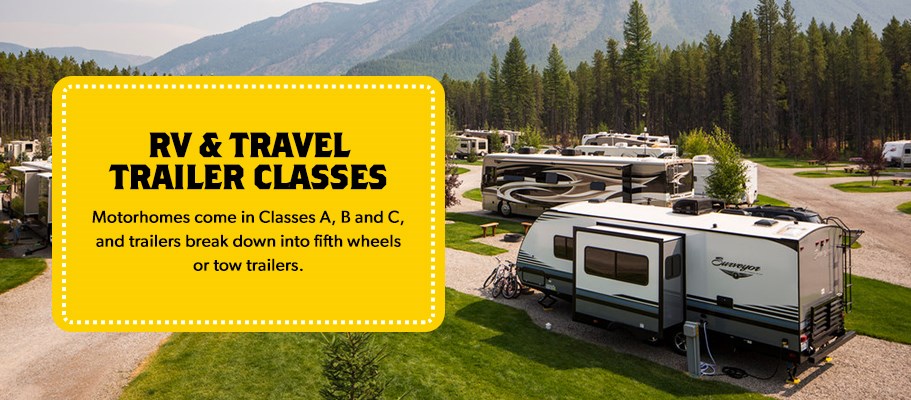 Luckily, the categories are not super difficult to grasp! Motorhomes come in Classes A, B and C, and trailers break down into fifth wheels or tow trailers. Here, we'll dive into what each category includes, what its strengths and drawbacks may be and what you might expect an RV to cost.
RV Classes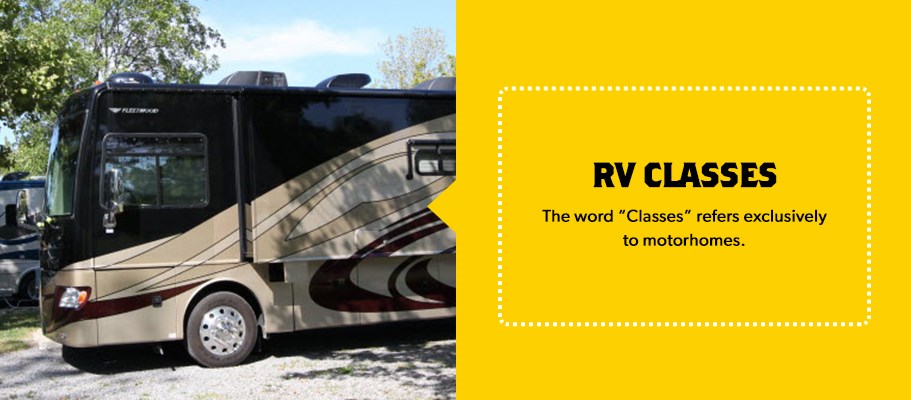 The first thing to understand about RV types is that the word "Classes" refers exclusively to motorhomes — RVs in which the motor vehicle and living space are on the same chassis. There is no towing involved! Furthermore, the camper's interior is always accessible to passengers during travel.
Class A Motorhomes: What Are They?
Class A motorhomes are the most massive coaches on the market and they run the gamut as far as extravagance goes. Ranging in size from 26 to 45 feet, they are built on a single chassis that may have more than two axles — heavier coaches will have three axles in total.
The maximum width of Class A motorhomes is around eight feet, though some states allow widths up to eight and a half feet. They weigh an impressive 13,000 to 30,000 pounds, which gives some indication of the range of possibilities of their interiors.
Class A: What Makes Them So Luxurious?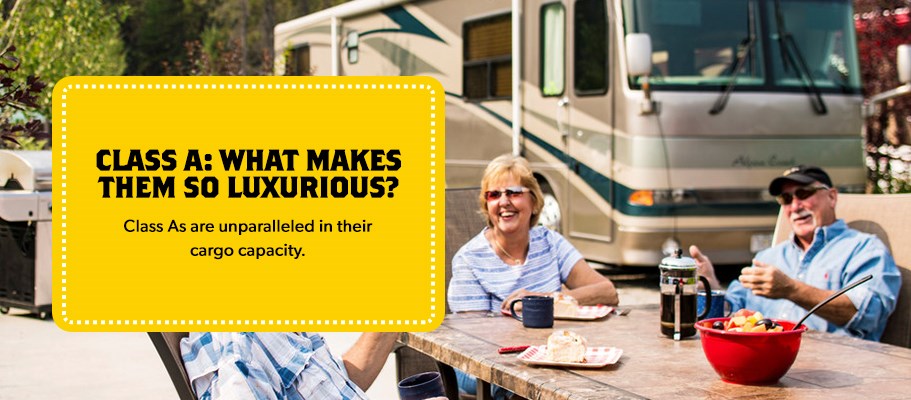 Class A motorhomes offer as many luxuries as the average house — and in many cases they can even surpass them! It is not uncommon for these coaches to sport a king-sized bed, two bathrooms, a washer and dryer, a large living area with sofas and reclining chairs, a dining table, a television, a fireplace and a fully equipped kitchen with a dishwasher, microwave, oven, stovetop, refrigerator and freezer.
Many also contain slideouts. These devices, invented in 1990 by Mahlon Miller, are more of a space-creator than a space-saver. At the press of a button, a wall and part of the floor of an eight-foot-wide RV slide outward, creating extra square footage in seconds! Some Class A RVs will feature slideouts on opposite walls of the same room, allowing an eight-foot room to expand to nearly 15 feet wide.
Speaking of space, Class As are unparalleled in their cargo capacity. Because the floor of the living space is typically several feet above the chassis, much of the space underneath the camper is reserved for storage. That means packing things like lawn chairs, sporting equipment, bicycles and outdoor rugs is no problem!
The engine of a Class A motorhome can be either gasoline or diesel. Diesels typically have a higher resale value, more torque, a higher towing capacity and a longer lifespan. They are also generally quieter, since the engine is located in the rear of the coach, which is also why diesel engines are nicknamed "pushers." However, gas coaches also generally cost less to maintain and operate, despite requiring more maintenance in general than diesel.
Class A: Who Tends to Own Them and Where Can They Go?
Class A motorhomes are very popular with those who plan on spending a lot of time on the road, making them a popular choice for retirees and people with a mobile lifestyle. They are also a common sight ferrying pop stars and larger touring acts around the country!
Due to their size and weight, users quickly learn that these giants are not suitable for all travel destinations. If you do choose a Class A, be sure to make sure your route does not include any steep, potholed roads or sharp turns – more common on back roads. Also, these may require more electrical amperage than some campground RV Sites offer, which is another detail to investigate before arrival. When you stay at a KOA RV Site, the amperage of a campsites electrical hookup amperages are clearly labeled for each site.
While Class A motorhomes are self-contained and do not require towing, many people do choose to tow a car behind their motorhome. Towing a car is an important consideration, because running errands is easier in a smaller vehicle — you will not want to pack up the entire coach simply to go do some local site-seeing!
Class A: The Good and the Bad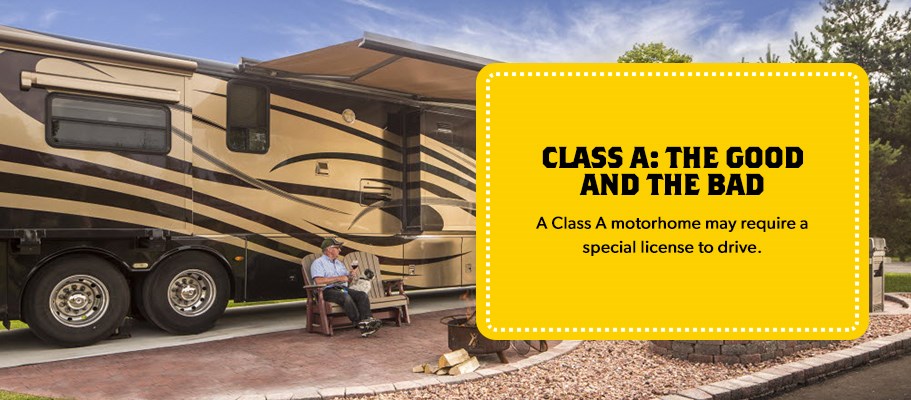 The main advantage of a Class A motorhome, as you may have guessed, is simply the amount of space it offers. Class A owners do not need to leave any of the conveniences of home behind. Many also offer a fairly turnkey operation, as there are high-tech systems in place for leveling your RV, extending and retracting slides and running the appliances and water/sewage systems.
However, the quality and comfort of a Class A motorhome vary along with its price tag. While lower-end coaches may start around $60,000 and nice ones hover around half a million dollars, many Class A motorhomes range into the millions of dollars. That is a fairly surprising price range — the most expensive motorhome may cost around 100 times more than a basic model!
Note that a Class A motorhome may require a special license to drive – read further down for more information on licensing requirements.
Class A motorhomes, like any type of RV, have their pros and cons:

Pros:

Contain all living amenities on board
Spacious and potentially luxurious
Do not require a towing vehicle and can tow another vehicle
Lots of storage space
Cons:
Price of buying, insuring and repairing is high
May require a special driver's license
Lower fuel-efficiency
Often need to be parked when not in use in specially equipped facilities, as many neighborhoods do not allow them in driveways or parked on streets
Many require 50-amp hookups from campgrounds
Driving one may require special training
Class B Motorhomes: What Are They?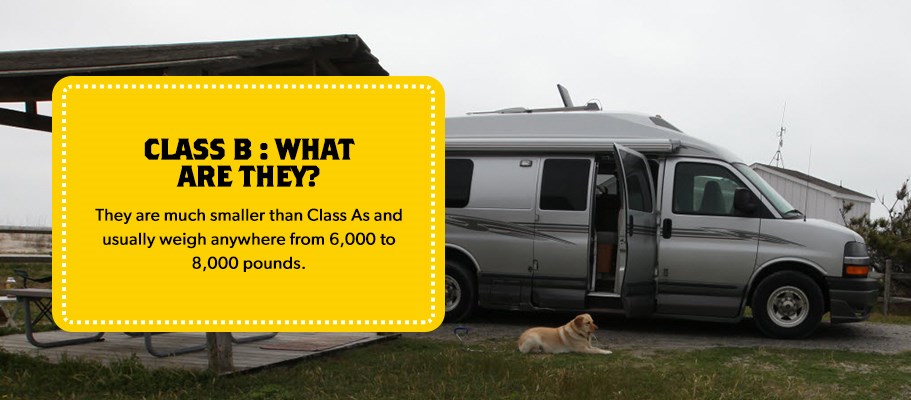 Class B motorhomes are those friendly little RVs often referred to as "campervans." They are much smaller than Class As and usually weigh anywhere from 6,000 to 8,000 pounds. They're about as long as your average van, too, coming in between 17 and 19 feet.
What sets these little workhorses apart from regular vans is that they are well-equipped camping machines. Designers have poured much ingenuity into making spaces this size livable.
Class B: How Comfortable Are They?
Many of these vehicles borrow ideas from nautical technology to save space. They often include a marine shower toilet, which combines a shower, toilet and even a sink into one stall — which may seem a little different, but they work quite well!
The kitchen is quite a bit smaller than that of a Class A motorhome and generally houses only a sink, a small cooktop and minimal counter space.
Class Bs often have creatively configured sleeping spaces, as well. While some Class Bs do have a queen-sized mattress in the rear, perhaps suspended over a cargo area, others feature folding sofas and futons to create beds. One such idea employs a dining table with a bench on either side of it. The table drops down to the level of the two benches, and once you add a few cushions on top, it becomes a sleeping area large enough for one or two people.
Class B: Who Are They For?
Class Bs are best suited for users who have a smaller budget, need a smaller vehicle or want a mobile base for their outdoor camping activities. They are recommended for people who do not have time for many extended trips and for couples traveling without children. Their general price range is $40,000 to $80,000.
Although it is sometimes possible to sleep as many as six people in a Class B motorhome, it can quickly become cramped. Some have designed slideouts into their structures, but most do not offer them — simply put, the campervan is best for a maximum of two people unless you plan on having additional accommodations, such as a tent or cabin. Families traveling with one or two children may find it manageable, but it's worth noting that storage space is extremely limited and light packing will be crucial.
Class B: The Good and the Bad
While Class B motorhomes take an obvious hit in creature comforts and spaciousness when compared to Class As, they compensate considerably in both charm and economy. Campervans fit in regular parking spaces, eat up far less fuel, cost less in tolls and are a fun way to miniaturize everyday life. They also do not require a special license, as they're no bigger than many vans and not terribly difficult to maneuver.
A campervan can also travel to nearly all campgrounds, no matter how remote or rustic. There are several other pros and cons to consider when it comes to Class B motorhomes:
Pros:
Economical and fun
Fuel efficiency is high relative to other RVs
Easily transported
Lower cost
Cons:
Tight quarters, little storage space
Not comfortable for more than two people
No room for features like laundry, dishwashers and other larger appliances
Class C: What Are They?

It might seem a bit strange for these vehicles to be labeled as Class C motorhomes when in fact they fall between Classes A and B in terms of size and comfort.
We all instantly recognize Class C motorhomes by their distinctive cab extending over the cockpit. They range in size from 20 to 28 feet and are generally 10 feet tall. Their weight usually falls between 10,000 and 13,000 pounds, making them slightly heavier than Class Bs but considerably lighter than Class As.
Class C: The Happy Middle Ground
Inside, they combine the van feel of a Class B cockpit with the spaciousness of a Class A — or get much closer to it, at least!
Class C motorhomes are the gateway models to more comfort, often offering an actual private bedroom in the back. The over-cab area sleeps two and sofas tend to fold into yet more beds. Slideouts are more common in Class Cs than they are in campervans, meaning the living area will often expand at the touch of a button.
Furthermore, more space means more amenities. Class C campers often have separate chambers for toilets and showers, eliminating the need for a marine shower and improving convenience for larger parties. There may be a shelf for a television, a dedicated dining table and, in some cases, even a smaller washing machine or dishwasher.
While Class A coaches offer only one entrance door on the front passenger side, the Class C still has both driver and passenger doors. Many also have an exterior door leading into the living space, making it convenient to enter and exit for driver and passengers.
Class C: The Good and the Bad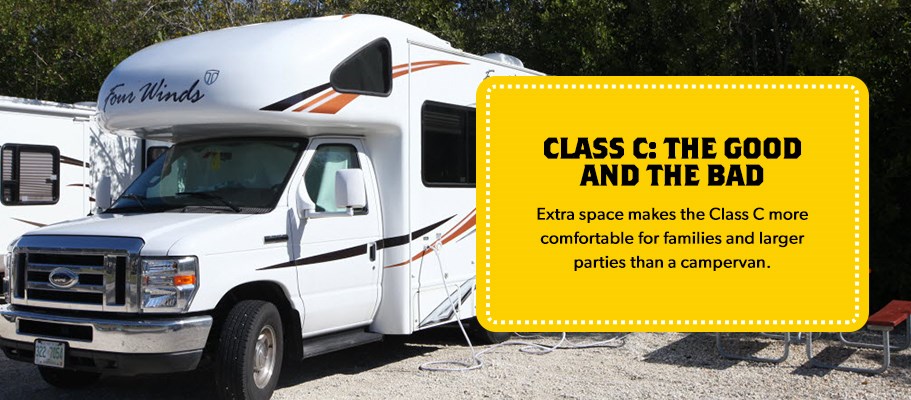 Cargo space tends to lie underneath the rear bedroom. This space is considerable and will comfortably accommodate suitcases, folding chairs and other amenities. While not nearly as large as Class A, the Class C also has a higher likelihood of built-in shelves, cabinets and drawers to store clothing in, making it easier to take more people and belongings on your camping trip!
Extra space makes the Class C more comfortable for families and larger parties than a campervan. Also, they come with a lower price tag than a Class A, making them a better deal if you're looking to get  motorhome on a smaller budget — they generally run from $50,000 to more than $100,000. They can comfortably house four people, though groups of up to eight might find creative ways to cohabitate in them.
As with the Class A and Class B motorhomes, Class C motorhomes have their pros and cons:
Pros:
More affordable than Class A motorhomes
Spacious
More sleeping areas and storage space than Class B motorhomes
Better amenities and creature comforts than Class B motorhomes
Reasonable fuel efficiency
Cons:
Driving them can be difficult, as they are fairly large
They typically cannot tow another vehicle
They tend to be more expensive that a Class B motorhome
Trailer Classes
A trailer is different from a motorhome in that it must be towed behind another vehicle. Which type of vehicle is needed to do the towing depends on the weight and type of trailer. The two Classes of trailer are fifth wheels and bumper-pull travel trailers, each of which has different requirements.
Fifth Wheels: What Are They?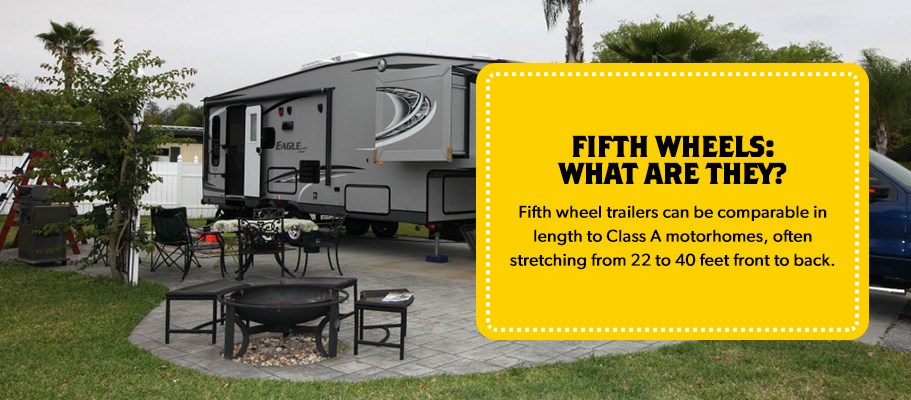 Whereas Class As are the most luxurious motorhomes available, fifth wheel trailers tend to be the most comfortable trailers on the market. Simply put, this is because they are larger. Just as with motorhomes, the size and weight of a trailer tends to correspond with the degree of luxury it offers.
Fifth wheel trailers can be comparable in length to Class A motorhomes, often stretching from 22 to 40 feet front to back. They tend to be around 10 feet tall and are a common choice for many campers.
Fifth Wheels: How Do They Work?
The term "fifth wheel" comes from the configuration of the trailer itself. The front of the trailer is elevated off the ground and extends over the bed of a truck, where a hitching mechanism fixes it to the truck bed. This setup makes the fifth wheel trailer easier to navigate than trailers towed behind a car's bumper, as the fifth wheel tracks more closely to the truck.
A fifth wheel requires a pickup truck with a specially fitted hitch. A turbo-diesel truck works best, as does a truck with a longer bed, which gives the trailer's front section more room to swivel and pivot over the hitch. A truck's tires and suspension must be up to the challenge — otherwise, towing these types of trailers can cause catastrophic to your vehicle.
Fifth Wheel Trailers: The Good and the Bad
A fifth wheel trailer solves a lot of problems of comfort and space presented by common trailers. The elevated front area typically houses a private bedroom, complete with a shower and separate toilet chamber. Steps lead down to the main living area, with plenty of room for amenities.
It is common to have three or more slideouts in a fifth-wheeler, meaning the spaciousness of the interior will accommodate that many more people. They comfortably sleep four to eight, though with some creativity and air mattresses, more can fit.
There are several additional pros and cons, including:
Pros:
Lots of amenities and conveniences
Spacious
Better maneuverability than a standard tow trailer
Cons:
Require special truck and hitch equipment, which is expensive
Use of a truck means less room for passengers
Bumper-Pull Travel Trailers: What Are They?
If a fifth wheel is like a Class A motorhome, then a bumper-pull travel trailer is analogous to both campervans and Class C motorhomes.
Bumper-pull trailers are both lighter and cheaper than fifth wheels but also can range in size from very cozy to moderately roomy. They connect to a standard trailer hitch, making them versatile in which vehicles they will pair with. Some trailers can be pulled by a sedan or small SUV while others might require the strength of a truck or van.
Bumper-Pull Travel Trailers: What Different Types Are There?
On the lower end of cost and space are fold-out and pop-up camping trailers. These lightweight, low-profile trailers are great for a camping excursion, as they combine the open-air feeling of a tent with some of the conveniences of a camper, like a sink and dining area.
Teardrop campers are similarly small. They take their name from the aerodynamic shape of their body. These hard-shelled trailers often include a kitchenette and toilet.
Bumper-Pull Travel Trailers: The Good and the Bad
The largest tow trailers offer slideouts and space comparable to a fifth wheel, but without the addition of the elevated front bedroom. They can accommodate small families and groups, but not as many as a fifth wheel. They will also have a more substantial hitch weight than fold-outs and pop-ups, meaning a larger vehicle will be required to safely tow them.
Here are the other tradeoffs you'll have to consider:
Pros:
Less expensive
Easy to move
Many vehicles can tow them
 Cons:
Less spacious
Fewer conveniences
Can be more difficult to maneuver that fifth wheel trailers
Pop-up and fold-out trailers are less insulated from weather
The best motorhome or camping trailer for you and your family will depend largely on your needs, your intended usage of the RV and the amount of time and money you are willing to invest. In addition to the factors mentioned above, there are some other legal and financial factors to keep in mind when making your choice.
Considerations When Choosing an RV/Trailer:
Driver Licensing Requirements: The license requirements for different RV Classes can be tricky. Some states require special licenses to operate larger motorhomes or to tow heavy trailers and others do not — it all depends on where you live. A common requirement is to obtain a Class A or Class B license for driving heavy vehicles. Note that weight is typically the key factor here — some states require a Class A license for driving vehicles greater than 26,000 pounds, for instance.
Registration and Licensing Requirements for an RV or Trailer: Registration and licensing are two factors people overlook when purchasing a recreational vehicle. The vehicle's age, length, weight and market value all may factor into the cost of registration, as well as the type of chassis and the location of the engine. Each state also has different registration requirements. For example, Oregon charges registration per foot of length, whereas in Idaho, the structure of the chassis comes into the calculation. Be sure to check your state's regulations before purchasing an RV.
Maintenance and Fuel Costs: Not all RVs are created equal and many have reputations for exorbitant maintenance fees. Be sure to do research before purchasing and remember that motorhomes and trailers have lots of moving parts that will wear out over time. You'll want to know beforehand if expected maintenance is more expensive than you can handle. Fuel costs are also important. Different Classes and makes of motorhomes achieve different fuel economy and there is always a discrepancy between the cost of gasoline and diesel. Similarly, different shapes and sizes of trailers will also exert different amounts of drag, reducing fuel efficiency.
Storage Requirements: In a single phrase: the bigger it is, the harder it is to store. We all know this from experience, but it is doubly important when choosing an RV or trailer. When the vehicle is not in use, storage fees can add up, so browsing different options is always wise. Would it make more sense to build a storage shed on your property? Is there a local storage facility that seems reasonable? Again, do your research!
Towing: If you are planning on buying or renting a trailer, the limiting agent is your vehicle. Check the tow rating of your vehicle as well as the weight rating of your tires. Nothing is worse than damaging your vehicle by overloading it.
Should You Buy an RV or a Travel Trailer?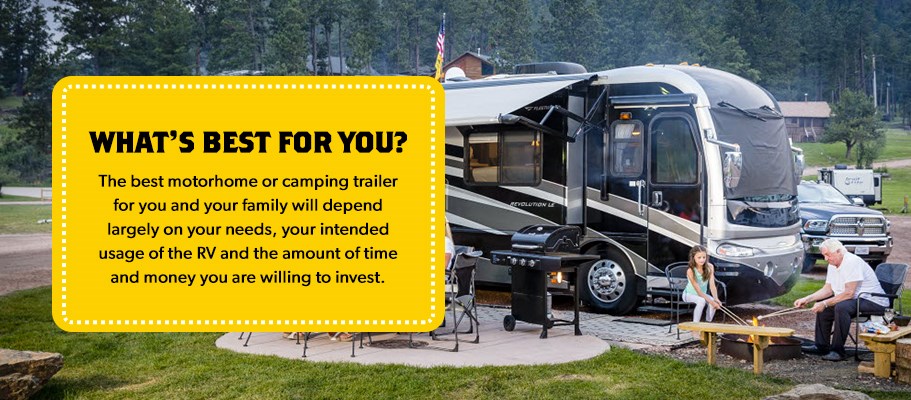 As you might have gathered from reading this article, there are many factors to consider when it comes to buying a motorhome or trailer. Luckily, there are RVs of every shape, size and cost. All you need to do is narrow them down to the one that best fits your needs. Here are the questions you should be asking:
What is your budget?
What type of vehicle do you have and what types of trailer would it be fit to tow?
Would you rather tow your vehicle behind a motorhome?
How many days of the year do you plan on using the RV?
How many people do you plan on housing in your RV?
Do you want to invest in a new RV or put in work fixing up a used one?
How much ability do you have to store the RV near your residence?
What are the registration and licensing costs associated with the different RVs you are considering?
Whatever you decide, KOA looks forward to serving you however you choose to take your next camping vacation! 
---