RV sharing programs like Outdoorsy can help you make money off your RV when you're not using it. Their safe and secure platform can make the process worry and stress free for RV owners. Learn more about how Outdoorsy works and the ins and outs of renting out your RV here!
Your RV is your getaway. Together, you can go just about anywhere and make any number of dreams come true. However, websites like Outdoorsy have also given RVs the opportunity to become something more — they can now also be moneymakers when you're not using them.
What Is RV Sharing?
RV rental by owner programs have emerged in recent years as a way to connect people who want to try RVing with people who own an RV that they may not use 24/7. Like homes, most RVs depreciate over time. RV sharing gives owners the opportunity to recoup some of the costs of buying and owning and RV when they're not using them. Essentially, owners list their RV on a website, and those looking to rent one can find and review the listing, and then request to rent it from the owner.
RV sharing is a bold new world of possibilities for owners and renters alike, and Outdoorsy is a website at the center of it. Like all opportunities, there are pros and cons to renting out your RV. You can review the ins and outs of RV sharing programs below and decide if it makes sense for you and your RV!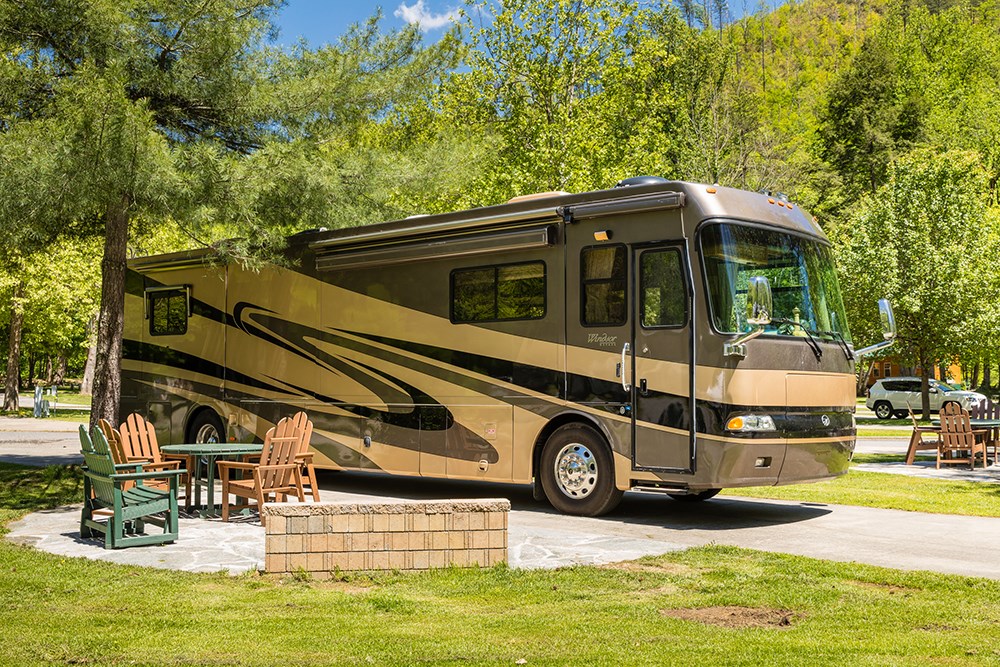 The Pros and Cons of Renting out Your RV – Should I Rent My RV?
Many RV owners have asked this question over the past several years as RV sharing programs like Outdoorsy have taken off. If you aren't sure about it, that's normal. Your RV represents a large investment that you made, as well as a huge part of your life and likely your family's memories.
Here is a list of the pros and cons to help you decide. You'll likely find that it's less of a scary prospect than you thought — and one with a lot of positives.
Here are some of the benefits of renting out your RV through an RV sharing program:
The extra income: Naturally, this comes first on the list. Outdoorsy gives RV owners a novel opportunity to use their RV as a source of income when they're not using it. Because you can choose how often to rent your RV and how much to rent it for, the power is in your hands to decide what kind of income you'll make.
Offset purchase and maintenance costs: RVs are a wonderful way to travel, and they're often a significant purchase you've thought through and saved for. Outdoorsy can allow you to offset any monthly payments or maintenance costs significantly or potentially turning a profit depending on how often you choose to rent your RV.
Avoid storage costs: In many cases, when you're not using your RV, you're paying to store it somewhere. If you rent out your RV during these periods, then instead of losing money during this period, you're making money from your RV.
Insurance: If you were to try renting your RV out on your own you would have to rely on your insurance to cover any damage or incidents that occur while renters are using it. When you use a good RV sharing program, the company covers the insurance while renters are using it.
Customer support & more: A good RV sharing company will offer customer support for every step of the rental process and will often also handle any DMV background checks for potential renters, offer roadside assistance and other services that take a lot of the stress and work off of your plate.
As with any venture in life, there are some considerations to renting out your RV. Here are some of the most notable drawbacks: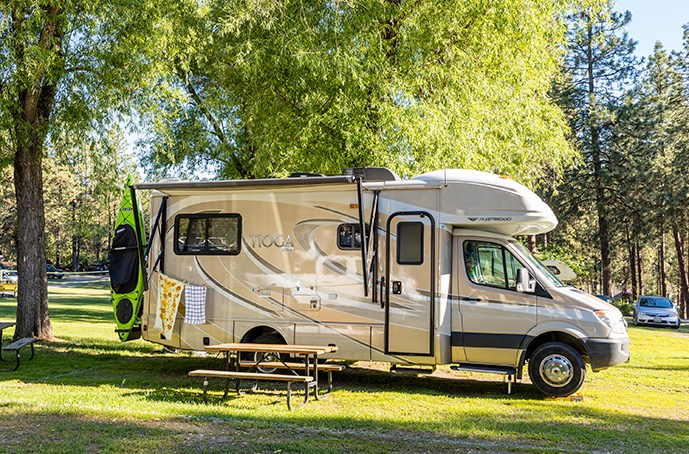 Time: It may take some time to get the hang of renting out your RV. The first couple of times that you rent out your RV, you will likely spend a good chink of time reviewing potential renters and learning the rental process. Then, there are a few things that you will need to do once you decide to list your RV and rent it out to an interested renter. While RV sharing programs make these processes very easy, it may still take you some time to get the hang of it and learn the ropes.
Removing all your things: When renters pick up your RV, you don't want to offer them drawers full of your clothes and belongings. That means you'll have to take the time to clean and empty out your RV to make space so it's suitable for renters.
Overcoming the emotional hurdle of someone else driving your RV: This deserves mention because it's okay to feel attached to your RV. It can be difficult to watch someone you've only just met drive off into the sunset with it, no matter how good their credentials are. However, it's not hard to think your way out of this struggle — your RV is completely protected by insurance, and the driver has been completely vetted.
Adding miles to the engine: Renters will be adding normal wear and tear to your RV during their use of it. Fortunately, you can offset these costs incurred with the rental income as long as you plan for them.
What Is Outdoorsy?
Outdoorsy started when its co-founders decided to create a peer-to-peer marketplace site for RV enthusiasts, owners and renters. The goal was simple: Give outdoor enthusiasts a way to take their lodging along with them by connecting RV owners with those interested in renting an RV. To formulate this idea, the co-founders spent months traveling the country in an Airstream and gathered ideas and customers for their business.
The result of this journey was a well-informed idea of what the concept should become. Affection for RVs spans a lot of demographics and socioeconomic classes, and learning what users liked and disliked about it played into the business model for the launch.
Outdoorsy provides mutual benefits to both owners and renters:
RV owners whose RVs sit unused for periods of time can earn money on their investment through renting.
Non-owners can experience the camping lifestyle by renting a cherished RV from a real owner — not from a yard of identical rental units.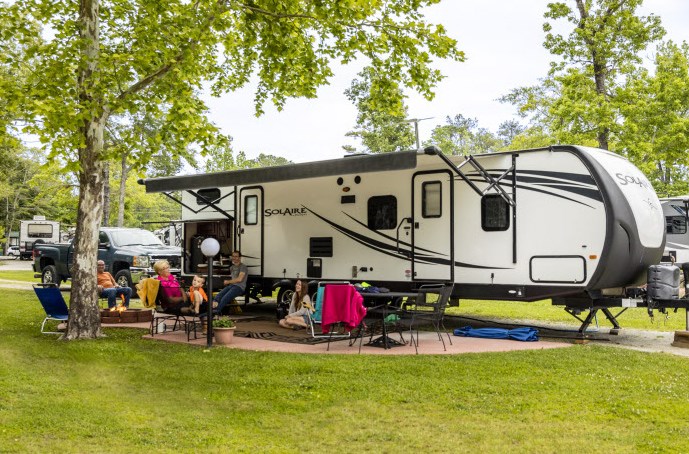 The company is yet one great example of a wider movement in peer-to-peer marketplaces. It allows the RV community to come together in a unique way and share this wonderful method of travel and camping. There is a much more personal connection between users, and it fosters a love and understanding for RVing.
How Does Renting My RV Through Outdoorsy Work?
Going from the idea of listing your RV to completing your first booking is a straightforward process. Here is a starter's guide to making your RV rentable:
1. Clean Your RV
Clean, declutter and polish both inside and outside. Remember, your renters are going to base most of their decision on pictures — so having your RV looking sharp is the best way to start the process. The goal here is to have the RV looking as new as possible and as uncluttered as the day you bought it.
2. Take Killer Photos
If you have to, you can even hire a professional to snap pictures of your RV in its pristine state of cleanliness. Make sure your photos inside are well-lit and happy-looking.
When photographing the outside, it helps to have the area around the RV looking clean, too. So mow the grass, rake the leaves and put away unsightly objects. If you can take pictures of the RV in a beautiful location, even better. Again, these pictures will likely serve you through most of your bookings, so make sure they're done well.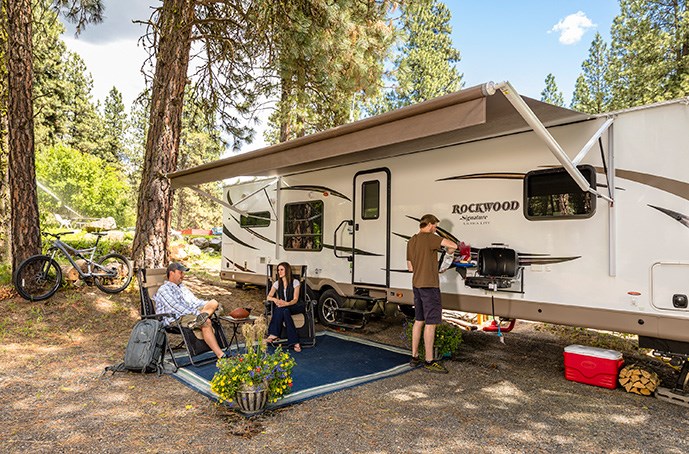 3. List Your RV On Outdoorsy.com
The first thing you'll notice when starting this process is that, based on what information you list about your RV, the website will provide an estimate of how much you could earn per booking. This is useful information, as it helps you see the market value of your RV as a rental. See what this listing process looks like here.
4. Enter Your Address and Describe the RV
You'll want to put a good deal of thought into making your RV description sound great while still being accurate about it. Remember — you want to accentuate the good elements of your RV while not overselling it. It may earn you eager customers at first, but overselling can leave them with soured expectations. That means lackluster reviews and decreased visibility and business.
Also, take care to avoid grammatical mistakes and spelling errors, as these can turn visitors off.
5. List Your RV's Amenities and Rules
This section will allow you to flesh out the details of your RV in a more quantitative way. You'll first answer how many people your RV can accommodate, which you should not over-estimate — renters can get disgruntled at having to cram five people into a small campervan that comfortably fits three.
You can then list your RV's amenities, such as TV, air conditioning, kitchen utilities and so on.

6. Consider the "Rules & Requests" Section Carefully
One very important part of this listing step is the "Rules & Requests" section. This allows you to choose whether your RV is pet-friendly, festival-friendly, good for one-way rentals and whether you allow smoking. This is one of your first checkpoints for weeding out renters who may not suit your desired profile.
If you don't want your RV to be used to camp out at music festivals, you may want to keep that "Festival Friendly" option unclicked. If your RV is ready to party, however, this is a good chance to make it attractive to a the festival-going crowd.
7. Determine Your Rental Rates
This is the basic rate at which you will rent out your RV. Note that there is daily, weekly and monthly pricing. The idea here is to offer discounts, and, therefore, incentives, to those looking for longer-term rentals.
A good rule of thumb is a 20-25% discount for weekly rentals and a 30-35% discount for monthly rentals. At $220 per night, this would come out to around $1,125 per week and $4,460 per month. If you live in an area where you feel people are likely to only rent for days at a time, you can lower the discount accordingly.
8. Determine Your Mileage Charges
On the same page as rental rates are mileage charges. Outdoorsy recommends setting a limit of 100 miles per day, with extra miles charged at $0.35 per mile.
You can also determine your own parameters or choose unlimited mileage. This depends on where you live, the state of your RV and who you think you'll be marketing to.
9. Set Your Other Policies
The next option on this page is for generator charges. If your RV includes a generator, keep track of how many hours are on it before guests leave. Outdoorsy recommends a four hour/day limit with a $3/hour charge after that, but you can also set your own rates.
Then set your security deposit, which should be large enough to help in the event of damage, but not so large as to deter renters. After this comes the minimum number of days in a rental period — just keep in mind that you'll have to have the RV cleaned after each set of guests.
10. Choose Your Cancellation Policy
This is another policy that deserves its own section. There are three options: flexible, moderate and strict. Flexible allows for a full refund up to five days before the booking and 75% refund afterward, while a strict policy allows a 50% refund up to two weeks before the start date, with no refund afterward.
Moderate offers a 75% refund up to seven days before a booking and a 50% refund afterward. Just remember to balance these competing forces. You do not want to scare clients away, but cancellations affect your ability to find new renters to take their place on short notice.

11. Add Photos
You've already taken your photos, and now it's time to upload them. These should showcase the inside and outside of your RV, and highlight any key living spaces or features that would be of interest to renters. Some areas to keep in mind that renters will likely want to see are sleeping areas and kitchen spaces.
12. Create an Account
It's that easy. Your RV listing is live, and people can start checking out your listing immediately.
Once Your RV Is Listed
Once you have gone through the setup process, it's time to begin taking your first renters. Here is how the process looks from a renter's end:
Renters search for an RV in a particular area: This turns up a listing of different RVs, which corresponds with a map of their locations on the same page. Then the renter can click on different listings to read the descriptions of the RVs and see their pictures.
Renters then request a booking: After entering the dates of their trip, renters request a booking, and the request is then sent to the owner.
If the renter is not a registered user, they must undergo a background check: Renters cannot request a booking before going through the signup process with Outdoorsy. They must enter their information, become verified and pass a DMV driver's record check. This ensures peace of mind for the owner.
The result of this process is that, as the owner, all you see is the request itself. You can then start a conversation with the renter to ensure a good fit, iron out details and answer any questions. Here is the owner's checklist once you've gotten your first booking:
1. Check the Renter's Profile and Reviews
You have the ultimate say over who rents your RV. While Outdoorsy is a friendly community, there are some obvious situations that make for better fits than others. Feel free to ask renters what they plan to use the RV for and what experience they have.
2. Clean Your RV Inside and Out
Remember how clean your RV was in the pictures? Well, your first renters are going to see your RV with only those pictures in mind, so make sure it looks similar. Don't leave shoes, trash, flypaper or anything else that isn't part of their rental. First impressions make a big impact.
3. Check All the Systems on Your RV
Make sure the tires are correctly inflated and have proper tread depth and no bulges. Also check that the windshield wiper fluid is full, and the oil won't need to be changed while they're on their trip. Ensure all the lights are working inside and out and have some spare bulbs available in case one goes out while they're on their trip.
Additionally, check the slideouts, appliances and awning, and give the generator a look over to be sure it's ready for operation if needed. Another important consideration that is easy to overlook is the state inspection — make sure it won't expire while your guests are on the road.
4. Have a Manual Ready for Them
It is helpful to make your own manual for your RV. As we all know, manufacturer manuals can often frustrate more than help. That's why making your own manual is so important — it can cover the idiosyncrasies of your RV and simplify operating instructions.
5. Give the Renters a Proper Walk-Through
Show your renters everything they need to know, in addition to having it written down. This makes it more likely to sink in and be remembered.
Outdoorsy Reviews: What Do Other RV Owners Have to Say?
Outdoorsy enjoys a high level of customer and owner satisfaction, with 93% 5+ star reviews. Its high ratings are largely due to its screening process as well as the atmosphere and community it nurtures. Owners tend to praise renters for returning their RVs spotless, often claiming they look better upon return than when they left.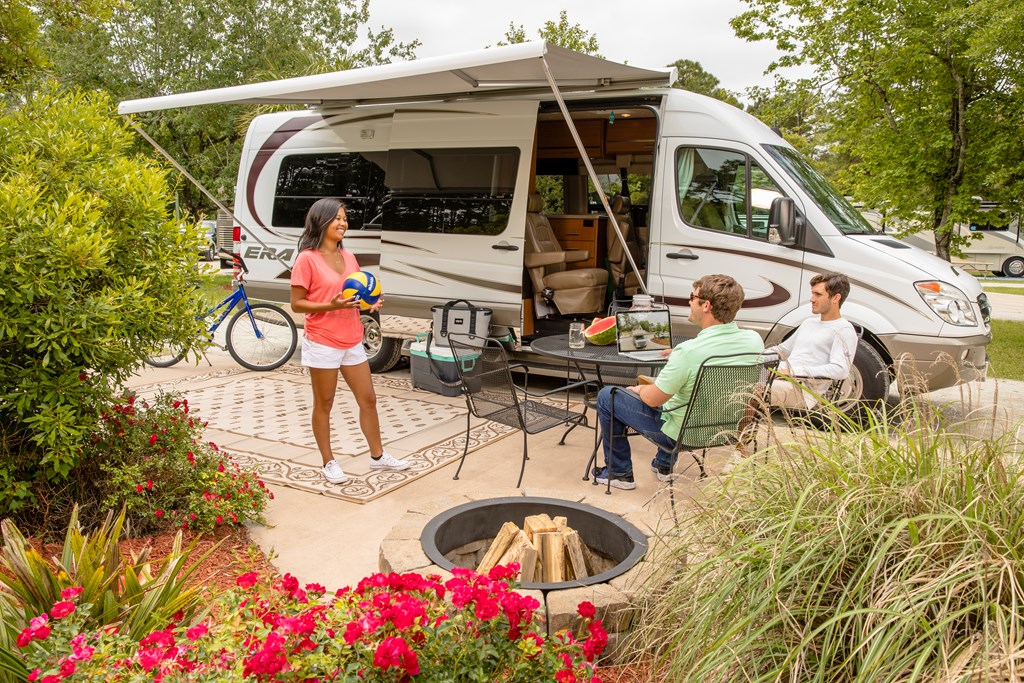 Here are a few reviews from owners on Outdoorsy:
"The whole rental process was very smooth. They picked up and delivered the trailer on time. Also they took care of the trailer very well. We highly recommend." – Jacqueline, 5 stars
"Janet was the best! Friendly, positive attitude, very knowledgeable on RV's. She returned the RV spotless. Looking forward to renting to her again." – Adrian, 5 stars
"Great renter. Will definitely rent to him again. Looking forward to his family visiting us next summer." – Marc, 5 stars
"It was a pleasure meeting Jose and Family. We are pleased to have them as rental clients and hope to see them again. Thank you so much! Our best to you, Clint & Lisa" – Clinton, 5 stars
"The Segura family and friends were awesome! They were very responsible and also responsive with communication. They took great care of the camper. Would definitely rent to them again in the future!" – Jeffrey, 5 stars
Rent Your RV With Outdoorsy
Outdoorsy makes it easy not only to turn your RV into income, but to do it on your own terms. Likewise, it is the perfect platform for those who just want to host a few rentals per year to help cover expenses.
Outdoorsy does this with a stellar platform, a great system for quality assurance and truly wonderful perks for owners and renters alike. The site's founders have identified the pain points of owners looking to rent their RVs and taken steps to resolve them. These include:
Outdoorsy's one million-dollar insurance policy
24/7 roadside assistance and customer support
Tireless vetting of renters, which includes a full DMV background check
Convenient and secure payout methods
Outdoorsy makes renting your RV both safe and easy. If you own an RV and do not use it year-round, then Outdoorsy may be the perfect way to start making income with your RV. Consider how much you spent on the RV and how much of that you could make up by renting it out when you aren't using it.
The best part of all is that no harm can come from listing your RV on Outdoorsy. Set up an account quickly and easily, snap some photos of your RV looking its best — and then see what comes your way. You might just discover that a whole new business opportunity has been sitting right under your nose.
List yours today and see how much your RV can earn you.
Kampgrounds of America does not allow sub-leasing at any campground. All sites must be reserved by and registered to the guest on site.
---