RV Beach Camping Tips | RV Campgrounds On the Beach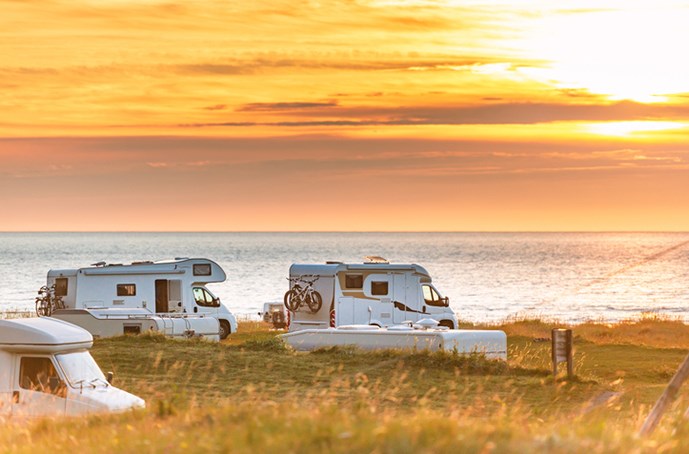 Everyone loves a good beach trip — from the relaxation of lounging by the sea to the excitement of boardwalks, water sports and ocean fishing, beach trips have something to offer for everyone in the family.
When you take a beach trip in your RV, you have the freedom to bring all of your favorite beach gear and games for the perfect summer adventure. RV travel is also more affordable than booking a hotel or beach house rental, and you can still land a prime spot with easy access to the ocean. If you are planning an ocean getaway in your RV, these tips and tricks for planning an RV beach trip will help make your vacation dreams come true.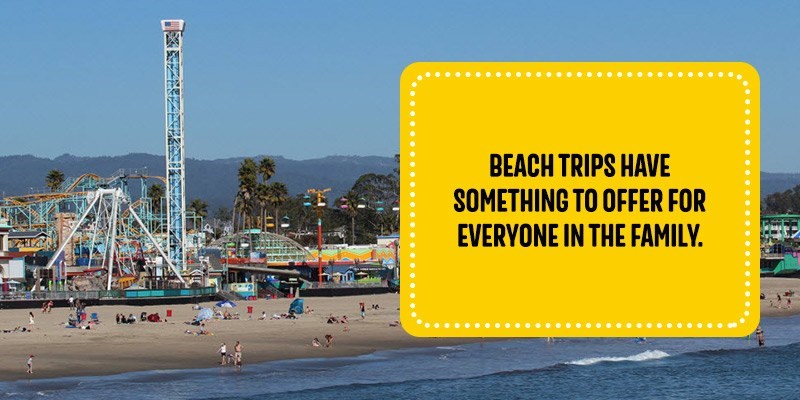 How to Plan the Perfect RV Beach Trip
Whether it is to kick off the summer, enjoy a little surf and sand or seek out a warmer destination in the middle of winter, an RV beach trip is a perfect getaway. There is nothing better than playing in the ocean waves all afternoon and then sitting beside a crackling campfire late into the evening.
However, an RV beach trip can quickly turn from a fun adventure into a wet and sandy mess without the right preparation. From forgetting your swimsuits at home to getting stuck in the sand, there are a few challenges to keep an eye out for as you prepare for your fun in the sun.
If you want to ensure your excursion is a success, follow these steps for planning an awesome RV beach trip:
1. Book Your RV Campsite Early
During peak season, the best beach campgrounds will fill up fast. If you want to score the perfect site, reserve your campsite early. When you book your campsite in advance, you'll have a better chance of getting the dates and site that you want.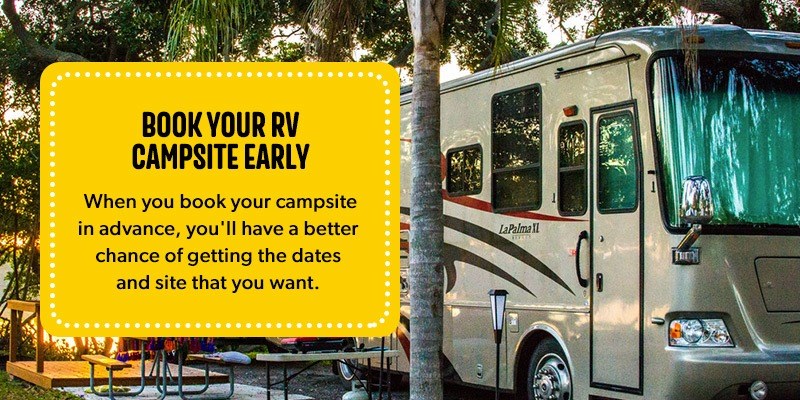 If you are willing to postpone your camping trip until the off-season, you can often enjoy even lower rates and more space to yourself. Popular RV campgrounds on the beach tend to empty out later in the summer, making it easier to find a great campsite. In places like Florida, Southern California and other Southern locations, the weather stays pleasant all year, so you can still get a healthy dose of seashore and sunshine.
2. Prepare for Sand and Water
A beach camping tip that cannot be overstated is to prepare for the elements — sandy bed sheets and clogged RV showers can quickly ruin a family vacation. Here are a few RV beach camping tips for dealing with sand and water:
Pack extra towels: Bring different towels to use on the beach and for showering. Hang the beach towels up outside to keep sand out of your RV.
Pack an extra swimsuit: If you love to go swimming in the campground pool in the evening, but want to hit the surf first thing in the morning, bring an extra swimsuit to avoid putting your suit on while it is still wet.
Use a clothesline: Bring a clothesline to dry your swimsuits and towels outside the RV. Clotheslines can be tied up between two trees at your campsite if they're available or can even be attached right to your RV.
Rinse your feet outside: Keep a small bucket of water outside your RV to rinse sand off of your feet. You can also tuck a pair of clean flip flops right inside your RV door to grab and slip on before heading inside.
Rinse off before showering: Sand can damage your RV water system, so rinse off outside before showering. If your RV does not have an outdoor shower, you can rinse off at the beach showers, use buckets of water or use baby powder to remove the sand. Baby powder will absorb moisture to dry the wet sand so it can be brushed off easily.
Bring extra chairs: You will not want to sit in a pile of sand when relaxing by your evening campfire, so bring a set of chairs for the beach and a set to use at the campsite.
Use mats or rugs: Placing a mat outside of your RV can help prevent sand from tracking inside. Lining the floor of your RV with rugs also makes it easy to keep your RV clean. Simply shake the rugs outside every night to get rid of the sand.
Cover your furniture: Toss old blankets over your RV furniture to protect them from sand and dirt.
Bring a broom: Pack a small broom or brush to sweep sand out of your RV and off of your outdoor mats.
Before heading out for your beach camping trip, check what amenities are available at your campground. If you want to use your RV's outdoor shower, choose a campsite with a water hookup.
When you camp at Kampgrounds of America, you'll always enjoy clean bathroom facilities with hot showers. KOA Campgrounds also offer laundry facilities, making it easy to settle in for a long-term beach retreat.
3. Plan for Sun Protection
The fastest way to ruin a beach camping trip is getting a blistering sunburn on your first day there. Plan ahead and pack ample sun protection, including sunscreen, umbrellas and covering clothing. Here are a few important items to pack for your RV beach camping trip: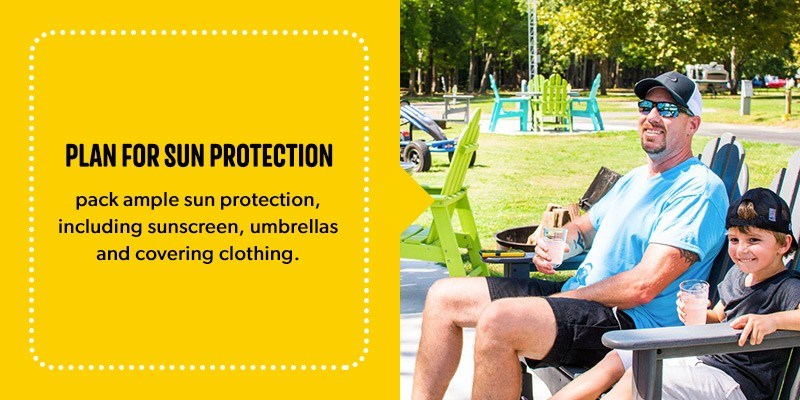 Sunscreen: Buying sunscreen from a store at home will typically be less expensive than waiting until you get to the beach and you'll also be sure to get your preferred brand. Packing sunscreen in your RV also means you'll be able to head out into the sunshine the minute you get to the campground.
Rash guards: A long-sleeved rash guard will protect your skin from harmful UV rays as well as from rough sand. Wearing a rash guard will also keep you warm if the ocean is a little chilly.
Long-sleeved shirts: When you are not playing in the water, wearing a lightweight long-sleeved shirt provides an extra layer of sun protection.
Hats and sunglasses: Bring wide-brimmed hats and sunglasses for everyone in the family. When you're lounging on the beach or beside your campground's pool, your skin and eyes will be protected from the sun's glare.
Pop-up tents: Pop-up tents are perfect for a little extra shade at the beach or to use around your campsite. Place a tent over your seating area, dining area or places where the kids like to play.
When you plan for sun protection, you can avoid a painful sunburn and keep your skin safe. You also set yourself up for a much more enjoyable trip!
4. Pack the Right Clothing
Packing for your first RV beach trip of the season will inevitably mean pulling out your favorite shorts, tank tops and sundresses. You will also want flip flops or sandals for the boardwalk and your swimsuit and rash guard for the water.
However, remember that it can also get cooler at night when the sun goes down and the ocean breeze rolls in, so you will want to bring extra layers. A light windbreaker is perfect for sunset strolls on the beach, while a sweatshirt or sweater will keep you cozy by the campfire. If you want to go hiking or head into town during your beach trip, you may also want to bring socks and sneakers.
Because clothes can get sandy and dirty quickly during a beach camping trip, it's a great idea to bring an extra set of clothing for everyone in the family. You can also use campground laundry facilities to avoid wearing scratchy, sandy clothes all week.
5. Plan a Beach-Friendly Menu
When it comes to food, RV beach camping trips offer the best of both worlds — in many places you can munch on boardwalk fries during the day and enjoy campfire cooking in the evening. To plan the perfect menu for your beach camping trip, bring your favorite food to cook over a fire, as well as snacks and easy lunches to enjoy on the beach.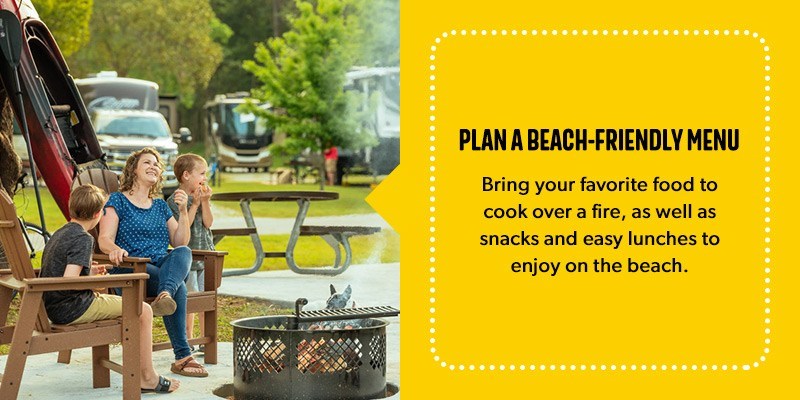 Sandwiches, granola bars and fresh fruit and veggies are great options to pack in your cooler for a beach day. You will also want to bring a lot of water to stay hydrated while out in the sun, especially if you are up and about playing beach volleyball or catching waves. When you get back to your RV in the evening, you can cook a full meal in your RV kitchen or roast hot dogs over the fire — the possibilities are endless.
If you need a few ideas for classic campfire meals or light and refreshing lunches, check out KOA's Camping Recipes for new recipes and old favorites!
6. Pack Beach Games and Equipment
With so much space in your RV, it's easy to bring all of your favorite beach toys and equipment — From frisbees and kites to kayaks and snorkeling gear, you can pack everything you need to have the perfect beach vacation. Here are a few ideas for fun beach gear and games to bring along:
Bodyboards and skimboards
Volleyball equipment
A beach ball or soccer ball
A frisbee
Kites
Sand toys and buckets
A bocce ball set
Bikes
Kayaks
Surfboards
Paddleboards
Fishing poles
Snorkeling gear
For activities like fishing and boating, be sure to check specific beach policies to see what is allowed as different beaches may have different rules!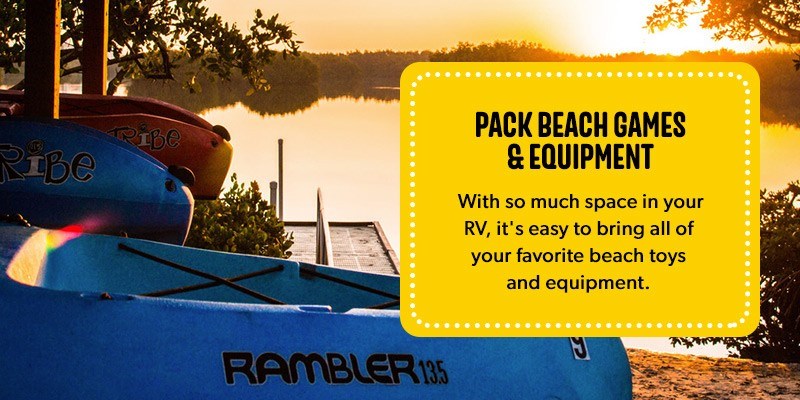 When you are loading your RV with exciting games, remember to pack standard beach gear as well, such as umbrellas and beach chairs. If you want to pack light for your beach RV trip, you can also plan ahead to see what outdoor equipment may be available for rental at your destination.
7. Don't Forget Your Camping Gear!
While you are focused on packing for sun, sand and waves, it can be easy to forget the camping essentials. Bring camping chairs, your hammock and any other gear you need to make your campsite feel like home.
With the right planning and preparation, your RV beach camping trip is sure to be a success.
RV Beach Trip Tips and Tricks
Camping in your RV on the beach can pose some unique challenges, such as strong winds and hot weather. Here are a few more RV beach camping tips to stay safe and cool:
1. Watch out for Wind
If your campsite is right on the beach or close to it, you may experience gusts of wind. If you are not careful, you could lose your RV awning, tablecloth or even your towels hanging on the clothesline. Here are a few tricks for wind-proofing your campsite during your RV beach camping trip:
Keep your RV awning down so it is not damaged by a heavy gust of wind, especially when you're not at your RV.
Clip your tablecloth to the picnic table.
Stake down or bury your beach umbrella and pop-up tents.
Stake down your outdoor carpets.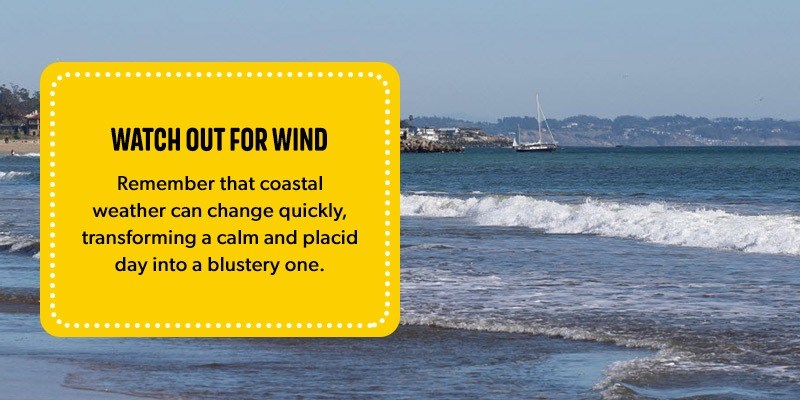 Remember that coastal weather can change quickly, transforming a calm and placid day into a blustery one. Bring your chairs and umbrellas inside overnight and avoid leaving your pop-up tents unattended, or they may blow away.
2. Park Your RV Safely
When parking your RV at a beach campsite, choose your site wisely. Avoid parking on wet sand, or your RV may end up in a puddle when the tide rises. Place plywood or cardboard under your tires and jacks to prevent your RV from sinking or getting stuck. You may also want to use plywood or plastic to block wind from blowing sand out from underneath your RV and causing it to sink.
If you do not want to risk water damage or getting your RV stuck on the beach, choose a campground that offers paved or gravel RV sites instead. When camping near the ocean, park with the doors of your RV facing away from the water. This will prevent as much sand from blowing into your RV when you are going in and out, and it will also protect the doors from wind damage.
KOA Campgrounds offer clean, level RV Sites so you don't have to worry about getting stuck in the sand at your campsite!
3. Plan for Bad Weather
Although you may not want to think about it raining during your beach vacation, it's always smart to prepare for the inclement weather. Check the weather before you head out, but pack indoor activities even if the forecast looks sunny. If you do get stuck inside your RV on a stormy day, you'll be grateful you brought board games or a deck of cards to stay entertained.
You can also plan ahead by researching indoor attractions near your destination. Going to an aquarium or playing at an indoor arcadecan keep the beachy spirit going, even when the sun is not shining.
4. Wash Your RV Before You Go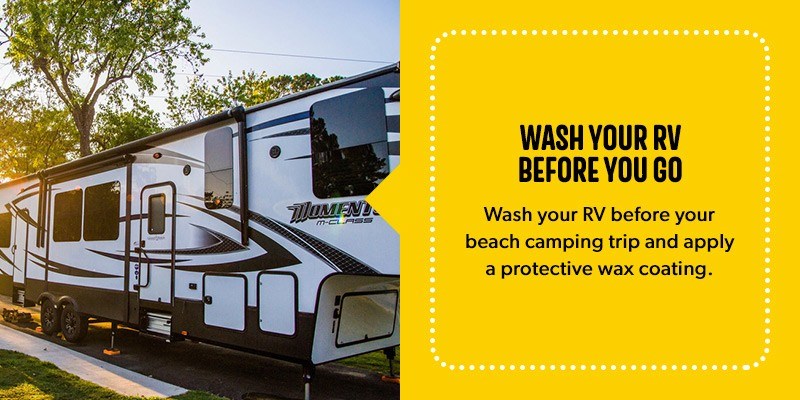 Sand, salty air and harsh UV rays can damage the exterior of your RV if you do not take steps to protect it. Wash your RV before your beach camping trip and apply a protective wax coating. A wax coat will help your RV maintain its shine no matter how many times you head to the coast.
5. Stay Cool
The inside of your RV can get pretty toasty and humid while camping at the beach. Check that your RV air conditioner is working properly before you go. Keep the blinds closed to prevent the inside of your RV from baking during the day. You can also put reflective foil inside your RV windshield and windows to deflect the sunlight during the day.
KOA Campground Beach Destinations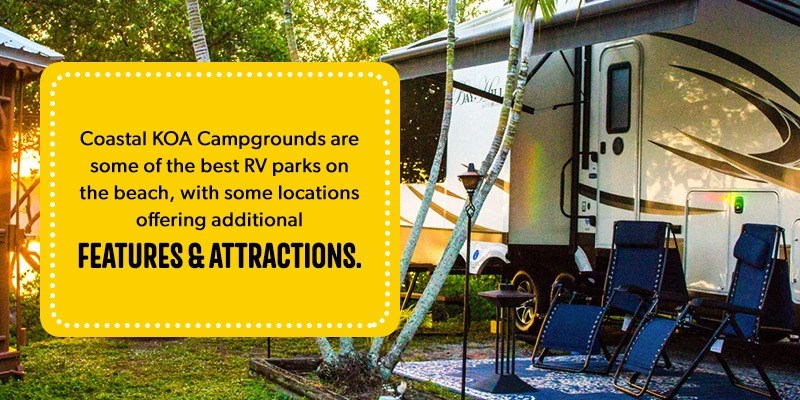 Another tip for planning the best RV beach trip is choosing a stellar location. Whether you are cruising down the Pacific Coast Highway or want to settle on the white sandy shores of Florida for a long vacation, you can choose from dozens of KOA beach campgrounds on both coasts. Here are a few of the fabulous KOA Campgrounds on the beach to consider for your next beach camping adventure:
1. Virginia Beach KOA Holiday
If you are looking for a bustling Boardwalk with family-friendly attractions, the Virginia Beach KOA Holiday is the perfect beach campground for you. Nestled where the Atlantic Ocean and the Chesapeake Bay meet, Virginia Beach boasts several sandy beaches and many other local attractions to explore. Designed with families in mind, our Virginia Beach campground offers many exciting amenities, including two pools, a Giant Slide, a Kamp K9® Dog Park, bike rentals and our Pocket Activity Park with cornhole, horseshoes and more.
2. Cape Charles / Chesapeake Bay KOA Resort
Another great option in Virginia is the Cape Charles / Chesapeake Bay KOA Resort. It boasts a stunning waterfront location with its own private beach. Escape the hustle and bustle to relax on the shore of the Chesapeake Bay at our comfortable KOA Resort. Enjoy two campground pools, bike rentals, a fitness center and a restaurant and ice cream shop right on the beach. Outdoor enthusiasts can explore the 1,700 acres of parkland surrounding the campground, go fishing in the bay or paddle through the wetlands to spot butterflies and songbirds.
3. Cape Hatteras KOA Resort
Explore the beautiful Outer Banks with ease when you book a beachfront RV Site at the Cape Hatteras KOA Resort. Located just steps from the Atlantic Ocean, you can spend all day playing in the waves or relaxing on the beach. Our Cape Hatteras campground also features a year-round swimming pool, hot tub, water slides, Kamp K9® Dog Park, outdoor cinema and other family-friendly amenities.
4. Myrtle Beach KOA Resort
Located right in the middle of the action, the Myrtle Beach KOA Resort is within walking distance of more than 40 restaurants, four miniature golf courses, two amusement parks, sandy beaches and much more. Take a stroll on the Myrtle Beach Boardwalk and Promenade or spend a day on the greens at one of the more than 100 golf courses in the area. After a long day of adventure, you can relax at your quiet and shady campsite complete with comfortable amenities like Wi-Fi and cable TV.
5. Cape May KOA Holiday
Perfect for a vacation filled with sand and fun, the Cape May KOA Holiday boasts its own private beach and is just minutes away from the Cape May and Wildwood beaches. Enjoy an adventure-filled day riding water slides and rollercoasters on the Wildwood Boardwalk or have a laid-back day browsing antique stores or sampling wine in Cape May.
6. Fort Pierce / Port St. Lucie KOA
As the smallest KOA in the country, the Fort Pierce / Port St. Lucie KOA offers a private and cozy beach getaway. Relax by the shore at several nearby beaches and enjoy the breeze from the bay as you sit by your campfire in the evening. Perfect for anglers and boaters, the Fort Pierce area has numerous free boat slips and some of the best fishing in the world. If you get caught in the rain, there is plenty to explore in downtown Fort Pierce, including museums, theaters, restaurants and shops.
7. South Padre Island KOA Holiday
A true island getaway, the South Padre Island KOA Holiday is dotted with palm trees and nestled right on the shores of the Gulf Coast. Complete with a pool, hot tub, sandy playground, sunset deck, fitness center and on-site restaurant, this KOA beach campground is the perfect place for a romantic weekend or family vacation. For adventure enthusiasts, South Padre Island also offers parasailing, deep-sea fishing, dolphin watching and more to keep you entertained.
8. Avila / Pismo Beach KOA
Nestled in a canyon along California's Central Coast, the Avila / Pismo Beach KOA boasts hiking and biking trails, rocky coastal cliffs, sandy beaches and warm weather all year long. Dine at the Avila Beach Farmers' Market or sample wine from nine award-winning wineries on the Avila Wine Trail. If you need a break from the sunshine and surf, the quaint communities of San Luis Obispo and Pismo Beach offer endless wonders to discover.
9. Manchester Beach / Mendocino Coast KOA Journey
From stunning redwoods and wildflowers to local wineries and lighthouses, you'll enjoy the best of California when you visit the Manchester Beach / Mendocino Coast KOA Journey. Located right on the Pacific coast, the campground is just a short walk from miles of sandy beach. Enjoy breathtaking ocean views or explore art galleries and shops in the historic village of Mendocino. With an abundance of wildlife, hiking trails and gardens, Manchester Beach is the perfect destination for nature lovers.
Benefits of Staying at a KOA Campground for Your Beach Vacation
When you stay at a KOA campground for your RV beach trip, you'll enjoy beautiful, level RV Sites, exceptional customer service and comfortable amenities. Our RV Sites are available as Pull-Thru or Back-In RV Sites with full-hookup sites available at most locations. All KOA Campgrounds offer bathroom facilities with hot showers so that you can keep the sand out of your RV after a long day at the beach and laundry facilities so you can pack lighter and stay comfortable no matter how sandy your adventures get.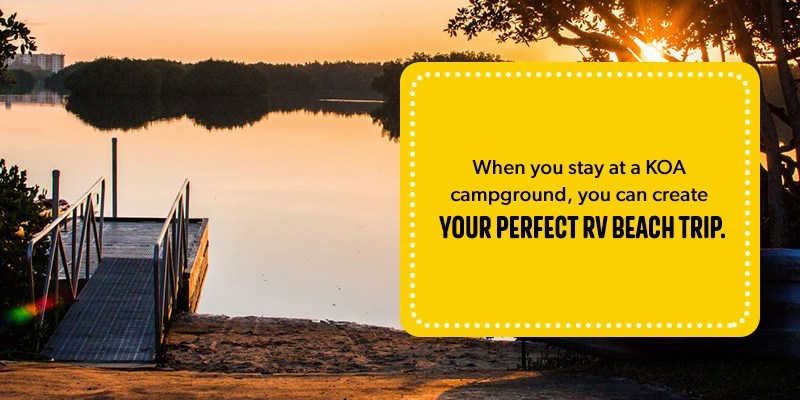 Coastal KOA Campgrounds are some of the best RV parks on the beach, with some locations offering additional features and attractions:
Bike rentals
Kayak rentals
Pools and hot tubs
Pet parks
Outdoor cinemas
Climbing walls
Volleyball courts
Game rooms and arcades
Beach shuttles
And more!
For an even more luxurious RV beach camping experience, upgrade to an RV Site with a spacious KOA Patio™. Complete with a private level patio, outdoor seating area and a fire pit or fire ring, RV Sites with a KOA Patio™ make it easy to feel at home no matter where your travels take you.
KOA beach campgrounds can be found up and down the Atlantic and Pacific coasts and along the Gulf of Mexico. Our convenient locations let you stay right by the sand and waves, as well as close to other popular attractions, like boardwalks, water parks, hiking trails, golf courses, horseback riding, fishing and more. When you stay at a KOA campground, you can create your perfect RV beach trip.
Find a KOA Campground near your favorite beach location and reserve your campsite today!
---