These eleven roadside stops are sites you don't want to miss on your next southern road trip.
Few things are more American than a road trip across the lovely United States of America.
It's almost like a rite of passage in our fine country — a rite of passage that is filled with lots of playlists, roadside diners, beautiful scenery, and roadside attractions so wacky that you can't help but go far out of your way to see them in person. And, probably snap a selfie or two.
Some may call them "tourist traps." We call them "roadside attractions."
And while traveling through the southern United States, you're guaranteed to be (moderately) near these sights.
Regardless of how long the detour takes, we promise you that these quirky roadside attractions are ones you do not want to miss.
1. Jimmy Carter Peanut Statue – Plains, Georgia
 Didn't think the United States' love for Jimmy Carter and peanuts would ever come together to create something great?
Think again.
This 13-foot statue of a peanut was built by the Indiana Democratic Party in honor of Jimmy Carter's presidential campaign. Carter started out as a peanut farmer, and his hometown of Plains, Georgia is not letting anyone forget that.
KOAs nearby:
2. Nicholas Cage's Tombs – New Orleans, Louisiana
Though he is certainly still alive and kicking, and hopefully working on another National Treasure movie, Nicholas Cage is ready for what comes after his life on Earth ends.
How do we know this?

Next time you're in New Orleans, find your way to a local graveyard where Nicholas Cage has picked out his burial plot. And, as expected, it is far from your average burial plot.
As a man of adventure and an appreciator of treasure-hunting, Nicholas Cage has planned to be buried in a 10-foot tall pyramid inscribed with the words "Omnia Ab Uno," which means "Everything From One."
KOAs nearby:
3. World's Largest Brick – Montgomery, Alabama
 Really just an ad for local brick manufacturers Jenkins Brick Company, this world's largest brick is a bunch of little bricks stacked up to make a bigger one.
Sounds worthy of a detour on your road trip, right?
We sure think so — how many times do you come across a giant brick in your life?
We are guessing only one time — in Montgomery, Alabama.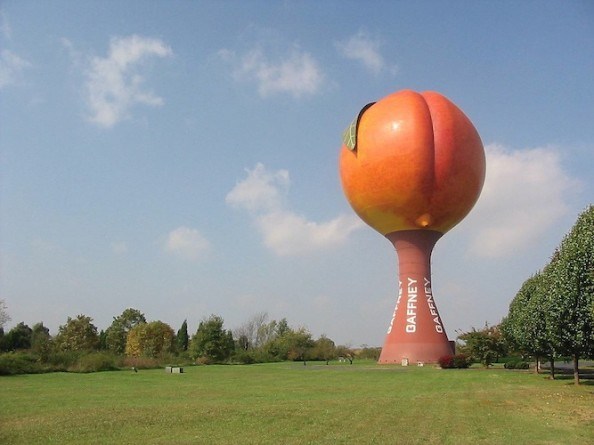 4. Peachoid – Gaffney, South Carolina
If you are as much of a mega fan of House of Cards as we are (thank you Netflix for bringing to the world the concept of binge watching), you will recognize this roadside attraction.
Though it did make a cameo in the show, Peachoid has been around for much longer than that.
This 135-foot tall water tower bears an uncanny resemblance to a giant bottom, and we think it's certainly worthy of a detour, if for no other reason than that it sits in Frank Underwood's hometown.
5. World's Largest Baseball Bat – Louisville, Kentucky

Home to the Louisville Slugger Museum & Factory, it really is no surprise that the world's largest baseball bat found its home in Louisville, Kentucky.
But this is not just any old giant bat.
This bat is a steel replica of Babe Ruth's bat, in honor of the incredible player and his career.
Standing at 120 feet tall, and weighing in at 68,000 pounds, this bat, like Babe Ruth himself did, means business.
KOAs nearby:
6. Foamhenge – Natural Bridge, Virginia
You've heard of Stonehenge, right?
You know – that prehistoric monument that sits in the hills of England?
You may have even visited it yourself.
If you haven't had a chance to make it across the pond to see Stonehenge, don't worry because we've found a great alternative.
If you find yourself traveling through Virginia, make sure you make a stop to see Foamhenge.
The person behind Foamhenge took incredibly detailed care to ensure that every "stone" as part of this "monument" was placed in the exact same place and in the exact same way as its big brother.
We are guessing you could really fool some Facebook friends with a photoshoot at Foamhenge.
KOAs nearby:
Natural Bridge / Lexington KOA Holiday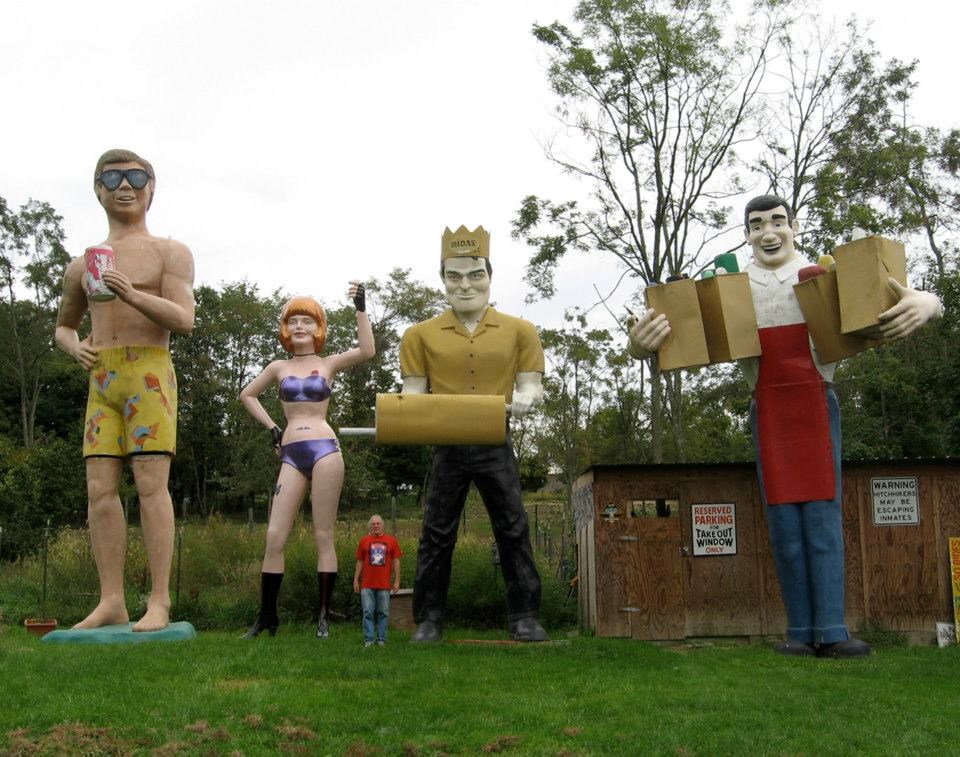 7. Land of Giants (Franham Colossi) – Unger, West Virginia
 This roadside attraction is all thanks to Pam and George Franham.
Their personal art collection has turned into a favorite stop amongst West Virginia roadtrippers to see their giant action figures.
A variety of statues sit atop the Franham lawn for people to enjoy, and of course, snap a picture or two with.
KOAs nearby:
Harpers Ferry / Civil War Battlefields KOA
Hagerstown / Antietam Battlefield KOA Holiday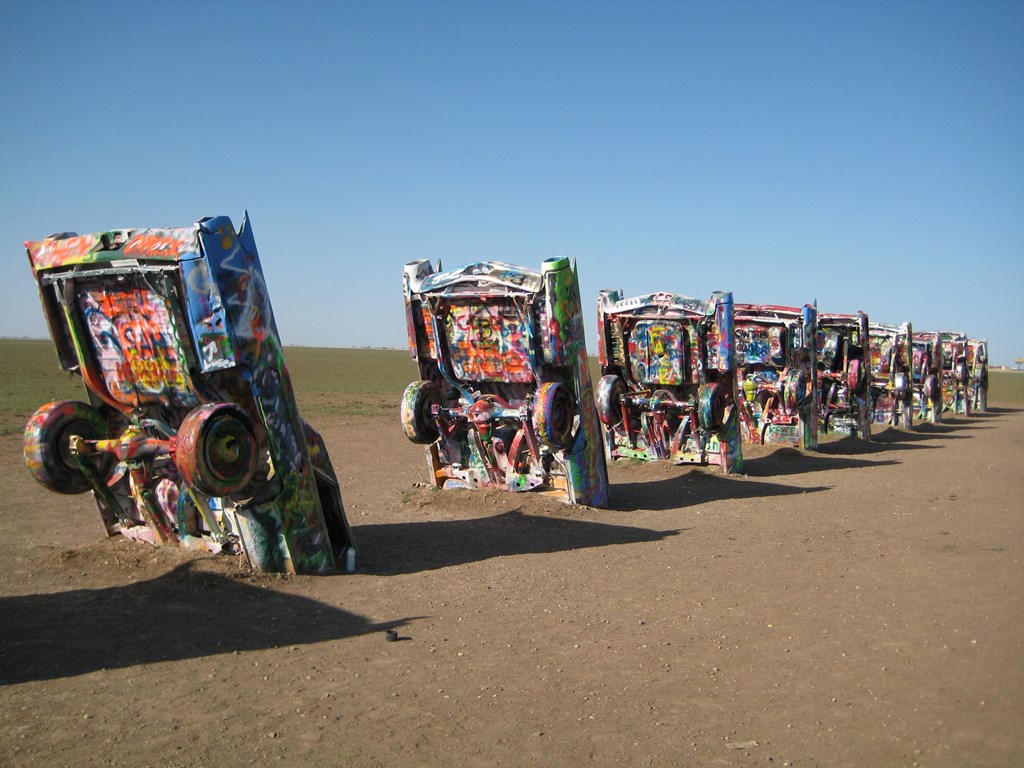 8. Cadillac Ranch – Amarillo, Texas
This is definitely not your typical Texas ranch. No cows, no horses, no sheep, no livestock anywhere in sight.
Instead of farming livestock, the owners of Cadillac Ranch instead farm Cadillacs.
Not just your parents' and grandparents' car of choice, Cadillacs can make quite the artistic statement.
Especially when there are 10 of them planted upside-down in the middle of the Texas desert.
And the coolest part? (As if Cadillacs artistically buried in the desert wasn't cool enough already.)
These Cadillacs are supposedly tilted at the exact same angle as the Great Pyramid of Giza.
Who needs to go all the way to Egypt when you can see such spectacular things in a Texas desert?
KOAs nearby: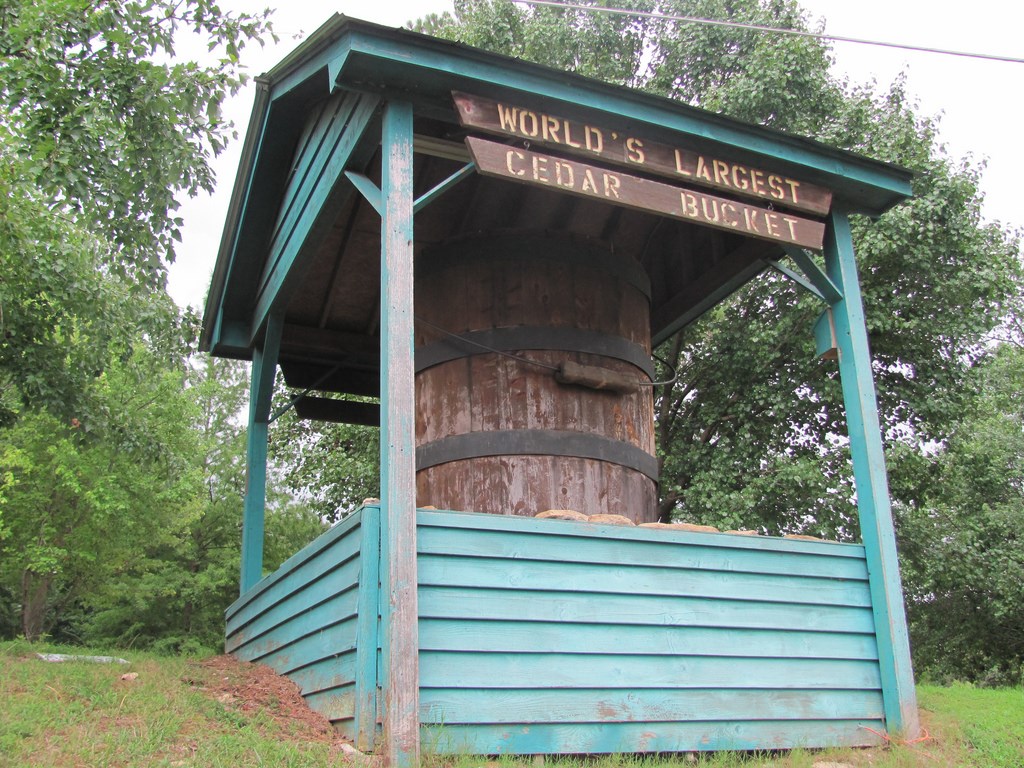 9. World's Largest Cedar Bucket – Murfreesboro, Tennessee
"What the heck can you do with a giant bucket?" you may ask.
What can't you do with a giant bucket?
One great thing about this cedar bucket is that it has the ability to hold 1,566 gallons of beer, and stands a whopping 6 feet tall.
We're thinking that sounds pretty nice to have on our next camping trip.
KOAs nearby:
Nashville East / Lebanon KOA Journey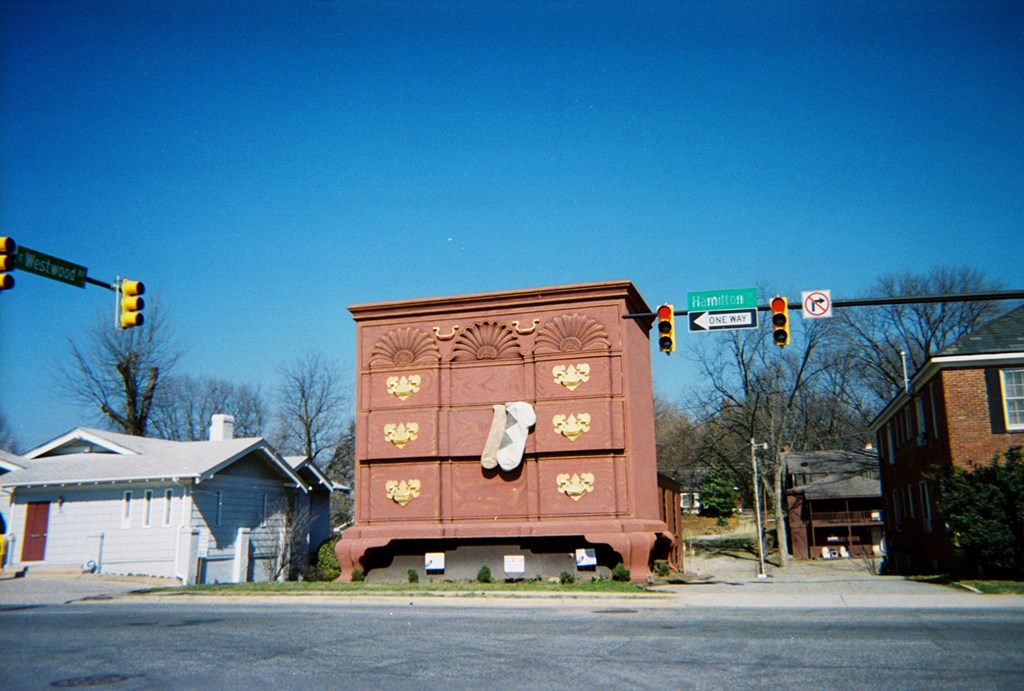 10. World's Largest Chest of Drawers – High Point, North Carolina
Yep, this one is just like it sounds.
No rhyme or reason as to why someone decided to construct a giant chest of drawers on this street corner, but someone did, and now it's a hot spot for travelers.
Boasting a height of 38 feet tall, this dresser even has a couple of giant socks peeking out of one of its drawers.
KOAs nearby:
11. World's Largest Ball of Stamps – Boys Town, Nebraska
Did you have parents or grandparents that, for some reason, were all about collecting stamps?
Well, maybe they were onto something, after all.
It's likely their collection didn't make it to this size, but was probably worth the effort.
This giant ball of stamps weights over 600 pounds and is estimated to be constructed of approximately 4,700,000 stamps.
That's a lot of unsent letters.
KOAs nearby:
West Omaha / NE Lincoln KOA Holiday
---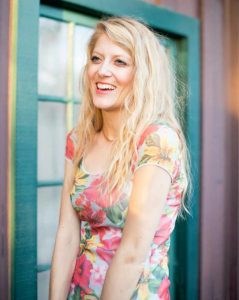 Leslie, a.k.a. Copy Girl, is a copywriter who gets butterflies from telling stories through words.
Her voice comes from a place filled with passion, dreams, and lots of sugar. "Cake over steak" is her go-to motto.
With over 10 years of experience in crafting words, and years of embarking on travels that have taken this Montana girl to some incredible places, Leslie love the adventures of both body and mind her writing takes her on.
Everywhere she goes, she takes this advice with her:
"Hold on to your divine blush, your innate rosy magic, or end up brown." – Tom Robbins, Jitterbug Perfume
To see what Leslie's up to in the writing world, visit her website here.
---