North Dakota's buttes and grasslands meet the 10,000 lakes of Minnesota in this national park dream vacation tour.
If you're planning a tour of national parks in North Dakota and Minnesota, then it makes sense to start with Theodore Roosevelt. It was Roosevelt—the "conservation president"—who doubled the number of sites within the National Park System and signed the Antiquities Act (which allows historic landmarks and structures to become national monuments). So launch your expedition with a fine meal at Theodore's Dining Room in the historic Rough Riders Hotel in charming Medora, North Dakota, on the outskirts of the South Unit of Theodore Roosevelt National Park.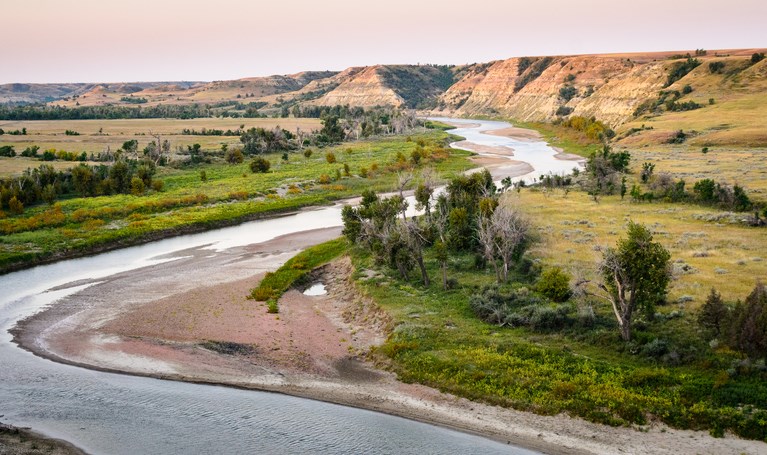 When Roosevelt first arrived in the Dakota Territory in the 1880s, he was a bespectacled Ivy Leaguer with an Eastern accent, but he adapted to life as a rancher and later remarked, "I never would have been president if it had not been for my experiences in North Dakota." So it can be particularly satisfying to drive the 36-mile scenic loop past the buttes and badlands—and overlooks and hiking trails and prairie dog towns—in the national park that bears Teddy's name. Afterward, you can stroll past Medora's ice cream parlors and candy shops, as well as the North Dakota Cowboy Hall of Fame. For an extra dessert, you can watch the popular Medora Musical, performed nightly throughout the summer at the Burning Hills Amphitheatre. It's an homage to TR and the Wild West days.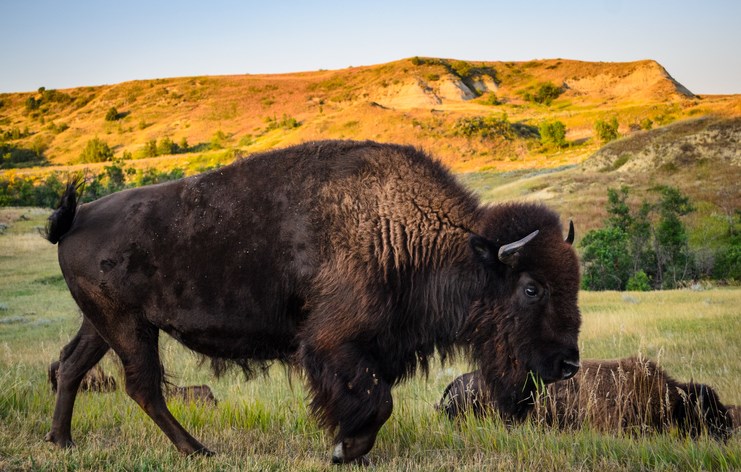 Bismarck KOA Journey is just two hours east of Medora along I-94, and from there you can launch the next phase of your KOTA-and-SOTA excursion. The city of Jamestown, North Dakota, just 99 miles east, is home to the National Buffalo Museum and a herd of a few dozen bison transplanted from Theodore Roosevelt National Park. They roam some two hundred acres of pasture on either side of the interstate. If you're lucky, you might spot White Cloud, a rare albino bison.
Cruise several hours east, and it'll become clear that you've entered the "Land of 10,000 Lakes" (though there are actually nearly 12,000 in Minnesota). Make your way to the city of Bemidji, home of an 18-foot-tall Paul Bunyan statue and Bemidji KOA Journey. This can be your basecamp for a long day trip—two hours north to Voyageurs National Park. Located along the Canadian border, the state's only national park offers 344 square miles of navigable glacier-scoured lakes for boating, kayaking and canoeing. Listen for loons. Look for bald eagles. You may even spot an Eastern timber wolf or a moose or two.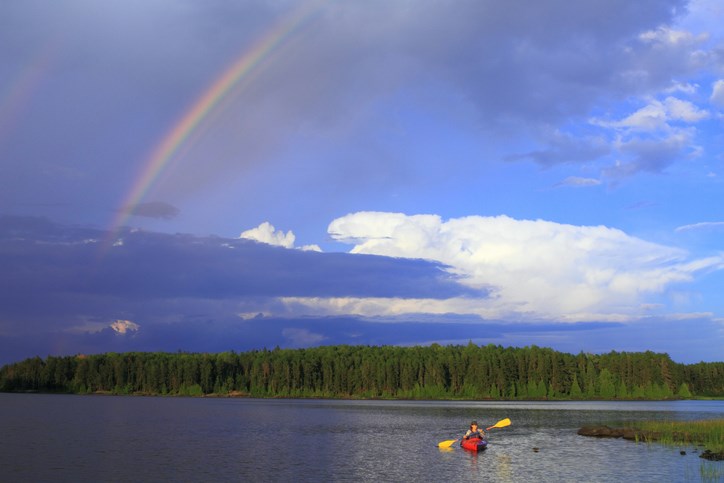 After returning to Bemidji, you can then trek 150 miles east to Cloquet / Duluth KOA. Now, stunning Lake Superior beckons—and an unforgettable drive along the North Shore Scenic Byway, past the cliffs, pine forests, beaches and waterfalls that hug the sweeping shoreline of the world's largest freshwater lake. This 142-mile wowser ends at the Grand Portage Reservation and Grand Portage National Monument, which preserves part of a historic trading route utilized by French-Canadian voyageurs and honors the Anishinaabeg Ojibwe heritage. If you arrive during the second week in August, you can watch a rendezvous re-enactment and an Ojibwe pow wow.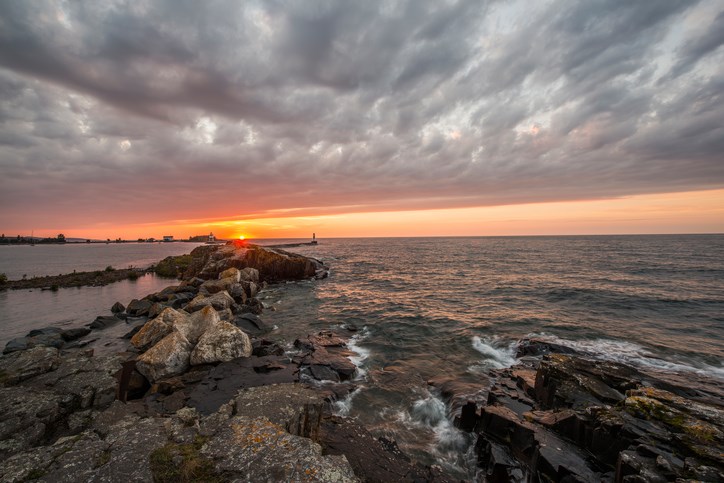 So all of it—from Roosevelt to a rendezvous where trappers sold their furs, and from bison herds to pow wows—is a reminder that geography is inseparable from history.
OWNER'S TIP: "If you're in our neck of the Northwoods, you'll definitely want to take a day trip 35 miles south to Itasca State Park. That's where you can walk to the headwaters of the Mississippi River as it begins to gurgle its way from Lake Itasca, beginning a 2,552-mile journey to the Gulf of Mexico. You can actually wade to the other side of the creek, or drop a twig in the water and imagine it floating to New Orleans." – Carissa Vannoy, Bemidji KOA
ALONG THE WAY… Don't miss Dakota Thunder. That's the name of the 26-foot-tall, 46-foot-long cement sculpture in Jamestown, North Dakota, otherwise known as the World's Largest Buffalo. So it's nearly impossible to miss him. He stands guard over Frontier Village, a collection of storefronts and artifacts—a barber shop, a dentist, a jail, even a Louis L'Amour Writer's Shack—approximating a 19th century prairie town.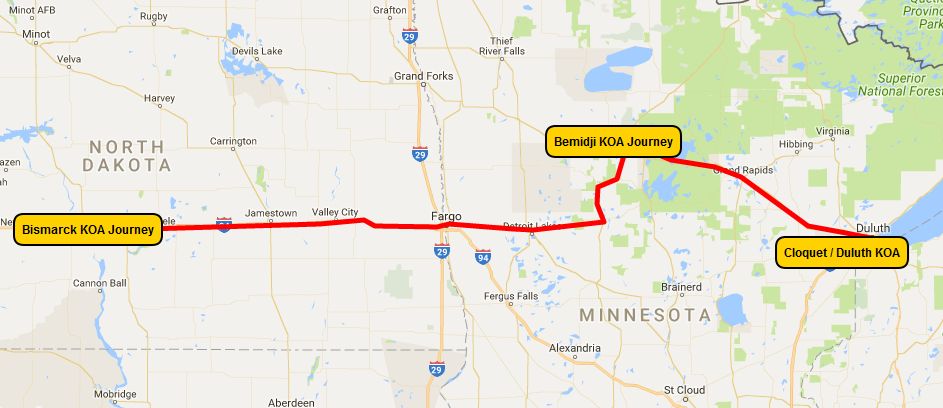 Click to Enlarge Map
EDITOR'S NOTE: 2016 was the 100th Anniversary of the National Parks Service, the agency that oversees more than 400 National Parks, Monuments and Seashores across the U.S. This story was part of a special series featuring great trips you can take to some of America's wonders.

Inspired? If you are headed toward any of our National Parks or Monuments, check out this list of KOA campgrounds near National Parks and Monuments.
Don't forget! If you're ready to plan that dream trip you can save big on stays at all your favorite KOA campgrounds with Value Card Rewards. You'll earn reward points, enjoy members' only offers – including our new Value Card Reward Savings which could save you big with over 500,000 coupon offers – and save 10% off any site at any KOA.
---
ABOUT THE AUTHOR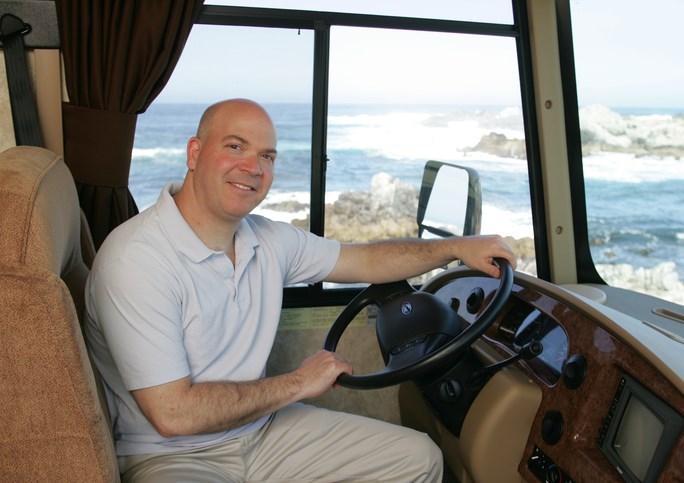 Author Brad Herzog (BradHerzog.com) has written more than 30 books, including three acclaimed memoirs in which he examines big-picture concepts while passing through some of the tiniest dots on the U.S. map. The American Book Review has described his travelogue trilogy as "the new classics of American travel writing." Herzog lives on California's Monterey Peninsula with his wife Amy and their two sons.
Save
Save