RV Traveling on I-95 — The Top Things to Do
A road trip on I-95 has it all — from big cities to the rural small towns and huge museums and cultural attractions to quiet beaches and parks. It even has a few quirky stops along the way. The attractions along I-95 have something to please everyone and make for an unforgettable vacation the whole family can enjoy. With so many fun stops along the way and things to see and do along this long stretch of highway, this guide couldn't possibly list everything. Still, the trip planner resource below is full of some of the best ideas for a road trip along I-95.
Where Is I-95?
Interstate 95 is one of the most important freeways in the country, running the entire length of the East Coast. It's easy to see why this thoroughfare is known as the "East Coast's Main Street," as it passes through so many major cities along the way. Running almost parallel to the Atlantic Ocean, I-95 is never far from the beach, and it stretches from Maine to Florida.
In Maine, I-95 crosses the Canadian border, continuing as Route 95 into the province of New Brunswick. Before that, it passes through many major cities such as New York, Baltimore, Boston, Washington D.C., Philadelphia, Charleston and Miami. The interstate includes more states than any other highway in the country and has the most branch routes of any other highway as well. Several parts of I-95 are toll roads, so plan accordingly when traveling this route.
I-95 Highway Highlights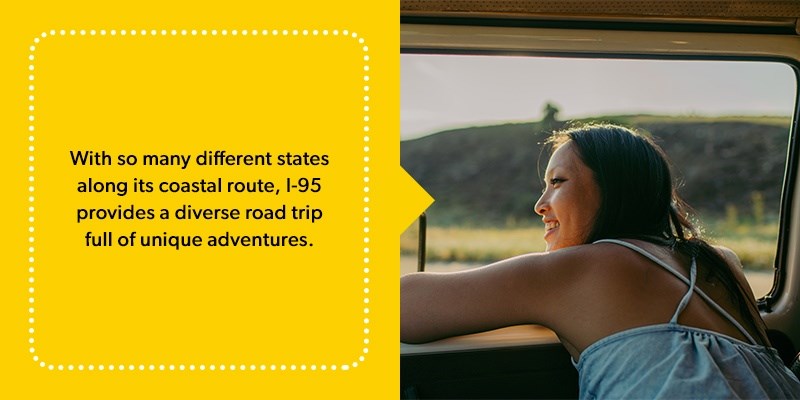 With so many different states along its coastal route, I-95 provides a diverse road trip full of unique adventures. And whether you enjoy the big cities with their museums and culture, the beaches and boardwalks, or the small towns and rural areas, I-95 truly has something for everyone. A trip all the way up — or down — this scenic highway will give you a taste of the entire East Coast of America while you visit several different states. So whether you plan to road trip on just a short portion of I-95 or travel its full length, Kampgrounds of America has some great ideas to make your journey a little more magical.
Let's take a closer look at some of the best things to see and do all along I-95 in every state, so you can easily plan out your I-95 road trip. And, of course, wherever you are on I-95, you're not far from a KOA Campground. Our list includes a few suggestions for where to stay too. Get ready for an East Coast adventure!
Florida
Although you can start your I-95 road trip at any point, the official starting point to this well-known route is near the southern tip of Florida, just south of downtown Miami. I-95 covers more than 350 miles of Florida and hugs the state's east coast, traveling through other notable cities and areas like Fort Lauderdale, West Palm Beach, the Gold Coast, Daytona Beach, Saint Augustine and Jacksonville. Fans of the movie "The Flight of the Navigator" may recognize this stretch of highway. The spaceship from the film makes its way towards Miami down I-95.
While in Florida on I-95, check out these must-see destinations:
In addition, consider stops at South Beach, Butterfly World, the Busch Wildlife Sanctuary, Mel Fischer's Treasure Museum and the Ponce DeLeon Inlet Lighthouse. While in Florida, consider a stay at the St. Augustine Beach KOA Holiday. This campground is just a short walk to the ocean and features amenities like a pool, paddleboats and a KampK9® dog park.
Georgia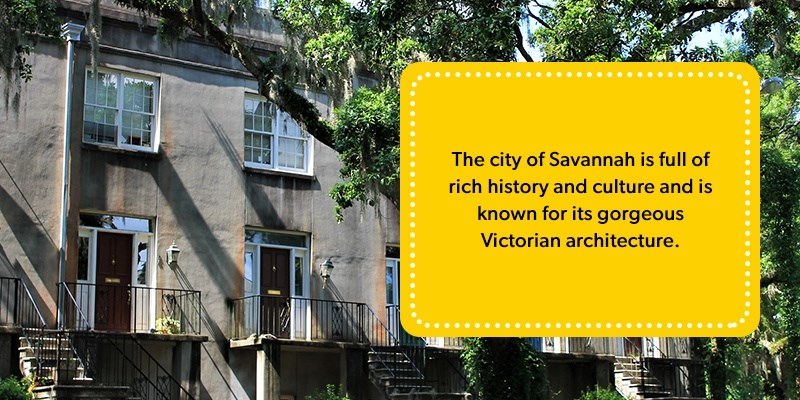 On Florida's northern border, I-95 crosses into Georgia and continues its path, hugging the Atlantic coastline. Georgia's stretch of I-95 is just a little more than 100 miles long and passes through the cities of Brunswick and Savannah. Here are a few ideas for what to see in Georgia:
Savannah Historic District: The city of Savannah is full of rich history and culture and is known for its gorgeous Victorian architecture. Here you can wander the old-fashioned cobblestone streets and take in all the beautiful scenery and gentle breezes. Savannah is also known for its Southern cooking and has plenty of unique restaurants to try.
Bonaventure Cemetery: Some may think it's beautiful, while others think it's a bit creepy. Either way, Bonaventure Cemetery is an interesting sight. This unique Savannah setting was made famous by the book "Midnight in the Garden of Good and Evil" and features the resting places of several famous people amid beautiful Spanish moss and works of art and architecture.
Cumberland Island, Forsyth Park and the Tybee Island Lighthouse and Museum are also great places to stop along I-95 in Georgia. For a great camping spot in Georgia, check out Savannah South KOA Holiday. You'll love the on-site pool, boating, gorgeous scenery and natural wildlife.
South Carolina
The city of Savannah is full of rich history and culture and is known for its gorgeous Victorian architecture. Here you can wander the old-fashioned cobblestone streets and take in all the beautiful scenery and gentle breezes. South Carolina is also known for its Southern cooking and has plenty of unique restaurants to try.
Congaree National Park: Experience this old growth forest that was once a logging forest. See huge, gorgeous trees as you enjoy hiking, kayaking or prime birdwatching. Take a stroll on the nearby University of South Carolina's campus as well for plenty of dog sightings and college game day spirit.
UFO Welcome Center: If you're looking for something completely wacky to see on your way through South Carolina, the UFO Welcome Center fits the bill. This homemade, slightly rickety structure resembles two stacked UFOs and offers travelers some amenities and a peek into this eccentric structure.
Santee State Park: Situated on Lake Marion, at Santee State Park, you're sure to see some large catfish! Take advantage of the hiking and biking trails, as well as boating opportunities on the lake.
You can also check out the South Carolina State Museum for plenty of interesting fun! If you need a place to spend the night in South Carolina, consider the Point South / I-95 / Yemasee KOA Holiday. This campground features a coffee shop, a wine bar and fun family activities like gem mining.
North Carolina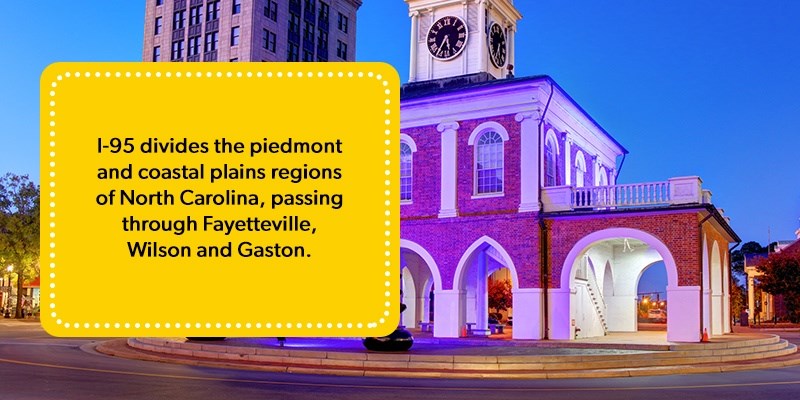 I-95 divides the piedmont and coastal plains regions of North Carolina, passing through Fayetteville, Wilson and Gaston. This route has several fascinating museums to check out, including:
Museum of the Cape Fear Historical Complex: This historical complex in Fayetteville includes the E.A. Poe House and Arsenal Park, among other historical exhibits. Enjoy free admission to all the amazing historical exhibits here.
Airborne and Special Operations Museum: North Carolina is full of rich history, and this Fayetteville stop is another great museum for fans of aviation and military history. Admission is also free for this museum.
Cryptozoology and Paranormal Museum: For a museum experience that's a little more unique, head to this popular attraction in Littleton, North Carolina. This museum investigates creatures and phenomena not explained by traditional science. Explore ghosts, Bigfoot and other paranormal beings at this fun North Carolina stop.
Need a place to stay the night in North Carolina? Head to the Lumberton / I-95 KOA Journey for great recreation opportunities and amenities, including a pool and outdoor games like shuffleboard and cornhole.
Virginia
The I-95 highway passes through the eastern part of Virginia, and the cities of Richmond, Fredericksburg and Petersburg, before heading towards Washington, D.C. While in Virginia, don't miss the quaint, historic downtown area in Fredericksburg — it's full of history and things to see and do. Old-fashioned shops and taverns capture the antiquated feel from both the Revolutionary and Civil War eras.
Nature buffs will love both Belle Isle, a vast public park, and the Lewis Ginter Botanical Garden — a great place to see flowers and butterflies with a splash pad for kids to cool off on hot days.
Spend a night — or more — at the Fredericksburg / Washington D.C. South KOA Holiday. Here, you're close enough to enjoy all that Fredericksburg and D.C. have to offer or simply take in the campground amenities like the pool and family activities.
Washington, D.C.
I-95 doesn't travel straight through the heart of our nation's capital and instead borders the eastern outskirts of Washington, D.C. However, road tripping on I-95 means you're super close to all the exciting action of this remarkable city. See the government at work while visiting the White House and Capitol Building, view the famous Washington, Lincoln and Jefferson monuments, or take in world-class museums like the Smithsonian.
Maryland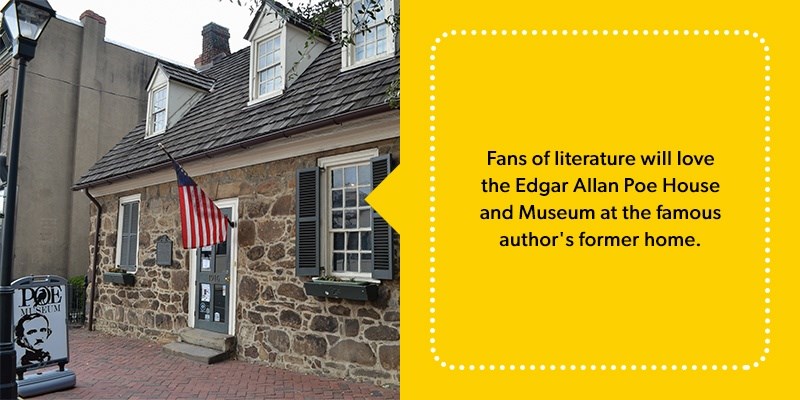 North of D.C., I-95 travels through about 100 miles of Maryland, passing underneath Baltimore's famous Inner Harbor in an underground tunnel. Exit beforehand to experience this fun, cultural hot spot for shopping, dining, museums, water taxi rides and more. Also, check out these interesting stops:
The Awakening: At the art installations at National Harbor in Maryland, you'll find a unique statue that looks like a giant rising up from the ground. It's fun to see and a great photo op.
Edgar Allan Poe House and Museum: Fans of literature will love this stop at the famous author's former home. Tour the small Baltimore home where this beloved writer of the macabre lived.
Baltimore Tattoo Museum: At this unique stop, you can learn all about the history of tattooing. You can even get a tattoo for yourself while you're there!
Delaware
One of the shortest portions of I-95 is its run through Delaware. At only 23 miles, this short stretch of highway passes through Newark, Newport and Wilmington. One of the best things to do along I-95 in Delaware is a stop at Brandywine State Park. This gorgeous forested park features stone walls that add a charming ambiance, as well as a nature center and plenty of foliage.
Pennsylvania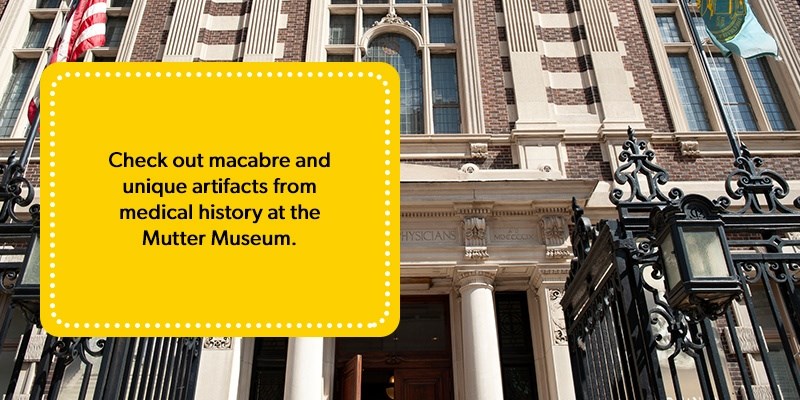 I-95 crosses the southeastern corner of Pennsylvania for about 45 miles and goes through the big city of Philadelphia. While Philly is full of museums, restaurants, attractions and more, these activities are right along the I-95 route:
New Jersey
Once in New Jersey, I-95 stretches on for about 89 miles before heading into New York. Try these I-95 tourist attractions in New Jersey:
Battleship New Jersey Museum and Memorial: Climb aboard this decorated battleship and learn about its history in World War II, Vietnam and the Korean War. You can even sit in the captain's chair and find out how the turrets were fired.
Bamboo Forest: Initially a shelter for bees during the winter, this bamboo grove has grown into the beautiful forested area it is today. Part of Rutgers Gardens, this green oasis makes for a calming, breathtaking site to see along I-95.
World's Largest Lightbulb: What's a road trip without a stop at a "world's largest" something? This unique attraction features a 13-foot lightbulb located near Thomas Edison's former lab. It's a great stop for photos — and, yes, it lights up!
For a great campground in New Jersey that's close enough to all the action of Philadelphia, stay at the Philadelphia South / Clarksboro KOA Holiday. With close proximity to many attractions along I-95 South, as well as on-site amenities like an activity park and a KampK9® dog park, there's plenty to enjoy here.
New York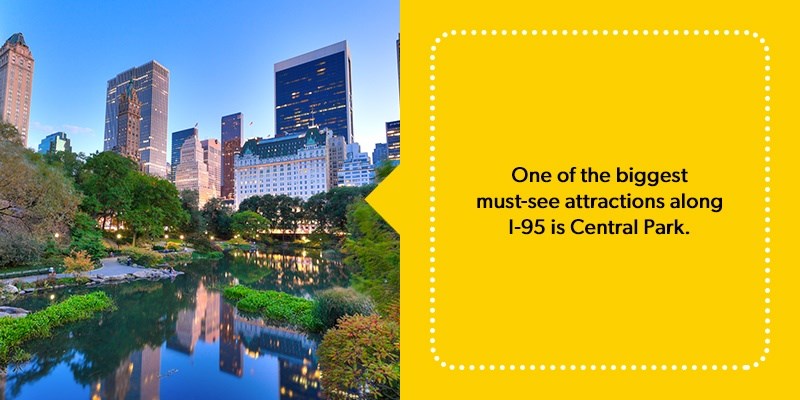 I-95 crosses into New York for just a short stretch, passing through Manhattan and the Bronx, just long enough to take in some of the classic sights of New York City. Some can't miss stops include:
Central Park: One of the biggest must-see attractions along I-95 is Central Park. Situated right in the middle of the city, Central Park has many different natural areas to explore, including water features, recreational opportunities and so much more. This famous park is the most filmed location in the world, so you're sure to recognize some of the scenery.
Cloisters Museum and Park: Just outside of the big apple, the Met Cloisters Museum and Park, part of the Metropolitan Museum of Art, is a welcome respite from all the busyness. Resembling a French monastery, this park features European architecture, beautiful gardens and plenty of medieval artwork and artifacts to see.
If you have time to stay nearby and explore New York City more, you can check out the Empire State Building, the Statue of Liberty, the Metropolitan Museum of Art, the Museum of Modern Art, Broadway and Times Square.
Connecticut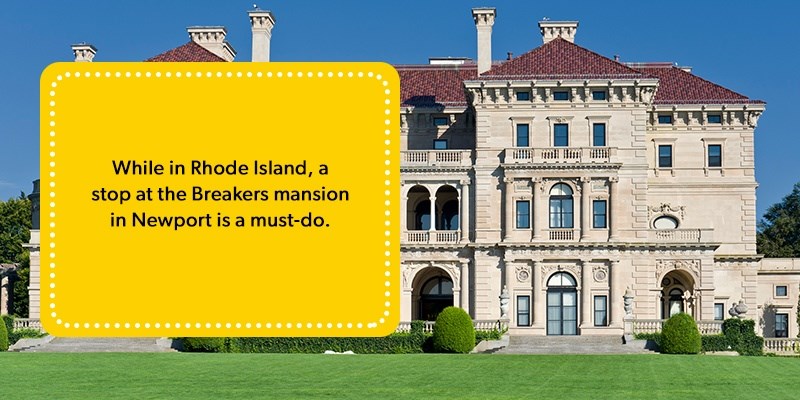 Once out of New York, I-95 travels through more than 100 miles of Connecticut. There's plenty to see and do here, such as:
New Haven Lighthouse: Stop by this beautiful lighthouse to enjoy the scenery, and take in the park and beach right on site.
Mystic Town and the Mystic Seaport Museum: If you're a fan of the movie "Mystic Pizza," a stop in Mystic for a slice of the famous pie is in order. Then, stop by Mystic Seaport to see a quaint, old-fashioned seaport village full of restored buildings and old ships docked in the harbor.
For a great place to camp that's nestled between New York City and Boston, check out Niantic / I-95 Exit 72 KOA Journey. Park your RV here for a few nights and explore all that Connecticut, New York City, Boston and all the surrounding areas have to offer. Relax at the nearby beaches and enjoy campground amenities like mini golf.
Rhode Island
Tiny Rhode Island has about 42 miles of I-95, passing through the capital city of Providence. While in Rhode Island, a stop at the Breakers mansion in Newport is a must-do. Completed in 1895, this "cottage" was built for the Vanderbilt family and is known as America's Downton Abbey. Tour the home and gardens to see a true American palace. For a more quirky roadside attraction, keep an eye peeled for the Big Blue Bug, visible from the I-95 while driving through Providence.
Massachusetts
About 92 miles of I-95 traverses through Massachusetts, and you'll see several major cities, including Boston. Check out these fun must-see stops:
Faneuil Hall Marketplace and Quincy Market: This historic venue in Boston features so many tasty treats all in one location. Experience the best of Boston's shopping and fun activities, along with restaurants and food market vendors to try.
Eleanor Cabot Bradley Estate: Another beautiful New England mansion that's worth a stop is the Eleanor Cabot Bradley Estate. Built at the turn of the century and inspired by the English countryside, this estate is full of beautiful interiors and gorgeous gardens and landscaping.
Battleship Cove and the Museum of Bad Art are two more great stops in this area! The city of Boston also has plenty of museums and attractions to explore if you'd like to take a deeper dive into history.
New Hampshire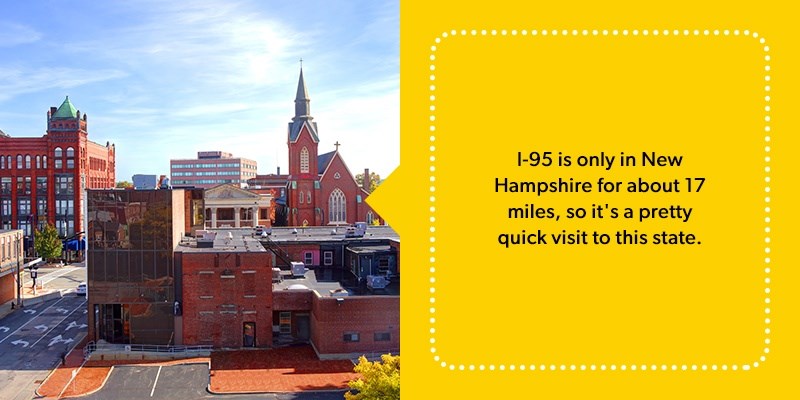 I-95 is only in New Hampshire for about 17 miles, so it's a pretty quick visit to this state. However, if you're interested in the New England history surrounding the witch trials, the Memorial to a Witch makes for an interesting stopping point. This stone monument to the "witch of Hampton" dates back to 1656. And for a more fun, kid-friendly stop, try Water Country in Portsmouth, New Hampshire. Enjoy a day on the water slides at this fun park.
Maine
Maine is the last state on the I-95 route before it crosses into Canada. However, this is also one of the longest stretches of this East Coast Highway, with plenty to see and do along the way. Some of the places to see include:
Old Orchard Beach: Visit this classic beach resort town for the miles of sandy beaches, old-fashioned wooden piers, an amusement park that dates back to 1902, and lots of other fun events and activities.
Mount Katahdin Scenic Overlook: As the tallest mountain in Maine, Mount Katahdin is also the endpoint of the Appalachian Trail. You'll find a gorgeous overlook spot right off of I-95 to enjoy the beautiful mountain scenery.
For a great place to spend the night in Maine, try the Augusta / Gardiner KOA Journey. This campground is centrally located in Maine, so you can enjoy all that this state has to offer. See the mountains and beaches or simply relax with the amenities provided at the campground.
Use the KOA Trip Planner Tool
Hopefully, our list of I-95 tourist attractions inspires you to plan your next RV road trip down this popular route. There's so much to see and do and so many great KOA Campgrounds along the way for you to spend a night or two. To customize and plan your next RV vacation, use the handy KOA trip planner tool. If you stay at multiple KOA Campgrounds during your trip up or down I-95, you can save even more on your next vacation with KOA Rewards. The KOA Rewards program gives you discounts, rewards points and even free nights during KOA Rewards Weekends! Explore more today.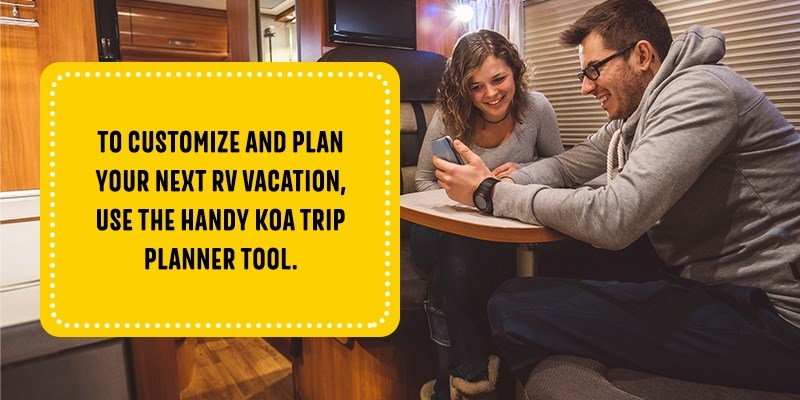 ---
About the Author: Kampgrounds of America
Kampgrounds of America is the largest system of open-to-the-public campgrounds in the world, with over 500 locations across the United States and Canada. Founded in Billings, MT in 1962, KOA's family of campground brands – KOA Journey, KOA Holiday and KOA Resort – today serve more than a million camping families each year. KOA is dedicated to "connecting people to the outdoors and each other" by providing people with a variety of camping experiences and the information they need to make the most of their camping trip. Read more of their camping and travel resources by visiting KOA.com/blog.
---