How to Prepare Your Kids for Their First Winter Camping Experience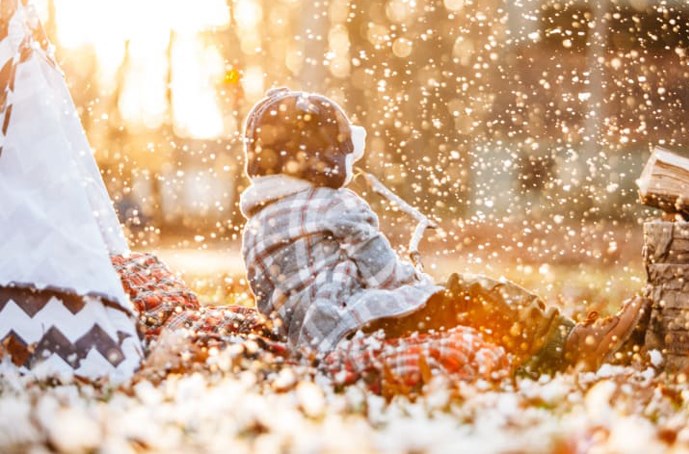 Winter camping means different things to different people. For some, it's the ultimate outdoor challenge of taking on the weather at its worst, with high-tech gear and an element of danger. For others, it's the opportunity to see nature in a new way, avoid the crowds, and enjoy winter sports with the promise of a cozy cabin, a cup of hot chocolate and a roaring fire at the end of the day. In a year when all travel plans have been thrown into disarray, the idea of a socially distanced escape to the outdoors may be just what you need to make the most of the winter.
For families—even those who've spent plenty of time camping in warm weather—the winter brings on a new set of challenges. Clothing and equipment become more critical, and your daily activities require additional thought. Yet for those willing to put in a bit of work, a winter camping trip can be one of the best ways to spend time together as a family. Sound intriguing? Here are some tips to help organize your first winter outing.
Know Your Crew
What type of camping experience do you want for your family? You know them better than anyone, and it's helpful to start with a realistic picture of what to expect. Before kids, you may have scoffed at those who chose a cabin over sleeping under the stars. Kids change things, and those midnight trips to the bathroom are a lot less fun when it's cold out.
Talk as a family to think about the types of activities you want to do and how far you want to travel. If you're tent camping for the first time in the winter, it makes sense to keep it short to test the waters first. If you're not sure about taking on the weather, start with a cabin or yurt, where you can control the temperature at night.
Winter Camping Doesn't Have to Mean Cold
Of course, one way to get around the cold is to camp in a place with mild weather. Florida, Texas, and the southwest are all excellent camping destinations this time of year, allowing you to avoid the summer heat and crowds without having to bundle up. (Note that even in warm-weather locations, the nights can get chilly, so pack appropriately.) Many national parks, particularly in Utah and Arizona, are much less crowded this time of year but still offer excellent hiking and sightseeing opportunities as well.
Research Your Campground
Spring Fed Images
Staying at an established campground can ensure you have everything you need during your stay. Consider one of the more than 500 KOA family-friendly campgrounds across the country, which offer plenty of amenities for any trip. If you want to avoid the elements, consider staying at a deluxe cabin, which features electricity, restrooms, and beds. You can still have your fun outside but relax in a comfy retreat at night. KOA campgrounds are RV-friendly as well, and they're located among some of the most popular outdoor spots in the country, including national parks, beaches, and winter-sport destinations.
Try a Yurt
Yurts have gained in popularity in recent years, particularly during colder weather months. The round, usually canvas-covered tents typically feature one large room, giving you an experience similar to a cabin, but without the individual rooms. There's plenty of headroom and space to walk around and hang out in a yurt. Most easily sleep half a dozen people and include amenities like a wood stove for heat and an area for cooking. Yurts are excellent options for those looking to go snowshoeing or cross-country skiing away from the crowds. Some KOAs have yurts, Airstream trailers, and other unique lodging options to create an unforgettable trip.
Embrace Winter Activities
For many people, the joys of winter camping come from the snow. That could mean staying near a traditional resort for downhill skiing and snowboarding. Perhaps snowshoeing is your thing— take to the trails and enjoy the pristine winter landscape. Snowmobiling is another favorite for campers, giving you the ability to explore the backcountry. Ice skating and sledding are kid-friendly favorites whenever they're available. Even if snow isn't an option near where you live, the winter months can still be a fun time to be outside. Hiking trails without a canopy of leaves creates new vistas to enjoy. And once you get moving, you warm up quickly. Best of all—no bugs!
Prepare for the Trip
Alireza Shojaei
With all the fun, however, comes some additional challenges for families. Let's start with all the stuff. Shorts and a T-shirt take up a lot less space than snow pants and a parka—and winter gear tends to be bulky as well. Even if you're not traditionally a list person, you may want to write everything down to ensure that everyone has the clothing and equipment they need.
Camping off-season means cheaper rates and fewer crowds, but it also means some of the stores, restaurants, and other summer go-to spots may be closed. Check to be sure that any place you're relying on will be open when you get there.
Talk to your kids frankly about the dangers of the weather. They need to be honest about what they're feeling and tell you if they're not comfortable. (Don't worry, most don't have a problem with that.) Staying at a traditional campground means you'll have additional resources in case you run into trouble.
Bad weather can pop up quickly all over the country in the winter, whether it's a snowstorm or thunder and lightning. Pay attention to weather reports in areas where you'll be traveling, and have supplies in your car in case of trouble. Other tips for families with children include:
Keep it short : With all the variables in winter camping, it makes sense to start with a night or two to make sure everyone likes it. You'd rather have the kids complaining that they want to stay rather than they want to go home.
Have an escape plan : The weather can take a quick turn for the worse, or you may find that camping in winter conditions is more challenging than you thought. There's no shame in deciding to head home early or move to a cabin or motel. This is supposed to be fun, and if it's not, quickly make the call to change your plans.
Bring extra everything : You know how likely it is that kids will lose their hats or gloves at some point on the trip. Make sure you have extras. Also expect things to get wet and have backups if you need them, particularly with socks and boots. Wool retains most of its warmth even when wet, so it's a good idea to bring along wool long johns, socks, and sweaters to keep everyone cozy.
Have the right gear : Sleeping bags, tents, stoves, and other camping equipment are rated for temperatures or weather conditions. Make sure that you have gear that's designed for the conditions.
Get the fire going early : If you're staying in a cabin or yurt, start your fire (or turn on the heat source) as soon as you arrive. Of course, this will warm up the space, but it's also critical to know that it works. If it isn't, you'll want to get that fixed immediately or make other plans.
Lead by example : Every trip has ups and downs. Things won't always go your way, and the kids pick up on that. If you keep a good attitude, it's easier for the kids to follow your example. When things do go wrong, focus on solving the problem instead of getting angry.
Make reservations : It may be the off-season, but that doesn't mean you'll get the cabin or campground you want if you just show up. Have a reservation so you know your spot is secure.
Bring plenty of snacks : Nothing keeps the kids happier than being well fed. The body demands it in colder temperatures, so be prepared for the hunger.
Keep it fun : This is a vacation, after all. Organize activities that everyone enjoys, but give yourself some relaxing downtime. Bring along cards or board games that you all enjoy.
Winter camping may be a challenge, but it's also one of the best ways to enjoy the season. So get the family on board, pack the hot chocolate, and see for yourself how much fun the outdoors can be in the off-season.
Written by Jeff Banowetz for Matcha in partnership with Kampgrounds of America.
---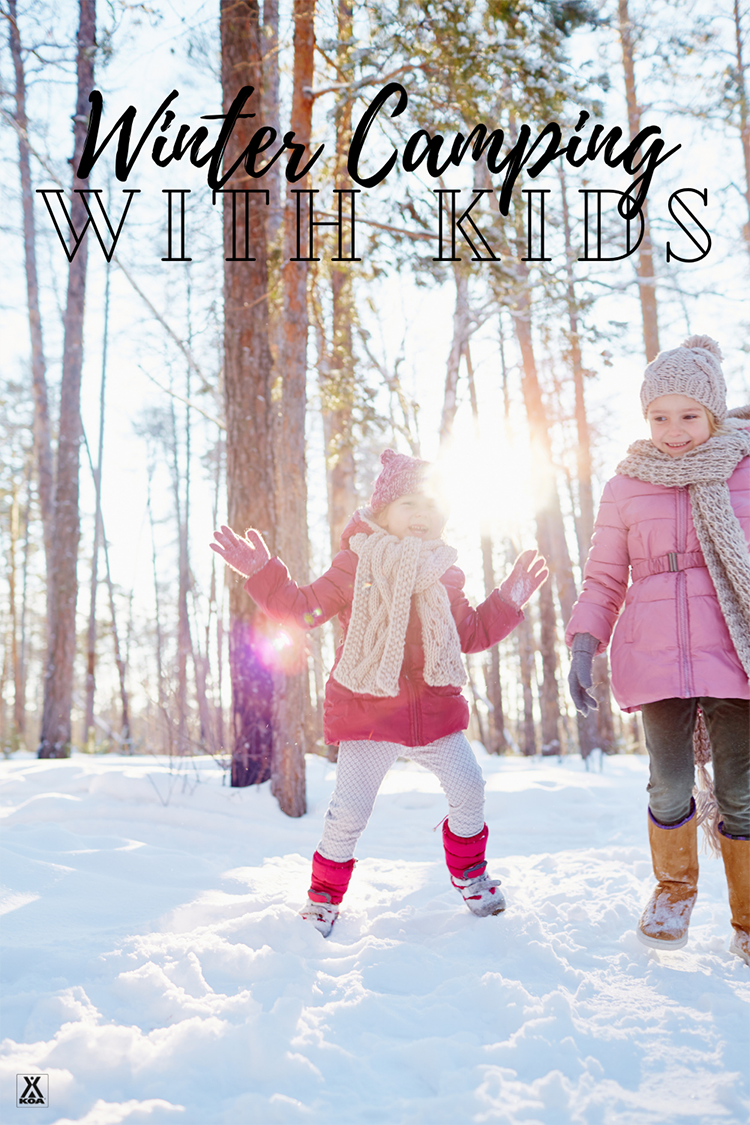 MORE PLACES TO DREAM AND PLAY