Being a Kampgrounds of America camper lets you enjoy camping across North America. Whether you frequently camp in the United States, Canada or both, there are ways you can save money and enjoy camping at KOA for less.
Learn how you can experience affordable camping at KOA.
3 Ways to Camp at KOA for Less
You and your family or friends can have a great camping experience at any KOA campground. While camping can become expensive if you do it frequently, there are ways you can save money when you stay at KOA campgrounds. Take a look at these ways you can camp at KOA for less: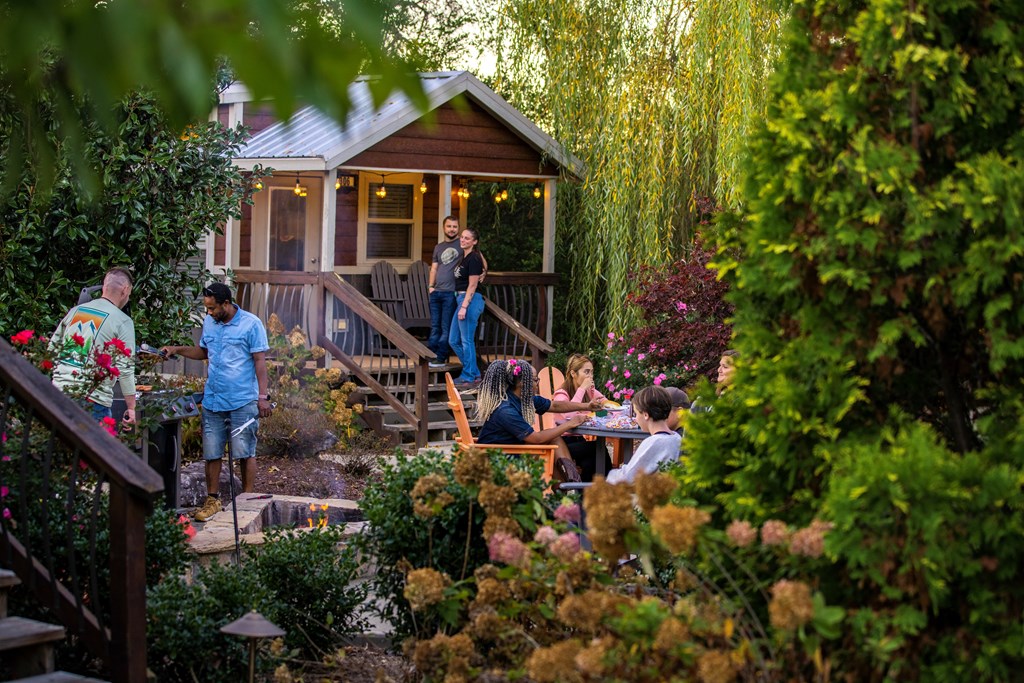 1. KOA Rewards
Become a KOA Rewards camper to access exclusive benefits and discounts. The KOA Rewards program is for every guest who loves camping and spending time outdoors. After joining KOA's loyalty program, you can access perks like:
A free night of camping: Participating KOA campgrounds host KOA Rewards Weekends as a way to thank members of the loyalty program. During KOA Rewards Weekend which happens each fall, loyalty holders who pay for Friday night will receive Saturday night for free.
Daily registration rate discount: When you become a KOA Rewards guest, you can receive a 10% discount on your daily registration rates for the year. The deal makes camping at different KOA locations easier and more affordable.
Rewards points: As a KOA Rewards loyalty camper, you have opportunities to earn and accumulate points. You can then redeem the points to reduce your daily registration rate. Our program has different levels, starting with a base level. The more points you earn, the higher levels you can reach and gain more perks.
Special discounts and exclusive offers: We partner with many companies to ensure our campers have the best camping experiences possible. You can receive special perks from companies like Goodyear Tires, DISH®, Progressive® and more.
The annual fee for our KOA Rewards program is only $36, making it affordable for our dedicated campers.
2. Camp in the Off-Season
You can also have a more affordable camping trip at KOA by staying during the off-season. Some KOA campgrounds may even offer reduced pricing because fewer campers visit outside the height of the camping season. By saving money and avoiding crowds, you'll set you and your crew up for a win-win situation.
Need some off-season camping destination inspiration? From skiing destinations in Colorado to scenic towns in Arkansas, we've got just what you need. Check out our guide on our favorite locations to camp during the off-season.
3. Camp During the Week
Campers can also enjoy the benefits of camping during the week. The weekends can often become busy because campers want to get away for the weekend. If you camp during the week, you may have a better chance of getting a campsite and paying a more affordable price. Some KOA locations may reduce costs for campers who stay during the week. Just imagine: less traffic on your adventures, financial savings for more excursions and more one-on-one time with nature. Now that sounds like absolute bliss.
Become a KOA Rewards Camper Today
Enjoy our KOA deals when you join KOA Rewards. There are over 500 KOA locations across North America, so you can use your loyalty perks whenever you want to go camping. Every KOA campground strives to provide campers with the best camping experiences possible.
To learn more about KOA Rewards, contact us or visit our KOA Rewards website . If you are ready to go camping, search for your next KOA Campground today!
---
About the Author: Kampgrounds of America
Kampgrounds of America is the largest system of open-to-the-public campgrounds in the world, with over 500 locations across the United States and Canada. Founded in Billings, MT in 1962, KOA's family of campground brands – KOA Journey, KOA Holiday and KOA Resort – today serve more than a million camping families each year. KOA is dedicated to "connecting people to the outdoors and each other" by providing people with a variety of camping experiences and the information they need to make the most of their camping trip. Read more of their camping and travel resources by visiting KOA.com/blog.
---