Glamping Tents Guide | Luxury Tent Camping | KOA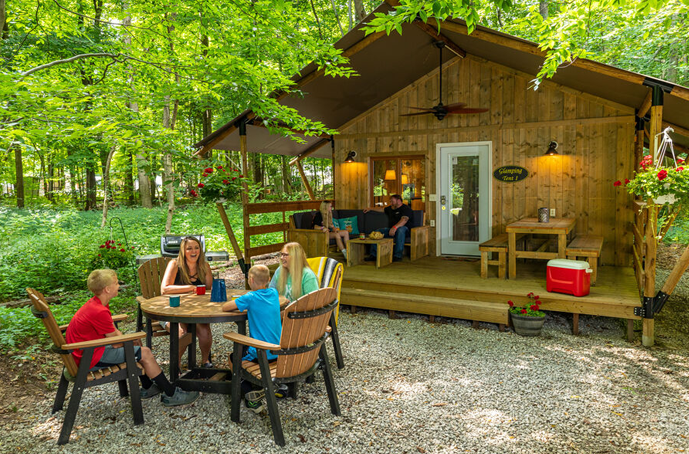 Glamping Tents Guide
Glamping is a type of elevated, "glamorous" camping. It offers a slightly more refined and comfortable outdoor experience compared to more traditional camping methods. You can plan a glamping trip in any of the following spots:
Backyard glamping: Turn your backyard into a glamping paradise, perfect for a weekend staycation, alternative date night or the ultimate kid's sleepover. Backyard glamping trips are a great way to get accommodated to the feeling of glamorous camping without leaving home.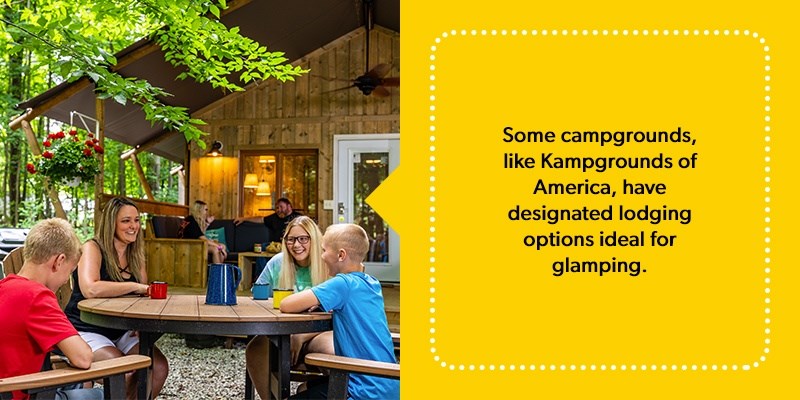 Campground glamping: Glamping at a campground provides a balance between nature and outdoor activities with close proximity to nearby attractions, on-site amenities and glamping opportunities. Some campgrounds, like Kampgrounds of America, have designated lodging options ideal for glamping if you do not want to bring your own tent. Designated Tent Sites are great for a DIY experience.
Part of this special experience comes from using a luxury camping tent, or glamping tent. Glamping tents may look like standard tents or could be more decorative, like a yurt or dome.

Purchasing Your Own Glamping Tent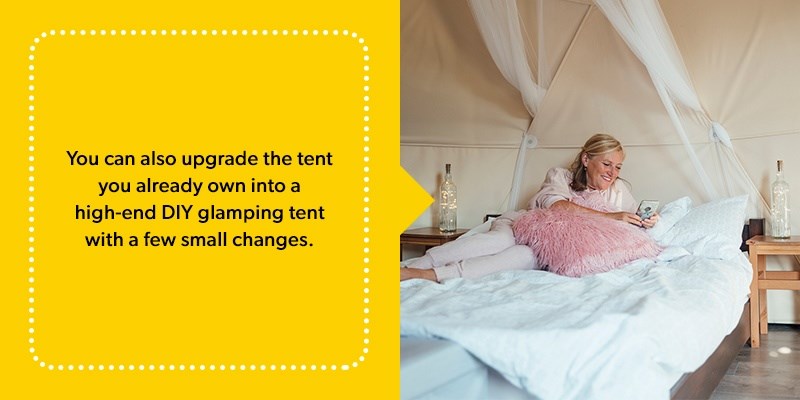 If glamping is your go-to form of camping, invest in a high-quality, spacious glamping tent that you can take with you as you explore new campgrounds. You can also upgrade the tent you already own into a high-end DIY glamping tent with a few small changes. Glamping tents come in many shapes, sizes and materials. They might look like normal outdoor tents or similar to a canvas wall tent or permanent dome structure.
If you are searching for the perfect portable glamping tent for your family, consider these factors:
Size: Glamping tents are spacious enough to fit beds and some furniture.Check the tent details for how many people it can comfortably fit, including the number of rooms, if applicable. Consider how much the tent weighs when disassembled, especially if you are carrying it in your backpack.
Features: Some types of glamping tents come with added features, like built-in windows, skylights or a separate, screened-in entry room to minimize how much dirt or grass gets inside the sleeping area.
Season: Tents are either one-season, two-season, three-season, four-season or five-season, depending on how well they can stand up to cold or hot temperatures and inclement weather. Five-season tents are for the most extreme camping conditions. Choose the tent that will work in your favorite camping location and make sure it is constructed out of durable, water-resistant material with adequate ventilation.
Start your search with these six well-reviewed glamping tents on Amazon.
1. Glampcamp Bell Tent
The four-season glampcamp Bell Tent has cotton canvas walls with a ripstop PVC floor and steel frame poles. The entire tent is waterproof and fire retardant with four mesh vents for airflow and natural light. At 13.1 feet in diameter, this luxury camping tent fits one king-sized bed and two twin-sized beds. It sleeps between four and 10. The tallest point reaches 98.4 inches for ample headroom.
The biggest drawback of the glampcamp Bell Tent is the price — it is among the most expensive available. However, you can use the tent for multiple purposes, doubling it as a canopy for outdoor events when you are not camping.
2. Danchel Outdoor Four-Season Bell Yurt Tent
The Danchel Outdoor Four-Season Bell Yurt Tent is another cotton canvas unit with a PVC floor. Double-stitched seams support the snow-proof, waterproof, wind-resistant design, and four mesh windows provide plenty of light and air. Keep extra warm with a built-in 5-inch fire resistance stove jack with fiberglass on one wall.
This 10-foot tent reaches 6.5 feet tall and fits two 75-by-30-inch sleeping bags, creating enough room for three or four people to sleep comfortably. Roll up the removable groundsheet and walls to repurpose your glamping tent into a canopy or enjoy open-air camping.
Though not as costly as some similar variations, the Danchel Outdoor Four-Season Bell Yurt Tent is a considerable investment and best suited for someone who plans on spending a lot of time outdoors.
3. Dream House Outdoor Family Camping Bell Tent
The Dream House Outdoor Family Camping Bell Tent stays true to its name by providing enough room in this Oxford-cloth dome to sleep two to four people and their mattresses. The 3-meter variation fits one or two twin-size beds, while the 5-meter can easily fit four or more people and their bedding.
The inside of the tent and the groundsheet are coated in a waterproof coating, with a sturdy galvanized steel frame keeping everything in place. Ventilation holes and windows are throughout for optimal airflow and sunlight.
4. Danchel Outdoor Backpacking Lightweight Yurt
The Danchel Outdoor Backpacking Lightweight Yurt is less expensive than those previously listed and looks more like a traditional tent than a canvas tent because of the green lattice Oxford walls with silver sunscreen coating for water resistance. The yurt comes complete with five ventilation windows, two ventilation holes and two windows, so you can enjoy the sights and sounds of nature when you want to.
Though this tent is only suitable for three-season use, it sleeps four to six people and sits at 13 feet in diameter, leaving plenty of room for the family. At only 25 pounds when rolled, it is also a great option for backpacking excursions.
5. Wenzel Eight-Person Klondike Tent
The Wenzel Eight-Person Klondike Tent is a three-season tent with enough room for two queen-sized air beds and 6.5 feet of headroom. It looks more like a traditional tent but with a large screened-in porch area, fully protected from sun and rain. This cost-efficient option is one of the best glamping tents to buy on a budget.
Enjoy convenient pockets and vents in the roof and walls for high-low air circulation. The water-resistant polyester and polyurethane construction with fiberglass roof frame and steel supports provide long-lasting durability at a fraction of the cost of other large glamping tents.
6. Core 11-Person Family Cabin Tent With Screen Room
The Core 11-Person Family Cabin Tent With Screen Room is 204 square feet of camping space, perfect for your next special event or group outing. You can easily fit three queen-sized air mattresses inside the main room. It also has an attached screen room with window panels for added space and versatility.
The tent itself looks like a standard tent but is equipped with features like a lantern hook, storage pockets and a closable electrical cord access port. It is designed with protective Core H20 Block technology with ground vents for dry airflow. The tent includes a carrying bag and weighs just under 37 pounds when not assembled.
Turning a Regular Tent Into a Glamping Tent
Any tent and campsite can be a fun glamping experience with the right upgrades and special touches. Transform your next outing with these DIY tent glamping tips.
1. Enhance the Menu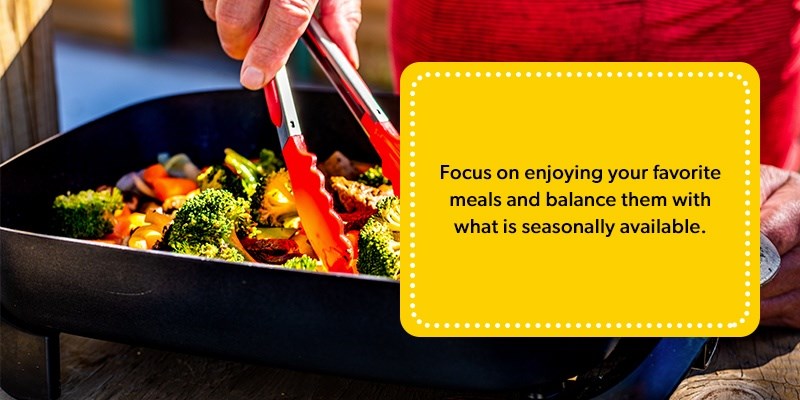 Standard camping food is enough to excite anyone, but your glamping menu should take it to the next level. As you create your menu, focus on enjoying your favorite meals and balance them with what is seasonally available.
A few tools will make this easier, like a camping grill with a built-in smoker to create another layer of flavor in your dishes and a cast iron pot, cooking grate and skillet. Bring along your favorite sauces, marinades, herbs and seasonings to infuse every meal with a special touch of flavor. Choose premium meats and vegetables from local shops or farmers' markets when grilling instead of grocery store variations, too.
Take a look at these suggestions for your glamping menu:
Granola: Instead of boxed cereal or trail mix, make homemade granola at home and bring it in an air-tight jar or container. Enjoy it with berries, milk and your favorite add-ins.
Foil packets: Use aluminum foil to create campfire-safe cooking packets for roasted vegetables, breakfast burritos, seafood or BBQ chicken.
Burgers: Create a gourmet burger bar by grilling your favorite protein and assembling the works, like lettuce, tomato, onion, avocado, bacon, mushrooms, pickles, various cheeses, homemade spreads and condiments.
Pizza: Make individually-sized pizzas on the grill, so each person gets to enjoy their favorite toppings.
Comfort food: Use a cast iron skillet or pot to make campfire comfort foods, like macaroni and cheese, nachos or chili.
Skewers: Grill skewers loaded with your favorite fruit, vegetables, proteins and locally sourced goods — perfect for enjoying with a drink in hand.
Fresh produce: Use local, seasonal fruits and vegetables to inspire summer salads or refreshing cocktails.
S'mores: Up your s'mores game with homemade marshmallows, candy bars and nut butter.
Fondue: Use the double-boiling method to create campfire cheese or chocolate fondue with a spread of dippable goods, like bread, cookies, fruit, vegetables, marshmallows and cake pieces.
Charcuterie board: Create a camping-friendly charcuterie board with all your favorite additions, and enjoy it with a bottle of nice wine or celebratory champagne.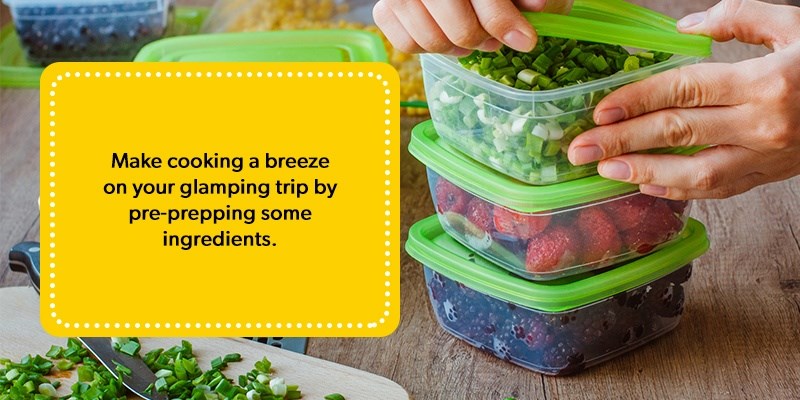 Make cooking a breeze on your glamping trip by pre-prepping some ingredients and storing them in food containers and sealable bags until you are ready to use them.
2. Set the Mood
Your tent might not have too much expendable space, depending on its size and how many people you are camping with, but small upgrades and decorative decisions can transform an otherwise ordinary space into a cozy oasis:
Layer colorful or textured rugs on the tent floor to add insulation and create a more comfortable area to walk.
Add ambient lighting indoors with battery-operated flameless candles and lanterns with warm yellow lights.
Stick to a theme or color scheme while choosing tent accessories, like calming neutrals, complementary textures or bright, summer-inspired colors.
Add flame-free fragrance with room spray or diffuser reeds on a table inside your tent, or keep a dryer sheet inside your bedding while traveling, so it is fresh when you unpack.
Bring a small fan for good airflow and white noise while you sleep.
Use a portable music player or Bluetooth device to listen to a playlist, audiobook or podcast while inside your tent.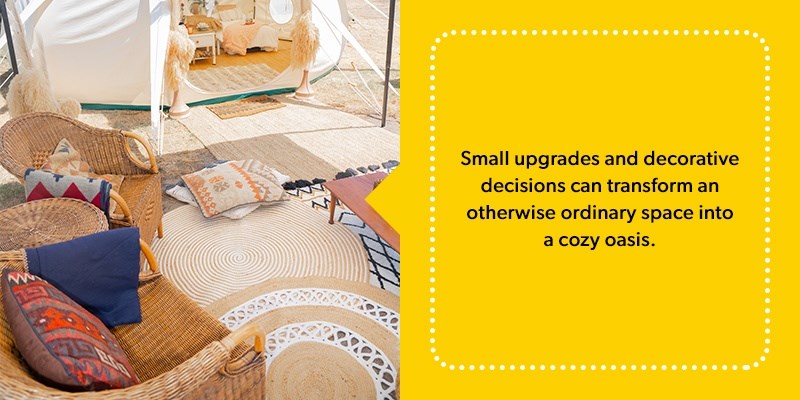 3. Plan Entertainment
Since glamping is all about enjoying the things you love, supplement your time on the hiking trails or at the beach with these memorable activities:
Lawn games: While many campgrounds have lawn games available on-site, it never hurts to bring along your favorites, like an oversized Checkers mat, Twister, lawn Jenga, cornhole, lawn bowling, croquet or horseshoes.
Scavenger hunt: Separate into teams for a scavenger hunt that encourages your group to explore the local area, nearby city or your campground and bring a prize for the winner. Large-scale scavenger hunts are especially fun if your glamping trip is part of a celebration, like a bachelorette or birthday party.
Card games: Bring a card table for outdoor tournament-style card games, like blackjack, poker, rummy, war or speed.
Musical instruments: If you or your travel companions are musically inclined, bring along your favorite musical instruments and relax with your favorite songs around the campfire.

4. Invest in Better Bedding
Comfort is key on a glamping trip, especially when it comes to your bedding. While standard camping trips call for air mattresses, small cots or sleeping bags, the best glamping tents are equipped with soft, supportive and comfortable bedding.
Get a good night's sleep with these upgrades:
Add plush pillows in various sizes to add extra support while sleeping and lounging.
Add a weighted blanket to your packing list if you have trouble falling asleep in unfamiliar places.
Invest in a cot or air mattress-friendly topper for better support.
Use silk sheets or high-thread cotton for that vacation-like feel when you slip into bed at the end of a fun-filled day.
Bring extra blankets for layering, especially if you are camping in cooler temperatures — do not forget a few outdoor-friendly ones for early morning breakfasts.
Earplugs and a sleep mask might help you adjust if you are not used to sleeping with others nearby or in a public setting.
5. Transform the Outdoors
Your tent is only one part of the glamping experience — create a special outdoor space that your friends and family will love with these tips: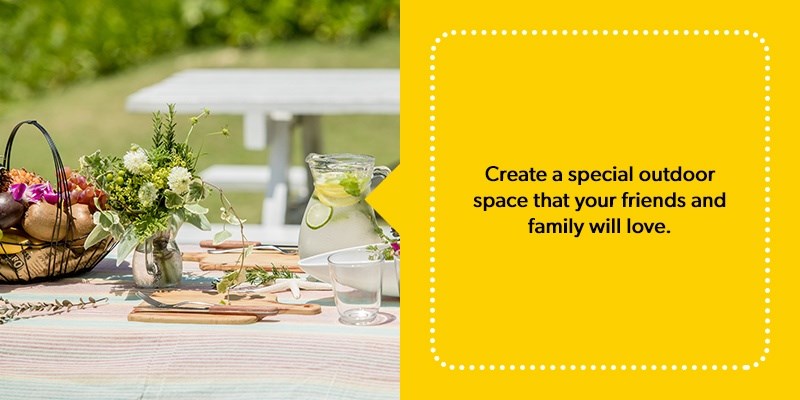 Trade regular camping chairs for padded, extra-wide, foldable outdoor chairs with cup holders.
Hang string lights, lit torches or place lanterns and flameless candles on various tables to create an ambient outdoor environment and enjoy a soft glow for after dark.
Use mosquito nets, insect repellant candles and bug spray to protect your skin and food from insects.
Pin washable linen tablecloths to all picnic tables and foldable tables, and add a vase of flowers or pitcher of fresh lemonade for that special touch.
Lay outdoor mats and rugs near the tent entrance to keep dirt outside, and use a small broom to sweep off any excess.
Instead of filling your cooler with cans and bottles, bring large drink containers with spigots to fill real glasses and pitchers with ice water or fruit juice.
6. Focus on Convenience
While part of the fun of traditional camping is setting up your campsite and getting hands-on with the cooking and fire pit, glamping is all about hands-free convenience.
Skip the hard work and keep things simple with these time-saving tips:
Bring disinfecting wipes for easier clean-up before and after meals.
Pack your favorite insulated water bottle and keep it with you to stay hydrated without getting out of bed or traveling to get a drink.
Keep a pair of warm slippers by your bed and sandals by the tent door to combat ground chill when you leave your tent at night and in the morning.
Keep your favorite self-care items in the tent, like a robe, body lotion and facial cleansing cloths.
7. Bring the Right People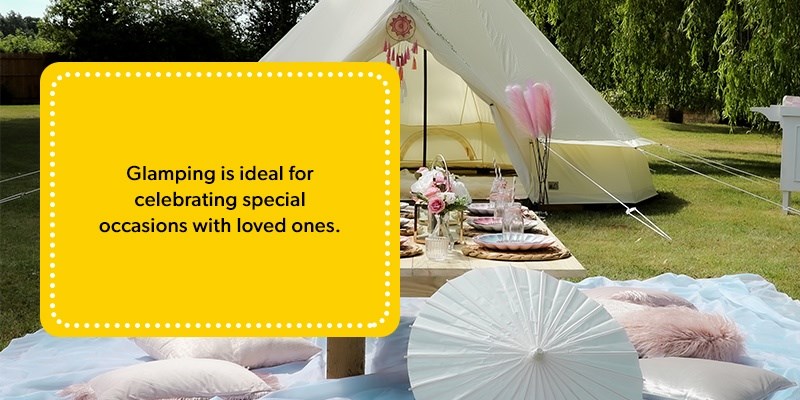 Who you bring on your glamping trip makes all the difference and can make the simplest set-ups feel like a vacation. Glamping is ideal for celebrating special occasions with loved ones, like bridal parties, birthday events or a romantic anniversary with a partner. It is also a good method for solo travel because it gives you everything you need to unwind with your favorite book or project.
8. Choose the Perfect Destination
Make sure your glamping campground has everything you need to have a fun, safe time, like restrooms, on-site amenities and a store to buy last-minute necessities you might forget to pack. The campground itself should be near other interesting or exciting places to enhance your trip, like a bustling city, mountain retreat, yoga studio, spa, shop-lined small town or sunny beach.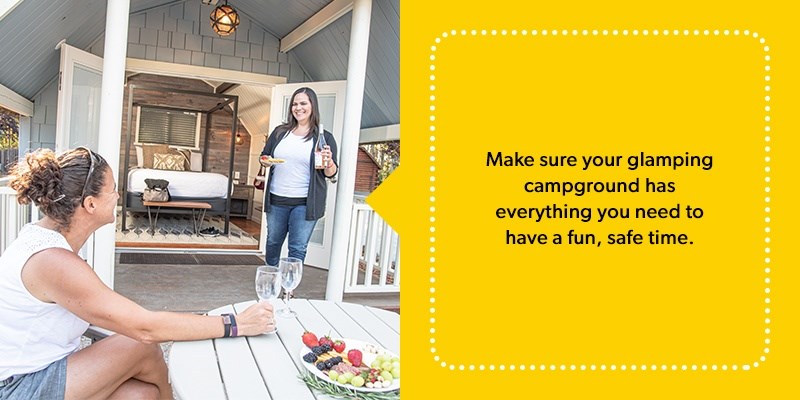 Glamping Options at KOA
KOA's family of campground brands – KOA Journey, KOA Holiday and KOA Resort – offer a variety of glamping experiences to meet every camper's need. KOA Tent Sites are level and spacious for quick, stress-free tent assembly. Upgrade your experience with a Premium Tent Site, complete with ample parking, electric hookups and a larger tent-pitching area for big groups. Keep an eye on special offerings for Patio Tent Sites, which have surfaced patios with grills and furniture.
For a more ready-to-go glamping trip, try a KOA Camping Cabin or Deluxe Cabin. All cabins come furnished with beds and electricity and offer full protection from the elements. Deluxe Cabin layouts also have private restrooms and, in some cases, may also include kitchenettes, porch swings and a KOA Patio® — contact your campground to learn more.
Looking for something a little more off-the-beaten path? KOA unique lodging options are just what you need. Depending on your KOA Campground and lodging availability, you could stay somewhere truly one-of-a-kind, like:
Airstreams: Enjoy the comforts of an enclosed RV space in this timeless American icon. The Airstream's shining metal finish is instantly recognizable and the perfect lodging for your group.
Cabooses: KOA has restored some of the country's most famous train cabooses into unique, sturdy lodging, complete with windows and hard-top protection from the elements.
Tepees: Tepees pay homage to the country's original inhabitants, outfitted with comfortable furnishings and available in various sizes, depending on location. Select locations also have tepee villages for traveling groups or large events.
Conestoga wagons: Conestoga wagons are covered wagons that resemble early pioneers' travel but with modern amenities and furnishings, like beds, climate control and a coffee maker.
Yurts: Yurts are a traditional glamping method, and by reserving a stay at one, you do not have to invest in your own standalone tent. KOA yurts combine a tent design with framed doorways and crowns, so you get the best of each world.
Treehouses: KOA treehouses let you connect with the outdoors in a fun, familiar way while upgrading the treehouse you might remember from childhood with amenities and furniture.
Wall tents: Wall tents offer luxury tent camping, complete with four walls and a roof with cozy furniture and electricity inside. KOA wall tents are so spacious that you even get built-in storage, like closets and cupboards.
All locations with Glamping Tents for rent also have access to clean restrooms with hot water and laundry facilities, while select campgrounds have additional things like pet parks, restaurants, bike and kayak rentals, swimming pools, hot tubs and communal fires.
Start Planning Your KOA Glamping Trip Today
Whether you are investing in your glamping tent or creating a DIY glamping spot at your favorite campground, KOA has the campsite options you need to bring your vision to life. Every KOA campsite has the level space and nearby amenities you need to plan a vacation you will be talking about for years to come.
Choose from over 500 North American locations and start planning your glamping trip today!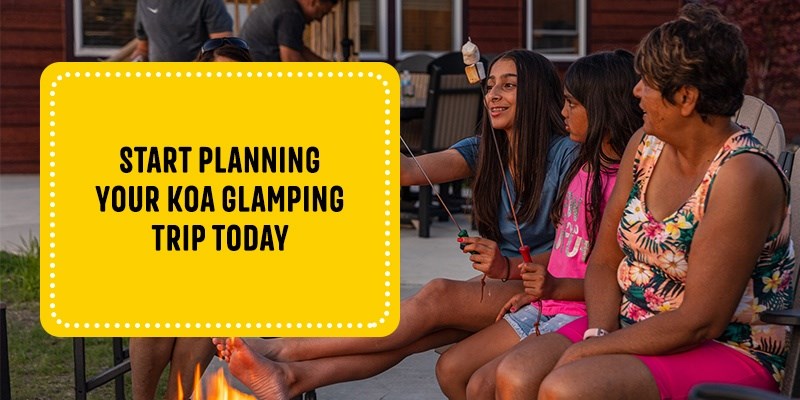 ---
About the Author: Kampgrounds of America
Kampgrounds of America is the largest system of open-to-the-public campgrounds in the world, with over 500 locations across the United States and Canada. Founded in Billings, MT in 1962, KOA's family of campground brands – KOA Journey, KOA Holiday and KOA Resort – today serve more than a million camping families each year. KOA is dedicated to "connecting people to the outdoors and each other" by providing people with a variety of camping experiences and the information they need to make the most of their camping trip. Read more of their camping and travel resources by visiting KOA.com/blog.
---