Want the peace of a camping trip without all the work this fall? How about a cabin stay?
For many, spending time at a cabin hits that sweet spot between 'roughing it' in a tent and feeling a bit stifled at a hotel or in an all-amenities RV. Cabin rentals are also very versatile. You can find lots of unique properties in a ton of great locations — lakeside cabins, cabins on top of a mountain, cabins nestled in the forest, you name it.
Another nice thing about cabins is that they can accommodate a crowd. Are you traveling with a family or group of friends? One large cabin or lots of small cabins close to each other strike the right balance between sharing a trip and having some privacy, too.
Campers take note: Just because you own a tent doesn't mean you have to use it all the time. Some families like to pack the tent away at the end of a busy camping summer and then fall into the ease of cabin camping as the weather gets cool (see what we did there?).
Read on to decide whether a cozy cabin stay at KOA might be just the ticket for your upcoming trip this fall.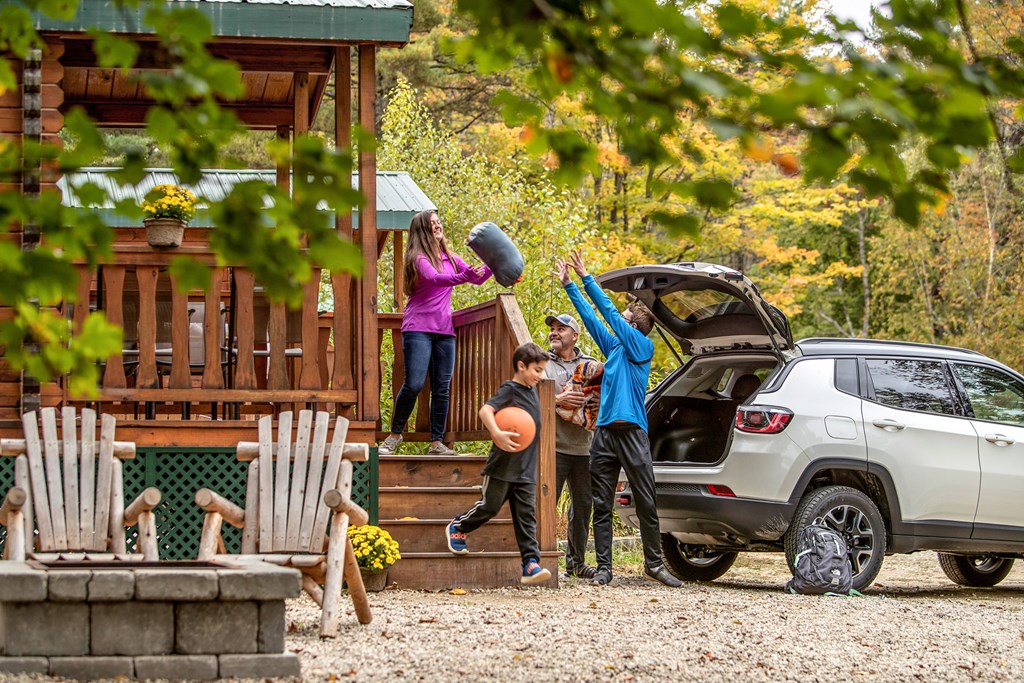 1. Cabin Camping is Low-stress
If you are a tent camper, chances are you're familiar with inspecting, packing, and finally setting up your shelter on-site. With cabin camping, that list gets cut in half (if not more). You can (happily) skip most of those steps. With a KOA camping cabin, you can simply book the site, research what you'll need to bring, and move in. At the end of your trip, it couldn't be easier: pack your bags, sweep up, and hit the road!
Some cabin rentals have you bring your own linens. Some properties have very basic kitchens or no kitchens at all. These are important details to review in the booking info and/or while communicating with your host.
If some fall hiking is on the agenda, a cabin stay can literally lighten your load, as you won't need to pack and carry special cooking gear and utensils, additional lighting, et cetera, et cetera. With a well-stocked home base, you need only pack your day pack, some clothes for the cabin, and little else.
Many people also enjoy the quiet of a cabin, too. With that extra space, you're not constantly seeing other travelers like you would in a busy hotel lobby. In fact, you might not have any neighbors at all!
If you're looking to get back to nature with minimal stress, nothing beats arriving at a quaint, picturesque cabin after hours on the road … and finding a place all your own. A place with running water, a bed, and a solid roof over your head. Imagine — nothing to set up or assemble … just start unpacking and add your own cozy touches: place your book on the bedside table, plop some fresh fruit on the counter, and voila, you are home (for now).
A rustic retreat has never been sweeter or easier.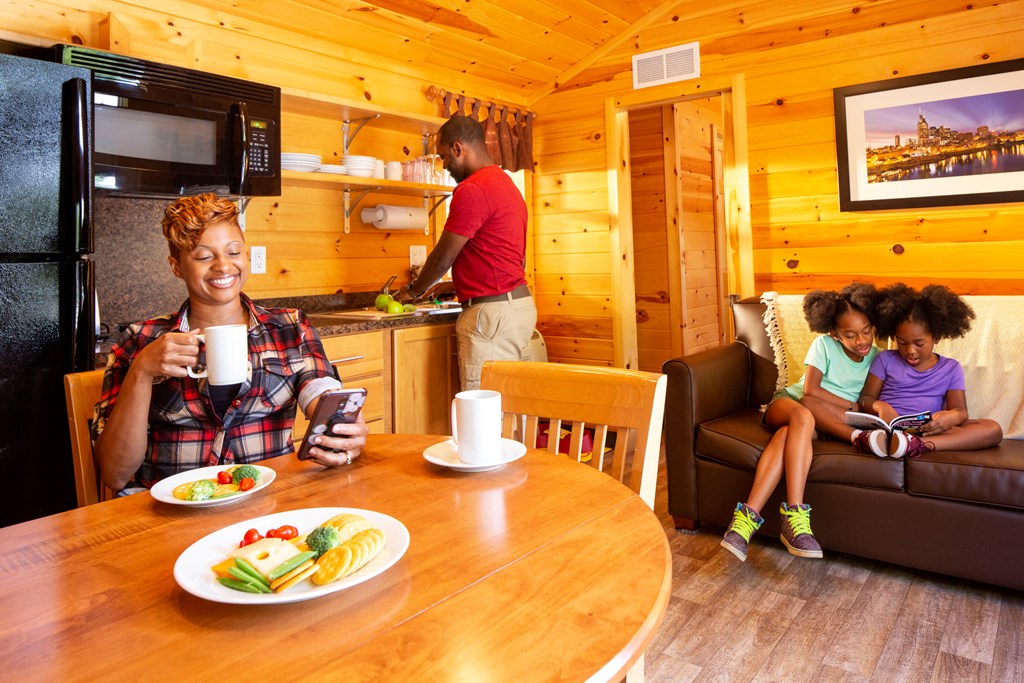 2. Showers, Running Water, and Other Amenities
As the days grow shorter, you just don't get those hot, sunny days where you can hang wet clothes out and have them dry in an instant. In the chill of fall, we welcome a little warmth and pampering.
A cabin's nice-to-have amenities are an extra comfort in autumn's cool, sometimes wet, months. In fact, with the right mix of heat, running water, and walls … you might even turn someone who hates tent camping into a cabin camping enthusiast!
With a cabin, you can be outdoors exploring while the sun shines and still have a place to wash and dry your clothes and enjoy a hot shower at the end of the day.
And showers and on-site laundry are just the start of a long list of amenities that cabin rentals might offer visitors.
You'll soon find that when it comes to renting a cabin, properties come in all shapes and sizes, with all sorts of amenities. Some cabins will require you to bring a cooler for food, while others have a fully-equipped kitchen with a refrigerator, stove, coffee pot, etc., ready for you to cook some delicious meals in.
It's kind of like Goldilocks and the Three Bears. Some cabins are very basic (imagine the Laura Ingalls "Little House" dwellings, minus the stuff). Others are more comfortable, maybe offering a fridge, wood-burning stove, and Wi-Fi.
When it comes to your cabin's amenities, one size does not fit all. So, take your time to review your options.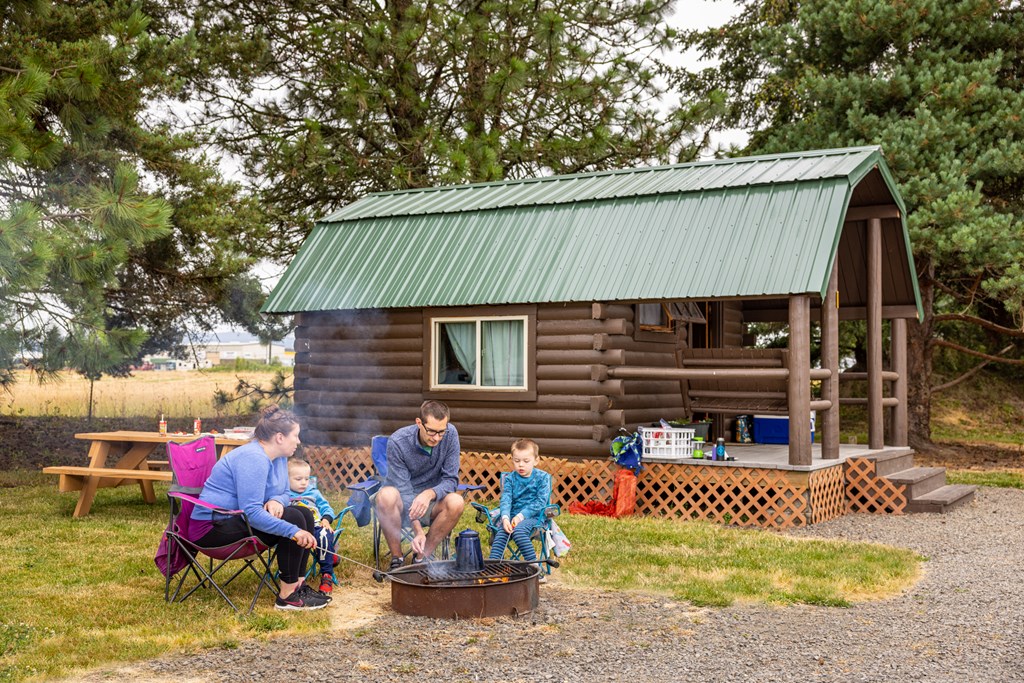 3. Cabin Camping Can Be Easy on the Budget
Many campers travel in the fall because the weather is mild, and there are so many great events to attend. Not to mention, it's just a beautiful time of year as the leaves put on a striking show. These are all great reasons to plan an autumn getaway.
Keep in mind that while making plans for a weekend or weeks-long trip, cabins are often an affordable alternative to hotels and resorts.
As mentioned earlier, each cabin style and its amenities can be very scalable. So in researching your destination, you can usually find a cabin that matches your wants and your budget.
Yes, you can save some cash by going easy on the amenities. You can also save money by booking a cabin with a group of people and splitting the cost.
One of the biggest money savers when it comes to staying in a cabin, though, versus a hotel or resort, is the ease with which you can eat "at home" versus going out. Maybe one night you dine at a restaurant, and then the next couple nights you stay in, open a bottle of wine, and prepare a nice meal with local ingredients. Depending on your Wi-Fi situation, you might even put on a movie.
Lots of rentals have plenty of free entertainment — like games, movies, game rooms, etc. Taking advantage of these perks is not only a fun way to unwind after a long day, but it can save major cash, too.
Sometimes you can even save additional money by extending your cabin stay. Many rentals offer specials or a reduced rate to people who stay a week or longer. It's something to check into if you already know you'll love the area!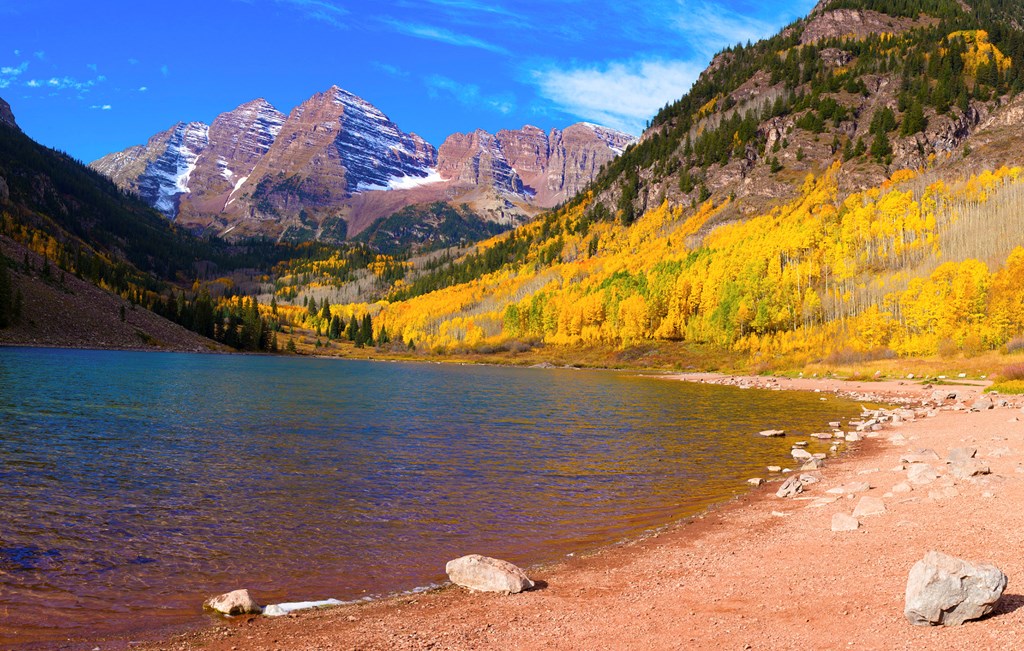 4. Fall Cabin Camping is an Experience
As you crunch through the leaves and sample the delicious donuts on the ultimate fall excursion, don't let the adventuring end each day when the sun goes down. Your accommodations should be just as exciting as the outings you enjoy during the day.
You're likely to find a great deal more adventure-scenery-joie de vivre staying at a cabin versus hunkering down in a hotel. If you book a cabin on a site like KOA, visitors often score a good deal of insider tips, and recommendations. In this way, cabins frequently offer a personalized, one-of-a-kind experience you wouldn't get at a hotel.
Many cabin rentals are also located in very scenic sites. Travelers visiting places like the North Georgia Mountains or the Ozark Mountains, Missouri, in the fall often rent cabins as a home base from which to enjoy breathtaking views and experience mountain living. Imagine unpacking your things in a small, rustic cabin surrounded by mountains, lakes, and streams!
Sure, if you stay at a hotel, you might have a balcony from which to enjoy these sights … but a cabin might come with a rocking chair, fire pit, or even a patio!
After taking in the natural beauty and serenity at your cabin's doorstep, you might then decide to hop in your car and take a short drive into a little mountain town to explore local shops, antique stores, and yummy restaurants.
Why not let your cabin rental be one of the many highlights of your trip?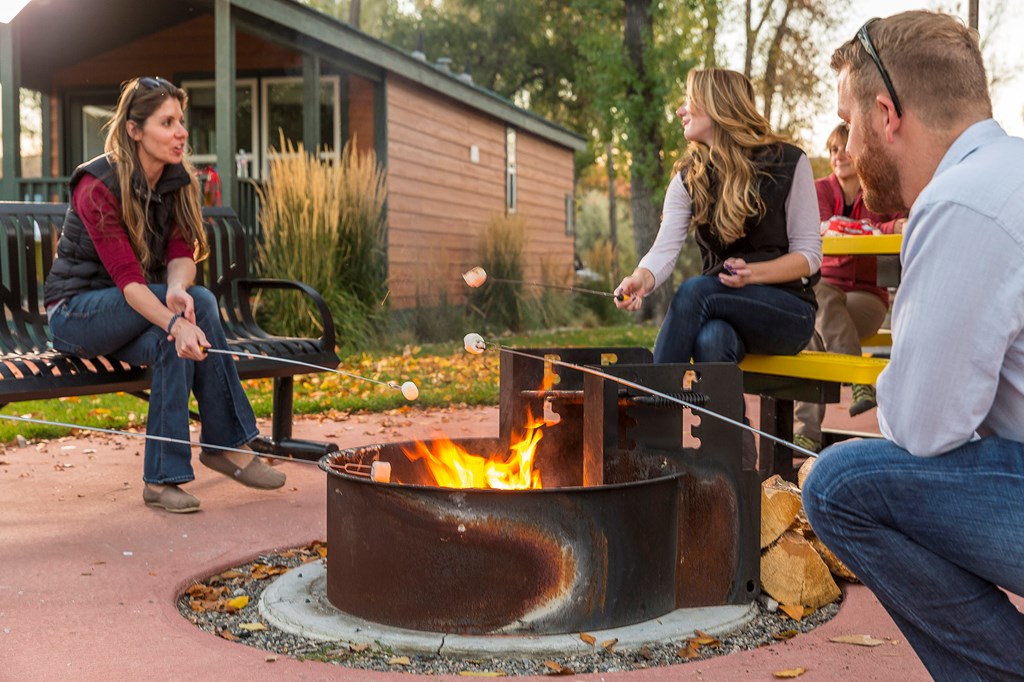 5. The Touches of Home, Plus More
Face it: nothing says "cozy" like a cabin. The streamlined and minimal — yet well-appointed — home-away-from-home usually strikes the right notes of comfort and novelty for travelers.
Not to mention, many people like that extra bit of privacy that cabins afford them, compared with staying in a hotel, motel, or campsite.
A small, cramped hotel can feel like "just a place to lay your head at night." In a cabin, you often have the space and feel of home — a separate bedroom for the kids, a table to eat dinner at, and a front porch to retire to after dinner. You can even send the kids to play outside and run around while making dinner or chatting on the porch!
During a family or a group stay, a cabin means you can spread out without feeling like you're on top of each other. You might even be able to bring your pet!
A cabin can feel like a "home" and a great place to return to after a day of exploring.
Fall, especially, is a great time for a cabin stay. Imagine curling up with a hot drink, a book, and that iconic cozy, plaid blanket … sipping all your cares away while the leaves tumble around you. And, yes, Fido snoozing just nearby. Perfection.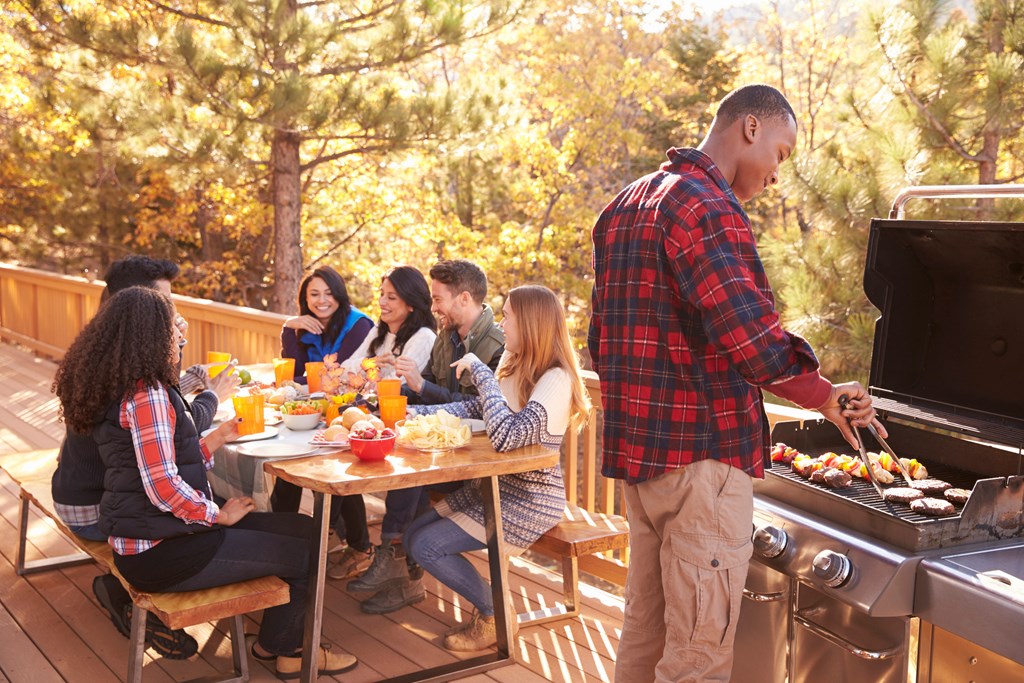 6. Cabins are Great for Groups
If you are going on a camping trip and want to accommodate a lot of people, cabins are a practical choice. Rental cabins can easily accommodate a large group, and it can be super cost-effective to split the cost of one cabin with multiple friends or family members; just make sure that the cabin has the number of bedrooms and bathrooms needed for everyone to feel comfortable.
Another option is to rent a cluster of small cabins situated together. This is a great option for extended families who like to vacation together! It's popular because it's a fairly easy way for everyone to be together — enjoy a nightly campfire together — and then retreat to one's own small family/bed/bathroom situation.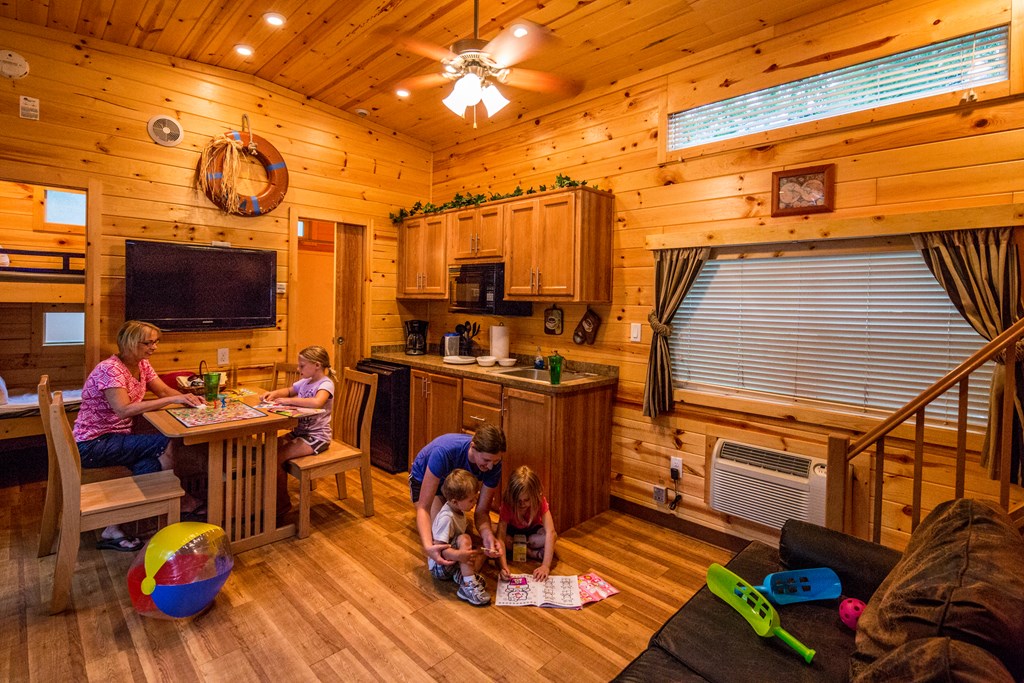 7. Cabins Offer Shelter in All Weather
Just because temps start to plummet at the tail-end of fall doesn't mean camping has to screech to a halt. Ease into a cabin to squeeze out those last few golden drops of the season.
It's true that tent camping in the fall can be particularly cozy and enjoyable. Most of the bugs are gone by that point, and you're no longer sweating through the mid-day heat. But fall tent camping is not for everybody all the time.
Maybe you don't mind the set-up and tear-down of tent camping, but strong winds and robust rain storms still put you on edge as you lay in your sleeping bag at night. This is one more reason why a cabin just might be the place for you … and even help you to get a better night's sleep!
It can feel extra comforting to have more of a "structure" around you — particularly if you're in a large forest, or an area you don't know very well. As the weather gets colder, it can be nice to find that extra warmth, not to mention an easier way to prep meals.
"Fall at the cabin" can help you to embrace the season rather than fight against it.
Likewise, if you've always wanted to try out winter camping, a cabin is a great shelter for your first attempt while you get your bearings, explore the area, and seek expert advice for future (more rugged) trips.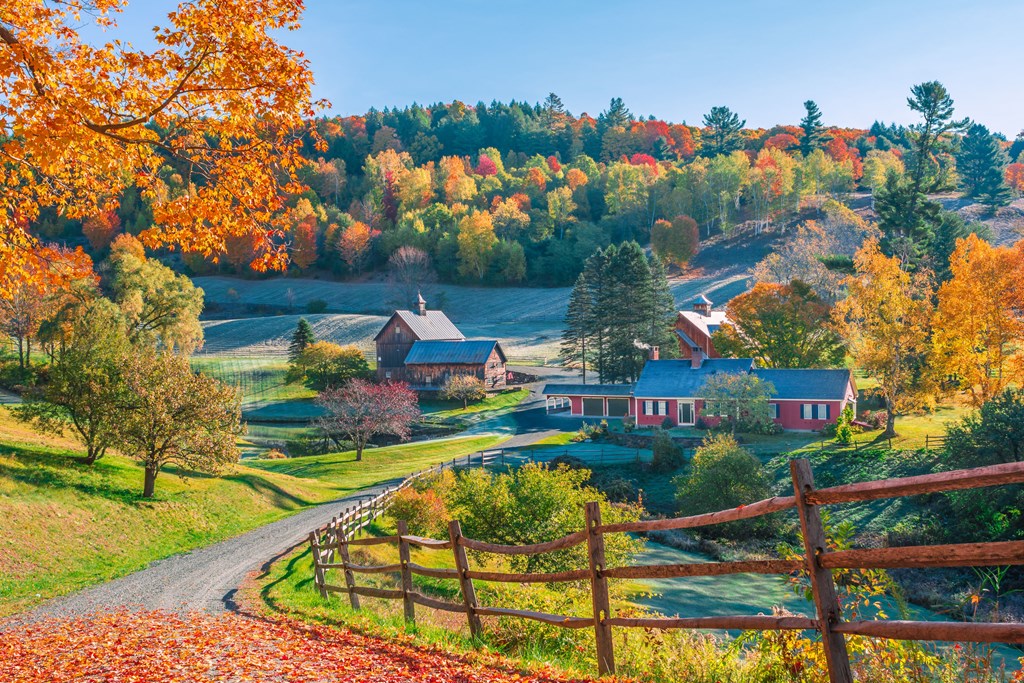 8. A Cabin Can Be Your Leaf Peeping Headquarters
Staying at a cabin in the fall is cozy, idyllic, and extra scenic! The cabin becomes a home base to explore new locations and watch the leaves change colors. The Great Smoky Mountains are a popular travel destination this time of year, and many cabins can be found near the national park.
Peek leaf season lasts for several weeks in the Smokies, as fall colors travel down the mountainsides from high elevation to low. At higher elevations, where the climate is similar to New England's, color displays start as early as mid-September with the turning of yellow birch, American beech, mountain maple, hobblebush, and pin cherry. Be sure to check in at the website to track when leaf colors will 'peek' in 2023.
Peak color abounds in the mid and lower elevations around mid-October and early November. It is said that this is the park's most spectacular display and includes such colorful trees as sugar maple, scarlet oak, sweetgum, red maple, and hickory.
Popular drives in the area include Clingmans Dome Road, the Blue Ridge Parkway, and the Foothills Parkway.
During your trip to the Smoky Mountains, you can hike in play at places like Gatlinburg, Pigeon Forge, and Dollywood and return to your cabin or lodge and its own peaceful, scenic setting. In this way, the leaf-peeping never stops.
Just remember: at the end of the trip, don't forget to snap a pic of your cozy cabin surrounded by all of the glittering oranges, reds, browns, and golds. You'll cherish the memory! Perhaps you'll even book your next visit.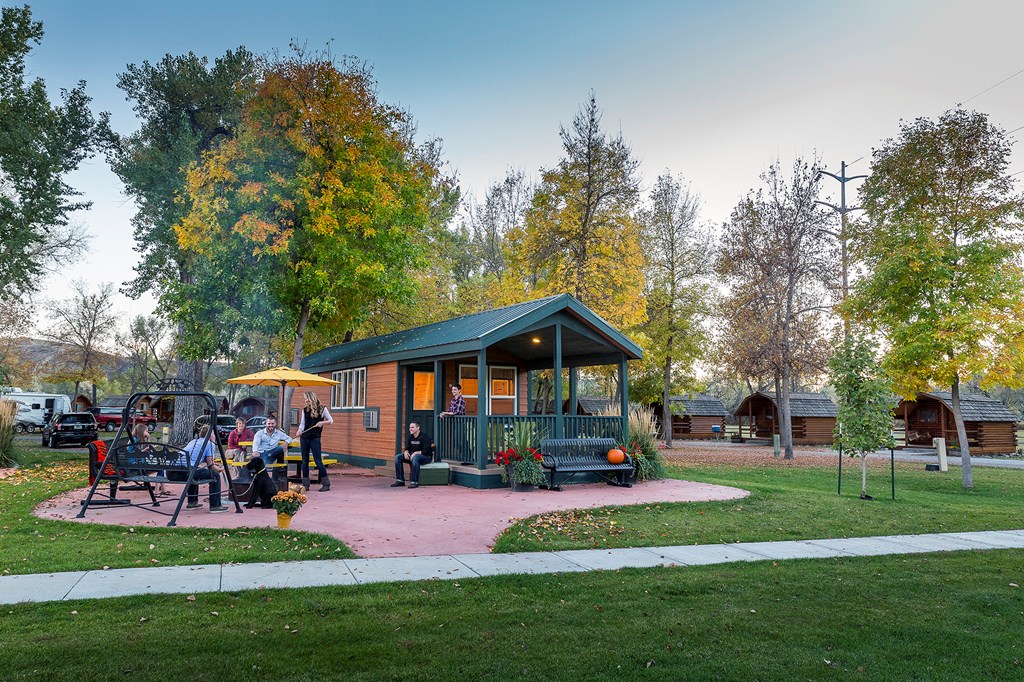 As you can see, there are so many reasons to rent a cabin in the fall. It can be an easy, peaceful, and new experience — even for the most experienced campers.
Consider where you are in your life and camping journey. Maybe there's a baby in the family, and you're not quite ready for tent camping and all its preparation and gear. Or, you're looking into RV life but not yet ready to take the plunge. You could be looking to accommodate a large, extended family or a college reunion. And maybe you simply love camping, but you hate tents (There, you said it!).
No matter your reasons, a fall cabin stay is timeless. A cabin stay can be a restorative retreat for one, a romantic getaway for two, or a memorable time for 10!
For many, a quaint cabin situated in that idyllic spot becomes a home away from home … a place where you are surrounded by natural beauty and adventure knocks at the door each morning.
Like any trip, scope out some cabins well ahead of your travel dates and lock them in as soon as you can. Keep an eye on the local fall foliage maps and leaf forecasts; many popular destinations can book up fast when travelers are coming out to view falling leaves in peak season.
It will all be worth it, as after booking is done, there's not much left to do besides sit back, relax, and savor life at the cabin (and pack a very minimal amount of things).
So, when planning your next autumn camping jaunt, picture yourself with a cup of hot coffee or tea, sitting on that cabin porch on a cool day. Doesn't sound too bad, does it? You might even find that cabin camping is the luxury you didn't know you needed in your life.
---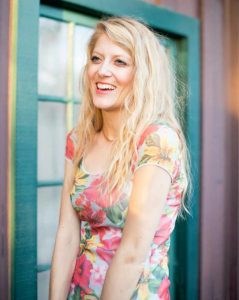 Leslie, a.k.a. Copy Girl, is a copywriter who gets butterflies from telling stories through words.
Her voice comes from a place filled with passion, dreams, and lots of sugar. "Cake over steak" is her go-to motto.
With over 10 years of experience in crafting words, and years of embarking on travels that have taken this Montana girl to some incredible places, Leslie love the adventures of both body and mind her writing takes her on.
Everywhere she goes, she takes this advice with her:
"Hold on to your divine blush, your innate rosy magic, or end up brown." – Tom Robbins, Jitterbug Perfume
To see what Leslie's up to in the writing world, visit her website here.