10 Reasons to Camp in a Cabin
Camping is always a great idea for those who love the outdoors. In whatever fashion you fancy escaping to the woods for a night or two (or more, if you can), we are huge supporters of enjoying time outside.
Some campers may prefer to camp either via tent or RV, and each of those camping styles comes with its own list of benefits.
However, we are seeing massive growth in the popularity of cabin camping, especially during the cooler months. Tent campers may not be ready to give up camping, and cabin camping provides a warm shelter so they can keep enjoying their favorite outdoor activities without being in the cold. With cabin camping, RVers are able to enjoy camping after their RV has been put away for the season.
Staying in a cabin is still considered camping, and there are many reasons why cabin camping is better for certain campers. Check out the top reasons to camp in a cabin as well as the different cabin options you have to choose from at KOA campgrounds. We are here to ensure your cabin camping experience is the best possible.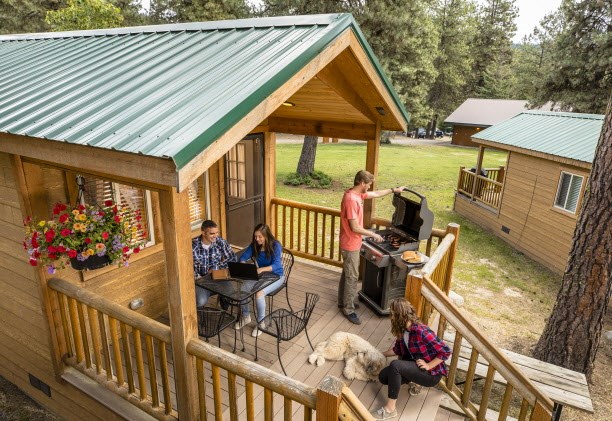 Is Camping in a Cabin Better?
1. Stay warm and dry
You can enjoy your stay in a cabin while the weather is cool or during rainstorms. You'll stay dry, and so will all of your gear.
Heat is another thing to consider when you're camping. Even in the summertime, nighttime temperatures in some areas can dip pretty low. You can certainly pack on the layers when camping in a tent to make up for the cooler weather, but that means packing a bunch of extra gear. You'll have a warm shelter to enjoy when you're staying in a cabin because the cabins are constructed out of logs that serve as insulation. You can still break out the double sleeping bag to stay extra cozy during your camping trip.
2. More space
One of the great benefits of staying in a cabin is that there is a lot more space. More space means you're able to invite more people to camp with you. More space also means that you have more room to play — you can enjoy board games, cards or a number of other indoor games when you have the extra space inside the cabin.
3. More convenient for longer trips
Choosing to camp in one of KOA's cabin options will provide more convenience during your trip. KOA offers plenty of amenities that will make your trip more relaxing and fun. A cabin may feel more like home with beds, small kitchens and tables where you can enjoy a warm meal and play games.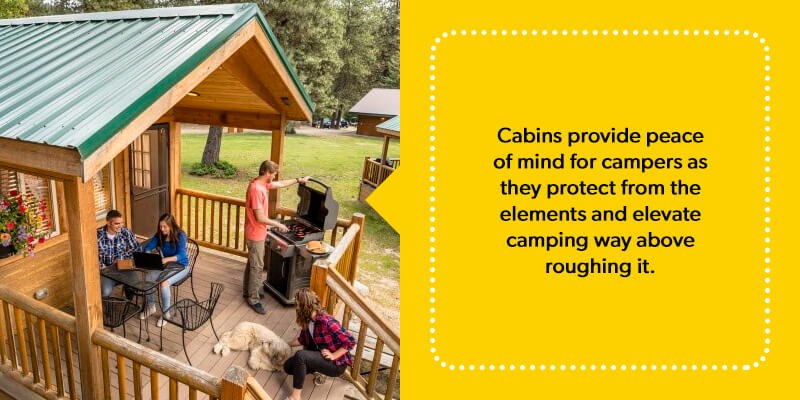 4. Find a Home in Nature
Log-style Camping Cabins are not only picturesque but practical lodging options during the winter. Cabins provide peace of mind for campers as they protect from the elements and elevate camping way above roughing it. Unfurl your sleeping bag on the cabin's raised mattress and you are ready for a restful night's sleep. If frigid temps or snow is expected, book a Deluxe Cabin with attached bathroom, kitchen and heating for maximum comfort.
5. Discover a New Place
Exciting KOA locations are open all year throughout the U.S. Pick a setting that is different from where you live so that your time camping can be focused on discovering new sights and experiences. Book a Camping Cabin at the beach, desert or mountains. Wherever you stay, a peek out of the cabin window or time spent on the porch swing will be full of fresh sights, smells and sounds.
6. Launch into Exploration
Camping Cabins make settling in easy and exploration a quick start. Drop off your gear, then set out for an adventure.
If you are met with inclement weather, there are plenty of opportunities for fun near or in your campground. A scenic drive to local shops, museums and indoor activities in town are great options during a downpour. If there is snow, stick around the cabin for a snowball fight, build a snowman or slip around on a snow tube.
7. Bond Over Chores
Everyday chores become a chance to bond with family and friends during a cabin stay. Cooking, washing dishes and keeping gear tidy might not seem like a lot of fun, but it can be. Use the time together to teach each other new skills, like how to use a knife to chop up a salad or safely use a gas grill. Along with gaining new skills comes pride in a job well done and a delicious meal to share with your party.
8. Enjoy Favorite Camping Passtimes
Camping Cabins are equipped with outdoor fire pits ready for campfire activities. You will not miss out on the iconic parts of camping just because there is a roof over your head. Do all of the fun camping activities – sing songs, tell thrilling campfire tales and roast marshmallows and turn them into delicious homemade s'mores.
9. Hole Up With the Ones You Love
Once the sun's gone down and it is too chilly out for stargazing, gather inside the cozy cabin to connect with your fellow campers. Really focus on the people you are with and get to know each other. Maybe there is a comedian in the group who can crack everyone up, or someone's great at playing the guitar and can put on an impromptu concert. Bring party games to jumpstart interaction that is sure to turn into a hilarious evening of camaraderie.
10. Quiet Time
Take it down a notch after a full day of outdoor activity. Lounge in the cabin and focus on things electronics have replaced — read a book or magazine, draw or work on a craft project. The stillness of a chilly evening or the sound of raindrops falling against the cabin walls are the perfect soundtracks for independent projects.
 Types of Cabins
Cabin camping comes in a couple of different styles at KOA.
Here at KOA, we have two options for your cabin camping experience — Camping Cabins and Deluxe Cabins.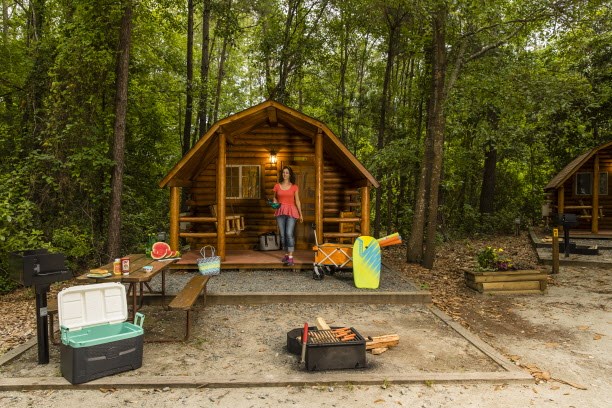 Camping Cabins
Any Camping is going to love Camping Cabins. They provide quite a spacious upgrade from the tent life, and also come along with many other great benefits:
Nearby showers and restrooms
Electricity
Ability to sleep 4-6 people in one or two bedrooms
Full beds and bunks
BBQ (select cabins)
Porch swing (select cabins)
And much more
Pack your sleeping bag, your favorite foods, some fun games and you are going to have a blast in a KOA Camping Cabin.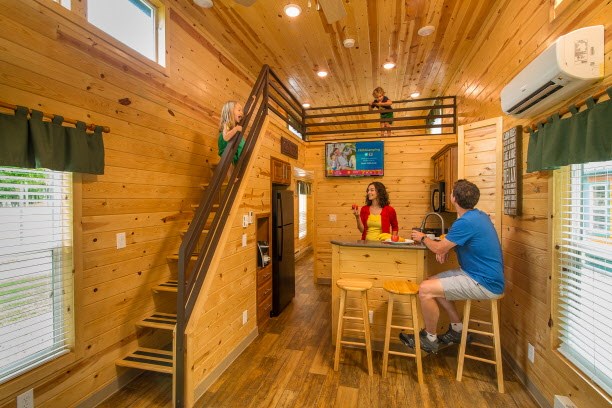 Deluxe Cabins
If you wnat to experience camping in ultimate comfort, then one of KOA's Deluxe Cabins will surely give you that.
These cabins take the idea of camping up a few notches to really make you feel like you are on vacation.
Here is  what you get when you stay in a deluxe cabin at KOA:
Comfortable bed
Private bathroom
Kitchenette (in most)
TVs, gas grills, patios, firepits (in many)
Fridge and microwave
Variety of floor plan options, including handicapped-friendly ones
And much more
Each Camping Cabin and Deluxe Cabin's amenities vary depending on the specific location. Be sure to visit the campground's website to learn what you will need to bring with you when staying at a KOA cabin, and what you can leave at home.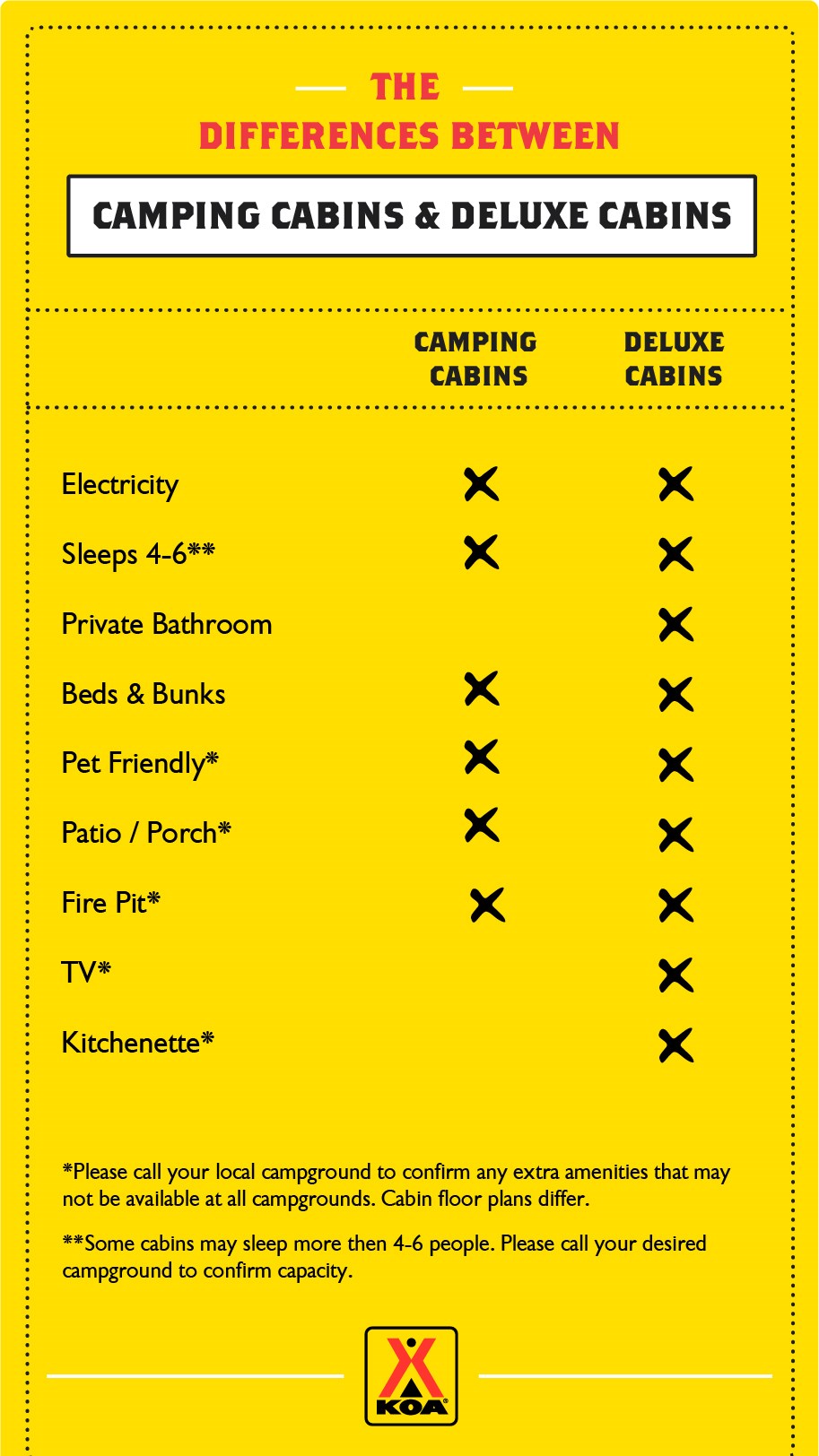 Save on Your Cabin With The KOA Rewards Program

Campers who are constantly exploring new KOA campgrounds can benefit from the KOA Rewards Program by receiving discounts and exclusive perks every time they stay at a KOA location. The more you camp, the more you will save on future visits to various KOA destinations.
The perks of the KOA Rewards Program include:
10%* discount on over 500 KOA location registration rates.
Special discounts and offers from KOA partners.
Enjoy a free night of camping** on KO Rewards Weekend at certain KOA locations.
These perks and many more are excellent reasons to sign up for the KOA Rewards Program. You can start saving while having fun on your camping trip.
We have cabins all across the United States, so hop on over to our website to book a cabin for your next camping trip today!
*Applies to daily registration rate. Not valid with special offers for weekly, monthly or seasonal rates and can not be combined with other offers. Check with specific KOA locations for details.
**Only at participating KOA Campgrounds and on limited sites. Must stay two consecutive nights at the same campground. Not valid with other discounts.
---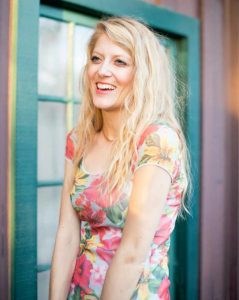 Leslie, a.k.a. Copy Girl, is a copywriter who gets butterflies from telling stories through words.
Her voice comes from a place filled with passion, dreams, and lots of sugar. "Cake over steak" is her go-to motto.
With over 10 years of experience in crafting words, and years of embarking on travels that have taken this Montana girl to some incredible places, Leslie love the adventures of both body and mind her writing takes her on.
Everywhere she goes, she takes this advice with her:
"Hold on to your divine blush, your innate rosy magic, or end up brown." – Tom Robbins, Jitterbug Perfume
To see what Leslie's up to in the writing world, visit her website here.
---
Save