Idaho: It's a Gem of a State
Idaho is dotted with lakes, waterfalls, canyons, and gorges that beckon outdoor enthusiasts and motorcyclists, foodies and history buffs alike. America's forty-third state got its nickname, "The Gem State," thanks to rich deposits of garnet, opal, jasper, tourmaline, topaz, and zircon. A simple internet search for "crystal shop Idaho" will give you plenty of shopping tips if you're interested in bringing some of these beauties home.
Gem and jewelry shopping aside, with so much to see and do all year 'round, Idaho is a gem of a state for all Traveler Types. Here's just a taste for what's in store.
The Sawtooth Mountains
Much of the Sawtooth mountain range is within the Sawtooth Wilderness, part of the Sawtooth National Recreation Area and Sawtooth National Forest.
The Sawtooth National Recreation Area spans 756,000 acres of scenic mountain country and includes over 700 miles of trails, with more than 300 high mountain lakes. In addition to summertime sports, you'll find plenty to do in winter on groomed cross-country and backcountry skiing trails, plus snowshoe and snowmobile trails.
If you're a motorcyclist, take in the crisp pine-scented air and thank your lucky stars to be riding in Idaho. Plan to ride at least one day in the Salmon-Challis National Forest with a mountain over one shoulder and river or stream over the other. Adjacent to Salmon-Challis is the Bitterroot National Forest (north) and the Payette National Forest (west).
Resort towns Ketchum and Sun Valley are in the Sawtooths, so if you're interested in the sport of people watching, you're likely to spot a few of the rich and famous who vacation there. Pro tip: check out the thrift shops where these folks often donate their lightly-used clothing and sports equipment.
KOA in this area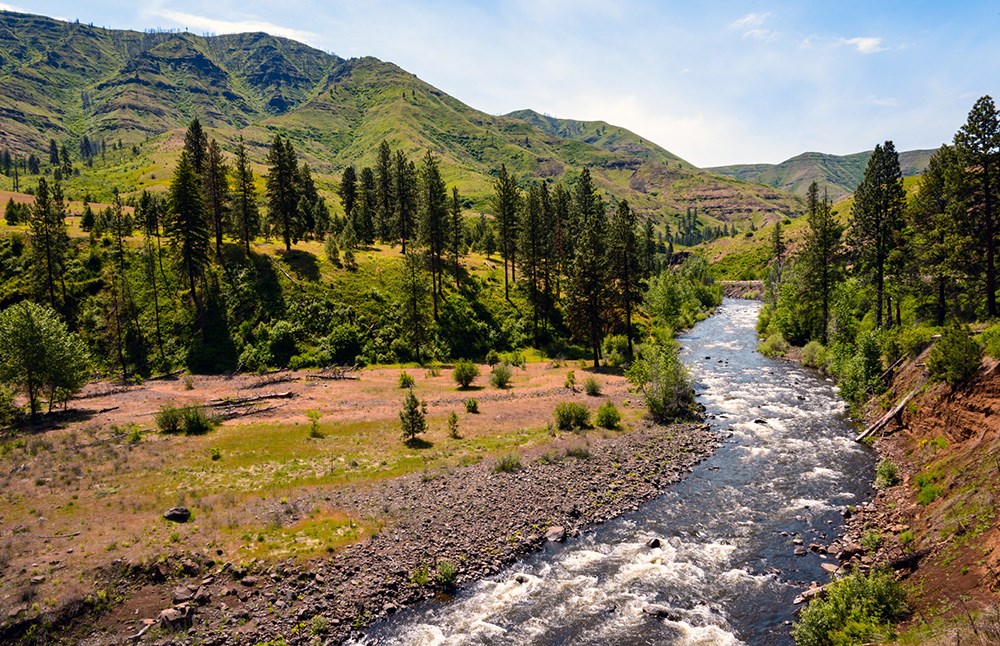 Hells Canyon / Nez Perce / Lewis and Clark Country
The Snake River created Hells Canyon along the border of eastern Oregon, eastern Washington, and western Idaho. This is North America's deepest river gorge, even deeper than the Grand Canyon, and every manner of outfitter in the region is prepared to help you make the most of it.
The Snake River is renowned for big waves and powerful whitewater rapids—perfect for adventurers—but the easiest way to take in its grandeur is via the Hells Canyon Scenic Byway.
While in this region, you'll see plenty of references to the Nez Perce and Lewis and Clark. History buffs know that the Nez Perce made Lewis and Clark's Corps of Discovery possible since the tribe offered the explorers hospitality and information about the route ahead all the way to the Pacific.
The Nez Perce National Historic Park consists of 38 sites scattered over 4 states, and the Spalding Visitor Center is 11 miles east of Lewiston on U.S. Hwy 95.
KOA in this area
Kamiah Valley / Clearwater River KOA
Craters of the Moon National Monument and Preserve
You'd have to travel to Hawaii or Alaska to see anything close to Craters of the Moon National Monument and Preserve, a lake of hardened lava covering 618 square miles just outside of Arco, in the south-central part of the state. The second group of astronauts to walk on Earth's moon visited in 1969. That trip was more than a public relations visit; while they did not actually train here, they did study the volcanic geology and harsh environment in preparation for their trip into space.
Nearby Arco and Idaho Falls will interest history and science enthusiasts. The Experimental Breeder Reactor-I Atomic Museum is located on Highway 20-26. This is where usable electricity was first generated from nuclear energy in 1951. You'll see four nuclear reactors, a reactor control room, remote handling devices for radioactive materials, and radiation detection equipment. Do you need further proof that Idaho has something for everyone?
KOA in this area
Craters of the Moon / Arco KOA Journey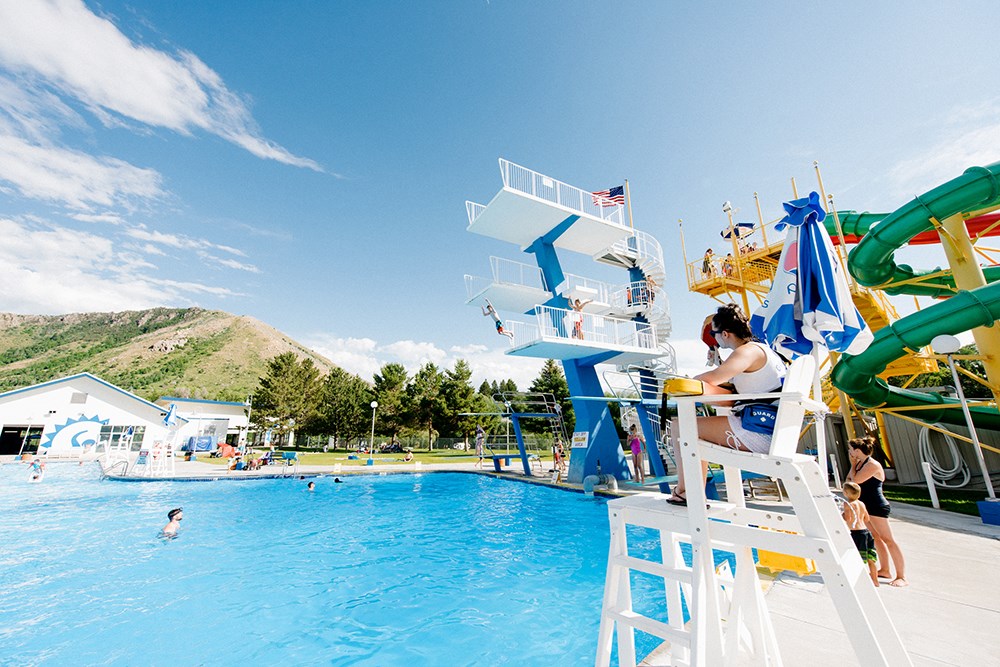 Lava Hot Springs
Lava Hot Springs is a delightful town of 400, most of whom support guests who come for the recreation and health-giving properties of the springs. Located near Idaho's junction with Wyoming and Utah, just look for the KOA signs and pull off of US-30.
The region's volcanic activity fuels the springs and about 2.5 million gallons a day circulate through the public pools, which are splendid. While you might anticipate a funky odor when you think of hot springs, rest assured that these don't smell like anything at all. The ph tilts alkaline and the temperature ranges from 102-112 degrees Fahrenheit.
You can choose a pool with jets if you have back trouble, and book a massage with the staff masseuse. Most of the pools are un-jetted, and the floors are covered with wonderfully soft gravel. No matter where you soak, you'll enjoy lingering and talking to friends while you watch the trucks go by on Route 30 on the overhead cliffs. Speaking of the cliffs, the town installed beautiful hanging gardens on the hillside too.
About an hour east of Lava Hot Springs is Montpelier Creek, located on the historic Oregon Trail, halfway between Salt Lake City and Yellowstone National Park. While there, explore Minnetonka Cave, one of the larger limestone caves in the state of Idaho.
KOA in this area
Lava Hot Springs / City Center KOA
Twin Falls and Shoshone Falls
Idahoans call southeastern Idaho near Twin Falls the "Magic Valley" because it was once largely uninhabitable land that became a lush, agricultural paradise by the magic of irrigation from the Snake River.
Travelers "of a certain age" will most likely remember Twin Falls as the site of Evel Knievel's attempt to jump the Snake River by rocket motorcycle. Be sure to walk on the cantilevered overlook of the Snake River Canyon by way of the Perrine Bridge. You may or may not see daredevil BASE jumpers, but you're sure to see Knievel's jump site. The view is spectacular, so bring your camera!
Just three miles northeast of there you'll find Shoshone Falls, which drops from a greater height greater than the more famous Niagara Falls on Lake Ontario. For an affordable $3.00 (per car) entrance fee the park offers playgrounds, hiking trails, picnic areas, a boat ramp, swimming area, and a scenic overlook.
KOA in this area
Twin Falls / Jerome KOA Holiday
Be sure to download or request your Idaho Traveler Guides before your trip. There are several to choose from for all Traveler Types in the Gem State.
---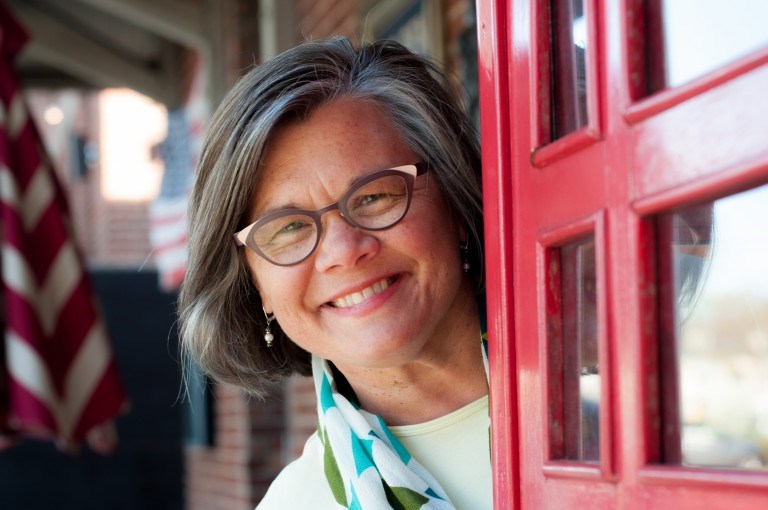 "American Road Trip Expert" Tamela Rich is an award-winning author, television travel expert, storyteller and adventurer. She began her love affair with the open road as a child, traveling with her family in the Vista Cruiser station wagon from Ohio to California every other summer.
Tamela founded and runs the Mountain & Music Motorcyle Tour Series. Her new book, "Hit the Road: A Woman's Guide to Solo Motorcycle Touring" is available in print and digital formats now.
---