Interesting, odd, quirky and fun, Canada is full of roadside attractions you  need to see to believe. Our list of Canadian roadside attractions includes some awesome gotta see sights perfect for quirky Canadian road trips.
When you're driving along long stretches of road, things can get pretty repetitive.
There are only so many playlists you can create, only so many bags of chips you can eat, and only so much time you can spend cramped in the same position of a car.
You'll hit your maximum where you feel like you couldn't possibly take one more minute of the same Canadian scenery and them BAM, out of nowhere you'll find something that brings excitement back into your road tripping soul.
And that thing could very possible be a giant stalk of wheat in Saskatchewan.
Canada is well-known for its weird and wacky sights that stretch across this vast northern country, and you will not be disappointed at what you find when you're traversing its roads.
Read on to find our favorite roadside attractions that this maple-loving country offers those who find themselves adventuring in the great Canadian outdoors.
Toronto Star
SUDBURY, ONTARIO| BIG NICKLE
You may think you're not interesting in seeing the biggest coin in the world, but that's probably because you haven't seen the world-famous Big Nickel. Built in the mid 1960s in celebration of the region's rich mining history, this coin remains today, as popular as ever — possibly even more popular than ever. The Big Nickel represents the mining that occured in the Sudbury area: copper, cobalt, silver, and of course, nickel. Weighing 64,000,000 times more than an actual Canadian nickel, this giant coin is made of stainless steel. We highly recommend getting out of the car to enjoy the Big Nickel in its full glory.
KOAs nearby:
Sturgeon Falls KOA Holiday®
Parry Sound KOA

FRANK, ALBERTA | THE FRANK SLIDE
Over 100 years ago, the town of Frank was completely destroyed when a large portion of Turtle Mountain slid down to the town below. This disaster ended up being the deadliest rockslide in Canada's history. Today, the Crowsnest Highway passes through the disaster site, and is something you will definitely want to stop and see while traveling through the area. If you have the time, head to the Frank Slide Interpretive Centre to explore the museum there and learn more about the history of the area as well as the famous slide itself.
KOAs nearby:
Cranbrook / St. Eugene KOA Journey®
VEGREVILLE, ALBERTA | GIANT EASTER EGG
This Ukrainian Easter egg, officially referred to as a pysanka, serves as symbol to honor the early Ukrainian settlements in this area of the country. The Vegreville egg was dedicated to the 100 year anniversary of the Royal Canadian Mounted Police in 1975, and has been a hot spot for travelers ever since. With over 500 different star patterns gracing its surface, as well as over 2,000 perfectly equilateral triangles, and a number of other shapes, this massive egg is quite a sight. Standing at over 3 stories tall, the giant egg (the world's second largest behind an egg in Ukraine) is housed in a beautiful park that makes for the perfect lunch spot.
KOAs nearby:
Hinton / Jasper KOA Holiday®
Mapio.net
MONTREAL, QUEBEC | THE ORANGE JULEP
The Orange Julep first came to be in 1945 when Hermas Gibeau decided to create a giant two-story orange to house his restaurant. It was rebuilt in 1966 to be even larger, when the demand for the restaurant's fast food become too great for its original space. Back in the day, The Orange Julep's waitresses raced around in roller skates, and though the skates have since been retired, the food is still as classic as ever. And the drinks are too. This place is known for its namesake Orange Julep, and we promise you won't be disappointed. Definitely make sure you incorporate a stop here into your Canadian road trip.
KOAs nearby:
Montreal South KOA
Montreal West KOA
MELITA, MANITOBA | WORLD'S LARGEST FREESTANDING BANANA
Melita is known as the "banana belt" of Manitoba — a term that deems it warmer than other parts of Manitoba. In honor of this fact, and also to attract tourists, the town decided to build a sculpture. And they didn't opt for any old sculpture — they went for something a bit more flashy. By flashy, we mean a giant banana. With arms stretched wide, a giant grin on its face and even a blue jay friend, this banana attracts travelers looking for a laugh. This banana isn't just any old giant banana statue, it is the world's largest freestanding banana. We think that's worth a visit, don't you?
KOAs nearby:
Winnipeg West KOA
Ted McGrath | flickr
SYDNEY, NOVA SCOTIA | THE WORLD'S LARGEST ILLUMINATED FIDDLE
No one cares where the world's largest fiddle is when you know that the world's largest illuminated fiddle is in Sydney, Nova Scotia. Though this fiddle hasn't been around for long, it has certainly attracted a lot of attention in its 13 years. Local artist Cyril Hearn created this giant fiddle to pay homage to the fiddle music of the area and the rich Celtic culture of Cape Breton. Standing 60 feet tall, this fiddle demands some serious attention, and successfully gets it. Oh, and it also plays songs by Kinnon Beaton, a local Sydney musician.
KOAs nearby:
North Sydney / Cabot Trail KOA
Muskokablog.com
PORT CARLING, ONTARIO | WORLD'S LARGEST PHOTO MOSAIC
Though Canada is known for its large sculptures and statues, it does have some other impressive tricks up its sleeve, including the world's largest photo mosaic. From far away, the Port Carling Wall in Ontario looks like a giant picture of a ship, but when you get up close you realize it's much more. This image of the RMS Sagamo is made of over 9,000 smaller pictures of the city, dating all the way back to 1860.
KOAs nearby:
Parry Sound KOA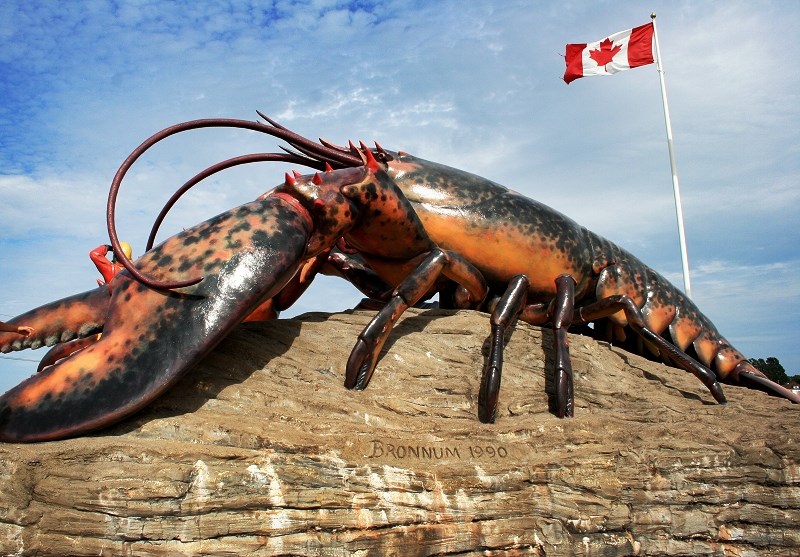 SHEDIAC, NEW BRUNSWICK | WORLD'S LARGEST LOBSTER
Known as "The Lobster Capital of the World," Shediac's lobster fishing industry is top-notch. So, what better way to pay homage to the heart of this community than erect a giant lobster monument? Weighing in at 90 tons, this truly is the biggest lobster in the world. Climb up the creature to get a silly photo or two in its claws. Though big, this lobster will do no harm — he is under the careful watch of the fisherman statue that stands beside him.
KOAs nearby:
North Sydney / Cabot Trail KOA
Waymarking.com
CAVENDISH, PRINCE EDWARD ISLAND | SHARK HEAD
Though it looks like just your average giant shark head erupting through the roof of a gift shop, this particular shark head in Cavendish, Prince Edward Island is anything but ordinary. Back in 1983, a man by the name of David McKendrick caught a great white shark while fishing off the coast of PEI. And, since nothing around here is ordinary, this wasn't just any old great white shark. This was a 20-foot massive beast that was deemed the biggest great white shark to ever have been measured. What better way to honor this impressive catch?
KOAs nearby:
Cavendish KOA Holiday®
Cornwall / Charlottetown KOA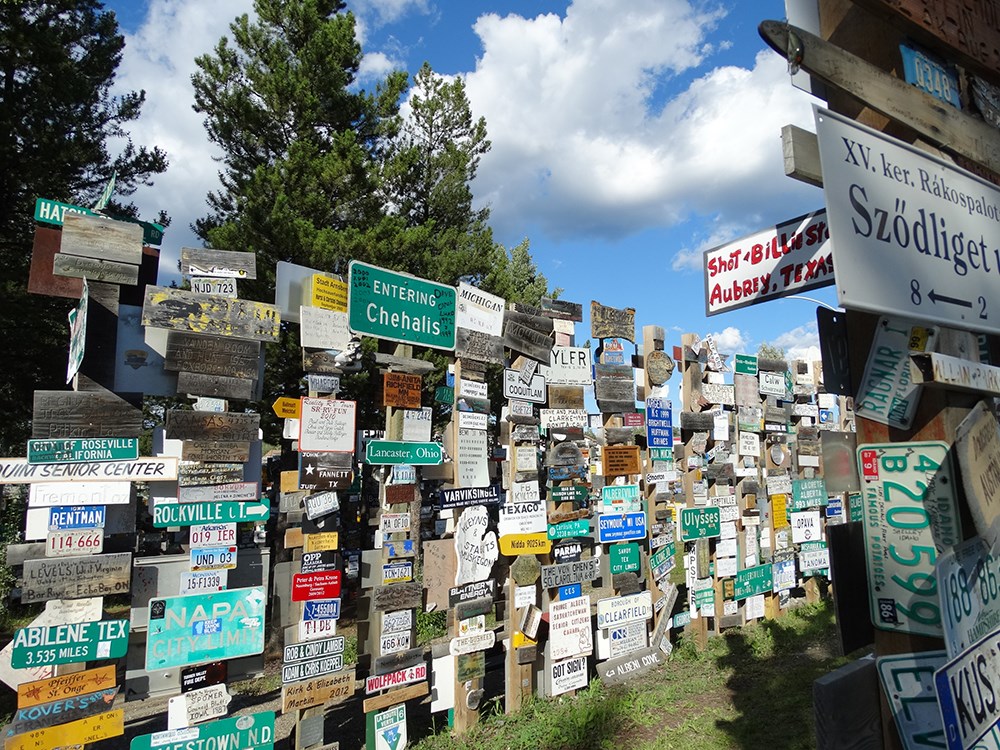 WATSON LAKE, YUKON | SIGNPOST FOREST
The signs here date back to the 1940s, when the U.S. Army of Engineers building the Alaska Highway put up posts that showed the way and distance back home. Over the next 70+ years, travelers followed suit, and added posts with the distance and directions to their hometowns to the area. So many signposts have been added here that stretch of Alaska Highway has become a literal forest of signs — nearly 80,000 signs, in fact. And still growing. Whether you want to add to this forest with your hometown or not, this spot is certainly worth stopping by and appreciating.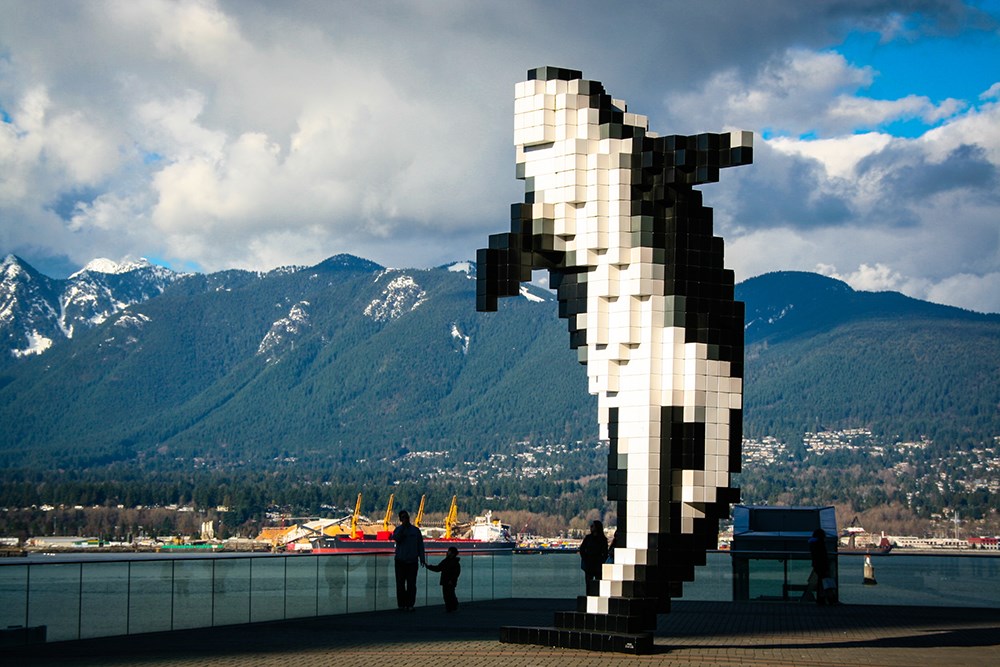 VANCOUVER, BRITISH COLUMBIA | DIGITAL ORCA
If you're a fan of Legos and/or Sea Willy, you're going to love this sculpture in Vancouver. Right next door to the Vancouver Convention Center sits the stunning work of visual artist Douglas Coupland. Using aluminium and stainless steel, the artist created a block sculpture of a killer whale that looks like a giant Lego creation. Orcas are often seen off the coast of Vancouver, thus this permanent installation was created to forever remember these wonderful creatures.Though we have to admit, no orca in the ocean is quite as cool as this digital, holographic-looking one.
KOAs nearby:
Lynden / Bellingham KOA
Ruth Bonneville | Winnipeg Free Press
GIMLI, MANITOBA | GIANT VIKING STATUE
A massive sculpture commemorating Vikings isn't something you'd expect to see in Manitoba, but there is definitely a reason behind this giant viking's existence in this place. Gimli was, at one point in time, the heart of New Iceland. In fact, the town of Gimli is home to the most people with Icelandic ancestry outside of Iceland. And, because this statue has become such a big deal, a few years ago a park was built around it to give locals and travelers alike even more to appreciate about the rich culture and history of this area.
KOAs nearby:
Winnipeg West KOA
O' Canada — what wonderful sights you have. And we aren't talking about the stunning landscape, though that is an added bonus.
We are sure you have have plenty of places lined up that you want to go to, and things you want to see during your road trip through this lovely northern country, but leave a bit of time on that itinerary for some of the stops above.
We promise you'll be happy you did.
---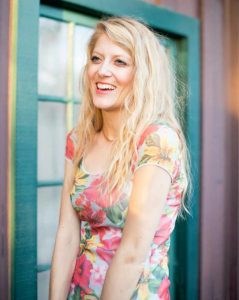 Leslie, a.k.a. Copy Girl, is a copywriter who gets butterflies from telling stories through words.
Her voice comes from a place filled with passion, dreams, and lots of sugar. "Cake over steak" is her go-to motto.
With over 10 years of experience in crafting words, and years of embarking on travels that have taken this Montana girl to some incredible places, Leslie love the adventures of both body and mind her writing takes her on.
Everywhere she goes, she takes this advice with her:
"Hold on to your divine blush, your innate rosy magic, or end up brown." – Tom Robbins, Jitterbug Perfume
To see what Leslie's up to in the writing world, visit her website here.
---