When Lewis & Clark sought out the Pacific, snapping the perfect Instagram photo was the last thing on their minds. Still, had they been equipped with a smartphone, or even a Polaroid, they would have returned from their expedition with photos too beautiful to believe. While this is by no means an exhaustive list – there are simply too many spots to shout out – here are ten of the American West's most photogenic places.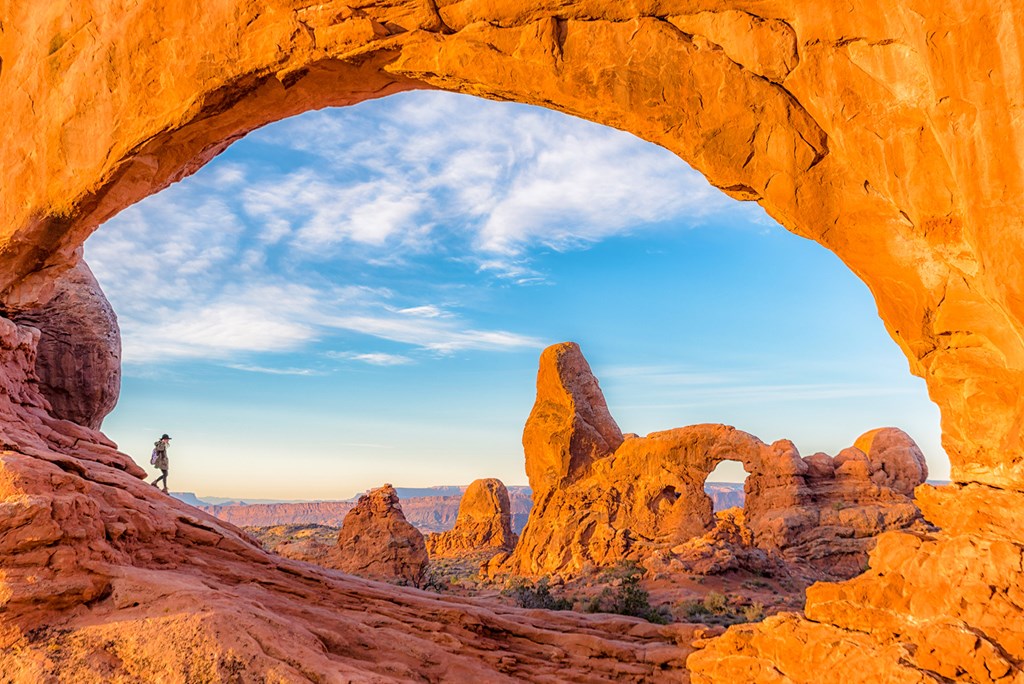 1. Arches National Park, Utah
"Timeless, dream-like, or even other-worldly," is how the National Park Service begins to describe this endless sea of red rock arches in southern Utah. There are literally thousands of them. But they're not the only marvel-worthy formations that land Arches National Park on this list. Equally impressive are the pinnacles, hoodoos, monoliths and gravity-defying "balancing rocks." For the most bang for your buck, head to the Windows Section, home to aptly-named natural wonders like the Elephant Butte, Parade of Elephants and the Double Arch.  
Nearby KOAs:
Moab KOA Holiday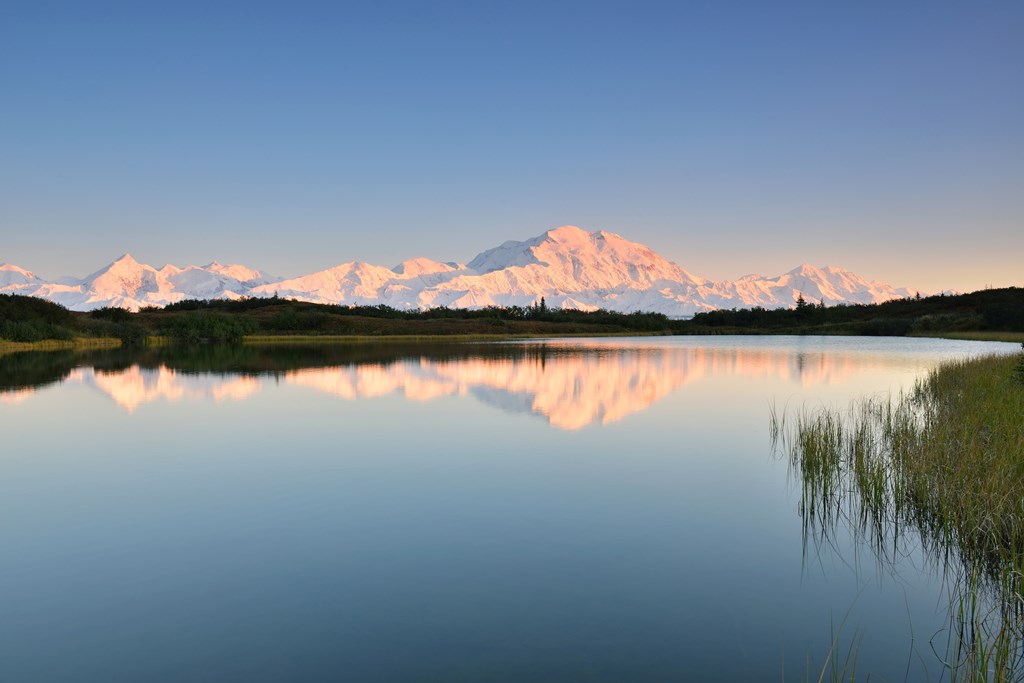 2. Denali, Alaska
Alaska's most visited interior attraction, Denali National Park & Preserve is home to the tallest peak in North America. But even if it's cloudy and you can't get a clear view of Mt. McKinley (elevation 20,310 feet), the 6-million-acre park is well worth visiting. It's one of the only places in the U.S. where one can see the frozen tundra – an extreme ecosystem home to a dizzying array of arctic wildflowers. To maximize your time, book a flightseeing tour. Fly Denali even has permits allowing it to land on glaciers with passengers.
Nearby KOAs:
Seward KOA Journey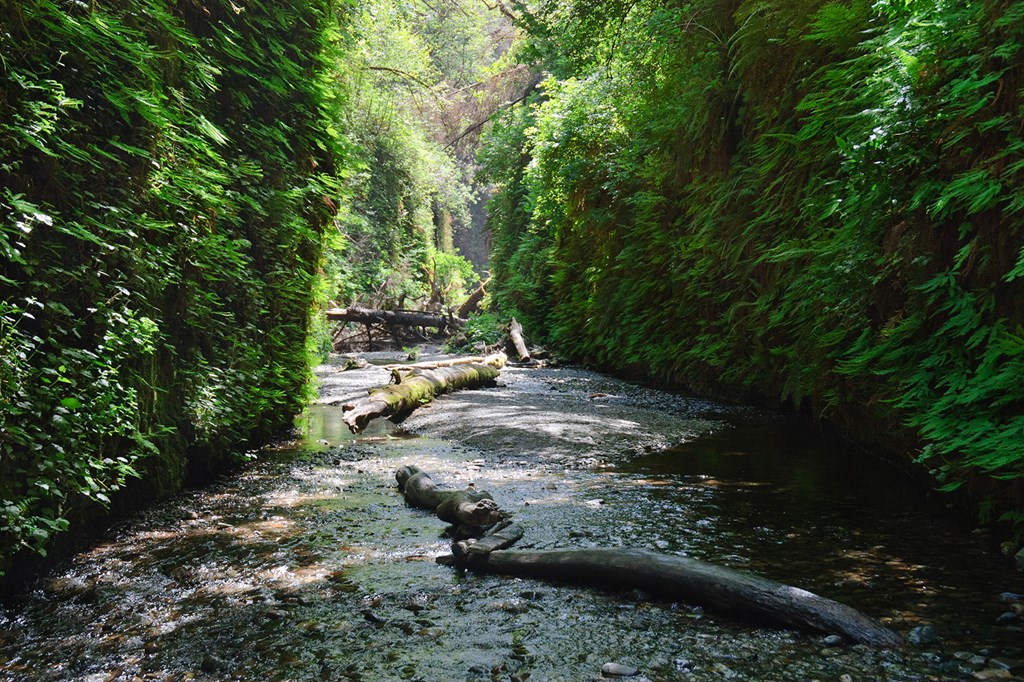 3. Fern Canyon, California
Home to stunning sights like Joshua Tree National Park, the Pacific Coast Highway and Yosemite National Park – just to name a few – California has no shortage of photogenic places. But sometimes it's the lesser known gems like Fern Canyon that really make a trip. This fern-covered "mini canyon" may look familiar if you've seen "Jurassic Park 2, The Lost World." Director Stephen Spielberg said he chose the location because it stood out as "an unforgettable natural wonder." Hike along a creek winding between 50-foot-walls laden with lush greenery. What's more, Fern Canyon is located in Prairie Redwoods State Park, so it's a great place to see some of California's most iconic trees.  
Nearby KOAs:
Crescent City / Redwoods KOA Holiday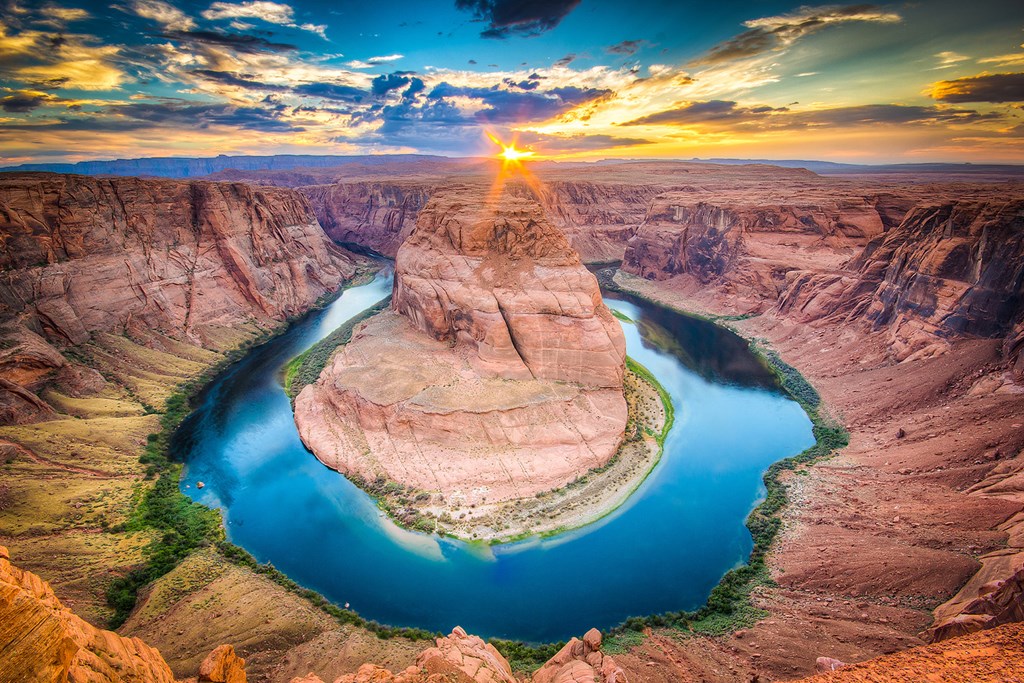 4. Horseshoe Bend, Arizona
Even if you can't name it, chances are you've seen photos of Horseshoe Bend. It gets its name for how the Colorado River meanders through a canyon in a near-perfect horseshoe shape. Most photos are taken from the top. But there are also float tours you can join if you want to ride the blue-green river as it continues to carve its way through the surrounding reddish-brown rock. Combine a stop at Horseshoe Bend with a visit to another extremely photogenic place: the Grand Canyon. The North Rim is not far at all, and even the South Rim is only 140 miles away.
Nearby KOAs:
Grand Canyon / Williams KOA Journey
Williams / Exit 167 / Circle Pines KOA Holiday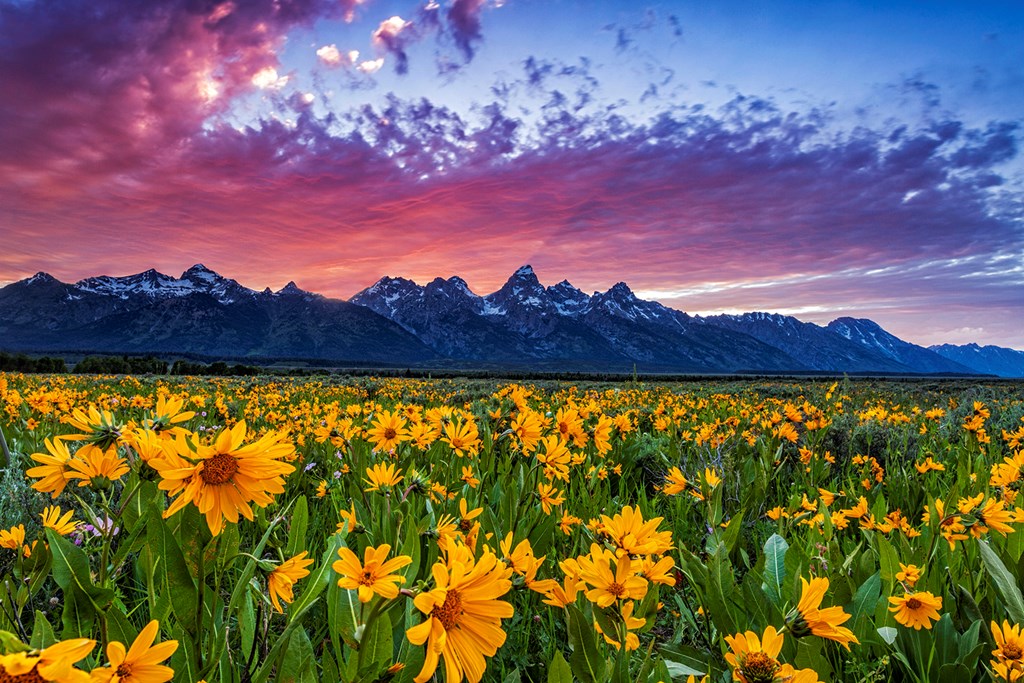 5. Grand Teton and Yellowstone National Parks, Wyoming
"With glacial lakes, abundant wildlife, and the snow-capped Teton mountain range, Grand Teton National Park is everything a national park should be," says Stef Henne, the founder of  Open Road Odysseys. Neighboring Yellowstone National Park is just as breathtakingly beautiful. All you have to do is witness the rainbow of colors bubbling in the Grand Prismatic Spring to agree. Or drive through the Grand Canyon of the Yellowstone to see postcard-perfect cascades tumbling down the canyon walls. Head to Yellowstone Lake, the largest high elevation lake in North America, or hike in the Lamar Valley where stunning vistas are home to a myriad of animals foreigners travel thousands of miles to see.
Nearby KOAs:
Livingston / Paradise Valley KOA Holiday
Red Lodge KOA Journey
Cody KOA Holiday
Dubois / White River KOA Holiday
Yellowstone Park / Mountainside KOA Journey
Yellowstone Park / West Gate KOA
6. Glacier National Park, Montana
As one of the few places in the Lower 48 where you can still see glaciers, Glacier National Park is a bucket list destination regardless of whether or not you care about cameras. Still, it's hard not to stop for photos as you drive the glorious Going-to-the-Sun Road winding through the High Rockies. While Lake Macdonald in the western part of the park is lovely, head to Many Glacier in the east – nicknamed the Switzerland of North America – for sunrise. It's home to Grinnell Point, perhaps the park's most photographed peak, which appears to glow orange as the sun comes up.
Nearby KOAs:
West Glacier KOA Resort
St. Mary / East Glacier KOA Holiday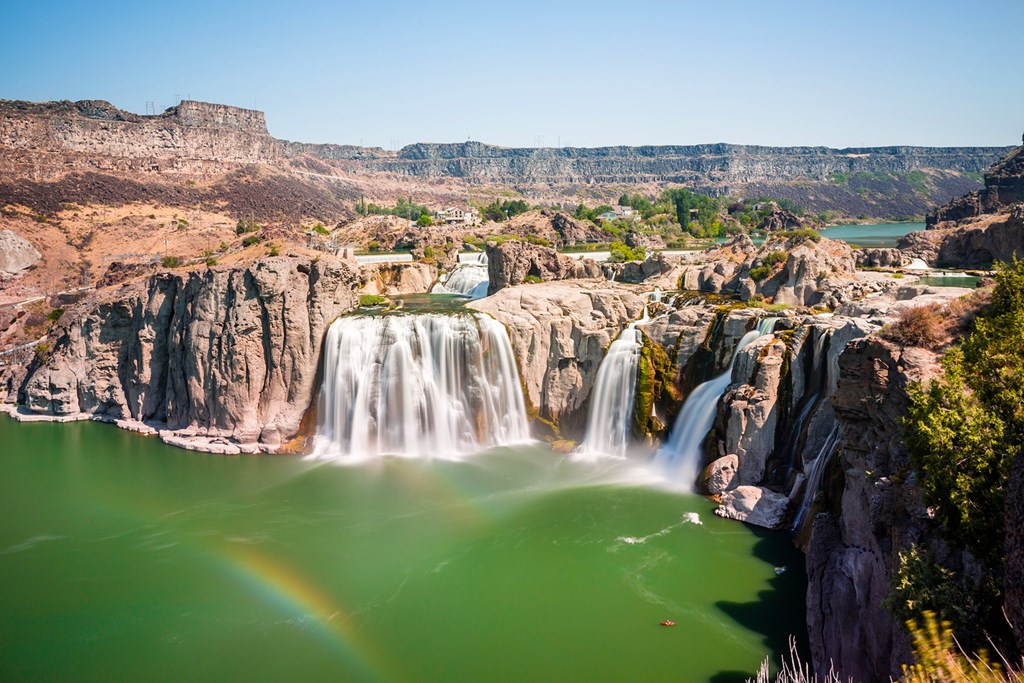 7. Snake River Canyon, Idaho
In addition to 400-foot-tall sand dunes, Lake Coeur d'Alene and the scenic Sawtooth Scenic Byway, Idaho boasts the Snake River Canyon located in the state's "Magic Valley." It's where Evil Knievel attempted a death-defying stunt in 1974. Today, it's on the list for anyone who rafts. Even if you don't see the canyon walls from the water, the views from the rim trails are enough to warrant a photo sesh or two, especially if you head to Shoshone Falls. It's nicknamed the "Niagara of the West." Spring, when the snow is beginning to melt, is when the falls are the most majestic.
Nearby KOAs:
Boise / Meridan KOA Journey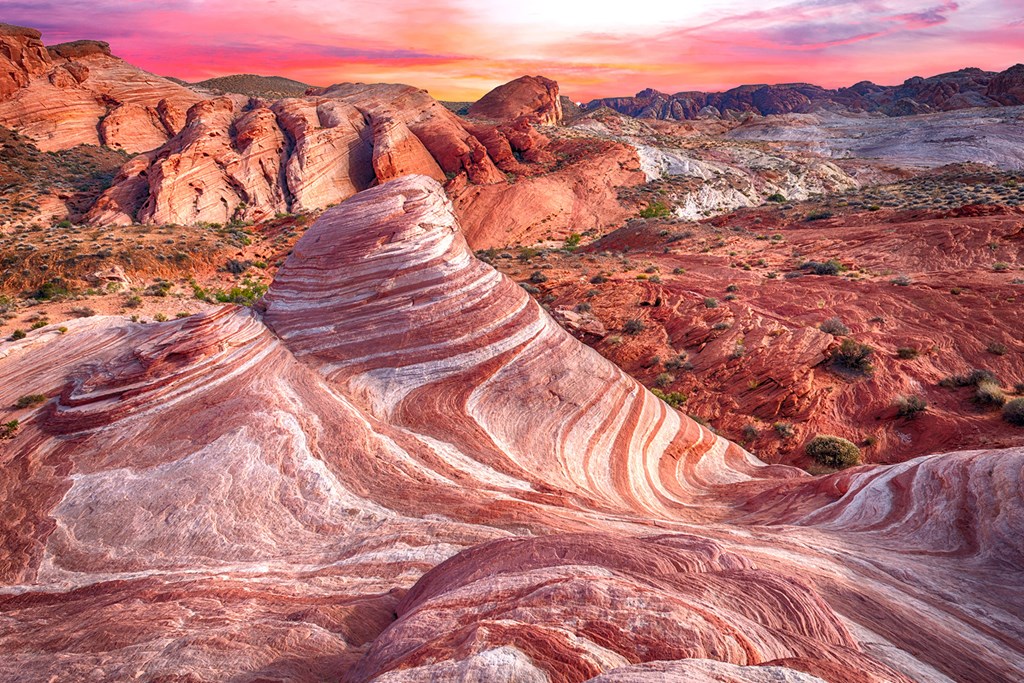 8. Valley of Fire State Park, Nevada
Sure, Las Vegas has plenty of photo opps (Elvis anyone?). But if you're after Nevada's natural beauty, you'll have to visit the Valley of Fire State Park. Scenic Vegas describes it as a "desert masterpiece millions of years in the making." Located in Sin City's backyard, this geologist's playground is easy to mistake for Mars. Except evidence of human life is easy to find. Try to decipher 2,000-year-old petroglyphs carved into the Aztec sandstone. Other potential photo subjects include caves, petrified trees and massive, white sandstone domes.
Nearby KOAs:
Las Vegas KOA Journey at Sam's Tow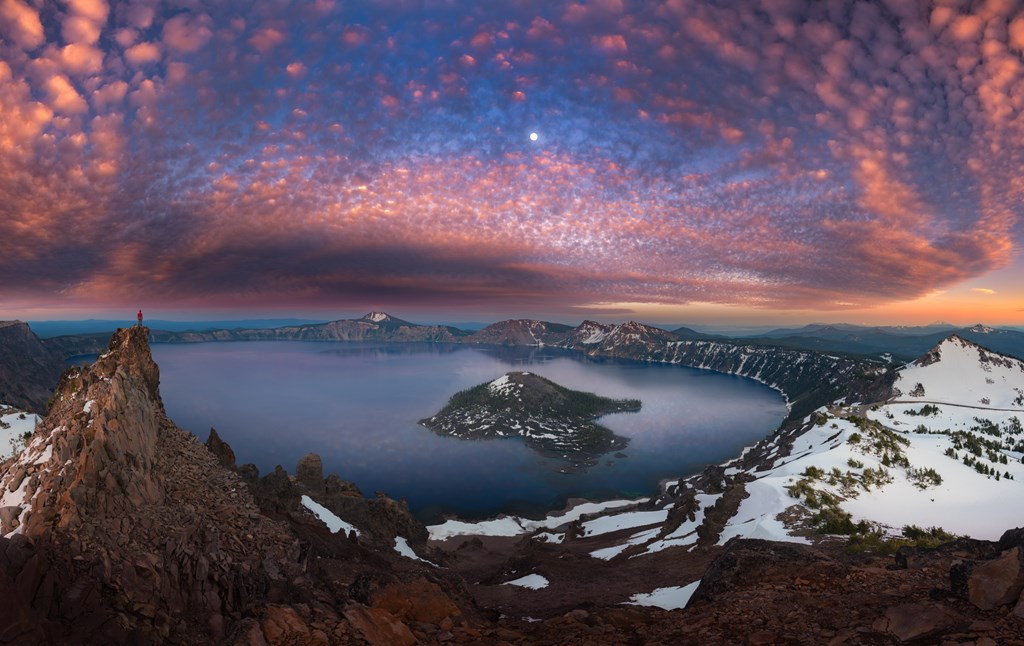 9. Crater Lake National Park, Oregon
What happens when a volcano collapses a nearby mountain? In the case of Mount Mazama, it forms the deepest, and perhaps bluest, lake in the country. Located in Southern Oregon's Cascade Mountains, Crater Lake is a must for anyone visiting the Beaver State. "The mystique of Crater Lake begins with the public's fascination of the lake's color, depth and clarity," writes the National Park Service. It's no wonder the Native Americans have so many legends surrounding this mysterious, and perhaps the country's most photo-worthy, body of water.
Nearby KOAs:
Lemolo Lake / Crater Lake KOA Holiday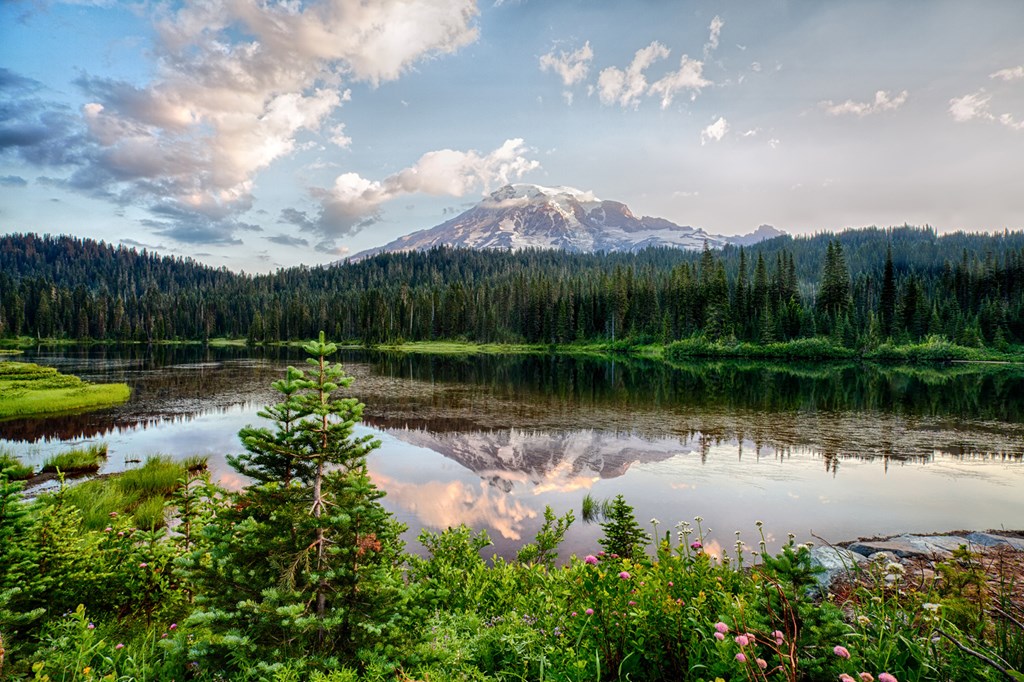 10. Mount Rainier, Washington
Visible from Seattle, Oregon and even British Columbia, Mount Rainier is a true sight to behold. At 14,411 feet, it dwarfs the Space Needle. While it's striking from afar, Mount Rainier is even more stunning up close. With places like Paradise Meadows, Panorama Point and Reflection Lake, it's easy to see why Mount Rainier National Park welcomes more than 2 million visitors a year. For peak wildflower season, visit in August to see the high alpine blooms at their best.
Nearby KOAs:
Olympic Peninsula / Port Angeles KOA Journey

---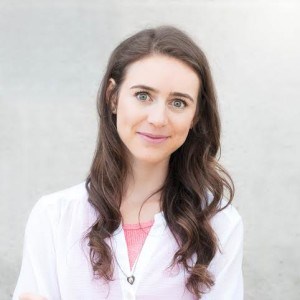 Katie Jackson is a writer and media specialist based in Montana's Big Sky Country. Living and working everywhere from New York to Nicaragua, Katie is no stranger to adventure. When she's not traveling the world (or writing about it!) she's busy chasing after a Leonberger named Zeus. Follow Katie's travels on Instagram @katietalkstravel.

---