For many outdoorsy travelers, a big part of the experience is the thrill — the rush of adrenaline that comes from a downhill mountain bike race, an ascent up the side of a cliff, or the opportunity to soar to new heights in a hot air balloon. For others, there's nothing more adrenaline-pumping than white water rapids. Fortunately, North America is awash in white water of all forms from Class III rapids through a cavernous gorge to surprisingly hearty waves in the shadows of skyscrapers. Whether rural or urban, these 9 whitewater rafting destinations deserve top billing on any thrill-seekers' bucket list.
Where is the Best Place to Go White Water Rafting? Try These Destinations!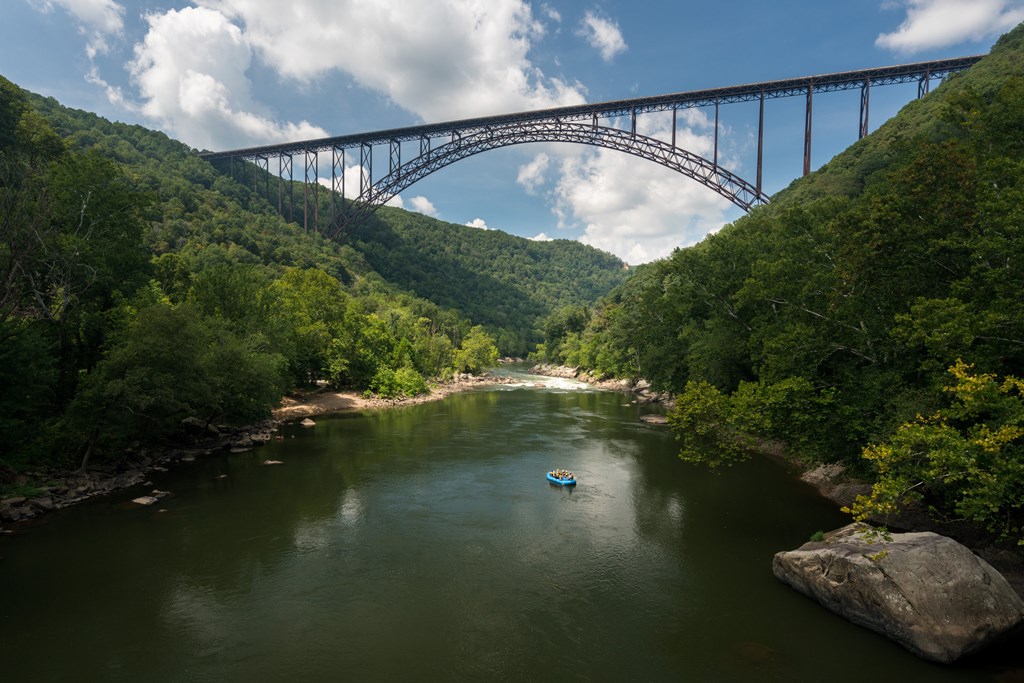 1. New River Gorge National Park, West Virginia
In spite of its spry moniker, and the fact that it's the newest national park in the U.S., the New River Gorge in West Virginia is an old classic when it comes to whitewater connoisseurs. Oh, and the river is also one of the oldest on the planet, carving its way northward through lush Appalachia for some 53 miles worth of craggy canyons, dense forests, and steep cliffs. Considering the swift-moving pace of the river, and the rocky terrain that creates an endless spree of rapids, the national park's namesake waterway is among the most coveted for rafting. One of the most popular activities in the region, fearless floaters come from near and far to suit up and paddle their way through rapids as intense as Class V. Although that extreme level of whitewater is a relative rarity, the most intense waves tend to amass in the lower portions of the gorge. No matter the route you choose or duration of your journey, however, rest assured that you will get soaked.
Nearby KOAs:
Flatwoods KOA Journey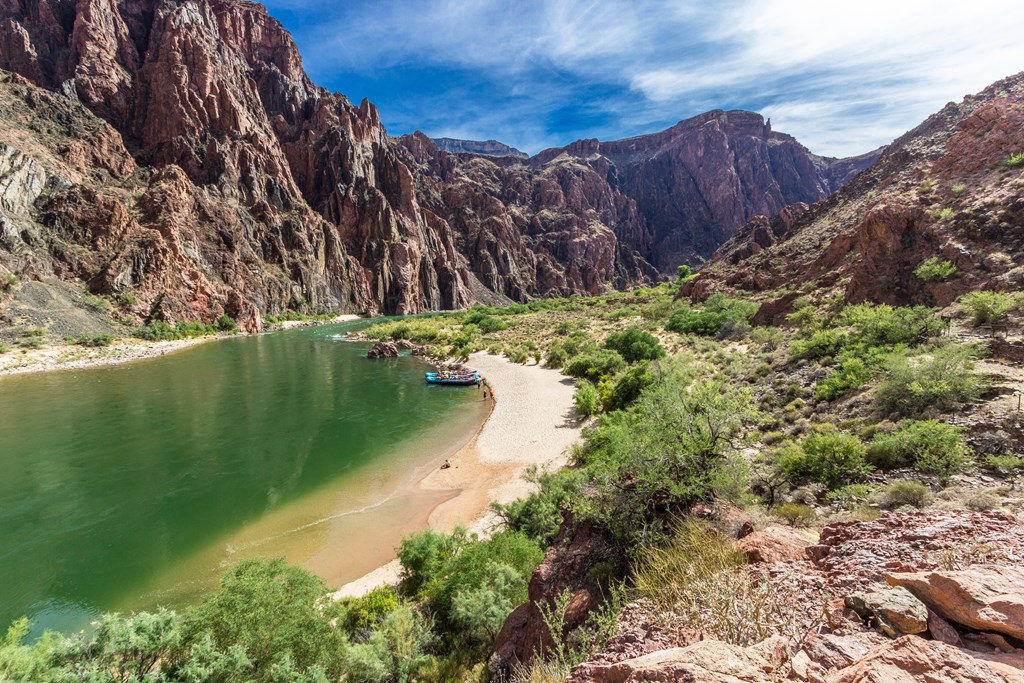 2. Grand Canyon National Park, Arizona
Among the most iconic rafting destinations on Earth, the Colorado River that famously chisels its way through the mighty Grand Canyon is a must-do experience for any ardent paddler. Depending on your put-in location and length of your float trip, rapids can be a mixed bag, from easy and docile to straight-up surf-worthy. Regardless, though, the views from the bottom of the Grand Canyon are sure to be staggering. Area outfitters, like Aramark-Wilderness River Adventures and Arizona Raft Adventures, provide immersive commercial river trips through the canyon, which can last anywhere from three to 18 days, while adjoining areas outside the national park boundaries offer more options and opportunities, including one-day whitewater rafting trips with Hualapai River Runners.
Nearby KOAs:
Grand Canyon / Williams KOA Journey
Williams / Exit 167 / Circle Pines KOA Holiday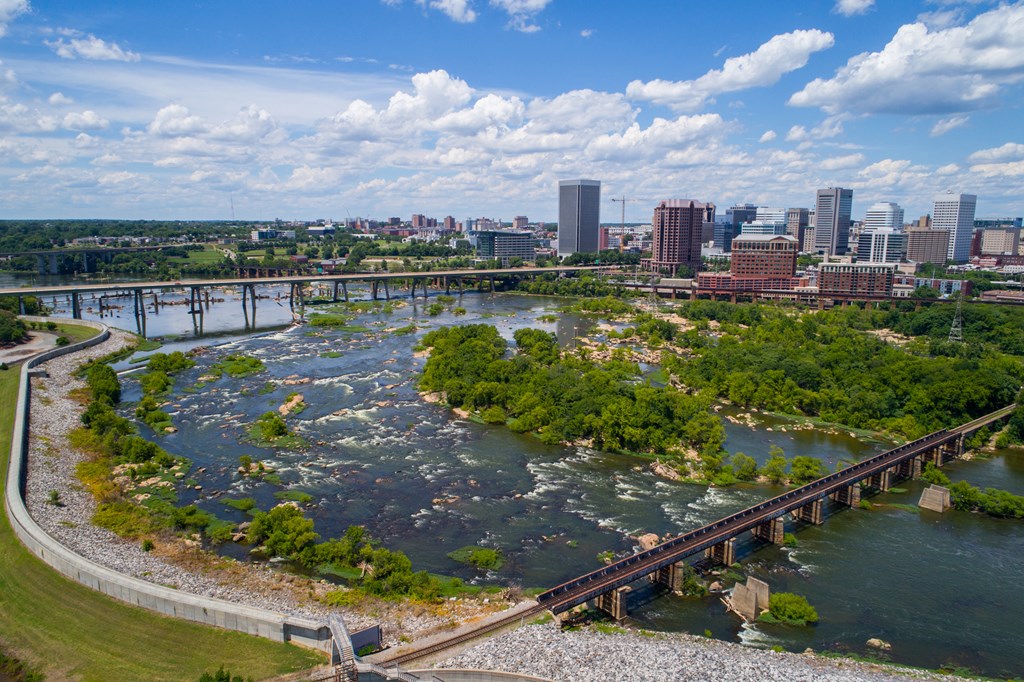 3. James River, Virginia
Whitewater rafting is frequently associated with far-flung locales deep in nature, surrounded by soaring trees as bald eagles soar overhead. Whitewater rafting in the downtown district of a major American city? Not so much. Which is what makes the James River, which cascades through the heart of Richmond, such a singular gem. Companies like RVA Paddlesports offer guided jaunts along the boulder-strewn river, including both segments of the Upper and Lower James — the former is more gentle and ideal for families and newbies, while the latter can reach rapids as high as Class IV. For those with a ton of stamina, the full James River segment through the city can be conquered, which clocks in at 7.5 miles.
Nearby KOAs:
Richmond North / Kings Dominion KOA Holiday
4. Snake River, Wyoming
It doesn't get more Americana than whitewater rafting along the iconic Snake River in the wilds of Wyoming. Winding its way through Grand Teton National Park and through the community of Jackson, the epic waterway offers both slow-moving trips and more adrenaline-pumping experiences, both of which can be combined for one full-fledged experience. En route, you're likely to paddle past wildlife (keep your eyes peeled for deer, moose, and bald eagles), before diving into boulder-lined canyons that pump up the class of rapids.
Nearby KOAs:
Dubois / Wind River KOA Holiday

5. Rogue River, Oregon
Any river with a name as untamed as Rogue is bound to get the blood pumping. Indeed, Oregon's thrilling Rogue River is a beast that ranks as one of the most challenging whitewater experiences in the Pacific Northwest, with rapids as high as Class V in areas like Rainie Falls. In addition to some intense waves, the river carves its way through some stunning scenery, including rustic waterside lodges and tree-lined canyons. Despite how intimidating this river may seem and sound, area outfitters do offer tamer trips for beginners and families in the Hellgate Canyon section (again, the name is far scarier than it actually is), while the Nugget Falls outing is a four-hour jaunt with rapids that reliably clock in at Class IV.
Nearby KOAs:
Medford / Gold Hill KOA Journey
Grants Pass KOA Journey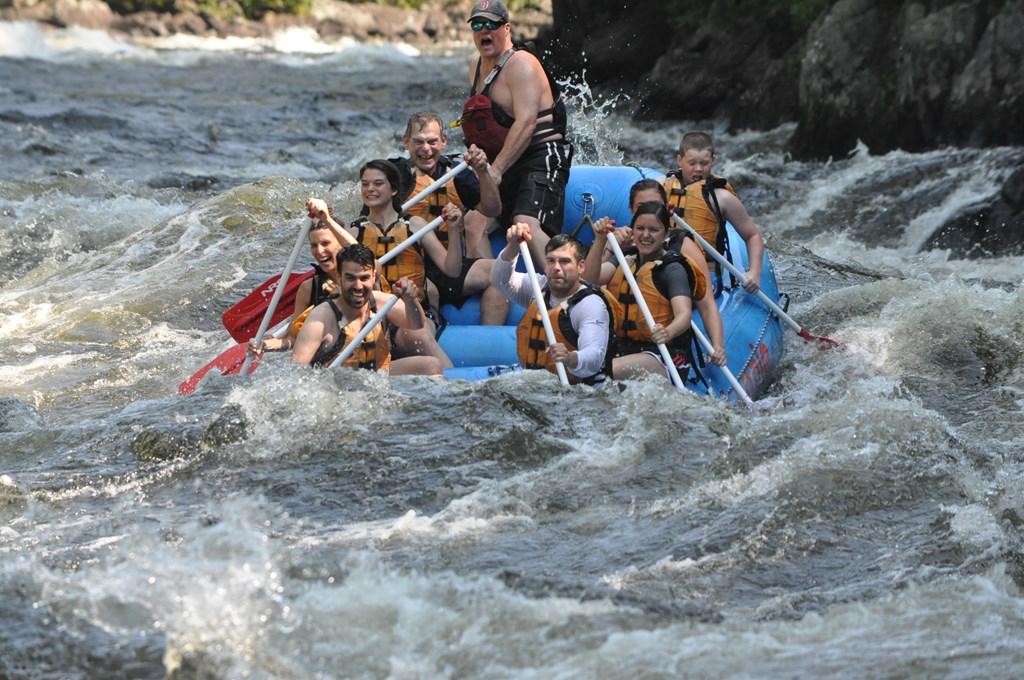 6. Kennebec River, Maine
Most of America's iconic whitewater destinations hail out west, but just as it does with Acadia National Park, Maine proves time and again it can hold its own in the larger-than-life nature department. Case in point: the Kennebec River is a powerful passage that splashes its way through thick forests for a journey that many deem the best in the northeast. Rapids reach as high as Class IV, especially in the Kennebec River Gorge, and thanks to water releases from the Harris Station dam, paddlers are guaranteed a soaking wet time no matter the season. Another perk of rafting the Kennebec? The water is surprisingly warm (by Maine standards, anyway), which will soften the blow if you happen to fall out. And if you paddle in the fall, brace yourself for a staggering showcase of foliage along the route.
Nearby KOAs:
Augusta / Gardiner KOA Journey
Skowhegan / Kennebec Valley KOA Journey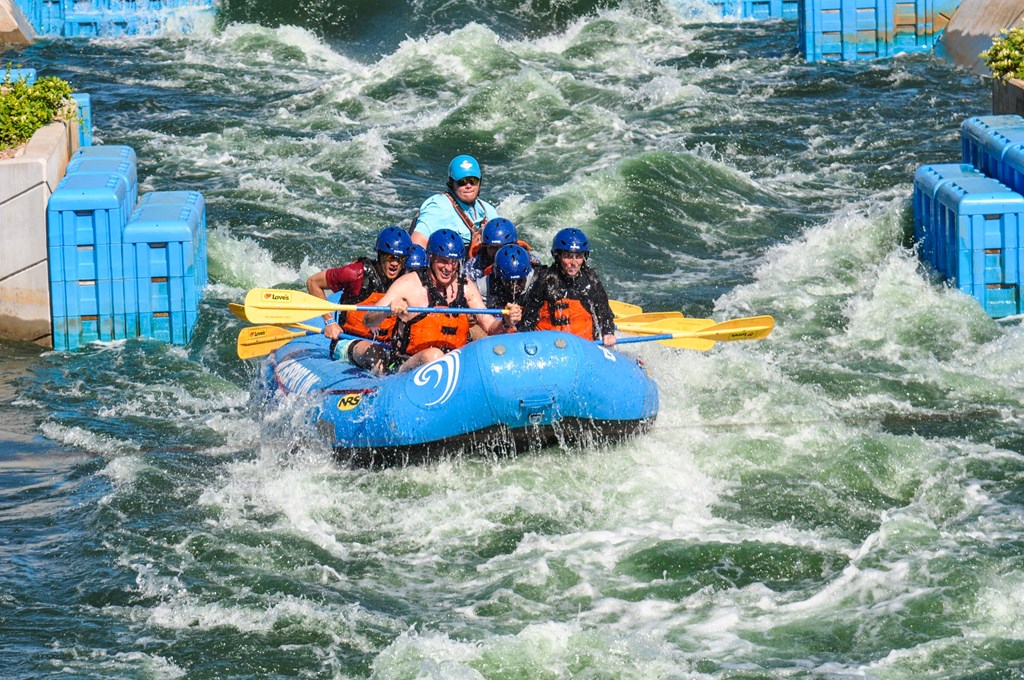 7. Riversport OKC, Oklahoma
The stereotypically flat landscape of Oklahoma may seem like an odd choice for whitewater rafting, but in terms of urban adventures, it's one of the best. Located in Oklahoma City's Boathouse District, Riversport OKC is an action-packed destination for all sorts of thrilling sports, from stand-up paddleboarding and ziplining to kayaking, tubing, and yes, whitewater rafting. After all, the rapids that can be generated in this windy section of the country are so reliable that the area is used as a training site for Olympic rowers. The whitewater rafting course achieves rapids up to Class IV, as paddlers cascade through concrete canyons with the city skyline looming majestically overhead.
Nearby KOAs:
Oklahoma City East KOA Holiday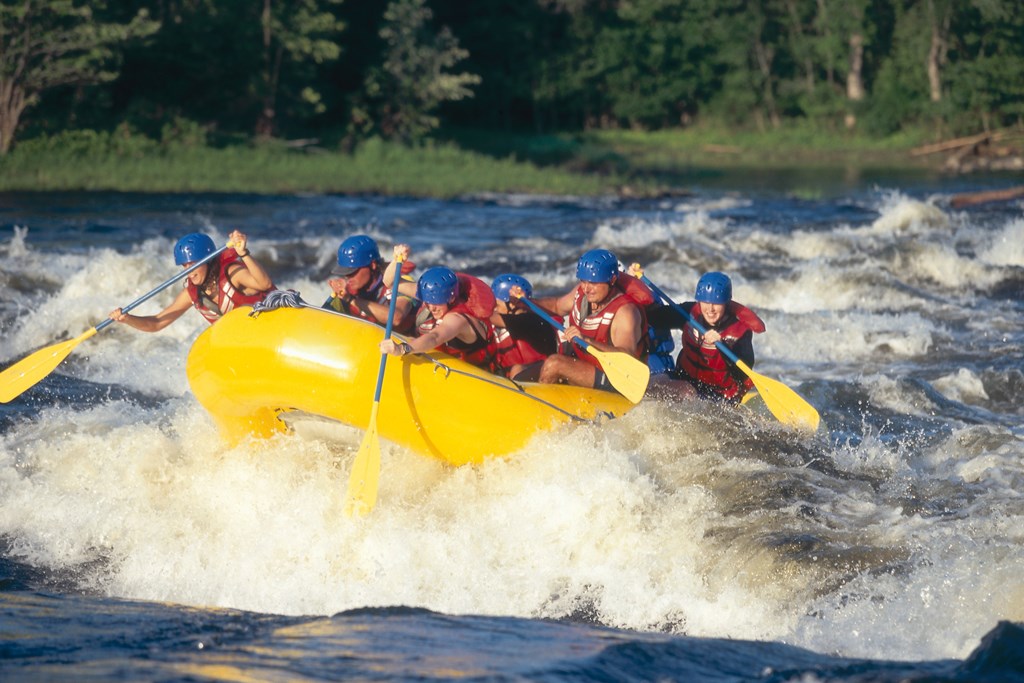 8. Ottawa River, Ontario and Quebec
When it comes to whitewater rafting in Canada, it doesn't get any mightier than the Ottawa River spanning the provinces of Ontario and Quebec. As this powerful body of water rages for some 1,400-km, the bulk of the waves tend to reach their apex near Ottawa River Provincial Park, thusly earning its designation as the most popular section for float trips — not just for the region, but for the entire country. Numerous area outfitters and guides are equipped for various excursions, both for novices and experienced pros, the latter of whom will be well-suited for Class IV rapids.  Due to the huge river's various channels and passages, it's easy for guides to navigate different routes to fit experience levels.
Nearby KOAs:
Renfrew/Ottawa West KOA Journey
9. Kicking Horse River, British Columbia
Rafting in the Canadian Rockies is a must-do experience for any whitewater junkie, and it doesn't get any more bucket list-worthy than the Kicking Horse River that commands its way through the interior of southern British Columbia. True to its locale as a gnarly, high-elevation mountain river fed by meltwater streams and glacial runoff, rapids hover around Class III and IV, though newbies will be well assured on guided outings from area outfitters. Along the way, no matter the route or the length, you'll be wowed by the scenery, as mountains soar on all sides and conifers rise like lush skyscrapers.
Nearby KOAs:
Cranbrook / St. Eugene KOA Journey
---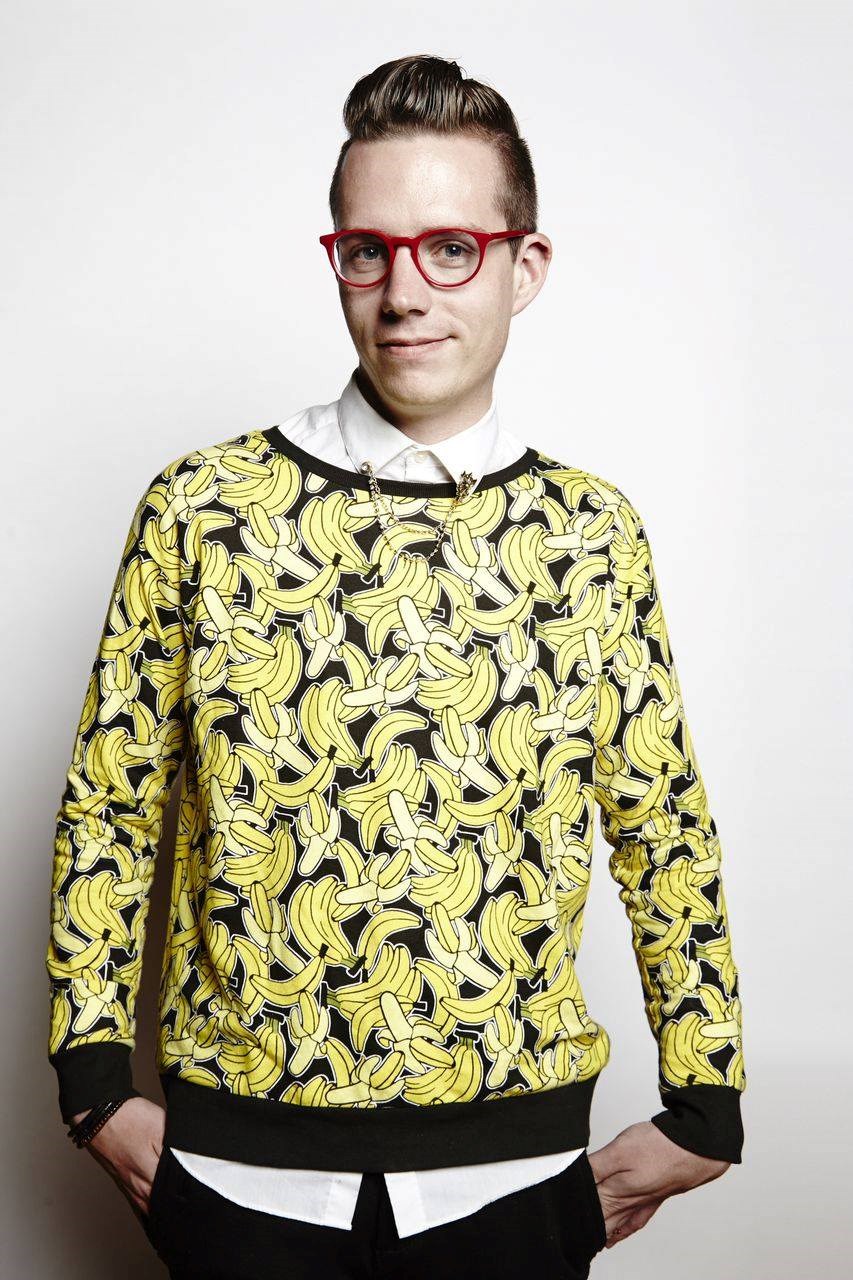 Born and raised in New Hampshire, Matt Kirouac grew up with a love for camping and the outdoors. Though he's lived in Chicago since 2006, he's always on the lookout for new adventures. He writes about travel and food for outlets like TripExpert, Money Inc, Upventur, DiningOut, Food Fanatics magazine, Plate Magazine and Zagat, and he currently serves as Chicago editor for What Should We Do?! He's the author of The Hunt Guides: Chicago (2016) and Unique Eats & Eateries of Chicago (2017).