The U.S. is filled with iconic sights, destinations, and attractions, from the Grand Canyon to Niagara Falls, Disney World to the Space Needle, and New York City to the French Quarter. But in between these megawatt places are smaller gems equally worth seeking out. From a spookily perfect forest in the Great Plains to kitschy roadside retail, here are some of the coolest places to go that you might not know about.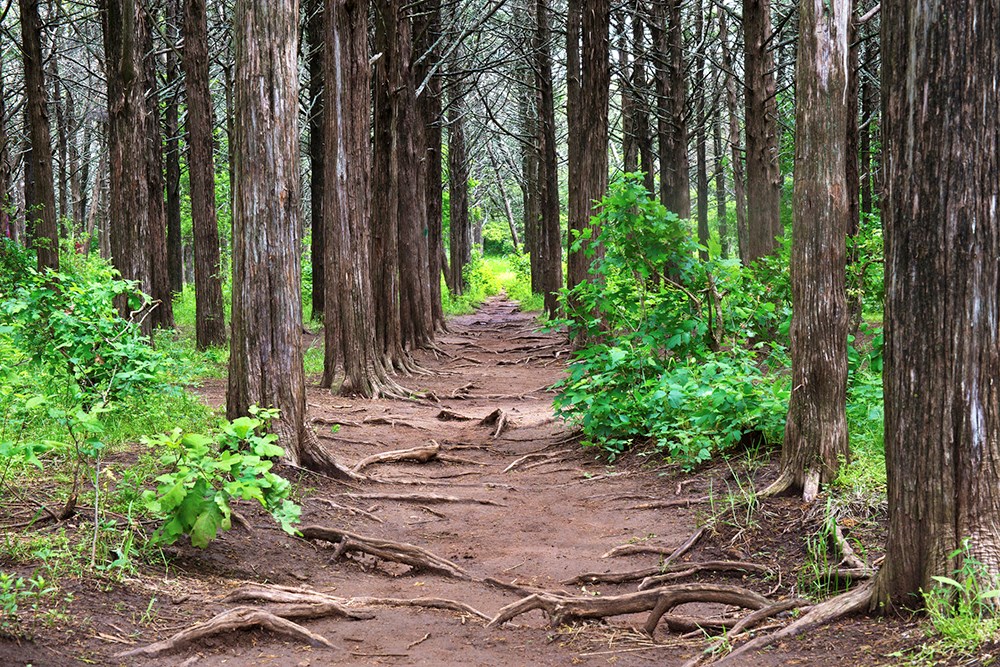 1. Parallel Forest — Comanche County, Oklahoma
Picture this: 16 acres of hushed forest, filled with 20,000 red cedar trees perfectly planted exactly six feet apart from one another in every direction. Nestled near the Wichita Mountains Wildlife Refuge in southwestern Oklahoma, the Parallel Forest is as photogenic and captivating as it is spooky. Clearly, a forest this oddly perfect was no accident. Rather, it was first planted by the federal government as an experiment to contend with the effects of the Dust Bowl, in order to see if deliberately planted trees could help dissipate or stop the spread of dust storms. Tall enough to block out the sun, with barely any branches, the trees are unusual to say the least, especially when they're clustered together in a sea of fauna like this. Although the size of the forest isn't overwhelmingly large, it's important to know where you're going and stay on-trail, because when every tree looks the same, it's easy to get turned around. Unsurprisingly, the forest has had some reports of haunted sightings, e.g. strange sounds and other-worldly orbs, but it's mostly just a weird, fun, and COOL place to check off the oddball bucket list.
Nearby KOAs:
Burkburnett / Wichita Falls KOA Journey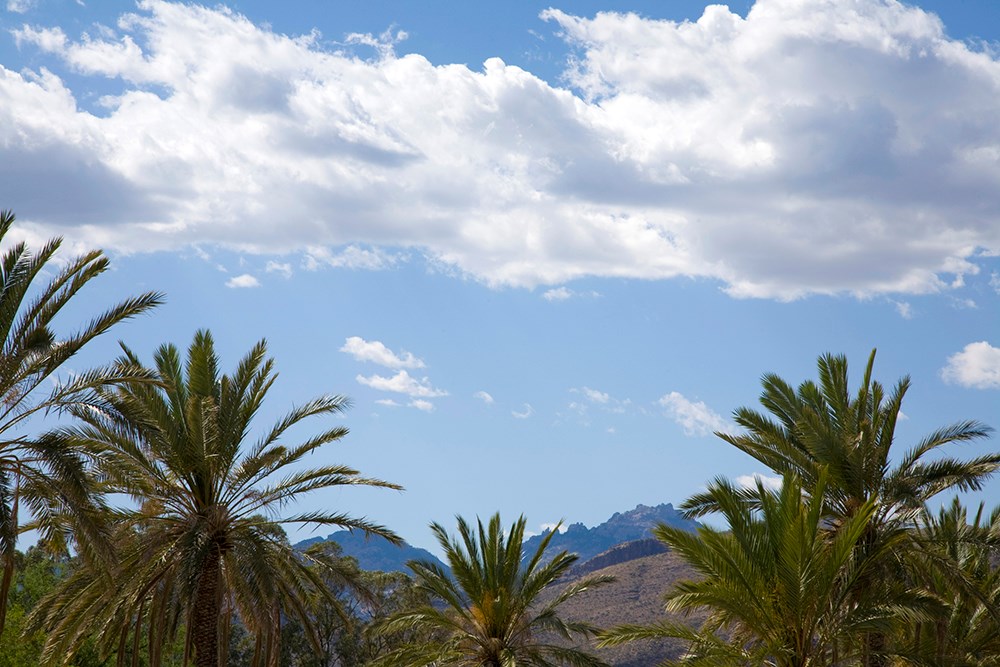 2. Agua Caliente Park — Tucson, Arizona
The arid Sonoran desert of southern Arizona isn't the kind of environment you'd expect to find soaring palm trees, which is what makes Agua Caliente Park such an unexpected surprise. Located in northeastern Tucson, this 100-acre regional park is the quintessential — and literal — oasis in the desert, anchored by pristine ponds, a trickling brook, and gigantic palm trees that provide merciful shade form the endless Arizona sun. Especially in the summertime, when Tucson residents are largely confined to indoor AC, Agua Caliente is a tranquil haven for shaded picnics and fresh air that won't make you feel like you're breathing in an oven. The park also has a visitor center and art gallery, though the gallery is currently closed to visitors.
Nearby KOAs:0
Tucson / Lazydays KOA Resort
3. Barataria Preserve — New Orleans, Louisiana
A stone's throw from the frivolity of the French Quarter in New Orleans, Barataria Preserve makes it entirely possible to combine alligator sightings and beignets in one afternoon. As part of the Jean Lafitte National Historical Park and Preserve, whose main visitor center is literally in the French Quarter, Batavia Preserve is a popular portion of the park for outdoor exploration, hiking, and larger-than-life wildlife spotting. With 26,000 acres of swamps, bayous, and dense forests, it feels like a mini Everglades, minus the crowds. Like Everglades, the boardwalk trails are the ones where you're most likely to see the preserve's most iconic residents, like alligators aplenty. Turtles, birds, and lustrous plants and wildflowers round out the sights here, all of which make for an immersive and mesmerizing day trip in southern Louisiana.
Nearby KOAs:
New Orleans KOA Holiday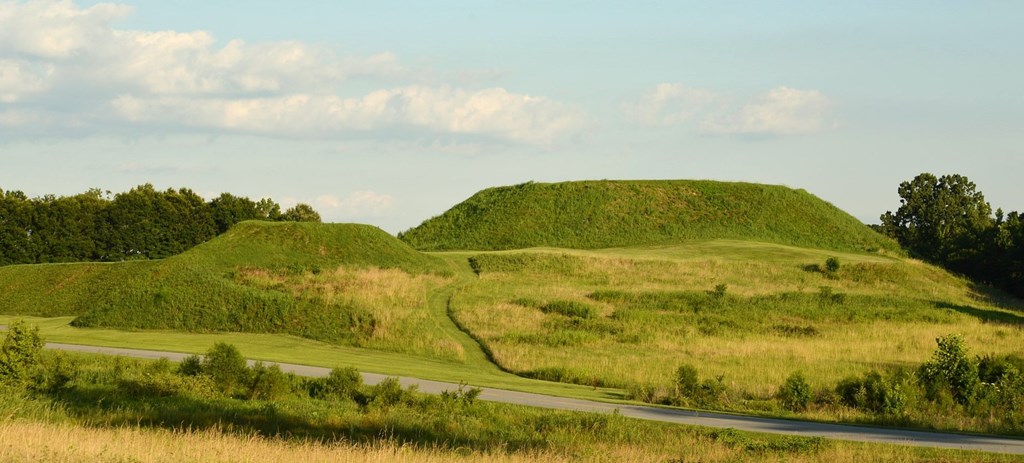 4. Ocmulgee Mounds National Historical Park — Macon, Georgia
Located in the fertile Macon Plateau of central Georgia is one of the most underrated national park sites in the U.S.—a site where hulking earthen pyramids seem to erupt from the ground, bursting with enlightening history and Native American legacy. Ocmulgee Mounds National Historical Park is a place that combines Civil War history, wooly mammoths, and ceremonial mounds, built before the year 1000 by the South Appalachian Mississippian people, all of which form a unique national park for leisurely hiking and eye-opening education.
Nearby KOAs:
Forsyth KOA Journey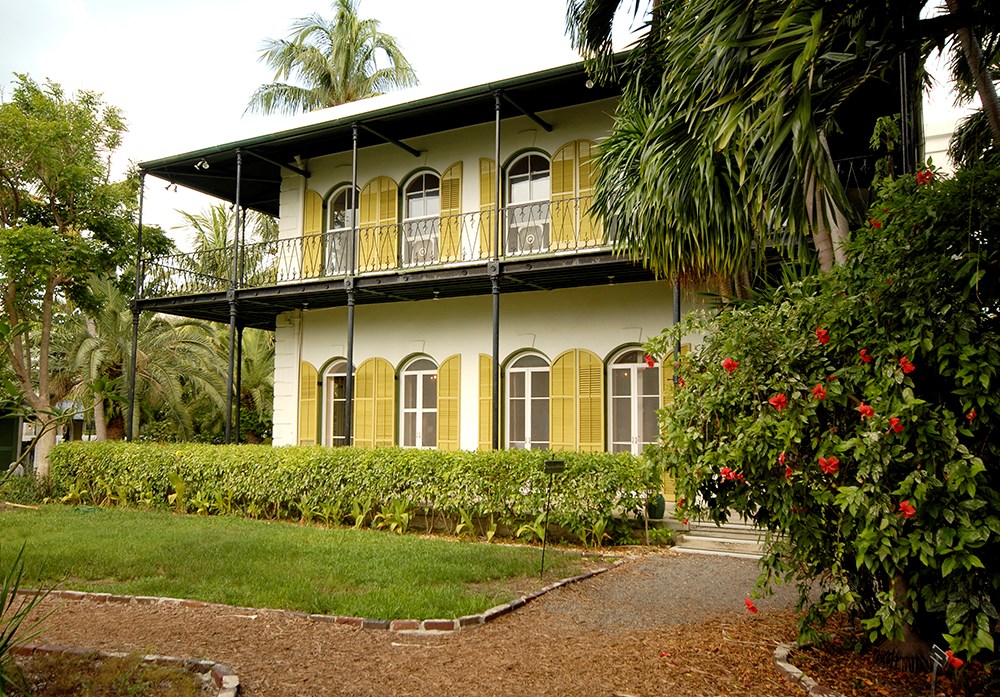 5. The Ernest Hemingway Home and Museum — Key West, Florida
From key lime pie to the Dry Tortugas ferry, there's a ton to see, do, eat, and drink on Key West, but there's nothing quite so singularly spectacular as the Ernest Hemingway Home and Museum. The most visited attraction on Key West, this is where one of America's seminal authors and voices lived and worked in the 1930s, and the ornate mansion is open for tours and exploration. The building itself is strikingly beautiful with its French Colonial architecture, surrounded by lush plants that look like they've been plucked from a jungle. From the sitting rooms and bedrooms to Hemingway's writing studio and outdoor in-ground pool (quite a novelty during that time!), there's plenty to marvel at here. One aspect that's hard to miss is the abundance of cats that live in and around the property and wander around at leisure. Called "Hemingway Cats," don't be surprised to find them sleeping in Hemingway's bed as you tour the property.
Nearby KOAs:
Sugarloaf Key / Key West KOA Holiday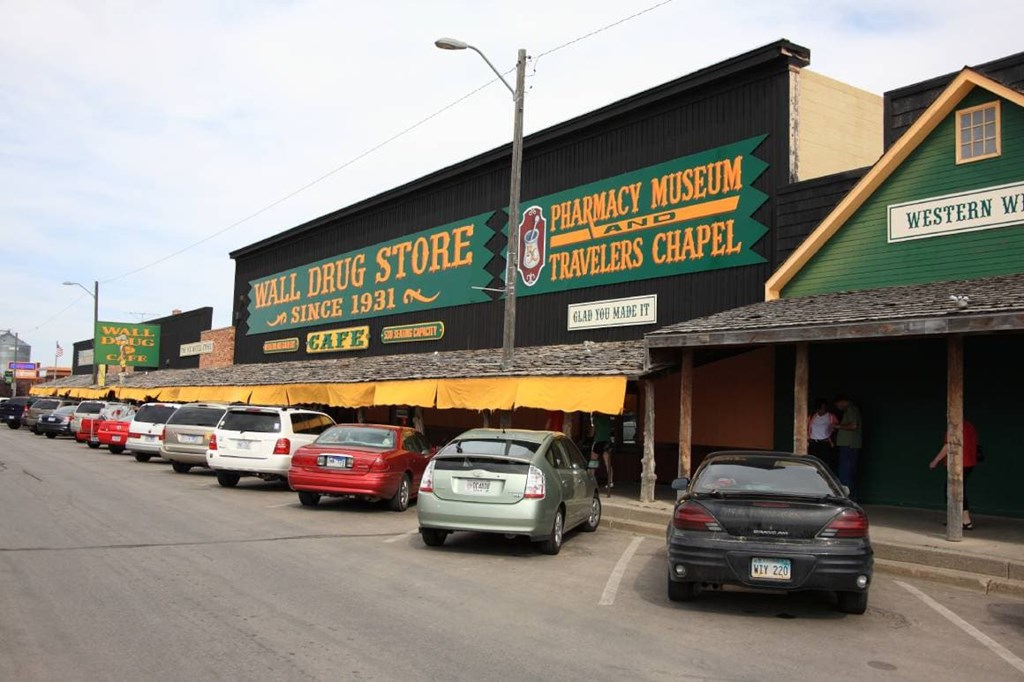 6. Wall Drug — South Dakota
Built in 1931 as a modest roadside stopover boasting free ice water for passersby, Wall Drug in western South Dakota has grown into a kitschy wonderland of retail, comfort food, and quirky attractions like animatronic dinosaurs and giant jackalopes. Located on the outskirts of Badlands National Park, this hard-to-miss destination is now a full-blown town in and of itself, with more than 1 million annual visitors who flock here for maple-frosted donuts, cowboy boots, Native American art, saloons, the Apothecary Shop and Pharmacy Museum, buffalo burgers, ice cream, and a miniature replica of another South Dakota star: Mount Rushmore.
Nearby KOAs:
Badlands / White River KOA Holiday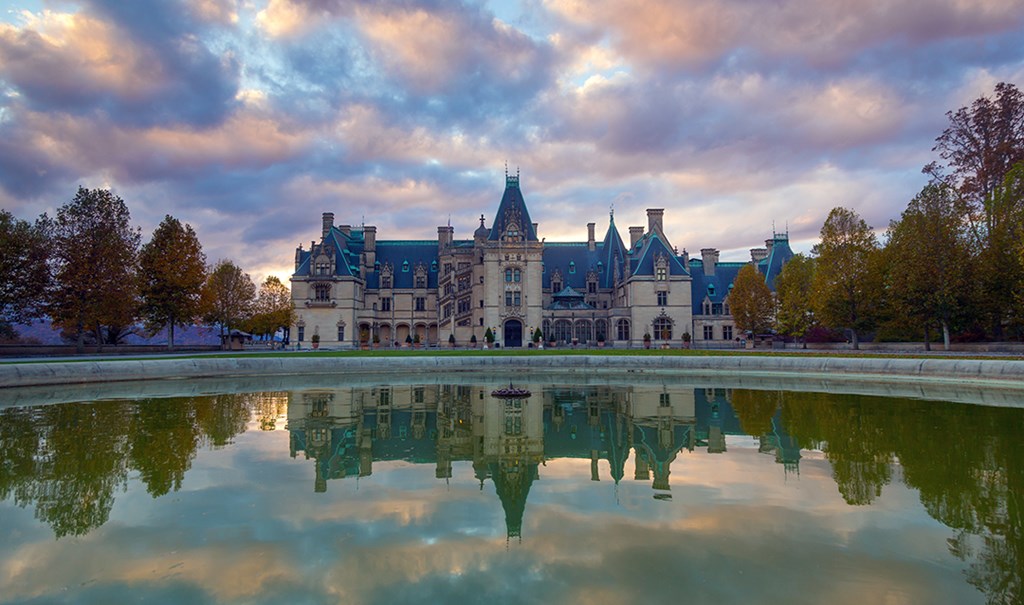 7. Biltmore Estate — Asheville, North Carolina
The largest privately owned house in the U.S., the Biltmore Estate in Asheville, North Carolina, looks more like a European chateau or something from a Disney fairy tale. This surreal property, clocking in at a whopping 178,000-sq.-ft., is almost too good to be true, which is what makes touring the house and the grounds such a dream. Embarking on a self-guided tour of the house, with digital narration via headphones, is an optimal way to fully experience the Gilded Age estate, which was built for George Washington Vanderbilt II in the 1890s. From the kitchens and the ballroom to the myriad bedrooms, swimming pool, and sprawling dining room, this thing is like the Titanic on land, nestled in the lush, peaceful woodlands of eastern North Carolina. In fact, the mansion is tucked far enough back along a private driveway that you'd have no idea you were still in bustling Asheville. Nowadays, Biltmore also has its own winery, and you can sample pours after your tour, along with other shops, eateries, and exhibits in nearby Antler Village.
Nearby KOAs:
Asheville East KOA Holiday
Asheville West KOA Holiday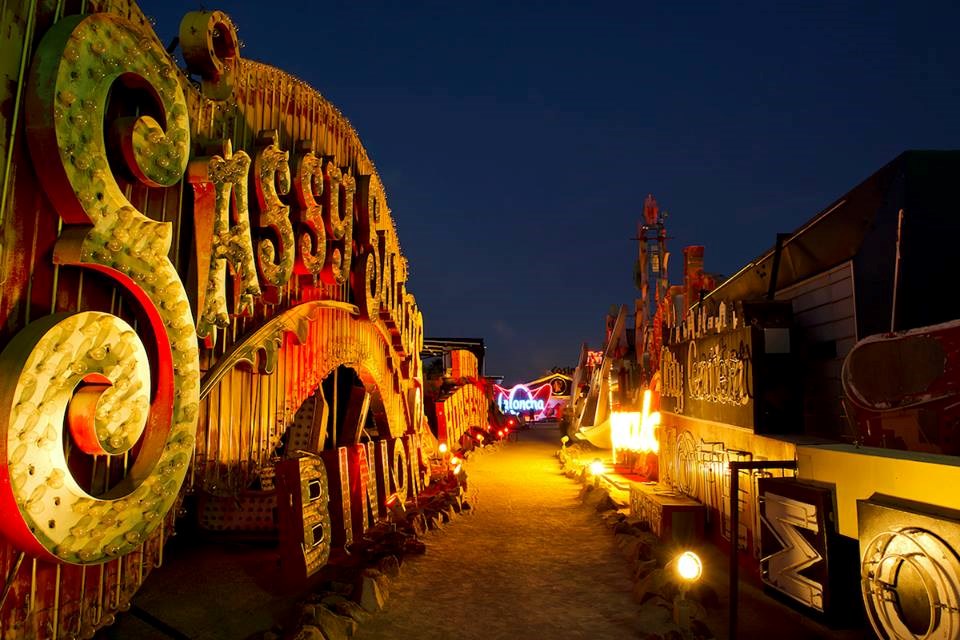 8. Neon Boneyard — Las Vegas, Nevada
When most people envision Las Vegas, the first things to come to mind are colorful casinos, thematic hotels, whimsical theater productions, and over-the-top restaurants along the iconic Strip. But dig a little deeper, and venture off the main drag, to experience more of the city's vibrant history at the Neon Museum. It's the kind of museum that could only exist in Las Vegas, where flashing florescent lights are par for the course. Here, the city's wide array of huge vintage neon signs are preserved and displayed in stunning ways, especially the ones in the outdoor Neon Boneyard. At night, a show called "Brilliant" brings these signs back to life with an intricate laser show that illuminates these signs anew, all while set to perfectly synchronized music and black-and-white films with Las Vegas scenes. Whether you're a local, a first time visitor, or a frequent traveler to Las Vegas, the Neon Boneyard experience is sure to amaze in a whole new way.
Nearby KOAs:
Las Vegas KOA Journey at Sam's Town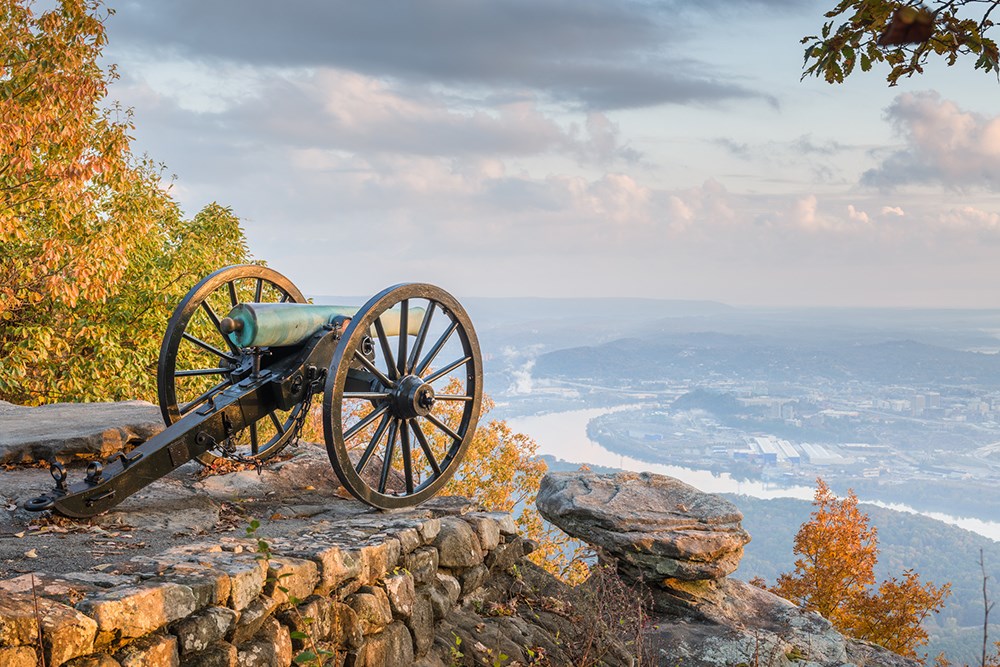 9. Lookout Mountain — Chattanooga, Tennessee
In Chattanooga, come for the MoonPies and whiskey, stay for the underground waterfall and mini golf. The latter two (and much more) can be experienced atop Lookout Mountain, an iconic destination looming over this beautiful riverside city. Along with plenty of great hiking trails, the mountain boasts the steepest passenger railway in the world, the birthplace of mini golf, the labyrinthine Rock City, and Ruby Falls, the deepest commercial cavern in the U.S., and home to a subterranean waterfall more than 1,000 feet beneath the surface. The Incline Railway is quite a thrill, as the slow-moving rail ascends a mile up the side of the mountain, reaching a nerve-racking grade of 72.7%. Once at the top, explore Rock City, an immersive landscape of huge rocks, caves, and tight passageways. For something more leisurely, there's always mini golf, which was invented on the mountain in 1926 by Rock City Gardens founder Garnet Carter.
Nearby KOAs:
Lookout Mountain / Chattanooga West KOA Holiday
Chattanooga North / Cleveland KOA Journey
---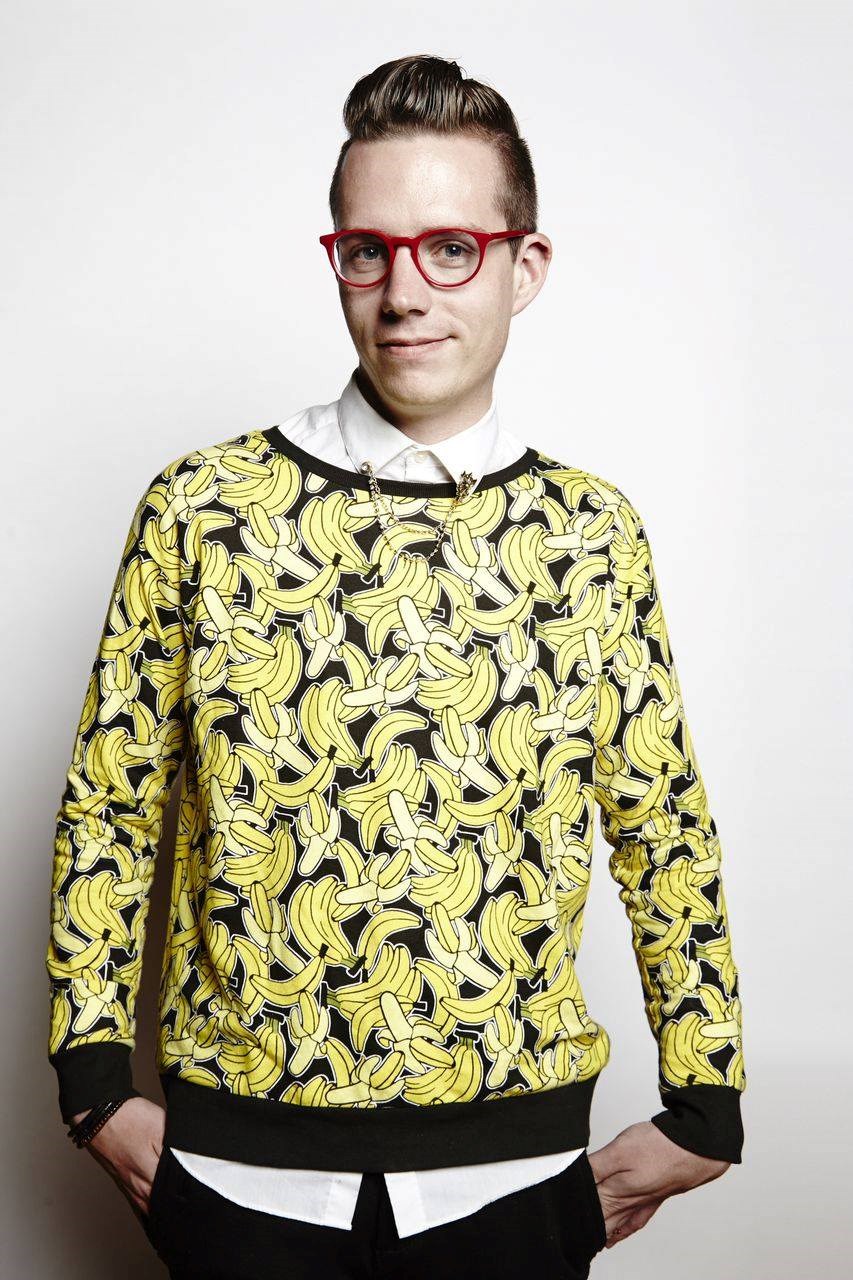 Born and raised in New Hampshire, Matt Kirouac grew up with a love for camping and the outdoors. Though he's lived in Chicago since 2006, he's always on the lookout for new adventures. He writes about travel and food for outlets like TripExpert, Money Inc, Upventur, DiningOut, Food Fanatics magazine, Plate Magazine and Zagat, and he currently serves as Chicago editor for What Should We Do?! He's the author of The Hunt Guides: Chicago (2016) and Unique Eats & Eateries of Chicago (2017).
---