Hitting the beach is a great way to rejuvenate, and camping near the beach maximizes your relaxation time. Listen to the sounds of rolling waves, breathe in fresh sea air and soak up the sun's warmth from your campsite or out on the beach. Get quick access to stretches of sandy beach at these KOAs and witness the always changing beauty of the ocean.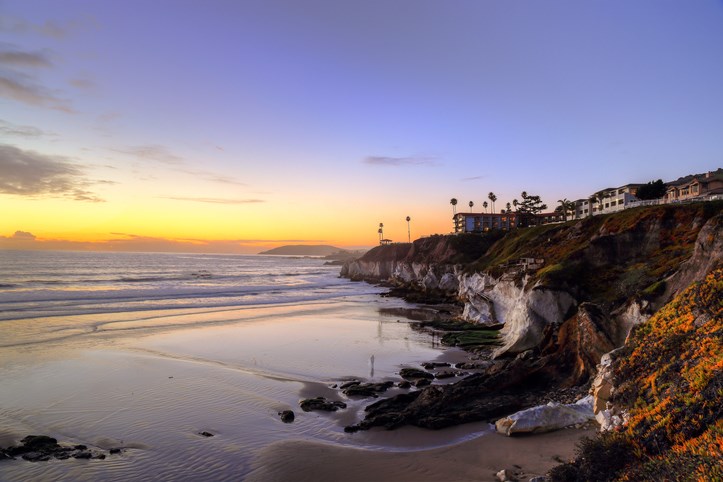 Avila/Pismo Beach, California
Sandwiched between rolling hills and the always churning Pacific Ocean on California's Central Coast, the Avila / Pismo Beach KOA is the perfect place to start enjoying the outdoors. Downtown Avila Beach's assortment of restaurants, wine tasting rooms, and shops front a family-friendly sandy beach with lots of space to play and relax under the sun. Explore the beach even further by taking a stroll down the Avila Beach Pier to get out over the water. The nearby Shell Beach Bluff Trail winds along the coastal cliffs offering spectacular views of rocky ledges, sea cave entrances and bobbing aquatic life.
Book Your Coastal Stay at Avila / Pismo Beach KOA Now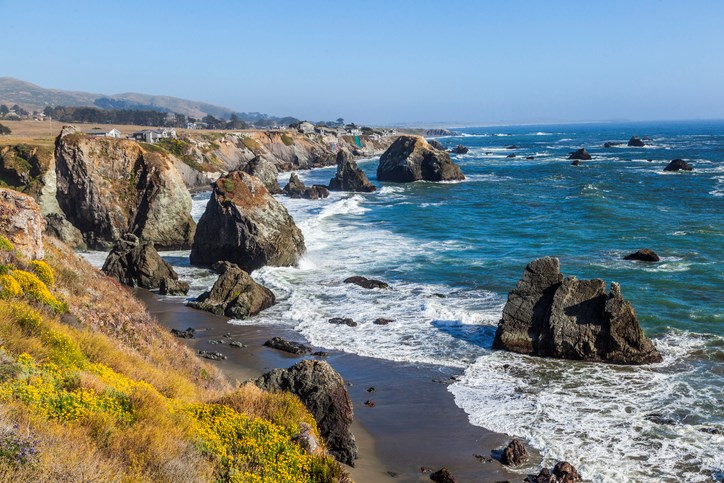 Manchester Beach/Mendocino Coast, California
From your campsite at Manchester Beach / Mendocino Coast KOA Journey, walk through Manchester State Park's wildflower filled grasslands to reach its 5-mile long stretch of sandy beach. Discover wave sculpted driftwood and vast Northern California ocean views. Tour the nearby Point Arena Lighthouse that's been guiding sailors along the rocky shoreline since 1870. From the top of the lighthouse, spot migrating wales beyond treacherous coastal rocks. Explore unique beaches like Bowling Ball Beach where hug-width lumpy rocks line the shore and Fort Bragg's Glass Beach with bits of glittering antique glass.
Book Your Coastal Stay at Manchester Beach / Mendocino Coast KOA Journey Now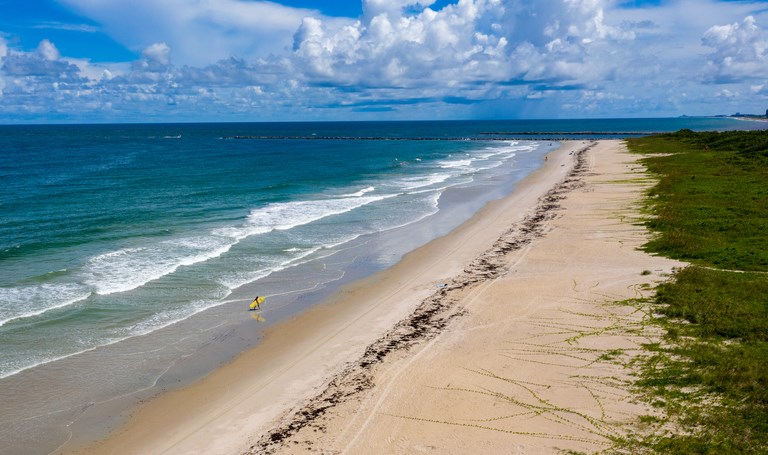 Fort Pierce/Port St. Lucie, Florida
Explore the harbors, beaches, and coastlines around Fort Pierce Downtown KOA Journey in a variety of fun ways. Cast your line in the Atlantic Ocean on board a chartered fishing boat; trips originate from several nearby harbors. The lengthy Hutchinson Island, filled with sandy beaches with warm lapping waves, can be explored via horseback. Find local marine life in the Indian River Lagoon with Dolphin Watch Boat Tours. Manatees, sea turtles and dolphins are often seen throughout the cruise visiting the lagoon's mangrove marshes and small islands.
Book Your Coastal Stay at Fort Pierce Downtown KOA Journey Now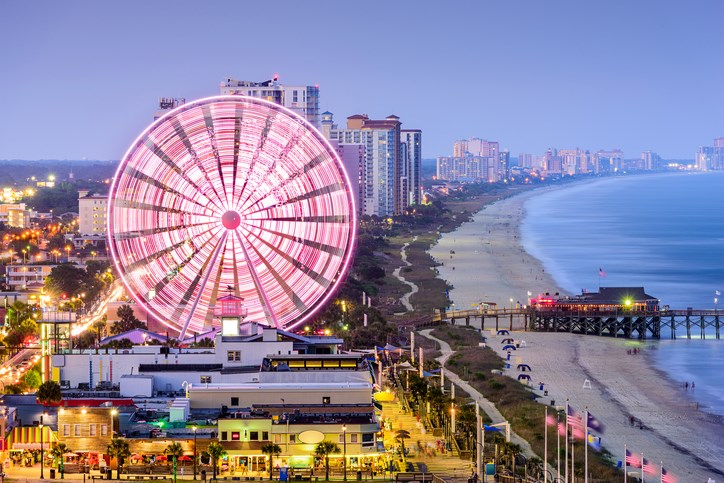 Myrtle Beach, South Carolina
Myrtle Beach KOA Resort is just a half-mile from South Carolina's endless stretch of sandy beach, the perfect home base for nature lovers and entertainment seekers. If you're looking to spend some downtime walking amongst pristine coastal forest, conquering rolling dunes or combing for shells on undeveloped beach visit Myrtle Beach State Park. But, if an exciting carnival atmosphere is more your thing ride the 187-foot SkyWheel. From the tip-top of the observation wheel soaring views of twinkling resorts, boardwalk promenade and the powerful Atlantic Ocean are laid out below.
Book Your Coastal Stay at Myrtle Beach KOA Resort Now
Cape Charles/Chesapeake Bay, Virginia
Wade in Chesapeake Bay's warm sparkling waters just steps away from your Cape Charles / Chesapeake Bay KOA Resort. With private beaches for you and your dog, kayak and paddle board rentals, and waterfront restaurant, you don't need to leave this KOA resort to have a fun vacation. But if you do venture out, the surrounding Delmarva Peninsula is covered by 1,700 acres of coastal parkland. The nearby Eastern Shore of Virginia National Wildlife Refuge hosts migrating songbirds and monarch butterflies in the fall and woodpeckers, owls and rabbits all year long. Walk the refuge's trails to spot nature at home in salt marshes, coastal forests, and wetlands.
Book Your Coastal Stay at Cape Charles / Chesapeake Bay KOA Resort Now
---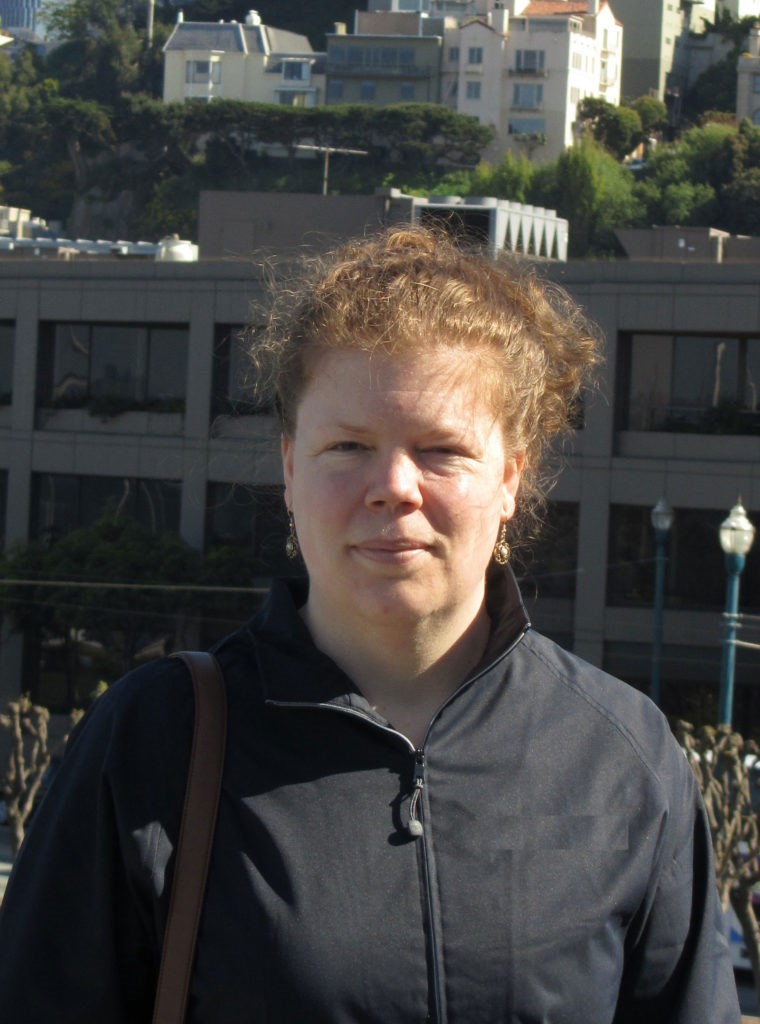 Eva Barrows is a San Francisco Bay Area freelance writer. Eva writes about local places, people and events on her website www.evabarrows.com. She founded the online literary journal Imitation Fruit in 2007 and has enjoyed promoting fellow writers and artists ever since.
---