Experience the serenity of nature with a hike inside one of our National Parks. Access to hundreds of miles of hiking trails, facilitate exploration of natural formations and awe-inspiring vista views. Difficulty levels of hikes within the parks vary, from easy wheelchair accessible nature walks to strenuous scaling of mountain peaks. Always check-in at park visitor centers or talk with park rangers to confirm trail conditions, hazards, and safety information. The following National Parks and suggested hikes lead to fulfilling destinations set against unforgettable landscapes.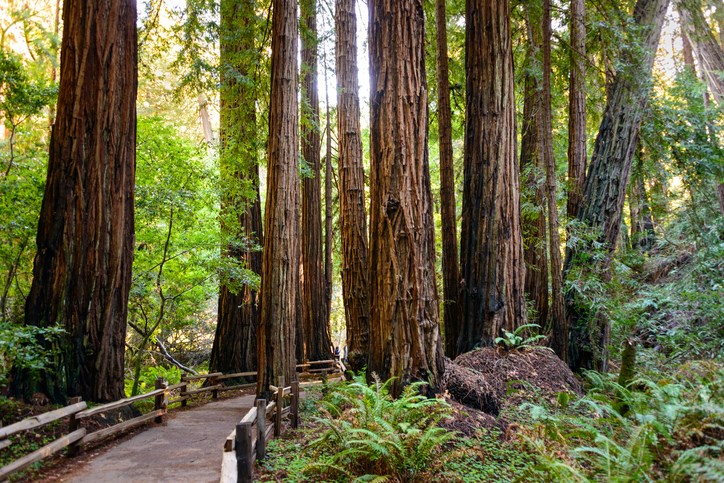 Muir Woods National Monument, California
A hike in Muir Woods will make you feel small. The tallest coast redwood tree in the park tops out at 258 feet. Try not to get dizzy looking up at the soaring tree canopy overhead with streams of golden sunlight filtering through. The coastal redwoods in this primeval forest average age are between 600 to 800 years. A wide variety of mushrooms decorate the forest floor and roots of the ancient trees with pops of color and interesting shapes, sizes, and patterns.
Hike: Main Trail
Take in the mystical nature of Muir Woods on its main trail starting at the National Parks Visitors Center and following the Redwood Creek stream. The boardwalk trail is an easy-level hike accessible to strollers and wheelchairs. Depending on how much time you have to explore the old growth forest you can spend between a half hour and two-hours on the trail.
KOAs Nearby:

San Francisco North / Petaluma KOA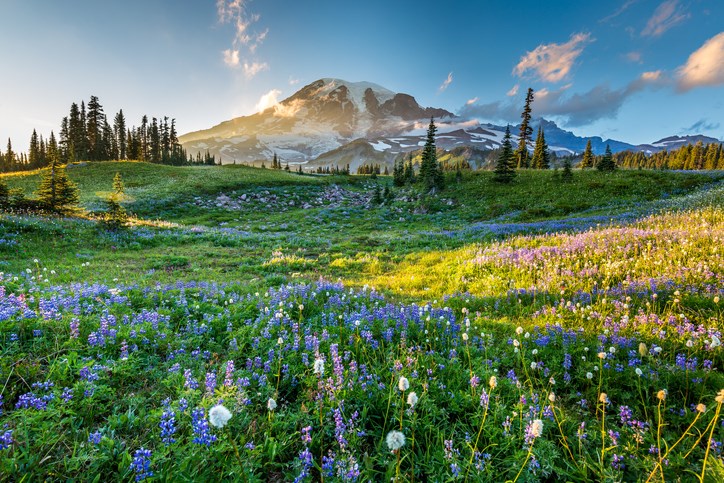 Mount Rainier National Park, Washington
Snow-capped Mount Rainier rises 14,410 feet in elevation, the tallest point in the Cascade Mountain Range. This Washington State volcano is home to diverse terrain including bubbling hot springs, alpine lakes, old growth forests and a river carved gorge. The 360 square mile national park is divided up into five main areas with the park's main visitor's center located in Paradise. Paradise offers panoramic views of Mount Rainier nestled amongst a blanket of colorful wildflowers.
Hike: Bench and Snow Lake Trail
Paradise area, Bench and Snow Lake Trail is a moderate hike, gaining 700 feet in elevation and is 2.5 miles round trip. The trail rises and falls over a series of ridges on the way to Bench Lake. Snap a picture of Mount Rainier rising above Bench Lake. Continue for another half mile to reach Snow Lake which lies below jagged Unicorn Peak.
KOAs Nearby:
Great Smoky Mountains National Park, North Carolina & Tennessee
Abundant hiking trails wind through and over the rolling ridges of the Great Smoky Mountain Range. Spanning two states, North Carolina and Tennessee, the Smokies were home to Southern Appalachian culture. Discover historical buildings, cemeteries, and remnants from Appalachian communities preserved and protected within the park. Tree species transition from hardwood forests in valleys and lower mountain slopes, to spruce fir trees in the highest elevations. Hikers need to be prepared for encountering the Smokies' black bear population.
Hike: The Alum Cave Trail
Alum Cave Trailhead is located 8.6 miles from the Sugarlands Visitor Center on Newfound Gap Road. The Alum Cave Trail is moderate to strenuous level of difficulty starting out easy crossing two creek beds over log bridges. The trail passes through Arch Rock in a narrow staircase tunnel, climbs up to Inspiration Point which boasts spectacular views of the valley below and surrounding mountains. The Alum Cave Bluffs are 2.3 miles from the trailhead and are a popular turn around point. Energetic hikers can continue on to reach Mount LeConte.
KOAs Nearby:
Newport / I-40 / Smoky Mountains KOA
Townsend / Great Smokies KOA Holiday
Cherokee / Great Smokies KOA Holiday
Rocky Mountain National Park, Colorado
Shaped by glaciers and erosion, Rocky Mountain National Park's 60 rugged mountain peaks frame scenic lakes, valleys, and waterfalls. Hiking destinations on 355 miles of trail abound throughout the park. Take a walk through refreshing aspen and pine tree forests, or pause at a distance to watch elk and bighorn sheep graze in a clearing.
Hike: Alberta Falls
To witness the power of nature close up hike to Alberta Falls. Starting at Glacier Gorge Trailhead, this easy hike is about 0.6 miles each way with the option to continue on the trail. Glacier Creek feeds the trailside fall's rushing water. Watch and listen to the white water action crashing along its boulder-filled journey before venturing on.
KOAs Nearby:
Estes Park KOA Holiday
Fort Collins / Lakeside KOA Holiday
Fort Collins North / Wellington KOA Journey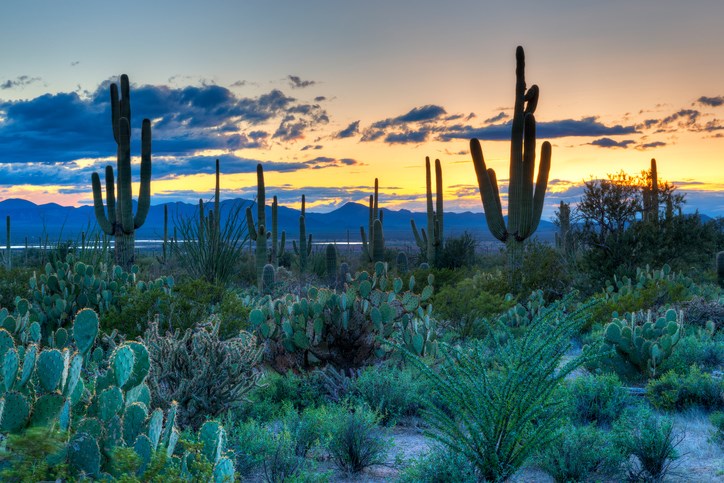 Saguaro National Park, Arizona
Giant Saguaro cacti tower over Arizona's Sonoran Desert landscape. The multi-armed Saguaro can grow to be over 40 feet tall and is native to the American Southwest. Twenty-five other species of cactus grow in Saguaro National Park, samples of which are collected in the visitor's center cactus gardens. Native American petroglyphs and the remains of homesteads can be found throughout the park. Animals unique to the area including roadrunners, Gila monsters and kangaroo rats all scurry through the chaparral.
Hike: Hope Camp and Ridgeview Trail
From Saguaro's eastern district the Hope Camp and Ridgeview Trail is an easy-level 2-mile hike that picks up 400 feet of elevation. Rincon Peak is backdrop to cactus-covered desert scenes including fine examples of old growth Saguaro. The trail ends with expansive views into Box Canyon.
KOAs Nearby:
Tucson / Lazydays KOA Resort
Mesa / Apache Junction KOA Journey
Benson KOA
Willcox / Cochise KOA Holiday
---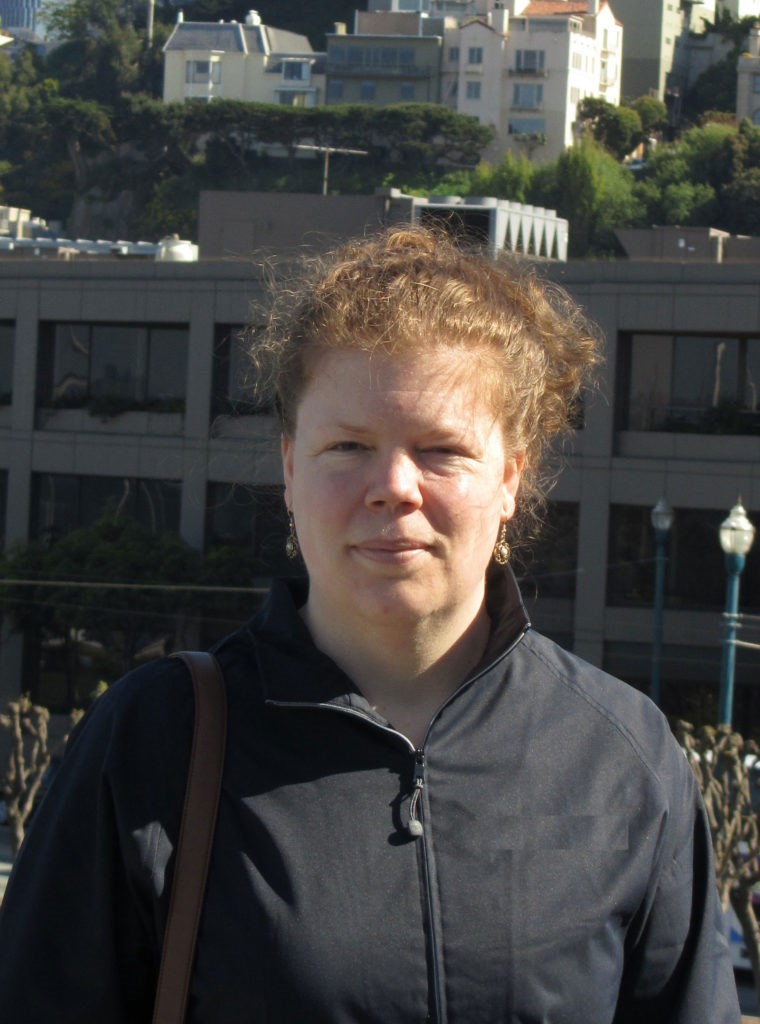 Eva Barrows is a San Francisco Bay Area freelance writer. Eva writes about local places, people and events on her website www.evabarrows.com. She founded the online literary journal Imitation Fruit in 2007 and has enjoyed promoting fellow writers and artists ever since.
---