10 Southern Spots to Spend the Holidays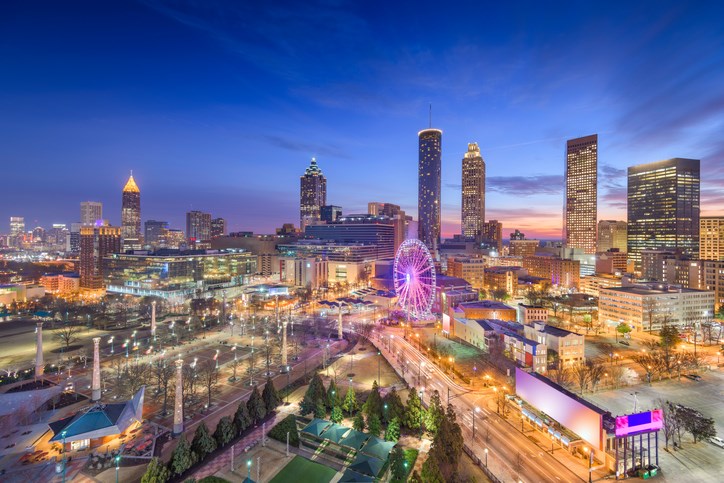 Whether you're looking for a lavish street party, a family-friendly parade, or simply an excuse to spend Christmas in a warm environment, Southern cities and towns provide plenty of options for holiday getaways. While there may not be much snow, these places more than make up for it with endless entertainment, merry events, over-the-top decorations and the fact that you can stand to be outside without getting frostbite. Here are 10 Southern spots to spend the holidays.
Christmas, Florida
With a name like Christmas, this small central Florida town is a merry—and quirky—destination year round. Located roughly 50 miles east of Orlando, it's so named for Fort Christmas, which was established during the Second Seminole War, when U.S. soldiers began construction on Christmas Day, 1837. Today, barely 1,000 people live here, making it primarily a whimsical stopover for travelers looking to snag a Christmas post card, or snap a photo with Santa, who can occasionally be spotted at the town's unusually large post office. Unsurprisingly, the entire town is constantly in the Christmas spirit with street names like Blitzen Avenue, Dasher Street, Rudolph Street, and Cupid Avenue, plus an enormous decorated evergreen tree, a Christmas Museum, and decorations on all the telephone poles.
Nearby KOAs:
Titusville / Kennedy Space Center KOA Journey
Orlando SE / Lake Whippoorwill KOA Holiday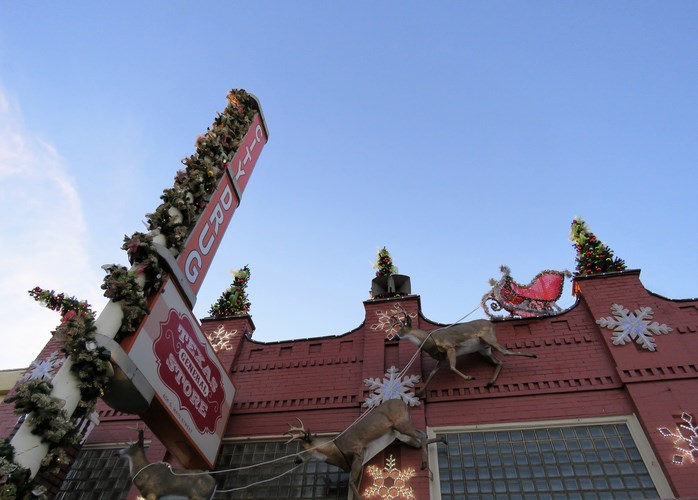 Grapevine, Texas
A snowball's toss from Dallas and Fort Worth, this suburban city earns its designation as the "Christmas Capital of Texas." That may seem like an arbitrary title, but Grapevine takes the holiday seriously, going all out with more than 1,000 Christmas-themed events each year, from the Parade of Lights through the historic downtown district and "Snowland" at the Great Wolf Lodge to larger-than-life ice sculptures at the Gaylord Texan and "Christmas Wine Train" rides, which are basically like the Polar Express for adults, presented by Hilton and held on the Grapevine Vintage Railroad during the holiday season. For something that's actually a lot more similar to the pajama-clad Polar Express for kids, check out the "North Pole Express," held on the same railroad.
Nearby KOAs:
Dallas / Arlington KOA Holiday
Sanger / Denton North KOA Journey
Andalusia, Alabama
The weather may stay balmy through the holidays in this idyllic little town in southern Alabama, a short drive north of the Florida panhandle, but visitors can still revel in the festivities of Christmas with artificial snow aplenty. The town is most known for its extravagant "Christmas in Candyland" event series, a family-friendly affair held on every December weekend in historic Courthouse Square, filled with characters, games, ice skating, snow tubing, and train rides. Added bonus: the event is free to attend.
Nearby KOAs:
Ozark / Fort Rucker KOA Journey
Milton / Gulf Pines KOA Holiday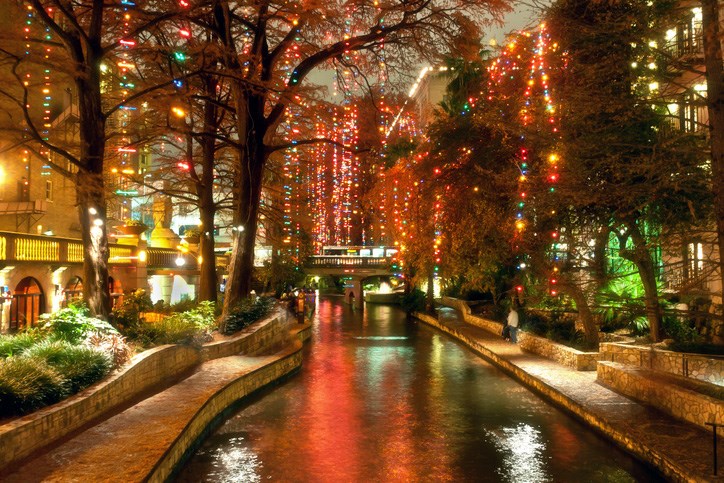 San Antonio, Texas
During the holidays, San Antonio's world-famous River Walk shines brighter than ever. This is literally true, thanks to the addition of 100,000 Christmas lights strung up throughout the popular destination. In case the mere spectacle of lights wasn't dazzling enough, the River Walk also features carolers singing on boats and candlelit bags floating along the waterways. It all kicks off with the annual Ford Holiday River Parade, wherein more than two dozen illuminated floats mosey along the river, lighting up the route as they go. Said lights will twinkle every subsequent night through New Year's Day. Another distinctly San Antonio holiday tradition is its holiday tamales, which have become a festive staple this time of year. Guests can get in on the tamale-making action at La Tamalada at the Witte Museum and at La Gran Tamalada at Market Square.
Nearby KOAs:
San Antonio / Alamo KOA Holiday
Myrtle Beach, South Carolina
For both Christmas and New Year's Eve, Myrtle Beach is the place to be, with plenty of jolly happenings for every persuasion. Come Christmas, the South Carolina city is best known for its Brookgreen Gardens, which fill up with twinkling lights, candles, and Christmas trees. The area also plays host to numerous holiday theater events, like the South's Grandest Christmas Show at Alabama Theatre and the Carolina Opry Christmas Special at the Carolina Opry Theater. A few days later, for New Year's, the town hosts its annual Polar Bear Plunge during the day on December 31, followed by parties, fireworks, music, and balloon drops at Broadway at the Beach. For kids ages 6 to 12, the Ripley's Aquarium also hosts a sleepover party on New Year's Eve.
Nearby KOAs:
Myrtle Beach KOA Resort
Asheville, North Carolina
There's something so quaint and cozy about spending the holidays nestled in the rolling mountains of Asheville. With its grandiose Biltmore Estate, lush forest landscape, and its array of restaurants and bars, it's the picture-perfect locale both for Christmas cheer and New Year's frivolity. The main event is the annual Christmas at the Biltmore, wherein one of the largest homes in the nation turns into a wonderland of North Pole-like beauty. From November 1 through January 5, the sprawling estate boasts decorations, 100-plus Christmas trees, more than 30,000 lights, live music, and special event. Be sure and stop by the Biltmore winery to sample their special Christmas wine, too. Elsewhere in Asheville, the OmniGrove Park Inn hosts the National Gingerbread House Competition, while downtown's ample restaurants, bars, and clubs provide plenty of options for live music, parties, beer, wine, and high-quality eats come New Year's.
Nearby KOAs:
Asheville East KOA Holiday
Asheville West KOA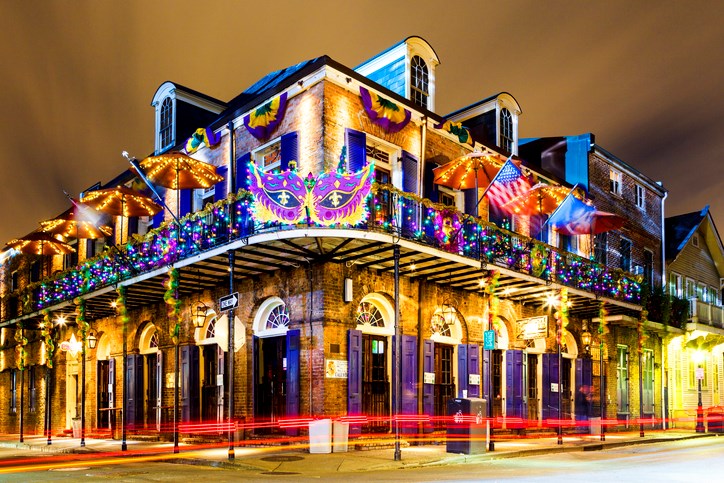 New Orleans, Louisiana
Considering New Orleans' world-famous reputation for its bars, Bourbon Street, and general revelry, it's no surprise that this Louisiana city is one of America's quintessential destinations for New Year's Eve. After all, this is the city best known for its boozy Mardi Gras celebrations. If you're looking to go all out in one of the country's best party towns, head to Jackson Square in the iconic French Quarter for the annual NOLA New Year's Eve, which is filled with live music, fireworks, and a midnight countdown culminating in the drop of a nine-foot fleur de lis.
Nearby KOAs:
New Orleans KOA
Eureka Springs, Arkansas
Between the parades, holiday tea, and Santa sightings, the Christmas festivities at Eureka Springs make this charming Arkansas town one of the best holiday destinations for families with kids. The highlight of the season is the Eureka Springs Christmas Festival, anchored by luminous parades like the Christmas Night Parade, Stroll the Springs, and the Parade of Homes. The latter is a unique, homey self-guided tour that allows guests to enter gorgeous Victorian-style homes bedecked for the holidays, with carolers and seasonal refreshments along the way. The annual Silver Tea at the ornate Crescent Hotel is another fan-favorite pastime, as is Christmas shopping through independent boutiques that line downtown's shopping district.
Nearby KOAs:
Eureka Springs KOA Journey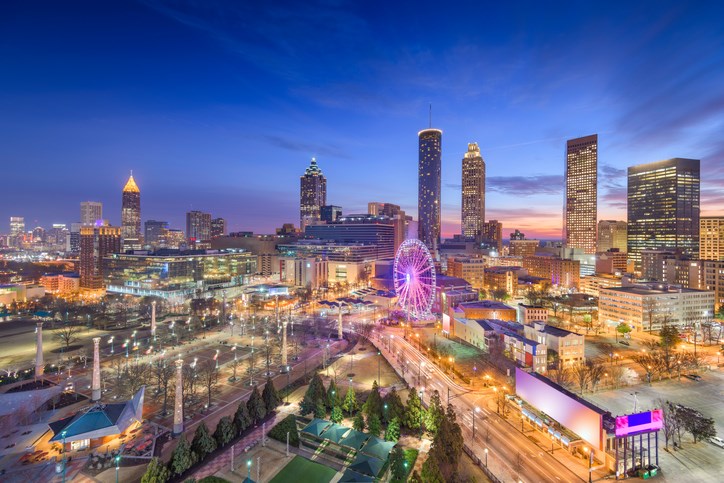 Atlanta, Georgia
A big metropolis like Atlanta is bound to be filled with ample holiday events of all sizes, fitting for all ages and preferences. Indeed, the entire season offers an endless array of opportunities, sights, and flavors, from the Atlanta Ballet's Nutcracker performance (December 8-24) and magical light displays at Stone Mountain Park or the Atlanta Botanical Garden, to sock-skating and a New Year's Bubble Bash at the Children's Museum of Atlanta. Don't miss the Winter Wonderland celebration at the Fernbank Museum of Natural History, a yearly presentation of trees and decorations from cultures and countries across the globe. Come New Year's, keep the party going with numerous parties, sporting events, and celebrations, like the Chick-fil-A Bowl and the Peach Drop, wherein a giant descending peach signals the start of 2020 amidst a sea of fireworks and confetti.
Nearby KOAs:
Cartersville / Cassville-White KOA Journey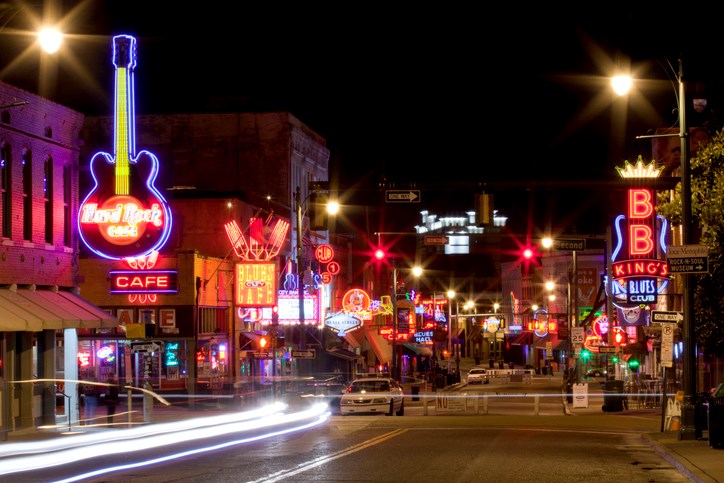 Memphis, Tennessee
Another party-centric Southern city perfectly befitting a holiday getaway, Memphis knows how to celebrate for the season. Firstly, the city's most famous hotel, the Peabody, offers some decadent dining and drinking packages for New Year's Eve, for those looking to ring in 2020 in style. A few blocks away, bar-lined Beale Street plays host to the Countdown on Beale, a raucous bash that feels like a miniature Times Square, but instead of a ball drop, it's a bedazzled guitar that drops, which is perfectly befitting for this musical city.
Nearby KOAs:
Memphis KOA Journey
---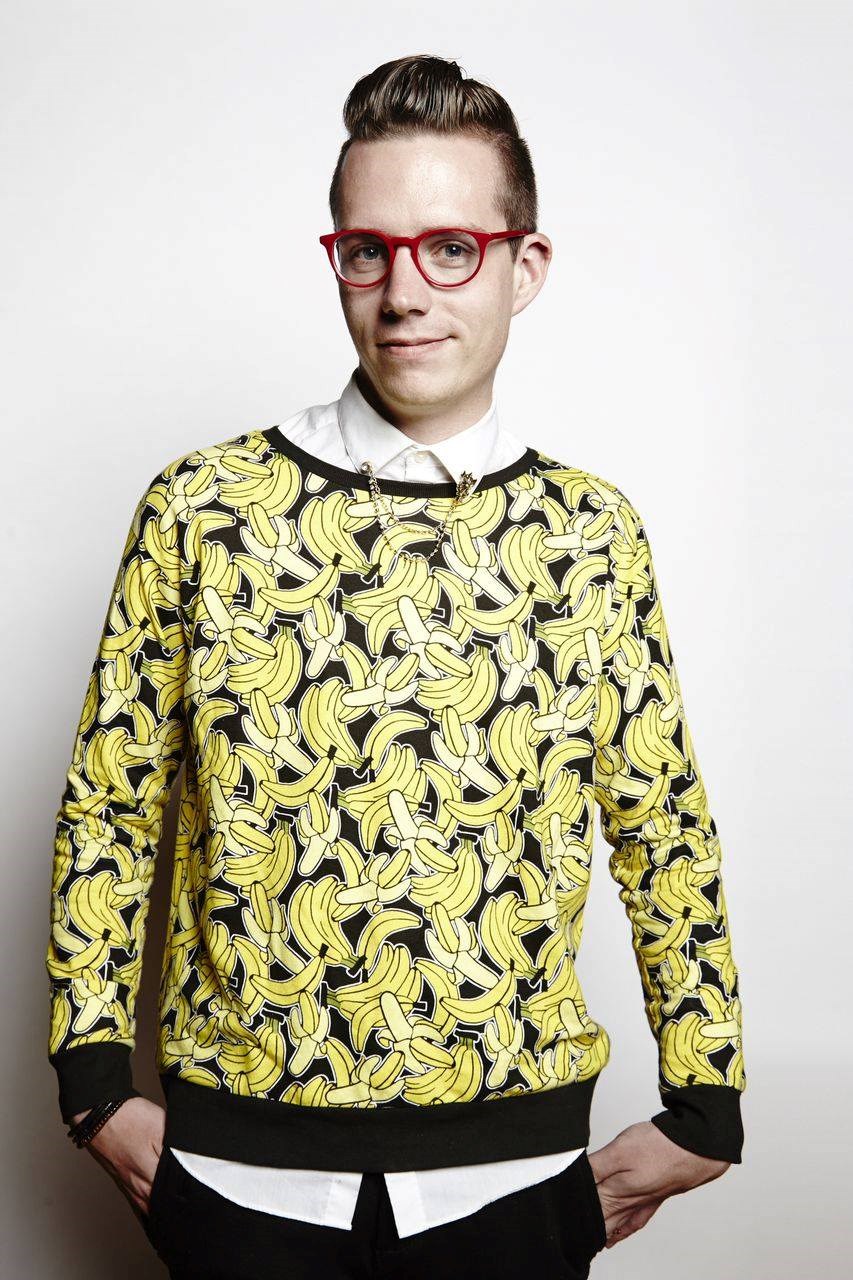 Born and raised in New Hampshire, Matt Kirouac grew up with a love for camping and the outdoors. Though he's lived in Chicago since 2006, he's always on the lookout for new adventures. He writes about travel and food for outlets like TripExpert, Money Inc, Upventur, DiningOut, Food Fanatics magazine, Plate Magazine and Zagat, and he currently serves as Chicago editor for What Should We Do?! He's the author of The Hunt Guides: Chicago (2016) and Unique Eats & Eateries of Chicago (2017).
---